Zwift's September update included the first in-game frame from CADEX, named the CADEX Tri. This frame has a very distinctive design which according to CADEX offers strong aero performance, but also custom fit options and light weight that all packs well into a triathlete's travel case.
It appears CADEX is onto something. Remember Zwift's Sub7/Sub8 initiative? In June 2022, Kristian Blummenfelt rode this frame to the completion of the world's first sub 7-hour long distance triathlon event. Blummenfelt and his team of eight pacers each rode the new CADEX Tri frameset and CADEX Aero WheelSystems. He completed the 180km bike distance with a time of 3:24:22 for an average speed of 52.8 kph, shattering his target time by nearly 25 minutes for a historic full-distance time of 6:44:25.
Here's how it's described in the Drop Shop, where it is priced at 1,029,500 Drops and level-locked at 42+:
The CADEX Tri frameset is a no-holds-barred triathlon machine—no restrictions, no limitations. It's designed, engineered and put to the test by the world's fastest triathletes in a bold quest to push the sport forward. It rewrites the rules. There's nothing conventional about this bike. The frame, with its radical monocoque design, unlocks a new level of aero efficiency. It gives triathletes an entirely new way to access nutrition, hydration and other essentials right from their racing position without the wind ever noticing. It's all right there, tucked inside the aero down tube, invisible to the wind.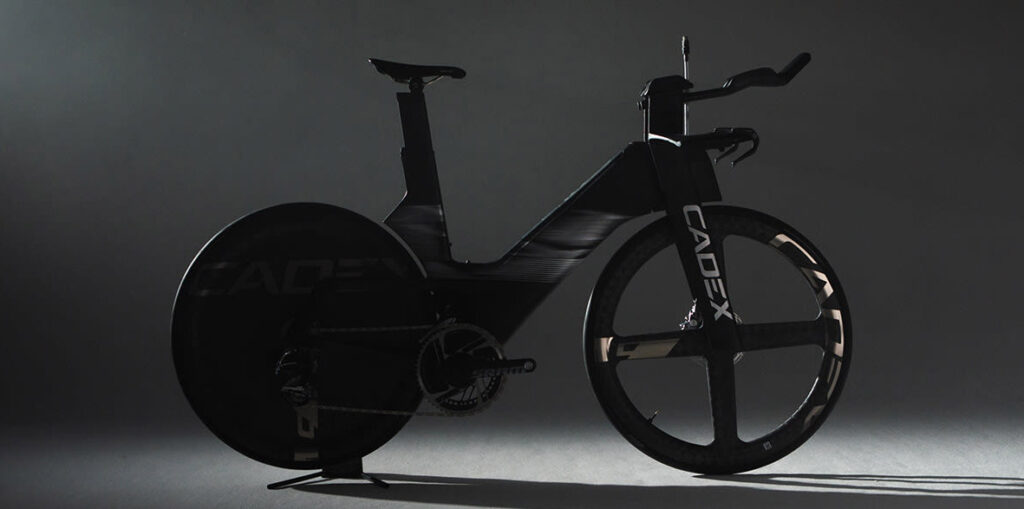 Like every TT frame on Zwift, the CADEX Tri is rated 4 stars for aero and 1 for weight. But how does it actually stack up against the other 20 TT frames in game?
We ran the new frame through our standard speed tests to find out, and the results were impressive! Here's everything you need to know about the performance of the new CADEX Tri frame in Zwift.
Aero (Flat/Rolling) Performance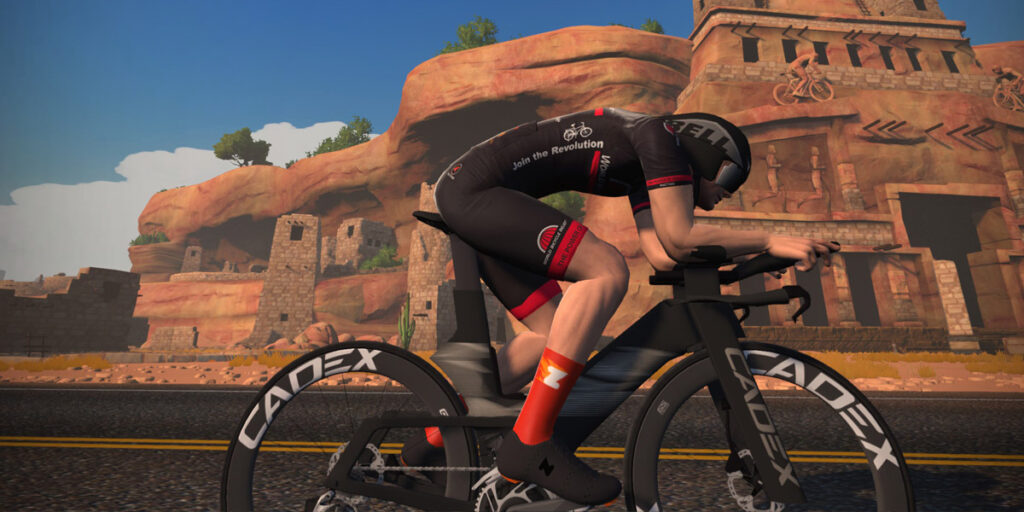 The CADEX Tri's aero performance outclasses every other frame in game, including the former-fastest Canyon Speedmax CF SLX Disc.
Its flat course test time of 49:36.5 is 4.5 seconds faster than the Canyon, making it the fastest TT frame in game by a significant margin when you consider TT races are where every second counts.
With frame choice sometimes coming down to a trade-off between climb and aero performance we should also mention here that the CADEX Tri is 6.5 seconds faster in our flat test than the two best climbing frames, the Felt IA 2.0 and Scott Plasma RC Ultimate. See below for details on how it stacks up against those frames on climbs.
Comparing it standard road frames, the four fastest road frames (Cervelo S5 2020, Felt AR, Specialized Venge S-Works, and Uranium Nuclear) all turn in a time of 51:17 on our flat test. That makes the CADEX Tri frame 100.5 seconds faster!
Reminder: our flat test course is two laps of Tempus Fugit totaling 34.6km.
Climb Performance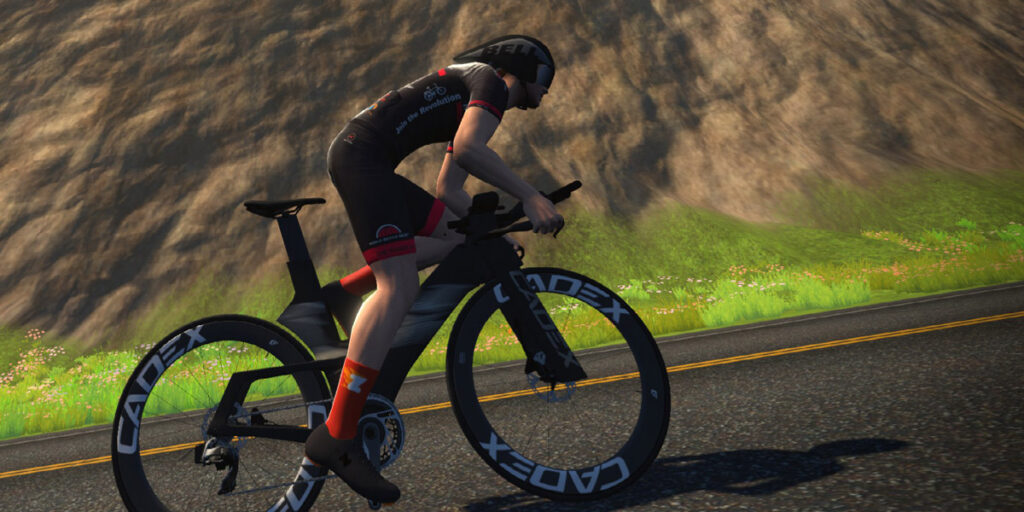 The CADEX Tri's climbing performance is also solid. Although it's not the best climbing TT frame in game, it outclimbs the Canyon Speedmax CF SLX Disc.
The CADEX Tri turns in an Alpe time of 50:06.5. The fastest overall climbing TT frames in game (Felt IA 2.0 and Scott Plasma RC Ultimate) complete the test 5.5 seconds faster, while the Canyon Speedmax is 2.5s slower.
Note: all test results above are from a 75kg, 183cm rider holding 300W steady using Zwift's stock 32mm carbon wheelset.
Conclusions
The CADEX Tri's top-of-the-heap aero performance and solid climbing performance make it the best choice today for nearly every Zwift race where TT frames are allowed. The choice is easy: if your race has you spending more time on flats and descents than inclines: go with the CADEX Tri for the fastest overall speed.
Newer Zwifters will of course notice the level lock of 42+, which is much higher than other top performers (the Canyon Speedmax CF SLX Disc is 26, the Scott Plasma RC Ultimate is 33, and the Felt IA 2.0 is 34). More incentive to level up quickly!
The CADEX Tri has been added to the following posts, and it can also be found on our Master Zwift Frames List:
Questions or Comments?
Share below!
Important note: this post contains speed test results for Zwift frames or wheels. These results may change over time, and a bike's performance relative to others may also change. We don't always revise posts when performance rankings change, but we do keep current, master versions of our speed test results which are always available. See the TT frame charts, wheel charts, and Tron vs Top TT Performers for current time trial-related performance data.