The fourth race of Zwift Racing League 2023/24 Round 1 happens Tuesday, October 3, and it's our second scratch race of this round. It's also the climbiest race of this round, on the super-punchy Tour of Tewit Well course.
Let's dig into crucial segments along with bike choice, powerups, and strategic options!
Looking at the Route: Tour of Tewit Well
This route covers the Yorkshire course's larger southern circuit in a counter-clockwise direction. All riders will be completing 2 laps of the circuit for a total race length of 21.8km/13.5 miles with 409m (1,341′) of climbing.
As you can see from the profile below, the course is far from flat! It features 3 significant climbs and has more climbing than any other race of ZRL round 1.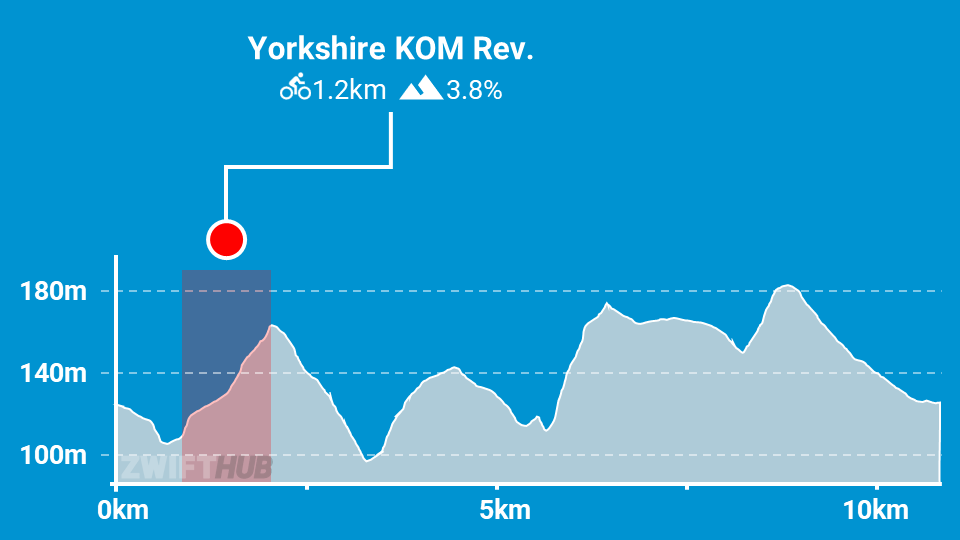 If the profile doesn't scare off the sprinters, maybe a 3D version will do:
Let's talk through the key sections of this course:
Yorkshire KOM Reverse @0.7km (1.2km, 4%): the first climb of race. Riders will hit this with fresh legs so you can be assured of a key selection being made here on lap 1.
Climb up from Oak Beck @3.1km (1.18km, 3.9%): the climb nobody talks about, but it's the longest on the route! Riders usually don't choose this as an attack point, since a steeper climb is just up the road.
Pot Bank Climb @5.6km (0.76km, 7.7%): the steepest pitch on the route, this is where riders traditionally launch long breakaways on the final lap. Don't let the average gradient fool you! This climb kicks up to 15% before grinding your legs away on a draggy false flat.
Kicker before the final descent @8.1km (0.5km, 6.6%): another good place to launch an attack, this kicker is short and fairly steep, so don't let it surprise you. Keep your speed up and mind your pack position.
Apart from these climbs, you're mostly descending or on a rare bit of flat tarmac.
Read more about the Tour of Tewit Well route >
PowerUps
Riders will be awarded powerups through each banner, meaning we'll get 3 powerups during the race: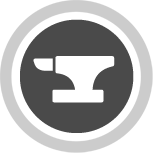 Anvil (50%): makes you heavier for up to 15 seconds, so you can descend faster. The amount of weight added is based on a percentage of your body weight, and that percentage increases as riders get lighter. It won't hurt you, as it only adds weight when the road is at a -1.5% decline or greater.
Use this on downhills. Pair it with a supertuck to go extra fast with zero effort!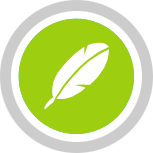 Lightweight (feather) (50%): reduces your weight by 10% for 30 seconds.
Use on climbs, when weight matters the most. The steeper the road, the more this helps.
Bike Frame + Wheel Choice
With the key moves happening on climbs, going with a heavier aero setup is not advised. At the same time, none of the climbs are long enough for a pure climbing setup to give you an advantage. So we recommend going with your best all-arounder.
We ran some test laps at 375W (5W/kg) to see how different setups stacked up against each other on climbs. Here are the times from Strava (which aren't terribly useful, since Strava rounds to the nearest second):
| | | |
| --- | --- | --- |
| Bike + Wheelset | KOM | Pot Bank |
| Zwift Concept (Tron) | 2:28 | 2:16 |
| Specialized Aethos + Roval Alpinist | 2:29 | 2:16 |
| Specialized Venge S-Works + DT Swiss Disc | 2:29 | 2:16 |
| Specialized Aethos + ENVE 7.8 | 2:29 | 2:15 |
See Tron vs Top Performers to learn different popular setups perform >
More Route Recons
Many recon rides are planned each week on the upcoming ZRL route. If you're unfamiliar with this course, jump into an event and do some recon! Here's a list of upcoming Tour of Tewit Well events.
Si Bradeley
Strategic Options
How will the race unfold, and what strategies will riders employ in this punchy scratch race? Here's what we predict:
Attrition: if you thought race 1 on Rolling Highlands was attritional, just wait until you take on Tour of Tewit Well! We predict a front pack whittled down to 25% or less of the starting field by the end of the race. Will you be the hammer, or will you be the nail?
Pot Bank Attacks: super-steep Pot Bank is a traditional place to launch big attacks on the final lap. With attrition being a maor factor and Pack Dynamics 4.1 slowing down packs, chances are good we'll see a late attack that sticks it to the line. A feather may help launch such an attack, while an Anvil may help you stay away on the descent that follows.
Your Thoughts
Any insights or further thoughts on this race? Share below!