Zwift's "ZRacing" is the platform's most popular ongoing race series, and in November it's all about Neokyo, Makuri Islands' neon-infused permanight urban center. To keep with the neon theme, everyone gets to ride a Tron bike this month!
Read on for details about race routes, the overall monthly GC competition, and more.
Neokyo Nights – November's Route Schedule
Here are the routes we'll be racing in November (click route for more details).
See upcoming Neokyo Nights events >

Tron Bikes for All
In keeping with the neon-themed look of Neokyo, event planners at Zwift have assigned the Tron bike to all racers this month. So even if you haven't earned your Tron bike quite yet, you can take it for a test drive!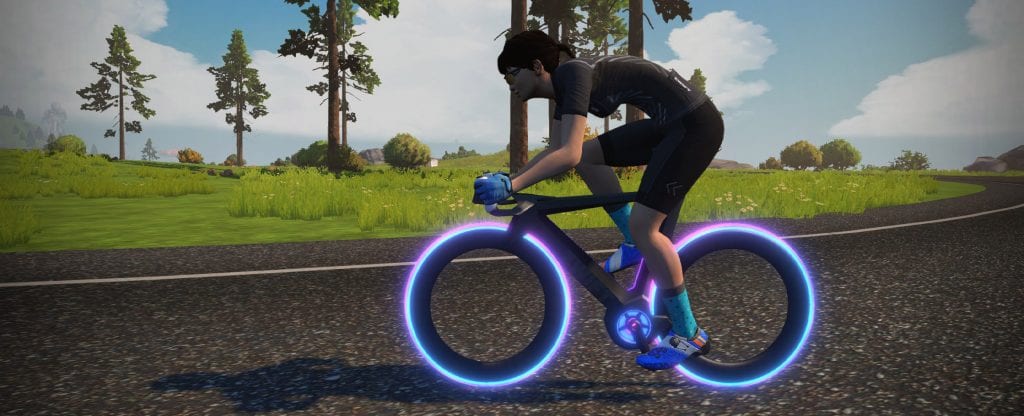 Curious how well the Tron bike performs? Check out our Tron Bike vs Top Performers chart >
Zwift Community Live(stream)
Nathan Guerra at Zwift Community Live is providing commentary and a live stream of each Monday's 5pm UTC/1pm Eastern/10am Pacific race. Here's the first race, and you can also click here for the playlist of upcoming ZRacing broadcasts.
Series Structure
The ZRacing series consists of monthly sets of weekly races. Each race is scheduled for seven days (beginning 1:10am UTC on Monday and running through to the next Sunday). Timeslots are consistent week to week and month to month.
Races are scheduled ~15 times each day, so there are plenty of available times to find a race.
See upcoming events at zwift.com/events/tag/zracingnov2023
Monthly GC on ZwiftPower
Each monthly series includes a time-based GC (general classification) tracking riders' best finishing times for each week's race. The overall winners in each category for the month are the riders with the lowest overall time for that month's set of races.
See November's GC on ZwiftPower >
With over 100 weekly timeslots available, riders can race each week's event multiple times and try to better their finishing time. Tip: the fastest times usually come from the largest race fields!
You must use a heart rate monitor and be on a smart trainer, smart bike, or power meter to show up in ZwiftPower results for this series.
If you aren't signed up for ZwiftPower, check out our post How to Sign Up for ZwiftPower (and Why Every Zwifter Should Do It).

Get the Badge
Each month's ZRacing series has a unique achievement badge, which you can unlock by finishing every stage for the month.
There are no makeup events, so if you miss a stage, you miss out on the badge and competing in the GC.
One and Done
Zwift has planned these events to deliver a solid 1-hour workout, so each race should only take around 1 hour to complete, including your warmup and cooldown.
Questions or Comments?
Post below!