About ZwiftPower
ZwiftPower.com is a website originally created by the Zwift racing community to help race organizers set up custom race rules which could be applied after an event in order to produce final, fair race results. Racers quickly adopted the mentality that ZwiftPower is where you go for the final results of your Zwift race, because ZwiftPower's ability to automatically remove out-of-category riders and other cheaters from post-race results meant its final race results were much more legit and fair compared to the results provided in game.
The site was later purchased by Zwift, who are now responsible for all site hosting and maintenance.
Everyone Should Sign Up
In our opinion, all cyclists on Zwift should sign up for ZwiftPower, even if you aren't interested in racing. Here are four reasons why:
The site has various handy free tools including a powerful event search, personal power curve, rider phenotype graphs, dual recording analysis tool, ability to download an archive of your Zwift activities, and more.
It's easy to sign up.
Most Zwift race organizers use ZwiftPower to manage race results. That means if you aren't signed up for ZwiftPower, you're being removed from the final results of just about every race that happens on the platform!
There's no cost to sign up.
How to Sign Up for ZwiftPower
Signing up for ZwiftPower is most easily done on a computer using your Internet browser, but it can be done from your phone as well. The entire process takes only 1-2 minutes and all you need to know is your Zwift account login details.
Step 1: Opt In to Share Zwift Account Data with ZwiftPower
Due to privacy regulations, you must consent to sharing your Zwift account and activity data with ZwiftPower since it's technically a "separate" website/database from Zwift's (even though Zwift owns it). Opting in is easy:
Sign into zwift.com/settings/connections using your Zwift account email and password.
Scroll down to ZwiftPower and click Opt-in. The logo will light up and "Opt-out" will appear below, signalling that you are now opted into ZwiftPower.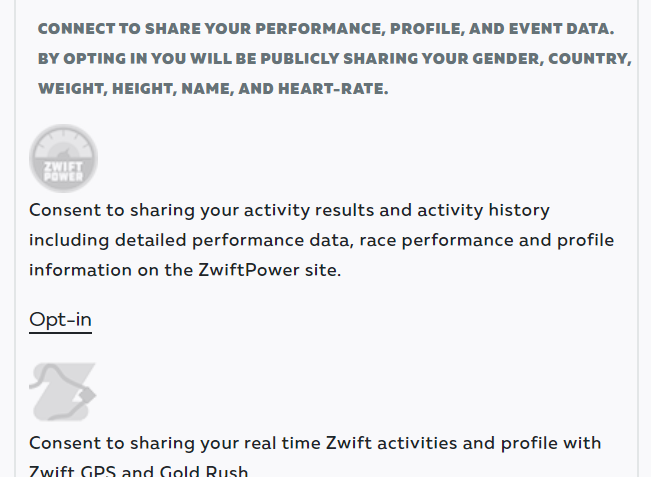 Step 2: Create Your ZwiftPower Account
Now it's time to create your ZwiftPower account. This is quick and easy, since it all happens using single sign-on with your Zwift account:
Visit zwiftpower.com and click the big "Login with Zwift" button (clicking "Create an Account" below that will take you to the same link)
Log into your Zwift account with the same credentials you used in step 1 above. You will be redirected back to ZwiftPower.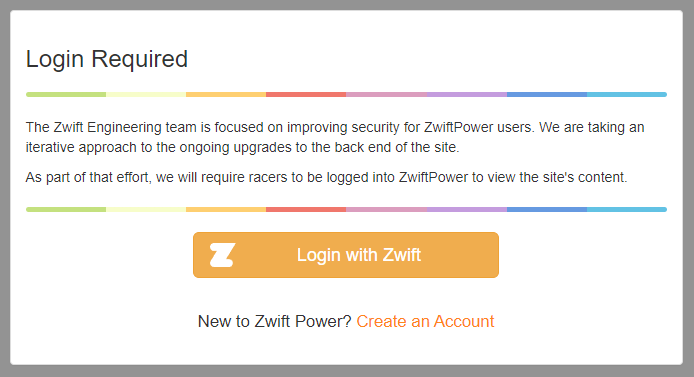 Step 3: Agree to ZwiftPower Terms & Conditions
There is one final step that's easy to miss: you have to agree to ZwiftPower's Terms and Conditions in order to finish registering your profile. Until you do so, you won't be included in race results, and you will see this message at the top of your ZwiftPower pages:
Please agree to our new Terms and Conditions to register your profile.
The challenge is, Zwift doesn't link that text to anything, so you're left trying to figure out just how to agree to the T&Cs! The place to do it is on your ZwiftPower profile page. Click "Profile" at the top of the page (or just go here), check the boxes on the consent form, and click "Agree".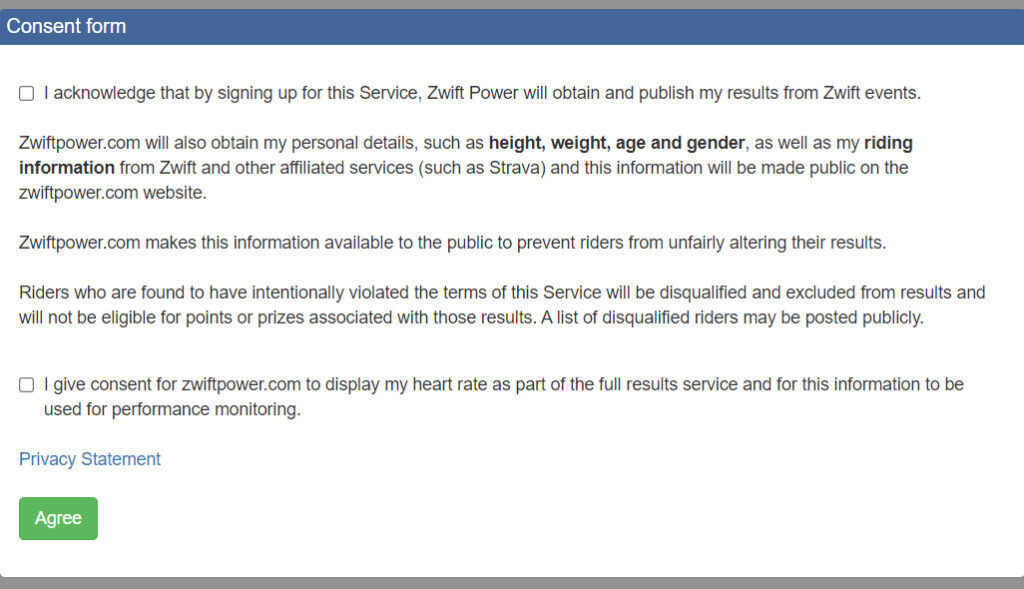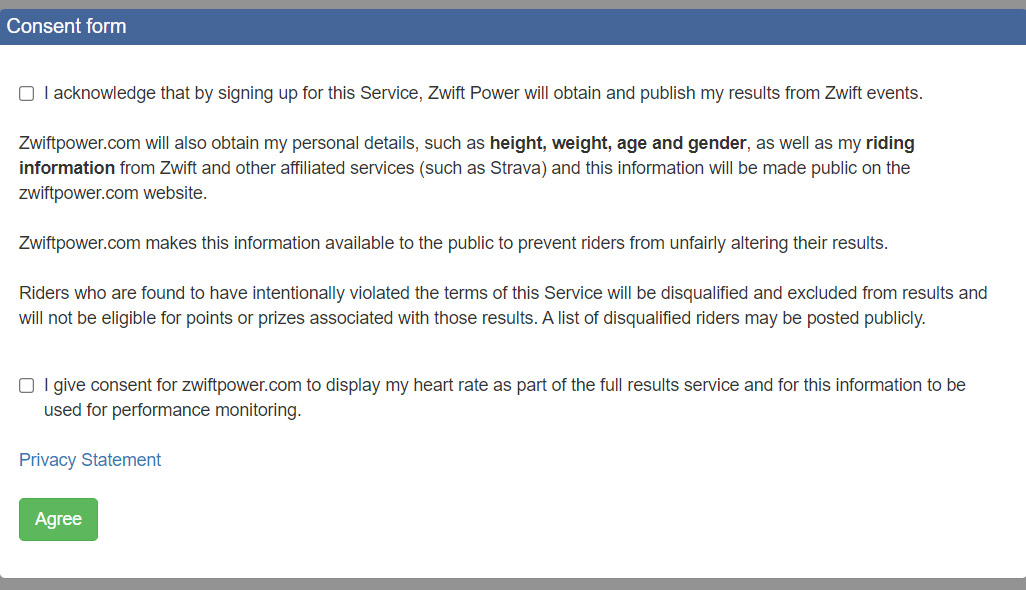 Now you're all signed up!
Questions or Comments?
Share below!