For a year I have been obsessed with the weekly Team Time Trial… so I asked Eric if I could share my obsession with you all, in weekly doses.
Each week I will give you a profile of the upcoming route, guidance on bike choice, and some target times if you want to aim for the Premiere League (top-10 in each coffee class get to be in a special race televised on YouTube).
If you can't ride, or even if you can ride, but want more action! Don't forget to tune in to the live TV show on Zwift Community Live's YouTube Channel at 6:15 (UK time).
Watopia Volcano Flat recap
Before heading to the Big Apple let's take a look at how well you did in looping the Volcano last week.
Volcano Flat was a TTT course three times last year – in February (#45), in May (#56), then again in July (#63). Doppio, Espresso, Frappe, and Mocha performed pretty much as expected… coming in a little better than July. But Vienna and Latte blew the doors off – both of them shaved over a minute off their legs.
Highlight of my predictions this week – Espresso. Not just because I nailed 11th spot in my prediction, but also because the R&K Cheetahs secured a PL spot coming in right around the time I set. I'm not saying they got a PL spot because of me, but…
| | | | | | |
| --- | --- | --- | --- | --- | --- |
| Class | #56 | #63 | My prediction | #96 PL time | My place |
| Vienna | 55:53 | 55:28 | 55:00 | 54:21 | 18th |
| Doppio | 47:44 | 48:06 | 47:15 | 47:39 | 6th |
| Espresso | 48:48 | 49:54 | 48:25 | 48:34 | 11th |
| Frappe | 50:59 | 51:02 | 50:30 | 50:21 | 13th |
| Latte | 54:54 | 54:42 | 54:30 | 53:47 | 22nd |
| Mocha | 1:02:23 | 1:02:00 | 1:01:00 | 1:01:12 | 7th |
As good as the Cheetahs were this week, the R&K Lions were awesome. Fastest team of 5 in Espresso this week, securing 8th spot. Over the last year of TTTs I have seen so much improvement in fitness in our (growing) squad and the competitive spirit is as strong in my Latte team as it is with the Espresso riders! However much performance I gain, I just seem to barely keep up with my friends and teammates. Beyond fitness, one of the things R&K excels at is creating a sense of community and the highlight of everyone's Thursday is the Captain's ride reports.
Stripped of our stars, including an Olympic champion in the reshuffle, we searched for replacements in a weekend spent drilling the R&K talent mines. From the darkness we unearthed Simon E, Shifty, and Ben M, all 3 of them rouleurs ideally suited to the flat course. Joining us from the reserves was Martin H the bespectacled sexagenarian lawman and completing the team we had Sherpa, Andy A, and the sole surviving original Vixen, Sue S.
Shifty's avatar failed to live up to his name and refused to budge from the stalls so 7 of us set off.
A regular pattern quickly emerged, Ben M on the front for extended turns with support from Andy A , Simon E, Martin H, and Sherpa.
Having realised what power we had with the big lad we shamelessly "sweated the asset" and pressed him on through the ups, downs, and flats, occasionally reigning him back when, for example, Sherpa claimed he was off the back due to a loose earpiece. Eventually Sue S slipped beneath the surface of her Florida pool and Simon E was trapped in an overtaken group. We lashed Ben all the way to the finish and Sherpa immediately phoned WTRL WW HQ for the results, but alas, our arch rivals (Frappe team R&K Cheetahs led by the evil Nealel) pipped us by a few seconds. Anyway there'll be 8 of us next week and we've still got Ben the chuggernaut, so watch out pussycats.
R&K riders are entertained by 10 of these reports (11 from next week), and the team captains work hard to out-do each other… and this helps keep the community together.
I realize that every one of the 1000+ teams riding each week has an equivalent story, so I asked a couple of friends for theirs – starting with my old mates CICC – Croissy International Cycling Club. Their "B" team is CICC Blast – here is Mark B's ride report.
Blast looked good with 8 strong riders lined up. William H had foolishly accepted a bet on Chris Hs tech letting him down and were paying out before the start with his obligatory IT crash. Robbie had sorted his Dalek Discord voice and was duly appointed road captain. The team set off at a fair clip and got into good form swapping strong 45 second turns. The dual goal was to overhaul CICC Crew (who were 90 seconds up the road) and stay out of the clutches of CICC vAmos (3 min back).
Team after team were passed with Larry pulling a few strong turns before dialing out – he had been thrown overboard by Crew late in the day as Crew were overcrewed so it was a fab effort. That left us with 6 strong riders as we waved to Crew on the way past. As the gap to crew increased vAmos came into the rear view mirror – but 2 mins back with less than a lap to go.
Our 6 became 7 as we overtook a straggler who decided to 'join' and spoil our line – he was sworn at twice in broad 'Scots' then our multilingual climber Mr Perkins impolitely told him in French to 'cease and desist' he ignored all of this so Gerry duped him into thinking he was struggling and dropped him. Hammer down for the last few K, Luke disappeared at some point leaving a 5 person pull for the line.
… and if you will excuse me, one more personal ride report. This time from a Team Giant Camden rider which epitomizes how the weekly TTT has helped local clubs become global in these trying times.
From one lone Devonianin the pack, local friends and cycling club mates have come on board and the Devonian crew now proliferate almost every team in the GC family. From the pre-event chatter on the line through the shared agony as someone shouts "off in 5", to the sound of gasping as finish lines are reached almost an hour later, we pedal alongside… hoping that one day we will get to do this together on the hills of Dartmoor. For now though, its another lap of the Volcano, and right now there is no better place to be, or better group to share it with… my turn on the front again… "Powering Up!"…
I'm looking to feature ride reports from around the community… if your team has a personal TTT story to share come and find me.
Thursday… the International Day of…
Before we head into the recce of Astoria Line 8 I want to introduce a new friend. Luciano Pollastri has made a global migration in the opposite direction to me – I went from the UK to America, he went from Argentina, to France, and now Madrid. (If you haven't read his Lucianotes article you should, but obviously not til you finish the Recce!) Luciano is going to put together a weekly post-TTT report, but as an introduction to his irreverent style, here are some words we will all find useful:
Today's team debrief post-race made me realize there is absolutely nothing more creative than a Zwifter who crosses the finish line of a race in which he did poorly: me in this case.
There is an inverse correlation between the quantity and absurdity of the excuses a Zwifter can improvise in order to explain his subpar performance, and the number of watts that the same Zwifter has generated during the race.
The formula for the standard Zwifter, where "x" is the number of excuses post-race and "y" the average watts output during the race, would be something like this: x = y2
For someone absolutely hyperbolic like me (I have both Argentinian, French and Italian blood), the formula would rather be: x = 20.y10
Let's dig into my portfolio of excuses – these work as well for normal races as they do for the TTT!
Thursday is the international day of wifi connection issues "I swear I was doing great then Zwift had a problem: everybody disappeared and I reappeared 1265th."
Tuesday is the international day of numbers not making sense "My trainer must not have calibrated right. I am sure I was developing 300w, I know when I do, but it was showing 250w."
Thursday was the international day of bad food choices "10km to the finish line I started feeling kind of sick. It's the bad oyster in the seafood plate I ate seven minutes before the start of the race."
Thursday was the International day of horrible work "Work is crazy and really stressful. As soon as the race started I had no strength at all. If it was not because of the crazy workday I am sure I would have nailed it!"
Wednesday…. the international night of insomnia "I got to the race like a zombie. Two hours of sleep is not enough you know."
Zwift Cheaters "Everyone ahead of us in the rankings are height/weight/cheating/sticky-watts/sandbaggers!!! Look at their wkg average on 20 minutes on this other race! It's a scandal"
The magic towel "I was about to take my turn on the front, took my towel to clean the sweat of my face and when I looked back to the screen you'd dropped me!!!"
And finally, the international day of paranormal events
"I was having the perfect TTT – taking long turns on the front and feeling great…. Then a Portuguese removal truck (other country's trucks may be available in your area) has hit a street lamp two blocks away from my place, creating a 20 minutes electricity outage in all the neighborhood.
No matter how crazy the excuses, your teammates would never challenge them – they are the best teammates in the world. They understand you need to go through the curve of "acknowledgement you just did awful", which implies a first phase of two hours of absolute bad faith excuses, leading you to bed still feeling that life has been just been so unfair with you. Now, Friday morning is another story. You wake up with "excuse hangover". You feel nothing but embarrassed about how a crying little baby you have been the day before.
The best thing is that, no matter how miserable you feel at that precise moment, nothing is going to prevent you from inventing a whole new avalanche of absurd excuses next Tuesday.
I am really looking forward to Luciano's ride reports… and for the record, my earpiece really did fall out this week, and I really did get dropped trying to reconfigure Discord on-the-fly… but I did get back on!
Thursday 25th February – Astoria Line 8
Over to the USA this week, to New York's Central Park of course. Astoria Line 8 is named for New York's first subway line – but for the bikes we keep it above ground throughout. The route is an accurate replica of the surface roads in the Park – when the New York world was released Dave Chauner, NYC racer from the 60's said "Rode the new Central Park course this morning. It's been a long time but I recognized every meter of the circuit".
Three laps at around 11.58km (7.2 miles) each with no lead-in gives a total distance of 34.75km. There are no significant hills but this course is LUMPY – there is no significant flat on the course at all, but equally there are no mountains to climb here. Elevation per lap is 141m (460' in old money).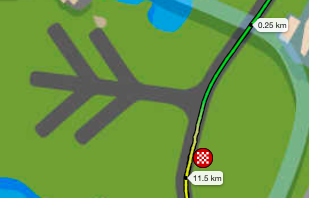 The layout of Astoria Line has confused me for ages – I ended up watching a 'cast of the last TTT (thank you Team DIRT) to try and work it out. The pens are slightly the "wrong" side of the start/finish banner so technically (I think) what you have is a lead-in of 11.58km on a lap that's also 11.58km. I'm going to try and ride this again and pay attention to where the pen is vs the start/finish.

The course itself is best described as a figure-8 if the 8 had an extra loop.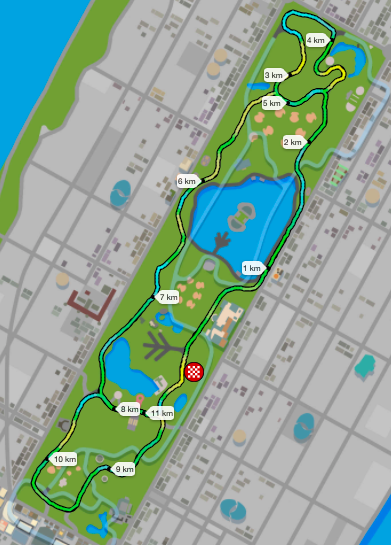 A 2.25 km clockwise loop at the top of the park, straight down the west side of the park to (almost) 8km, then a 3km clockwise loop at the southern end before getting back to the start/finish banner at 11.5km. You can see the start/finish banner by the Pens on the map. Of course, with Zwift you don't have to worry about directions – just pedal and go!
What to ride?
Unlike last week, this is not a flat route, but there are no mountains here – it's best described as lumpy. Last week i recommended Venge/Super 9 over Tron… this week I am reversing that… Tron over Venge.
Here are some choices for you at different levels – but to reiterate – none of these combinations will beat the Tron around Astoria Line 8.
Level 5 Specialized SL7 with ENVE 3.4 (last week's pick, the Roval's don't climb well which is why I went with the ENVEs)
Level 6 Upgrade to DT Swiss ARC 62 wheels
Level 10 Upgrade to Canyon Aeroad 2021 frame
Level 13 Upgrade the wheels for ZIPP 808s
Level 33 S-Works Venge with ENVE SES8.9
Level 40 S-Works Venge with Zipp 858
Level 45 get those 858/Super 9 wheels and pair them with the S-Works Venge
As always, the Zwift Insider reports on frames and wheels are superlative so if you want to find the perfect bike and wheel combo for you, check them out. The "Fastest Bikes at Each Level" post is also a helpful summary of those more in-depth reports.
Every week i give the same message about the Tron, which can be summarized as "get it". This week I have a little more practical help. Team Giant Camden who the observant will remember from the Ride Report above are putting on a series of 4 (to start with) Tron Hunter events – the first is March 7th and they will be weekly from there. The routes are hand-picked to have enough ascent to be useful, but not to be just another grind. London Surrey Hills on March 7th, New York Rising Empire on the 14th, Ven-Top on the 21st, and finishing with Royal Pump Room 8 in Yorkshire.
I don't have links to the events yet but as soon as I do I will post them in the recce. Team Giant Camden are well known for being a friendly lot and while they are based out of a bike shop in London, they have 200+ racers from all over the world with a very strong female contingent. The Tron Hunter rides are open to all… see you there!
Route recon
In my experience this is a hard route to break down and analyze. I find New York's ground-level landmarks hard to differentiate between and I never seem to know where I am on the course.
There aren't a massive number of rides on Astoria 8 over the weekend but there are some. If you didn't ride this as a TTT in September (I didn't), check out the event listing on zwifthacks.com and find a ride or two. Good news though – New York is one of the guest worlds on Wednesday… and you can always set up a Meetup for your crew.
What to look out for on the ride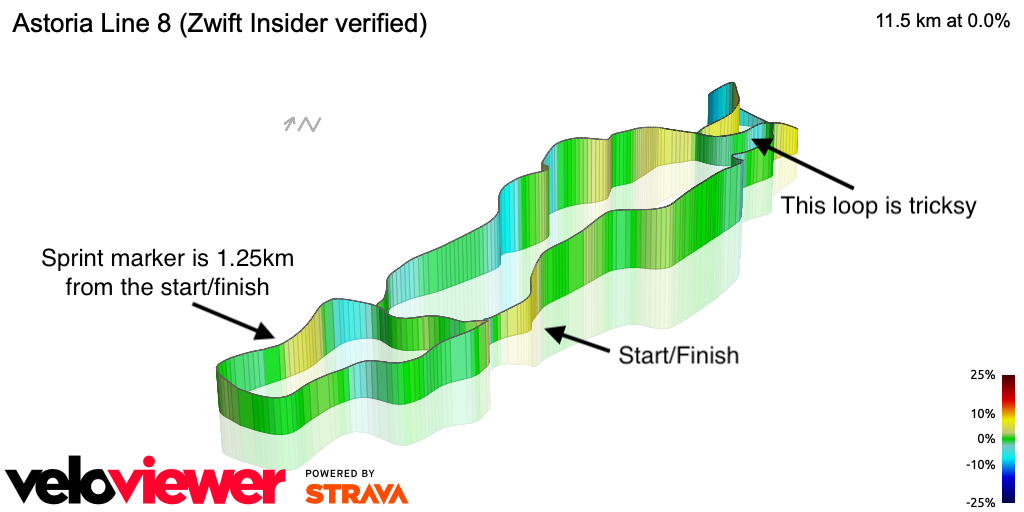 This is a technical ride. Like Harrogate last week, winning this week is all about knowing your team's strengths and weaknesses under pressure. There are a couple of places where teammates might crack; the loop at the north of the park, and the bump right after the sprint are particular hotspots. ,
West side
Out of the gate here you hit a gentle rise and fall leading into the North Loop. This is the most straightforward part of the whole ride. A perfect time to get into your stride… or on subsequent laps to regroup.
North loop
The north loop is a rollercoaster – On the segment picture below, you enter at the top (where the green turns to blue), take the right turn and straight up the hill – North Woods Climb East which is 400m at 5%, down the hill (get your heart rate down) then up East Drive Climb which is a curvy 420m at 5% again, but has a tight 8% section in the middle.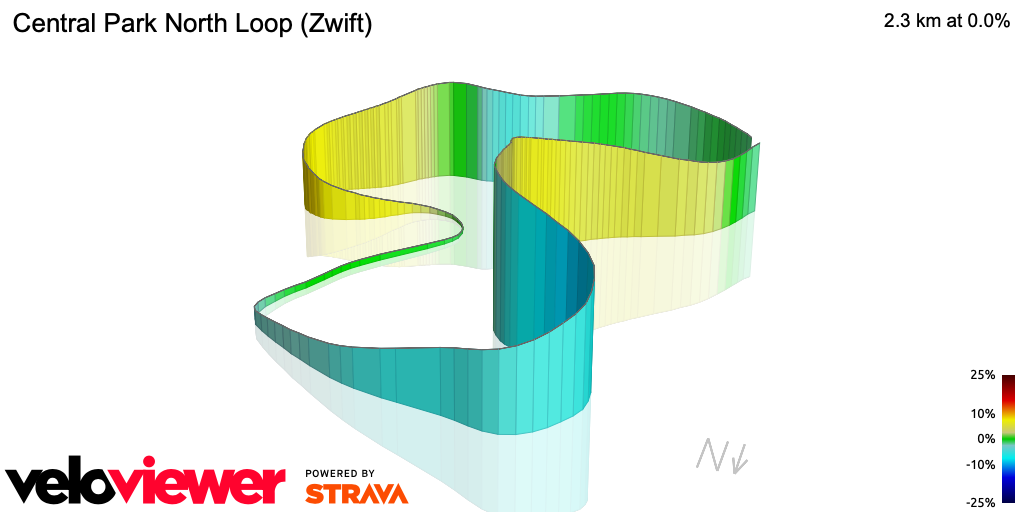 East side
The east side straight is dominated by a triple bump hill. This isn't steep by any stretch of the imagination – 400, 350 and 300m each at 2.5% – but it is a leg-sapping section, particularly as it comes right after East Drive Climb. After that, though, you head downwards for 700m to the relative calm of the South Loop.

South loop
The south loop is fairly straightforward – a lumpy 3km around. Two areas of note – the sprint, which you can use as a distance marker (it's 1.25km to the start/finish) and the climb right after the sprint banner (300m at 4%).
The finish
That last climb isn't rough – but I can tell you from personal experience that on the last lap, 300m at 4% is a killer. On the last TTT I got dropped here – but at least I did a decent turn on the front before pulling the parachute.
The route has an uphill finish – 300m at 3%. Save some adrenaline for that on the last loop around!
Target times
I'm mighty proud of my predictions for last week – if you hit my times you would have been in the middle of the Premiere League in every category. But… what I want to do for you is get closer to the maximum time for each Coffee Class that will still get you into the Premiere. Let's see how close I can get this week.
This course has been run three times before; last time September (I missed this one), before that was April (#53, my second TTT), and the first time i found was August 2019.
| | | | | |
| --- | --- | --- | --- | --- |
| | #20 | #53 | #74 | Prediction |
| Vienna | | 53:50 | 55:14 | 53:45 |
| Doppio | | 45:52 (9 teams) | 48:24 (6 teams) | 45:30 |
| Espresso | 48:56 | 47:06 | 47:15 | 46:30 |
| Frappe | 53:55 | 48:32 | 48:30 | 48:00 |
| Latte | 59:20 | 52:57 | 52:38 | 52:00 |
| Mocha | 1:09:31 (team 6 of 7) | 1:01:55 | 1:00:06 | 59:00 |
I didn't race in September, and my best time around this route is from the TTT in April when I was with the CICC-B (B stands for Before they started getting creative with team names) team. I took 1:05:19 coming in around a minute after the team. This time around I'm hoping to stay with the Vixens and get close to the PL time.
The Vixens are looking pretty slick… I kept my Vixens spot this week, and feel good about our chances of catching the Cheetahs. We are creeping closer to PL, however, over our shoulder I see the R&K Hyenas have a beefed up roster including Gabi, Dani, and Dani's dad. Can we keep ahead of them on this rolling course? An epic battle between the lightweight ladies (+dad) and the hulking bruisers.
Wrapup
Last week's loop around the flat volcano was fun, but this week is all technical. If you practice situational awareness and communications on the flat, you will reap the benefits here. The northern/eastern side (the first half of the ride) is pretty technical and I personally find it hard to know where we are at any given moment. Once you hit the north loop it's up, up, up in a sequence of bumps, but the second half opens up a little and is easier on the brain so the team can regroup. This is a great course for a Team Time Trial that I hate with a passion!