Since March I have become obsessed with the weekly WTRL Team Time Trial… so i asked Eric if i could share my obsession with you all, in weekly doses.
Each week on Friday I will give you a profile of the upcoming route, guidance on bike choice, and maybe even some target times if you want to aim for the Premiere League (top-10 in each coffee class get to be in a special race televised on YouTube).
There's some big changes coming for the TTT – a new Doppio class filled with A+ riders, and a league system within each Coffee Class. As soon as I get the scoop from my informants at WTRL World HQ I'll let you all know.
Rumble in the Jungle Recap
My recap of this week's Rumble In the Jungle starts with a terrible error of judgment… Wednesday I was feeling great and decided to enter a race – and placed Silver (the real Zwiftpower Silver, not the pointless results table from ZwiftHQ). Brilliant! Except, as my legs pointed out on Thursday, going all-out in a race is not the same as a recovery ride. Ah well, you live and learn*.
It's holiday season in the UK and between that and a few injuries we only started with six, but nevermind, we have heart, and we have fire in our bellies… and a mechanical leaves five! Regardless, we shot out of the pen, on matching Specialized Epic MTBs, and with the aid of double draft made it to the Start/Finish only seconds adrift of our split time and the first lap went perfectly too. But as is the way in TTT, if you go out too hot someone gets dropped. That someone was me. The lads cracked on – and passed two teams (proving I was the anchor I thought I was today) before finishing across the line together. Decent team result given that there were only 5 starters. Cone of shame for Sherpa Dave, who let the side down!
*We all know there is no such thing as a recovery ride on Zwift, and we also know I won't learn…
Thursday 3rd September – Greatest London Flat
All back to normal next week – no powerups, normal draft and back to road bikes. This week the route is the Greatest London Flat – around the City of London itself, then over to Surrey with the flattest of the three paths through. Two little things to remember:
This isn't the Greater London Flat… its the GREATEST London Flat – both figure into the schedule for TTTs but this one is longer, heading south of the river, and into Surrey.
It starts and ends at The Mall, not at the Start/Finish banner on Upper Thames Street… remember to add the extra 7km to your ride as you sail past.
A 7.5km lead in from the Pens, followed by a 23.6km loop through London and Surrey.
Read Zwift Insider route description >
What to Ride?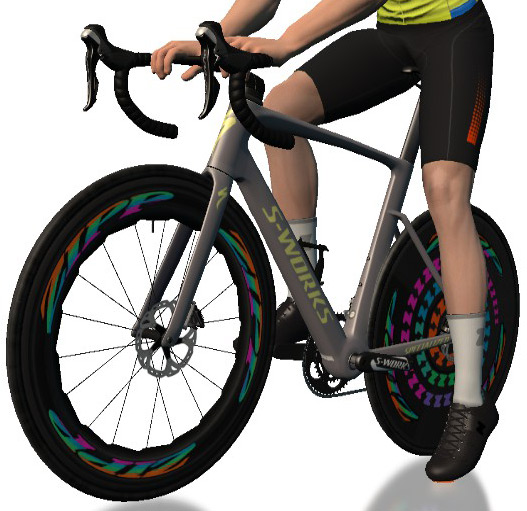 This is a flat route so aero rules. If you have it, the Specialized S-Works Venge with Zipp 858/Super 9 wheels is the pick of the bunch (and the only frame/wheel combo to consistently beat Tron on the flat). Tron is almost as good on this course, and if you haven't done it yet – kick off the Everest Challenge and start the long painful climb to get Tron. If you don't have either of those, here are some frame/wheel pairings that will work well for you at different levels:
Level 5 Specialized SL7 with Roval CLX64
Level 15 Specialized Allez Sprint with Zipp 808
Level 25 Cervelo S5 with Zipp 808
Level 32 S-Works Venge with ENVE SES 8.9
Level 35 S-Works Venge with Zipp 808/Super9
Level 45 get those 858/Super 9 wheels and pair them with the S-Works Venge
As always, the Zwift Insider reports on frames and wheels are superlative so if you want to find the perfect bike and wheel combo for you, check them out.
Route Recon
This is a single lap race. Starting at the pens and it's mostly downhill to Northumberland Avenue, where you head up the hill to Trafalgar Square. Sharp left at the top and then a right as you head towards Buckingham Palace and then down the Mall to the reverse sprint.
You are now 7.5km into the ride, and this is where the lap actually starts.
The jaunt around Central London is mostly flat/false-flat, except when you head down Piccadilly through the Hyde Park Corner underpass and up the other side. Soon enough (17.5km) you will head across the river to Surrey – but fear not, you aren't tackling Box or Leith, you are just heading through the beautiful Surrey parkland. Through the Underground Station and across Tower Bridge (23.5km) and you're soon on familiar ground – because you'll pass the Pens and be back on the lead-in with 7.5km to go. Just follow Upper Thames Street, up the Northumberland Avenue hill to Trafalgar, left, right, past Buck House and a quick Reverse Sprint to cross the line.

There are loads of upcoming rides on this route, so if you want a proper recce visit this ZwiftHacks.com link. I struggled to find many times that would suit our American friends, but the Europeans and Antipodeans have quite a few choices.
My pick of the recce rides this weekend comes from Team CLS, who have two rides – one for the European early birds and another for the Americans and European afternooners.
What to Look Out for On the Ride

Unlike last week this is all road surface. No significant hills to split the group, but there are a few areas to watch out for:
From the pens its a nice flat start allowing you to get into formation and go… 3.7km in you make a sharp turn onto Northumberland Avenue – that's a 150m stretch at 4% – keep the weight-weenies in check and you'll be fine.
Just past the 11km mark you will head down Piccadilly (1.1km where you will pick up speed) into the underpass and back up the other side (where you will lose it again). The incline out of the underpass shouldn't split the group but keep an eye on your teammates.
At 18km you hit what I think of as the worst part of the course… legs are starting to get worn, and there's a 3km stretch of just annoying ramps. Can't describe it better than that… annoying and just in the right place to create a split.
Right before 23km you exit the Tube station – it a short, sharp shock peaking at 15%. This will hurt.
Once more down the lead-in, with the main lump being Northumberland Avenue again
No time to look, but you'll see Nelson's Column, Big Ben, and Buckingham Palace again then SPRINT for the line with whoever's left in the group.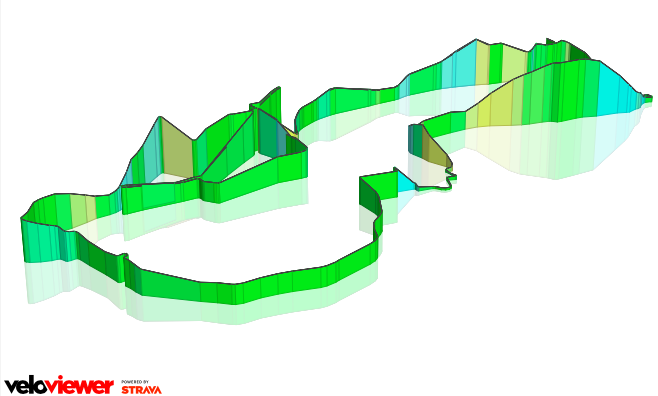 Target times
New for this week I'm going to give you some predictions and target times to get an invite to Premiere League for each class.
Split 1 – 8km – Between the start/finish and the arch at the end of the Mall
Split 2 – 16km – Passing Harrods – don't stop to shop!
Split 3 – 24km – As you round Tower of London and pass the Pens.
| | | | | |
| --- | --- | --- | --- | --- |
| Class | Split 1 (8km) | Split 2 (16km) | Split 3 (24km) | FInish |
| Vienna | 12:00 | 23:15 | 35:00 | 45:10 |
| Espresso | 10:30 | 20:30 | 31:00 | 39:40 |
| Frappe | 11:00 | 21:30 | 32:45 | 42:10 |
| Latte | 12:00 | 23:00 | 35:00 | 45:05 |
| Mocha | 13:30 | 25:15 | 40:30 | 51:41 |
My best times around here:
| | | | | |
| --- | --- | --- | --- | --- |
| ODZ group ride | 12:09 | 23:13 | 36:18 | 47:21 |
| Last TTT | 12:42 | 24:22 | 37:17 | 47:57 |
Questions or Comments?
Did you find this article useful? Will you be riding in this week's TTT? Share below!