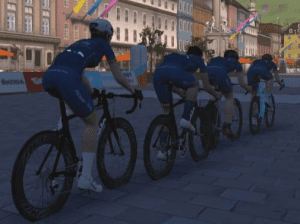 For the past 19 weeks I have become obsessed… so i asked Eric if i could share my obsession with you all, in weekly doses. For the past 19 weeks my entire Zwift experience has centered around the Thursday Team Time Trial arranged by WTRL. If you haven't checked it out, you should – for me at least, it is the best of what Zwift can provide.
For the uninitiated, the WTRL TTT takes teams of (up to) 8 riders around a course that changes from week to week. The trick is to learn how to work as a team taking advantage of drafting, rotating turns at the front then resting at the back, while managing energy to make sure you get 4 riders across the finish line as fast as possible. Teams are categorized into 5 classes; Vienna (ladies), Espresso (no restrictions), Frappe (mostly As and Bs), Latte (Bs and Cs) and Mocha (Cs and Ds) so there's something for everyone.
The WTRL website at wtrl.racing is a great place for more information on how it works.
WTRL's TTT has become such a phenomenon it has caught the eye of the race commentators at Zwift Community Live. Each week Nathan Guerra and Dave Towle run a live commentary of the TTT – you can find last week's coverage here – and there is already a placeholder for this week's TTT, #71.
My weekly Zwift schedule for the past 5 months has revolved around examining the upcoming route, plotting target times for my team and helping with equipment selection. I typically ride and re-ride the upcoming course, and try to be at my freshest each Thursday because anything else would be letting the team down! Thursday evenings are spent poring over the results and comparing how we did to previous weeks, looking to glean something that will boost performance next week. Yeah – you could say I'm obsessed.
Each week on a Friday I will give you a profile of the upcoming route, guidance on bike choice and maybe even some target times if you want to aim for the Premiere League (top-10 in each coffee class get to be in a special race televised on YouTube).
Thursday 27th August – The Rumble in the Jungle
This week the route is the Jungle Circuit: a 5.7km downhill lead-in, then three laps of the hilly 7.8km Jungle Circuit.
Visit the Zwift Insider route detail page >
The WTRL team are pushing our comfort level this week – not only do we have to contend with a dirt road, they are enabling some of the powerups, and it will be double draft. There were some rumors flying around that the new Sterzo steering plate would be working which caused plenty of debate… but unfortunately, ZwiftHQ hasn't opened it up to events yet. Some of these additions are one-off experiments, and some will filter into later weeks' TTT events.
Throughout the race you will have the three opportunities to collect a powerup – one each time you go through the start/finish of the loop. The powerups enabled are:
Aero – Use this when you are at the front of your team to lead the way
Feather – flagging on that hill? Hit the feather powerup for a brief respite
Truck – Extra help when you're hiding in the draft… for 30 seconds
Steamroller – You might be riding on dirt, but for half a minute it will roll just like tarmac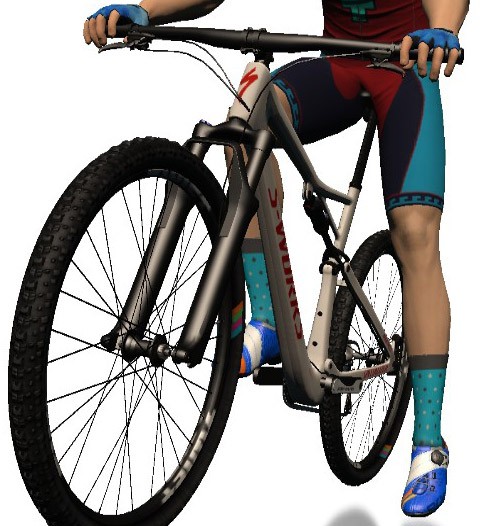 What to Ride
While the route starts on tarmac, it takes place almost entirely on the dirt surface of the jungle. Eric has run numerous tests on Zwifts dirt surfaces, and the results are conclusive – in a predominantly dirt surface a mountain bike will outperform a road or even gravel bike.
So for Thursday, I will be riding a Specialized Epic, but all the mountain bikes perform around the same. For the budget-conscious, the free-to-all Zwift MTB will do the course only a few seconds behind any of the others.
Route Recon
The lead-in heads down from the pens into the Jungle with the road changing from tarmac to dirt on the way down. In the forward direction, you roll through the lap banner at the loop's lowest elevation, then ride a gradual climb (~3%), cross the rope bridge then back down to do it all again.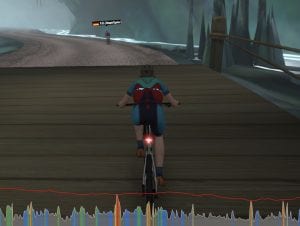 The best way to get the hang of a TTT route is to ride it. Whether you find a race/group ride, get your mates together for a Meetup or just jump in yourself… if you haven't ridden that course in a while, I suggest riding around a few times, noting where your team is likely to break apart and lose draft (doubly important this week as double draft is enabled).
It's been a while since I did the Jungle loop so I did a three-lap test ride Saturday. One thing to look out for is just how hard 29km on dirt is versus 29km on tarmac. This will feel like a 40km road ride and last as long. Expect your team's time to be correspondingly longer.
If you are looking to practice Jungle Circuit ahead of the big race check out ZwiftHacks' events app – and here are a few Jungle Circuit events happening this week:
What to Watch For
Familiarity with the route is one thing, but a Team Time Trial means sticking in the draft of your teammates – if a gap opens up it can be fatal. Gaps open up if your team isn't disciplined or prepared, and you hit something that will change your speed. In a normal ride (like a race or a group ride) where you are drafting does not matter, but in a TTT it can make a huge difference to the team's speed as you all slow down to regroup.
What are we looking for? Hills, descents, changes in surface, Let's take a look at some of the key danger areas for The Rumble in the Jungle…
The lead-in is pretty straightforward – experienced teams won't have any trouble at all. That said, there are two areas to watch for:
From the go it's a nice downhill for 5km. Get into your groove and ride like the wind!
Just over a kilometer in, the road switches from tarmac to dirt-track. That change will cause a slow-down of the riders, with heavier and lighter riders behaving differently. That can cause a split. Luckily here everyone will have fresh legs – all pay attention and you'll be fine.
Just after the Jungle Circuit "Y" there is a slight ramp – nothing in the grand scheme of things but enough to throw off your rhythm if you don't pay attention. You'll pass this three more times, but by then it'll just be more grist for the mill.
After this, it's all downhill to the banner


For the most part this is a simple 2.5% up for 2.5 km then a shallower descent averaging 2% for 3 km. There is one danger area: right at the top of the climb is the rope bridge – 200 meters going down at 7%, 200 meters coming back up. Just long enough to cause a split if the riders at the front are gunning it and not looking at their followers!

Wrapping It Up
The Jungle Route is a perfect introduction to Team Time Trialling. It's one of the simplest routes without too many "gotchas." This week for the first time ever the WTRL team are putting powerups into the race! If you don't have seven mates to join you, there are teams at every level looking for fresh riders. Visit wtrl.racing to get signed up!
Questions or Comments?
Did you find this article useful? Will you be riding in this week's TTT? Share below!