"Greatest London Flat" Route Details (London)
London's "Greatest London Flat" was released with Zwift's February 1, 2018 update and is the longest "flat" route on the London course.
Route Basics
Length: 23.6 km (14.7 miles)
Elevation: 147 m (482')
Lead-In: 7.5 km (4.7 miles)
Map: London
Start & Finish
If you choose this route, the game will spawn you on Constitution Hill near Buckingham Palace, riding in what is typically the reverse direction (westward). Since riders are placed at various points near Buckingham Palace on Constitution Hill, we chose to start our Strava segment at the Classique banner which is approximately 1.5km from the spawn point.
Events begin at the start pens, giving you approximately a 7.5km lead in to the Classique banner where your lap officially begins.
Achievement Badge: 500 XP
Bike Selection
This route is quite flat, so aero rules the day. Get the most slippery frame and wheels you can afford!
Route Description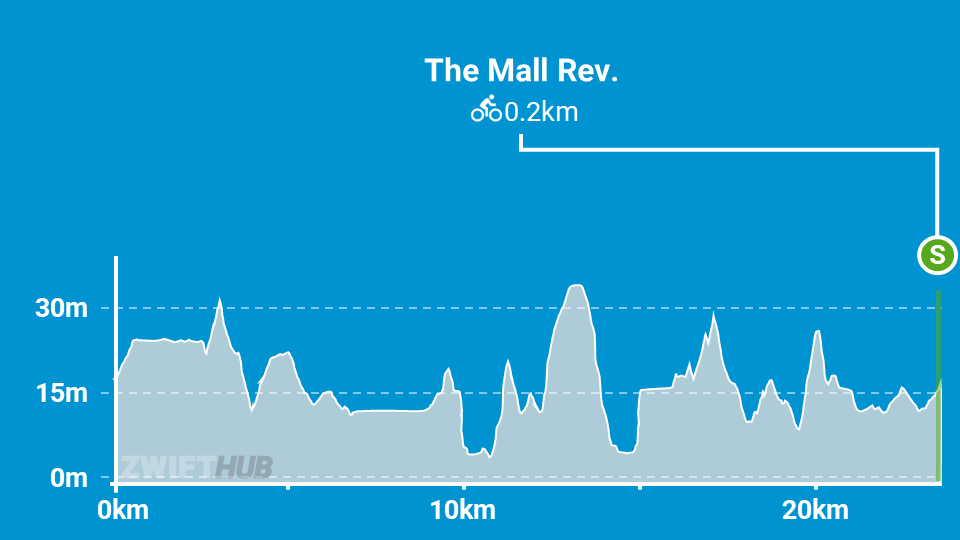 Route profile by ZwiftHub – the place to plan and track your route achievements!
A free ride of Greatest London Loop begins on the Classique route in the reverse direction, but only covers a portion of it before turning onto the Greater London roads. You are then taken over the bridge, through the subway and into the "Richmond Park" countryside which was part of the January 2018 London expansion.
The subway tunnels carry you back into London, over the bridge and through the start/finish banner on the red pavement of the Classique.
Ridealong Video