The latest Zwift update is now available on all platforms: Mac, PC, Android, iOS, and AppleTV.
Not sure if your Zwift install is up-to-date? Here's how to check >
This update includes the much-anticipated new Neokyo map. It also includes a couple of Drop Shop additions and some much-needed bug fixes. Here are the details…
Neokyo Map Launch – 8 New Routes
The big news in today's update is the launch of the new Neokyo map, an addition to the Makuri Islands world.
The new map is bright yet dark – a Tokyo-like cityscape set in permanight. Once again Zwift's art team has outdone themselves, bringing in a whole new set of lighting effects and designing a map that truly feels like riding through a city. Whereas the New York City map sort of feels like you're riding some roads plopped down in the middle of NYC, Neokyo really feels like you're in the middle of a real cityscape.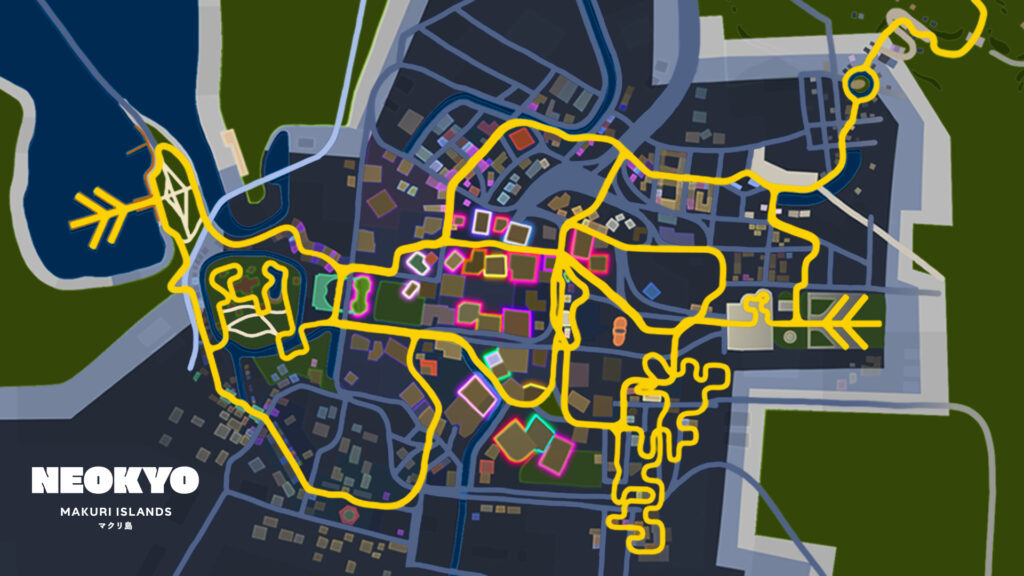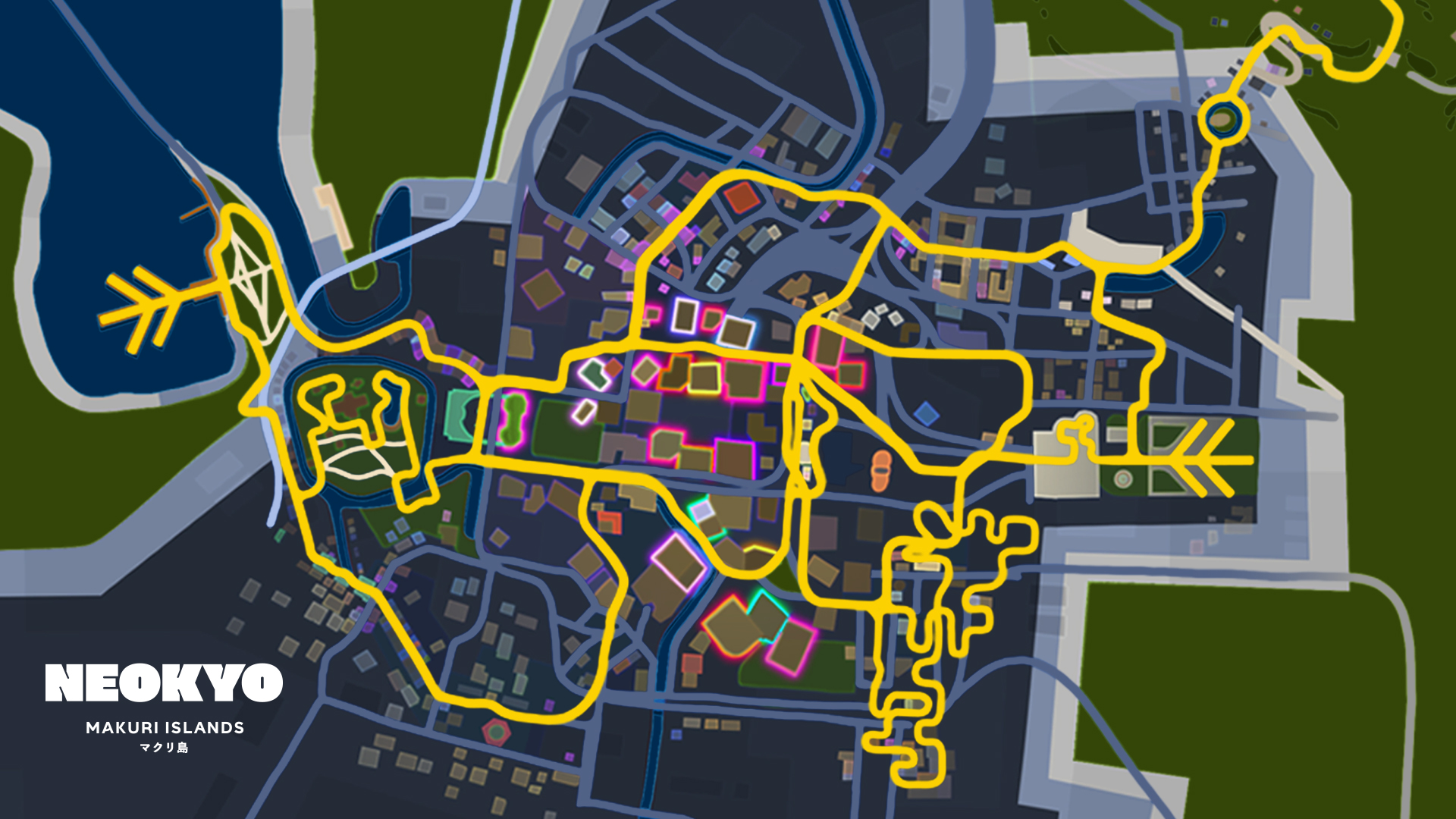 Neokyo is launching with 8 routes, but if this launch is anything like Yumezi, Zwift will add some additional routes in future releases.
The routes included in today's release are:
Click the links above for complete route details including Veloviewer profiles, Strava segments, photos, and more.
Neokyo includes four sprint sections and one KOM as well. Most of these segments are timed in both directions, but two are "one-sided" at this time:
Rooftop KOM (one direction)
Tower Sprint (both directions) – reverse is too short for a Strava segment
Castle Park Sprint (both directions) – too short for Strava segments
Railway Sprint (one direction)
New Bike and Wheels
New bike day is always a good day! This update includes two new frames:
Uranium Nuclear frame: 184,500 Drops, 3 stars for aero, 3 stars for weight, level 19+ required
FFWD RYOT55 Wheels: 113,700 Drops, 3 stars for aero, 3 stars for weight, level 23+ required
The Uranium Nuclear is the frame featured in this weekend's Giro de Rigo, and it appears to be quite fast, while the RYOT55's appear to be strong climbers. We'll test them using our standard protocol and publish the results ASAP.
Connection Failure Notification UI
The update notes include this blurb:
Added a notification to inform Zwifters when they lose connection to their ANT+ or Bluetooth device, or the Zwift servers.
This is a welcome addition, as it should help Zwifters troubleshoot connectivity issues. We tested this feature by disabling our ethernet card, and our ANT dongle as well. Here's what the screen showed:
Bug Fixes and Misc Improvements
Here's Zwift's list of fixes and improvements included in this update, with notes in italic from us:
Fixed an issue where the scrollbar in the route selection UI did not appear. This confused a lot of riders who thought "Zwift has taken away a bunch of routes!"
Fixed an issue where Zwifters would have access to bikes and wheels that they have not purchased or are level locked. Didn't know about this bug, but sounds fun! Sort of like borrowing a bike from your local shop?
Fixed an issue causing the Training Plan name to be incorrect when changing your plan.
Fixed an issue which caused the watts required for specific workout blocks to be inconsistent between the preview and in-game work out.
The post ride steering survey will appear less frequently after a ride where a steering device was paired.
Fixed an issue causing the Repack Ridge section of Watopia to be inaccessible to riders.
Fixed an issue that could cause a Zwifter's speed and direction to lock after trying to perform a u-turn. Thank goodness this was fixed. A big annoyance to people attempting to vEverest the Alpe!
Fixed an issue on Apple TV where Zwifters would continue to run after Bluetooth was turned off on the device.
Fixed an issue which would cause the game to crash when toggling through segment leaderboard.
Fixed an issue which would leave a Zwifter in limbo when trying to ride with another user who had recently disconnected from the game.
Fixed an issue which caused pedal assist to end too early when joining a pace partner in certain situations.
Fixed an issue which would cause the game to crash when joining a smaller world with an abundance of active Zwifters.
Fixed a number of performance issues with the in-game leaderboard. This fix now shows your best time on the leaderboard, instead of your most recent time. Happy to have this fixed for rides like Sprintapalooza!
Fixed an issue causing the segment leader jersey icon to disappear from the riders nearby list for the current segment leader.
See Wes Salmon's notes on this update release in the Zwift forum >
Still Not Fixed: Overweight Dura-Ace 9200
The bug in Zwift's implementation of the Dura-Ace 9200 groupset in September's update has caused several newer frames to climb a bit slower (19s slower up Alpe du Zwift) because they're a bit heavier than they should be. The frames affected are:
Specialized Tarmac SL7
Pinarello Dogma F
Canyon Aeroad 2021
Liv Langma SL Advanced Disc
Moots Vamoots
Uranium Nuclear
Based on the bug fix list above, this issue has not been resolved with today's update.
Questions or Comments?
If you spotted any other changes or bugs in the update, please comment below!