Editor's note: Monica is undertaking the "Couch to Route Hero" challenge of riding all 67 "free-ridable" Zwift routes (and getting all the badges) in 11 weeks. Each week she shares her story of the previous week's struggles and accomplishments. Follow along on her journey, take the challenge yourself, and be sure to give her a Ride On if you see her on course!
---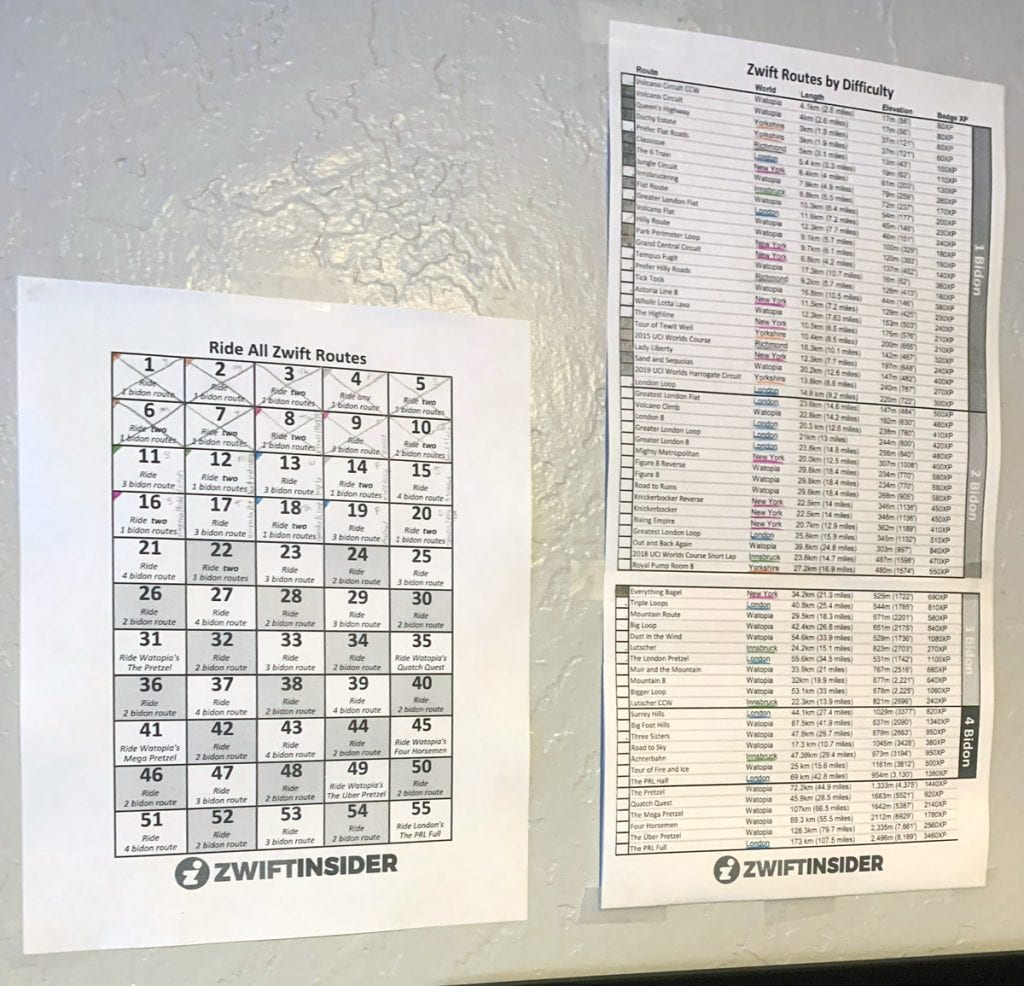 "The whole world knows I'm on this quest, so I have to keep going!" This is definitely an inflated view of real circumstances, but the pressure to continue on this quest is real! I say pressure, but mostly it's accountability. When no one knows what my goals are I can quit on them. When the "whole world" knows, and others are participating, well… I'm a people pleaser. I have to keep going for my people! That's you!
I think the theme this week is definitely "accountability." Because my family also knows I'm doing this quest they make time for me. And I occasionally need their reminders and encouragement to get on my bike (like after the long day and a half of sitting on hard bleachers watching the 13-year-old play in a basketball tourney).
Week 2, In the Books
This week I added 9 route badges to my stash! 16 routes done, 51 to go!
Maybe I shouldn't have written that number out for another few weeks. 51 seems like a lot.
But, I also added another 70.92 miles, 4,966 feet of climb and 4.5 hours on the bike! Woot! Routes completed this week:
Leveling up
I was riding Park Perimeter Loop in New York City, a route I really like, and I got just enough points during it to make Level 32 and unlock the Newsy Cap! Did you know you get extra XP points each time you earn a route badge? I'll be level 33 before I know it!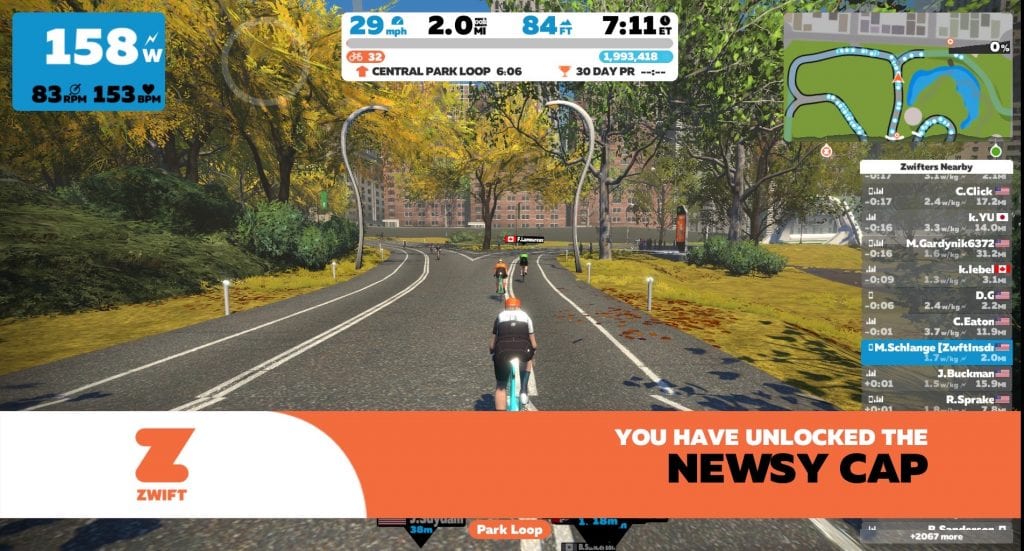 Everything Bagel
Day 9 has a 3 bidon route scheduled. It was my biggest, longest ride so far: Everything Bagel in New York City. With 1800' of climb I was in PAIN by the end! The last three minutes I was just saying over and over "ouch… ow… ow… ow… ouchie… ugh."
I started the ride on the tail end of a migraine. (I really need to figure out this whole "stay hydrated" thing.) Riding with a migraine meant I couldn't push myself higher than about 140 watts or my head felt like it would explode all over my bike. As I kept riding the meds and caffeine kicked in so I could push a little harder. I was glad for the relief as Eric jumped on his bike and was chasing me up the KOM. I'm happy to say I beat him to the top! This story ends here and I'll not be answering any questions about how far behind me he started.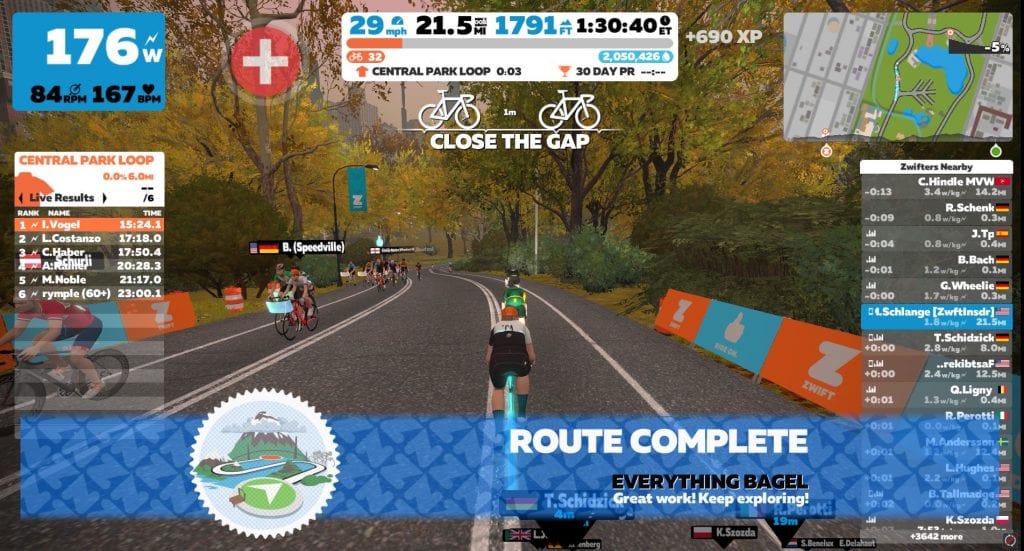 After the ride, I noticed I had a total of 166 Ride Ons! You all have NO idea how much these really do spur me on! And for those looking for more Ride Ons for themselves here's a tip: I find that the more Ride Ons I give during a ride, the more I get. Also, following lots of people means some will follow you back and give you Ride Ons next time you're on!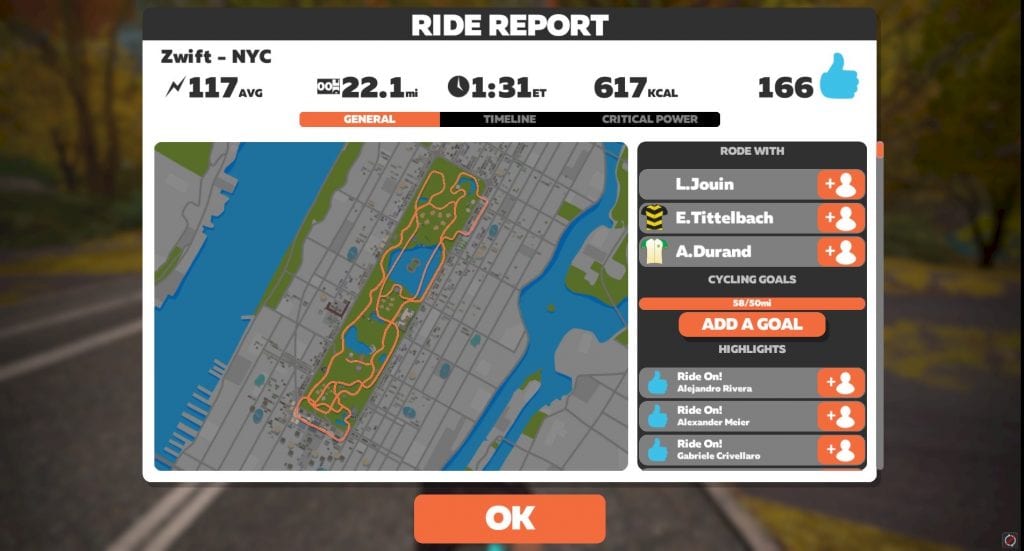 Things I'll Do Better This Week
I keep saying I'll add in some core strengthening exercises soon. I'm actually going to do this in the coming week! And I'm also going to drink and drink and drink. Water, that is.
How About You?
If you're doing this as well, how's it going? Have you done a 3 bidon route yet? I'd love to hear all about it!
If You're New
If you're not familiar with this quest, read about it here, print out your papers and start riding! It's never too late to start. You start on the day that works for you, and do the routes as often as you feel works for you. That's what I'm doing! Then check in here each week to add a comment about how your week went and what you accomplished!