Editor's note: Restart Racing and many of the world's top Zwift racers recently took part in a "100km in 2 hours" attempt in Neokyo. And they hit their goal, setting the fastest-ever 100km time on Zwift… an incredible achievement!

Restart wrote up a summary of how the event transpired, which I've shared in total below. Enjoy!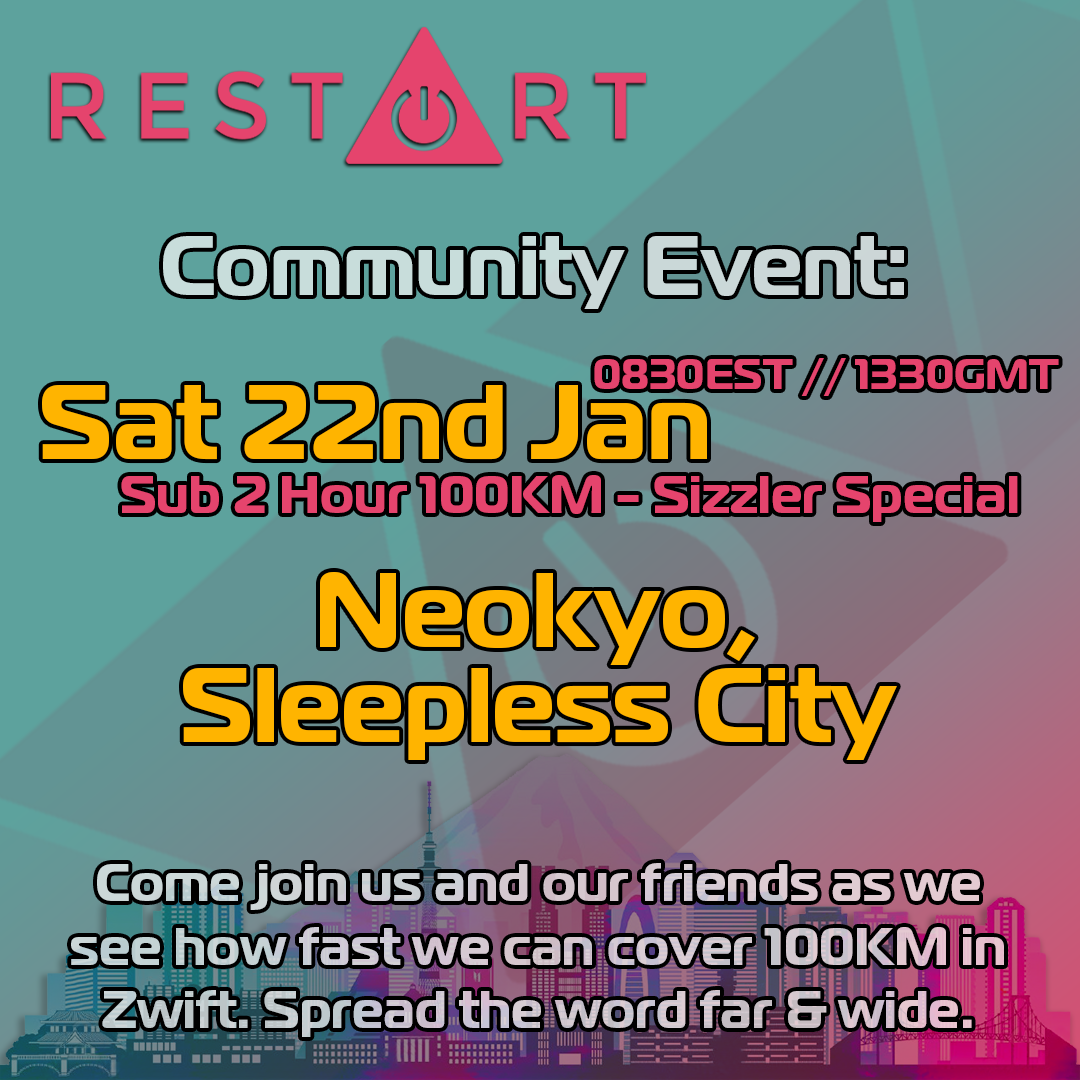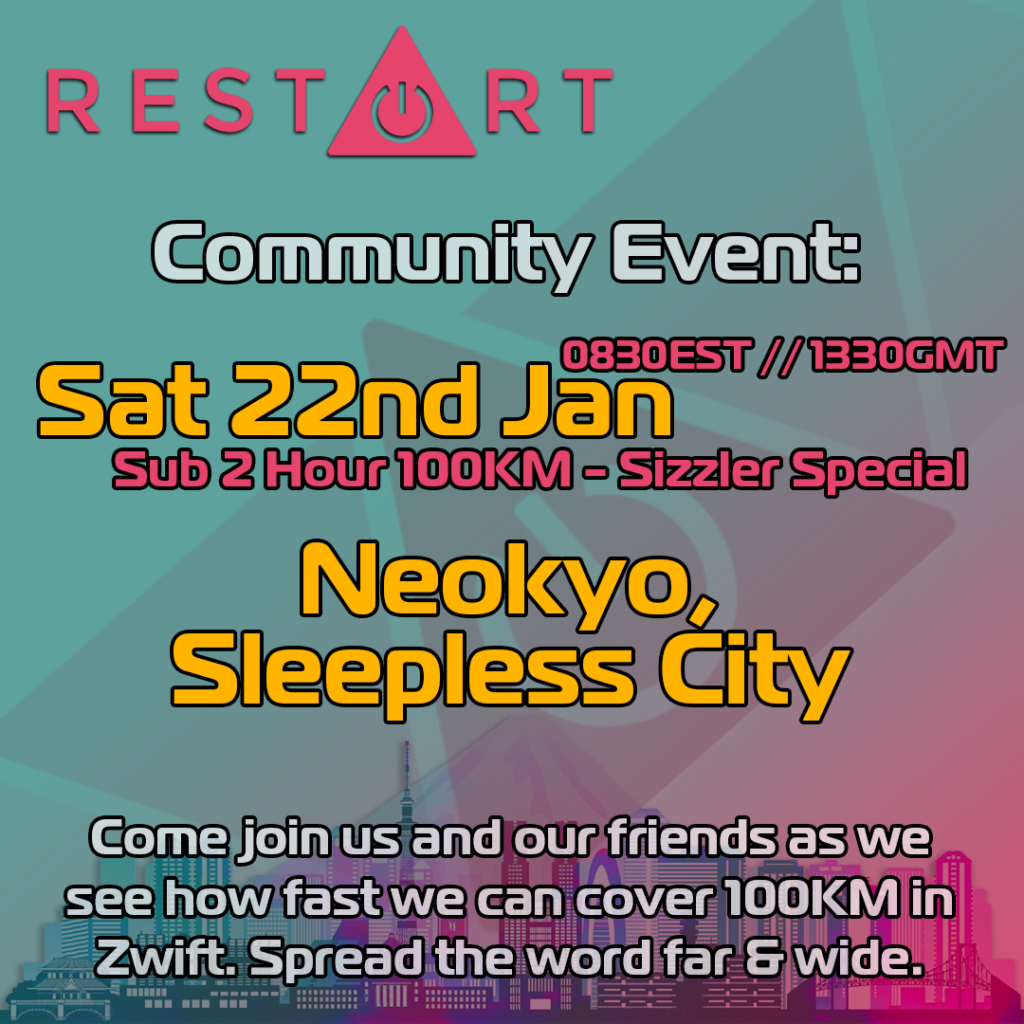 The fastest coverage of 100KM on Zwift was recorded on 22nd January 2022:
1 hour, 58 minutes, and 53 seconds.
Organised and hosted by Restart Racing.
Achieved by a real and true community of like-minded friends, racers, and teams.
See event results on ZwiftPower >
Why Bother?
Sub 2 hours for 100KM has been achieved previously on Zwift. That effort was organised by the Saris NoPinz team on the Tempus Fugit course in Watopia. On July 4th 2021 they achieved a time of 1 hour, 59 minutes and 14 seconds and it was a truly awesome effort.
Read the Saris NoPinz report >
Restart decided to tackle the sub 2 hour 100KM goal once again. Not to "take the record" or anything of the sort, purely just to bring together as many teams and riders as possible for a true community effort. The event was to be fun, in the my legs are absolutely wrecked sort of way that we all love so much.
We are in the middle of a Zwift Racing League season and with so much serious training and racing taking place, it felt like a great opportunity to just do something for FUN, have a laugh with friends, and bury ourselves to see what happens.
Alex Gagnon was the real party starter. He pestered me Dean Cunningham about setting up the event and Alex even used the due date of his first child as the push to get it scheduled for early January.
Restart host the Saturday Sizzler, a weekly race at 0830 EST // 1330 GMT – this slot was therefore utilised to host this Sizzler Special, sub 2 100KM ride.
The Course
Both the previous KISS attempt and the Saris NoPinz organised record ride were done on Tempus Fugit in Watopia. We wanted to try something different, and where better than the newest area of Zwift's latest world: Neokyo, on Makuri Islands.
Having raced and participated in so many KISS at Base group rides in Neokyo, Dean decided that Sleepless City was the best option because it gives frequent powerups and the blob speed on Neokyo is insanely fast. It's as if the Neokyo circuits have the rolling resistance of polished glass!

Comments were made that the course selection was poor. Someone even said the group had almost a ZERO percent chance of traveling 100km in under 2 hours on Sleepless City…..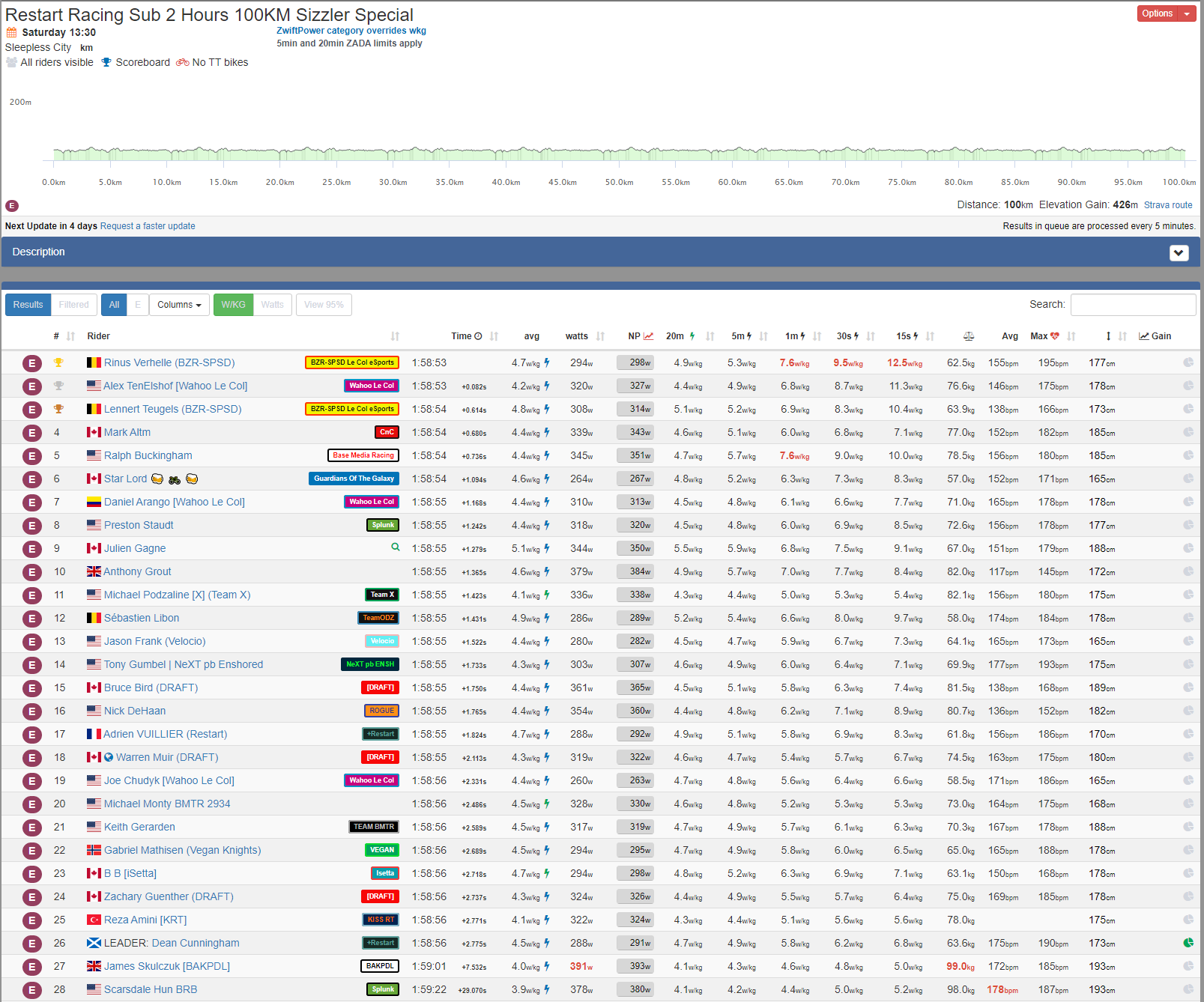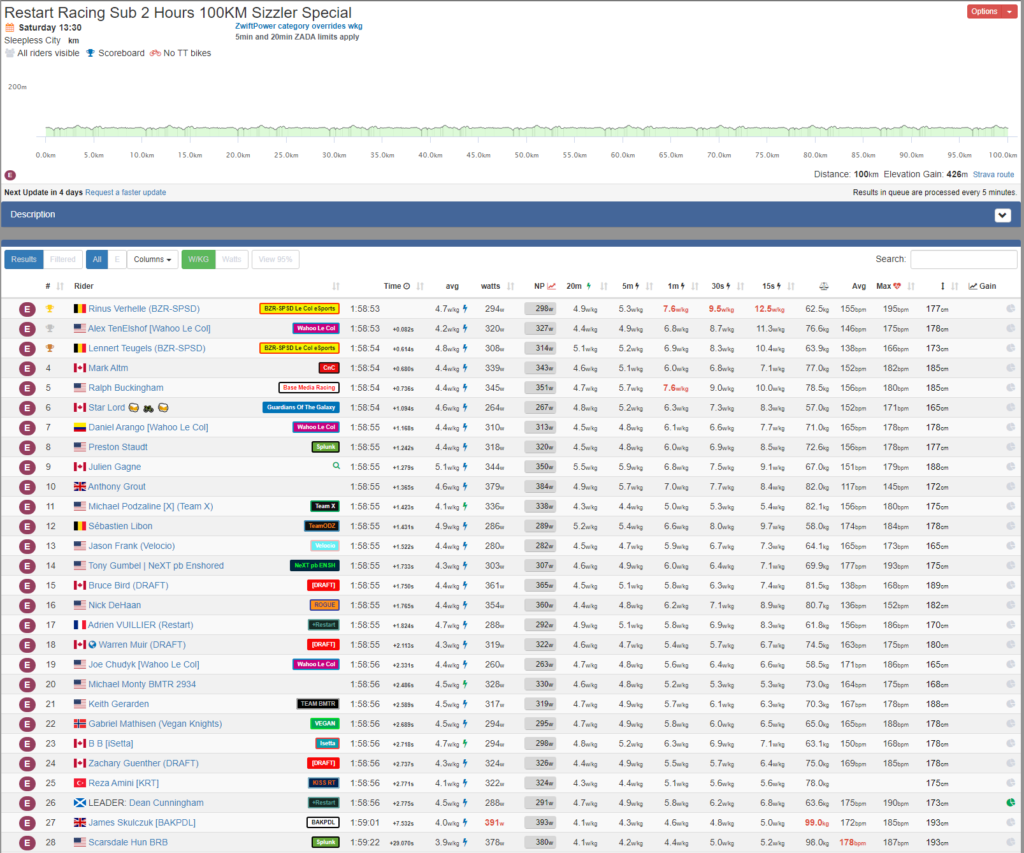 The Attempt
Over 300 riders signed up for the event
With only 88 riders completing the 100KM.
28 of those achieved the 100KM distance in under 2 hours
Early signs appeared rather negative, unfortunately…
First of all the ride leader, Dean, tested positive for COVID the day before the event. So it was a risky ride to say the least for him. But with Matt Yankow ready to take the leader beacon at any point, there was never any doubt the ride would take place (Yankow led the previous KISS attempt and has led a few group rides in the past you could say…)
Secondly, Alex Gagnon had a power outage in his neighborhood literally minutes before the event started. Despite trying to use battery power and last ditch attempts to make the event, he unfortunately had to admit defeat and miss out entirely. This was a horrendous development with minutes to spare, as Alex was the true driving force behind this event happening. He put so much effort and energy into the attempt that it was devastating to see him miss out in this way.
Last, but not least, many riders dropped out of the event VERY quickly when they realised the pace that was required. Some complained about the course, others just complained about everything. But the leaders ignored it as best they could and just got on with the task at hand and let the pace/effort establish what was to be the foundation group.

Watch the entire attempt here from the ride leaders perspective:
Luckily the foundations were strong. Our friends at BZR, DRAFT, NeXT, and Wahoo LeCol had sent some big guns to the party.
Stefan Kirchmair was doing some mega pulls on the front during the first hour, but even he was being swarmed whilst at 7WKG by the crazy pace of the "blob."

It will not surprise anyone to read that Lennert Teugels, current #1 ranked rider on ZwiftPower, was absolutely in his element and laying it down big time on the front of the pack during the second hour of the attempt.
The pace was just relentless, with barely any chance for anyone to recover or take it easy for any prolonged period of time.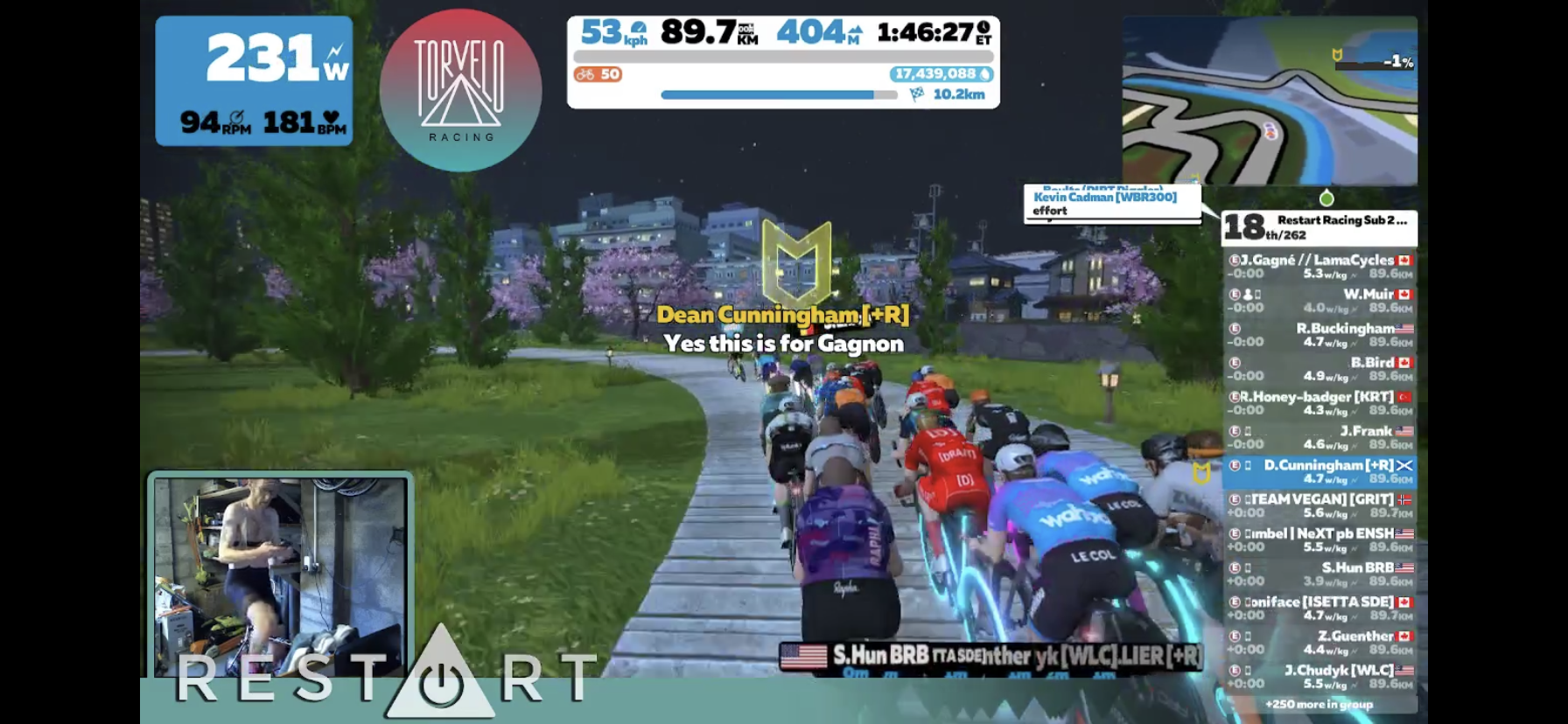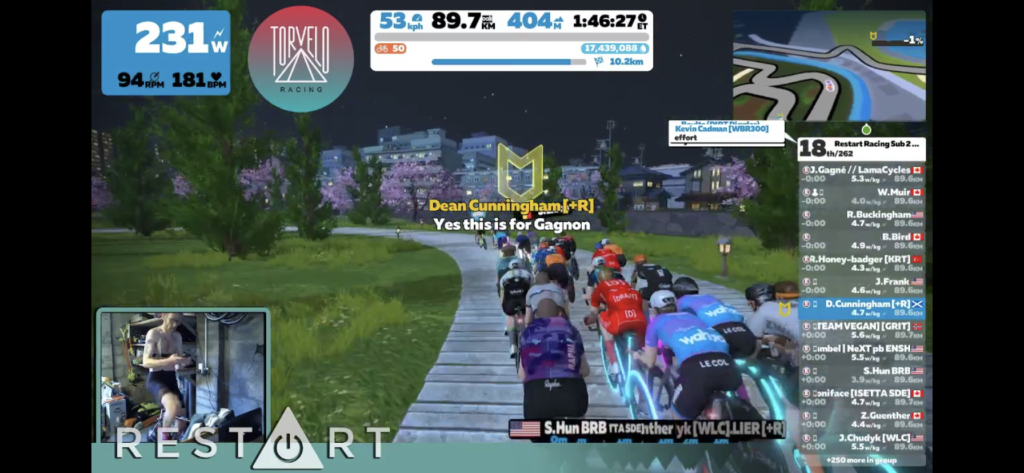 Splits/Average Speeds
Leaving the pens the early pace was hot, probably too hot, but having spent so long hyping the event, the eagerness to get going was not surprising. It took a good 15 minutes to settle into a rhythm and for everyone to find their place.
25KM – 29:13 // 51.7KPH
We rolled through the 25KM mark in 29:13 at an average speed of 51.7KPH. This would see us hit the 100KM in 1:56 if we maintained this pace!
50KM – 58:51 // 50.8KPH
By half way, things had settled down somewhat and the 50KM mark was crossed in 58:51. Whilst this was looking comfortably on target, in reality, at the current pace we were rolling, the ETA was now 1:59:12 (maybe we had gone out too hard?) Things were starting to get interesting.
75KM – 1:28:44 // 50.7KPH
By the time we reached 75KM the pack had thinned out and the pace was really starting to take its toll. We reached the 3/4 mark in 1:28:44 but our slowing pace over the previous 10KM had pushed our ETA back to 1:59:57. All of a sudden we were "on the bubble". Had we saved enough in the legs for the final push or would the fatigue from that early pace set in and rob us of our goal?
100KM – 1:58:53 // 50.5KPH
Entering the final 15 minutes and now with less than 30 riders remaining the answer started to become clear. The rally cries had gone out and the pack responded with a vengeance. Despite over 100 minutes of hammering away, we managed to raise the average speed over the last 10KM to over 51KPH, closing the finish down and crossing the line in 1:58:53. We had done it. Well and truly done it!
Thoughts & Thanks
This was an awesome event in so many ways, all thanks to the Zwift racing community. Even though we compete against each other in Premier League, Community League ZRL, WTRL TTT and various races during the week, seeing everyone work together to really push each other and achieve something… well, it's just a joy to be a part of that experience.
Zwift has its problems. But the brilliance and opportunity of it outweighs those problems massively. The fact we can come together to accomplish these things from bedrooms, garages, and basements from all parts of the world is truly amazing and we are both lucky to have the platform and this community it has enabled.

Restart Racing want to say a huge thank-you to every rider who showed up to this event and also to those who show up to any of the events we host on Zwift. We are trying to create legitimate fair racing opportunities but also trying to create fun, community-focused events to enjoy. By joining us and taking part you are contributing to this and it is hugely appreciated. Thank you!
When's the next one?
There is not a set date yet nor a planned structure. We will work on it and announce a date for the next sub 2 100KM on our Instagram page soon.
Our initial thoughts are to do an event like this once every 6-8 weeks. We would plan to do them on a select rotation of fast courses to establish fastest times on set courses which could then be targeted in future events.

We are open to and welcome suggestions for this approach. If you'd like to chat to us about it then you can contact Restart Racing at [email protected].