All good things must come to and end – today was my last Tour of Watopia 2020 race. It's been a lot of fun, and I've kept my streak alive, handily losing each stage. Last night I began wondering how this final stage would work out. Three laps of Volcano Circuit CCW – a fun race route I know very well. And one that is flat enough for me to be able to hang onto the front of the race so I'm in the mix for the final sprint!
But yesterday I rode the long A group ride for stage 4 – 5 Jungle Circuit laps. And while I've generally tried to stay in Zone 2 for the ToW group rides, yesterday's ride was a bit more… spirited, shall we say? I had loads of fun working with a small pack of riders to keep pushing and gaining places throughout the ride, but with a finishing average power of 261 watts over 80 minutes, I knew my legs wouldn't be 100% for today's race.
Bike Choice
Volcano Circuit CCW is basically a flat route, so use the most aero frame and wheelset you've got. Not sure what is best? Here are some helpful links:
Fastest Frames for Flat Races >
Fastest Wheels for Flat Races >
Zwift Shopping Guide (What to Buy at Each Level) >
I went with my standard race setup: the S-Works Venge with Zipp 858 wheels. Sure, the Tron is just a bit faster than this setup, but I like riding the same frame in Zwift as I do IRL, and a difference of 1-2 seconds over an hourlong race isn't noticeable.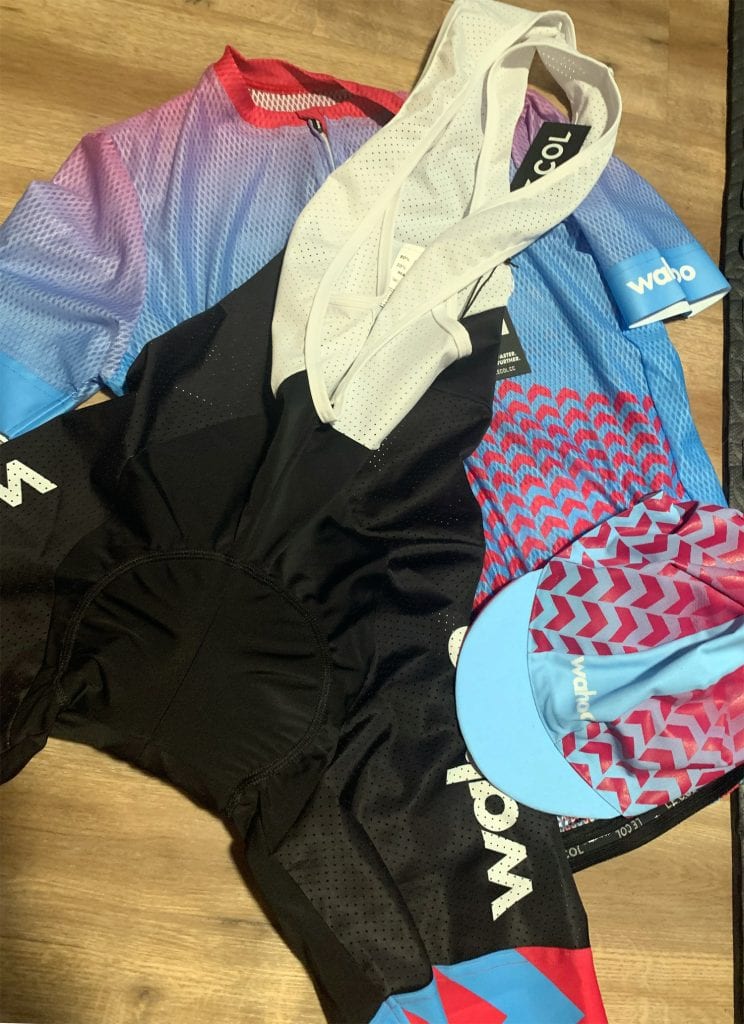 The Warmup
I rolled out of bed at 5:15am, chewed a piece of caffeine gum, put some PR lotion on the legs, and kitted up. I was a little extra-excited about kitting up for today's ride, as I was going to be testing out some new indoor kit from Le Col + Wahoo. (Watch for a review on this coming soon!)
I hit Tempus Fugit and got about 8 miles in over 23 minutes. As usual, the warmup began with easy spinning, keeping my cadence up while slowly raising power up over several minutes to wake up the legs and heart as gently as possible. Then it was a few harder efforts to get my heart rate up to 160 and "break the ice."
My heart rate was a little resistant to go higher than 155, probably due to yesterday's hard effort. But with a little extra pushing, we eventually got there. Time to race!

The Start
We had a big pack in today's B event: 135 riders! I knew this meant the group speed would be high, and it would be really difficult to pull off any sort of solo attack. So my plan was to just sit in, conserve, then sprint for the best finish I could.
The start was tough but doable – par for the course on any Volcano Circuit races, which begin with the ramp up to the turnoff for the glass bridge to the Volcano. At 82kg (I've been slowly trimming my weight) I averaged 380 watts for the first 80 seconds, 340 watts for the first 3-1/2 minutes, in order to hang with the front group. Then things settled down – the initial selection had been made. Our group of 135 starters was down to around 50.

The Middle
We transitioned into the standard Volcano Circuit CCW rhythm, riding a hard but steady pace for most of the circuit then going into the red on the three key uphill bumps on the route: the straight rise heading into the volcano, the bump just after that heading into the finish line, and the little bump on the opposite side of the circuit as you exit the Volcano.
Here's what that looks like in terms of my power output – you can see the same pattern repeats each lap:

The middle of the race was unremarkable apart from two things:
Riders got steadily dropped one by one as we hit the "red" portions of each lap. By the time we hit our final lap the group was down to around 35 riders.
I received a ghost powerup my first two times through the arch. What a useless powerup if you're not looking to attack off the front! I just burned them in the pack. Happily, I got a feather through the final banner, which wasn't the ideal powerup, but a useful one on this route.
The Finish
Each lap had gotten progressively faster: our first was finished in 5:17 (296 watts average for me). The second lap was 5:15 (304 watts). The third lap would be faster still. It began sedately enough, but when we hit the bump to exit the Volcano 1.5 miles from the finish, the pace jumped up and never settled down again!
Solo riders tried to jump off the front in the final minutes, but I knew from experience that these attacks were unlikely to survive, so I just stayed near the front of the group. I had my feather powerup ready – my plan was to use it on the ramp into the Volcano so I wouldn't have to put in such a hard effort to stay near the front. This would save my legs just a bit for the difficult final sprint.
We hit the straight ramp into the Volcano and I deployed my feather. It worked to perfection, allowing me to stay within a few bike lengths of the front of the pack without working too hard. Then the road leveled out and we started hammering toward the finish!
I knew it wasn't time to go hard yet – the #1 mistake riders make on this finish is to go too early. So I tried to hold those wheels, not letting riders get too far away but also conserving my energy until just the right time. But the riders ahead were charging fast, and the group was stringing out.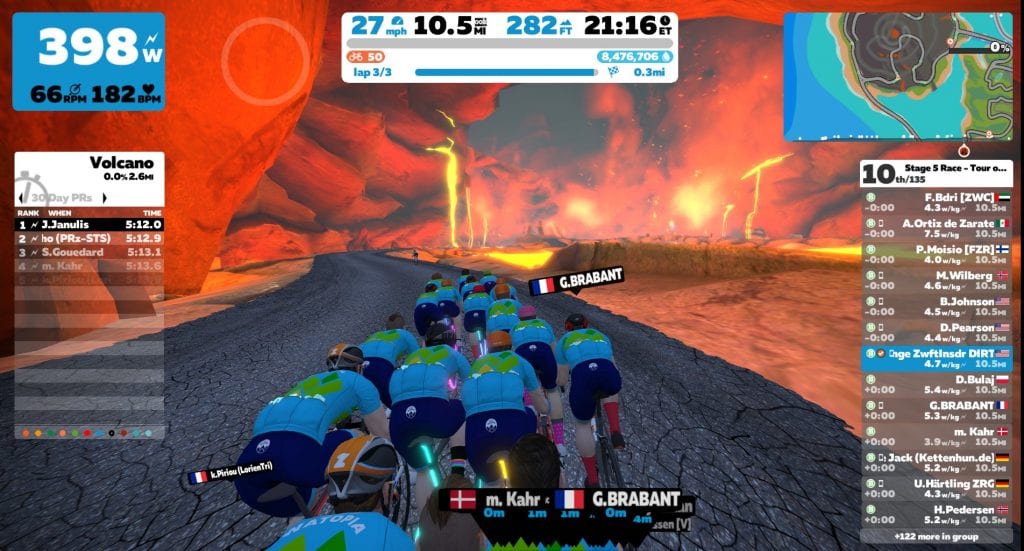 When the road turned to the right I shifted and got out of the saddle. Then it turned left onto the slight rise, and it was time to go all-in and hammer to the finish. I passed several riders in those final meters, probably because they had started their sprints too early. But I was far from the podium, finishing 2 seconds back, 12th according to Zwift, 6th according to ZwiftPower.
See my activity on Strava >
See my activity on Zwift >
See race results on ZwiftPower >
I averaged 377 watts for the final 3 minutes of the race, and our average speed for that section was 31.1 mph. Continuing our run of negative splits, our final lap was the fastest of the race – and a new Strava PR on that segment for me, by a significant margin! We finished the lap in a smoking 5:04, with an average wattage of 342 watts.
Takeaways
The only interesting takeaway for me from today's race was that I definitely race more efficiently when my legs are a bit tired. Somehow, when I know in my mind that I'm not at 100%, I race a bit smarter. Looking at the ZwiftPower results, my 3.8 w/kg average was the lowest of anyone in the front group – and we had some heavier riders in the mix, so (at least this time) my lower w/kg wasn't due to my weight!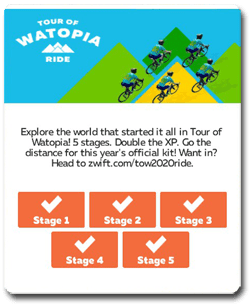 Riding efficiently involves more than just keeping my nose out of the wind while always holding a wheel. It's also about keeping the effort as even as possible. One example: on the little bump heading out of the Volcano, I found if I stood up ~100m before the bump and moved toward the front of the group, I could easily stay in the pack without hitting the power so hard on the actual incline.
Keeping the overall effort more even makes the race easier for me. There's actually a metric to measure how evenly-paced an effort is: it's called "variability index" or VI. According to TrainingPeaks, "A properly paced time trial should have a VI value of 1.05 or less while a road race or criterium may have a VI as high as 1.1 or more."
My VI for this race was 1.04, which I guess means I did well in terms of keeping it even.
What About You?
Did you race stage 5? Share how it went below!