Imagine if you could turn back the clock 6 years: getting another shot at racing your old friends and foes, just like the good old days. This opportunity came to me in the form of Power Up Cycling's Zwift eSport State Championship Racing Series.
Let's start at the beginning. Power Up announced their event as a 7-week series where the top 8 riders would be invited to race each other in the finale live. Throughout the 7 qualification races, riders could choose to compete at home or live at Urban Chestnut Brewing Company in St. Louis, Missouri. I chose to compete from home each week since Urban Chestnut is about 2.5 hours from where I live. Racing at 6 PM every Wednesday live would have meant getting home at 10 PM; which is a big ask for someone that typically gets up at 4 AM!
Qualification: 7 Weeks of Racing
The 7 weeks of qualifiers for the series are a blur. In the weeks leading up to the first race, I had so much anticipation for who was going to register. Which big hitters from the St. Louis racing scene were going to show? Would road teams sign up and race together? I started the first race feeling like I had a big advantage. For the last 3 years, I've been an avid Zwifter — I know the courses, I know the gameplay, and most of all: I know how to win races by sneaking away solo for the victory.
As the weeks went by, I attacked early, but the other racers worked together and covered moves. Every race the gap between myself and the other riders slowly closed. This became extremely apparent in week 6 when I was only able to sneak away to take the win in the last few miles. In the 7th week, I took the win to maintain my win-streak in the series: capping off qualifiers with a perfect 7 out of 7 races. The only race left to do was the live race finale.
Live Event Weekend
Originally on Facebook the event was scheduled for Saturday. I had planned to go race Saturday, then head to Chicago on a work trip following the race. As the weekend approached, the races were changed to be on Sunday. My heart dropped.
For those that are newer to Zwift racing, there used to be a live-racing series called CVR that held live events around the world. I trained, trained and trained some more to compete in one of these series, but as the winter season in 2018 was about to start CVR withdrew from Zwift entirely. Ever since those series, I have been itching to race live anytime I could get the opportunity.
Power Up released the race times, and my event was slated for 4:30 PM. Just late enough in the day for me to hurry from my work trip in Chicago to make the start. Just like that, I was back in the game.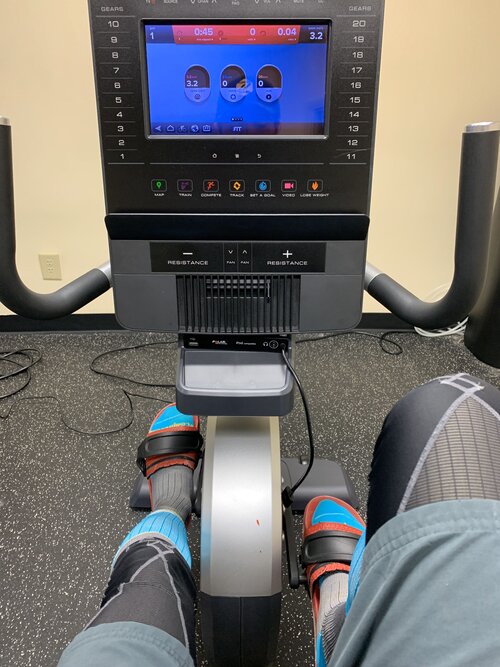 My wife and I drove the 5 1/2 hours to Chicago on Saturday. With a live event and weigh-in, I worried about the travel. I tend to gain weight on road trips from the time sitting behind the wheel (and maybe due to grabbing snacks at every gas station like a 5 year old — I don't know!). I tried my best to eat well to fuel for the race, sticking to Subway and my favorite Salted Caramel KODA energy bars all day. We arrived in Chicago a little after 8 PM. I walked down to the hotel gym to spin out my legs briefly on the hotel "bike" before going straight to bed. Luckily, we got a great hotel room right next to the elevator… what a long night that was.
We woke the next morning at 6 AM to get started on work. There was a lot of walking involved, but we were able to make quick progress and get checked out even sooner than I had expected. By 10:30 we were on the road to St. Louis for the live event. The next 4 hours were spent listening to great motivational sports speeches (my wife was thrilled with this… NOT), interrupted by a brief stop at Subway from lunch.
We had arrived at the live event at Urban Chestnut Brewery at 3:00 with 90 minutes until the race start. Time for weigh-in, warm-up, and the race!
Pre-Race
There are two critical inputs to Zwift racing: weight and power.
Weight, weight, weight. Live event weigh-ins are nerve-wracking! I know what my weight is racing at home at 4 AM, but racing so late in the day after a weekend on the road made me nervous. My discipline and restraint from usual snacking paid off! I weighed in at 146.4 lbs — my in-game weight being set at 146 lbs throughout the series. With my weight set where I race at home, I had only one input to worry about: power.
Each week at home, I race while recording 2 separate power sources (the one used in the game: my on-bike power meter, and a secondary source as a control for verification: my Saris H3 smart trainer). After each race, I run an analysis — comparing the two outputs to make sure both are reading in a similar way. For the live finale, all racers would be using the Wahoo Kickr Snap wheel-on trainer as power source; a trainer I am completely unfamiliar with. After a few moments on the trainer, I knew I'd be okay. My short warm-up efforts felt easy on the trainer, and I knew I'd be able to race as well as I do at home.
All that remained was pre-race instructions and the race!
The Race
The gun went off, I was left in the dust! In traditional Zwift race-start form I started hard, but I quickly found myself 5 seconds behind the others. I kept the pressure on and caught back up with the group. Shortly after catching up, Tim Smith and I broke away from the pack. We traded 6 W/kg pulls as we worked to increase the gap on the chase group behind. Once we had established the breakaway with a solid 30-second gap the games began. I attacked from behind, looking to catch him off guard, but each time he quickly returned the favor until we hit the course's featured climb: the Volcano KOM.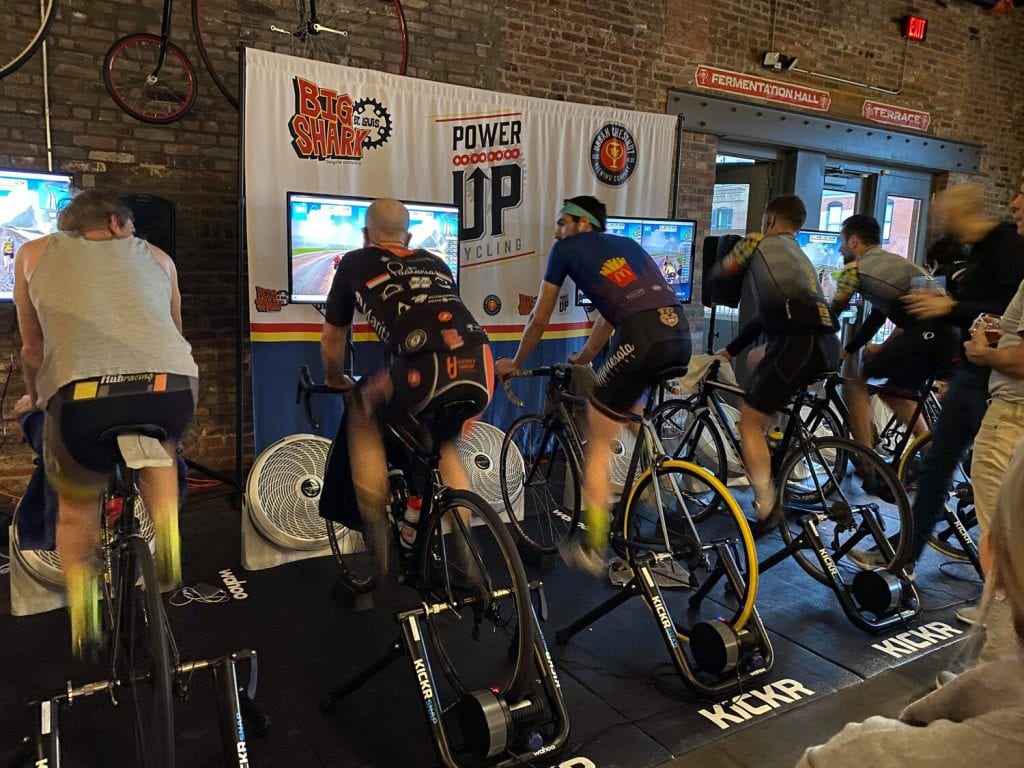 This is where I had planned to make my major move of the day. We hit the bottom and I punch it hard, surging on the Volcano's steep gradient to open a gap on Tim. However, things did not go according to plan — Tim not only stayed with me, he was able to pass me and counterattack at 10 W/kg.
I immediately launched into plan-B, staying tight on his wheel. I knew my best option was to wait for the sprint finish, where tactics and timing are everything. We crested the KOM together, and both relaxed, knowing all that remained was a few kilometers and a sprint finish. We approached the final kilometer together and I noticed he let a gap open slightly behind me, so I punched it! The gap opened, but once again he closed it and came around with his own attack.
I tried to let him get a small gap on me so he would continue the attack into the sprint, where I could then slingshot around him for the win. He saw this and stopped immediately. We rolled past 300m to go side by side. As we approached 200m to go I knew it was time: I went all in. With 30m to go he started to come around me. Instinctively, I channeled a lesson I learned from our team sprinter: Holden Comeau. "Finish every sprint with 2 of your hardest pedal strokes." I emptied the hardest two pedal strokes my legs had left, and crossed the line in the lead by half a wheel-length.
Post-Race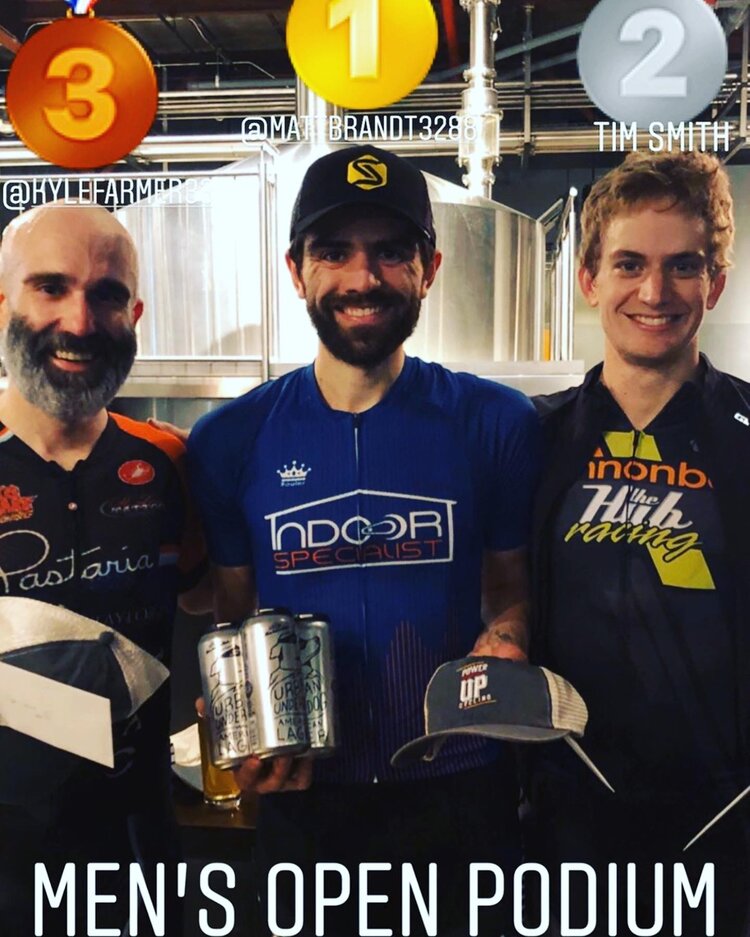 Completely exhausted, I soft-pedaled while I watched the racers around me who were in the chase group racing for 3rd charge towards the finish. The racers launched into a field sprint which was every bit as intense as the one we had just finished. The racers to my right and left were going head-to-head and I had a front-row seat. It was absolutely painful, incredible and showcased the beauty of live racing on Zwift.
I went to this event intent on winning. 100%, I wanted to win. I did win, but at the end of the day the event was so much more. I made new friends, reunited with old teammates and competitors, and a ridiculous number of high-fives and handshakes amounted to one heck of a fun time. Win, lose, or tie; this was an incredible experience that I will remember for a long time.
Thank you to Power Up Cycling for making this happen. I certainly can not wait for the next one!
Editor's note: this post originally ran on teamindoorspecialist.com