What better way to start off the new year than a good hard ride? When the Le Col New Year's Day Celebration rides were announced, I cleared my schedule. Let's do this!
Full disclosure: I wasn't one of the crazies who tackled the imperial century. 100 miles with over 10,000′ of climbing, are you kidding me? No. I went with the metric instead, with 5,000′ of climbing. That seemed like more than enough work for my "day off."
Pre-ride planning was pretty casual this time around–I took it easy the day before, ate tons of New Year's Eve party crap, and got to bed much too late.
Waking up just in time for my pre-race ritual of caffeine gum and some PR lotion on the legs, I filled every water bottle I could find (5, as it turns out) and got on Zwift just in time to spin the legs for a minutes before the clock hit 0. No pre-race warmup today.
The Start
But let's be clear: this was not a race. Yes, some riders treated it as a race. But I certainly wasn't going to do that.
Or maybe I was?
To be honest, I really hadn't decided. I knew I didn't stand a chance of winning–there was way too much climbing involved. We were riding almost a complete lap of the Mega Pretzel, after all, which goes over the Epic KOM climb in both directions.
But how hard did I want to go? I really wasn't sure.
We blasted off Watopia's starting pier and I found myself in something like 250th place out 720 riders. On huge, long group rides like this I tend chase placings as a way to push myself.
First goal: work my way to 199th place or better.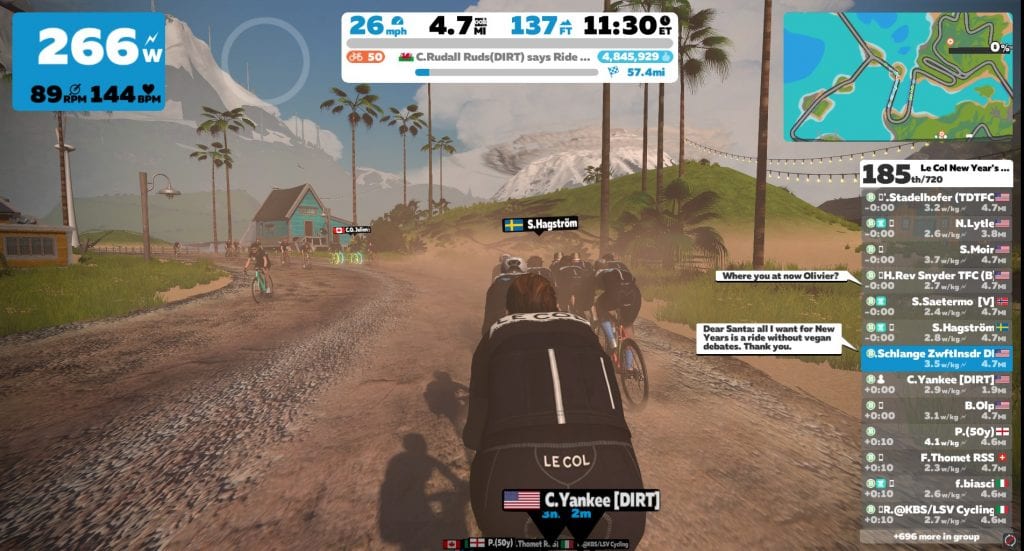 Here's the other reason why I wasn't sure about racing this ride: I didn't have the course memorized. I knew it went over the Epic KOM in both directions, up the volcano, and into the jungle. But I really wasn't sure in what order things happened.
No, this wasn't a day for a race. But the legs were feeling pretty good, so I decided to push hard and see how many places I could claw back. First order of business: the Jungle.
Jungle Swap
When we turned right to head toward the Jungle, I decided it would be fun to swap onto a mountain bike for the dirt portion. I already knew from our tests that the mountain bikes were significantly faster than road bikes on the Jungle dirt, so if I did it right I should be able to gain a few places while having fun passing roadies on my fat tire bike!
This was a last-minute decision, though, and I wasn't even sure which mountain bike(s) I owned. Had I bought the Specialized Epic yet? I didn't want to mess around with purchasing the bike while trying to swap mid-ride, so I came up with a little hack on the fly: I would open Zwift on my iPhone and check my garage there.
Good news: it worked! Bad news: no Specialized Epic. So I bought it on my iPhone.
When our group hit the dirt I noted what place I was in: 197th. Then I applied the brakes and went to swap to my new Epic–but it didn't show up. Dang. Apparently Zwift only saves new bikes when you save your ride. So I grabbed the Zwift Mountain bike instead and headed into the Jungle dirt.
In case you're wondering: my hack didn't work, because I was in the middle of a ride session on another machine when I did it. After I saved my Le Col ride, I checked and the Epic was not in my garage, and my Drops had not been debited the cost of the bike.
As we began making our way around the Jungle (reverse direction) it was clear that even the slower Zwift MTB was much faster than the road rigs everyone was on. I was flying past packs of roadies who were putting out significantly more power than myself. Ha! Game on.
By the time I finished the Jungle Circuit and swapped back to my road bike (Tarmac Pro with Meilensteins, of course) I was in 176nd place. 21 places gained–I'll take it.
Epic KOM Reverse
We tackled the backside of the Epic KOM next, and I figured this is where I would lose a lot of places since the climb is fairly steep and 25-30 minutes long. But surprisingly, as we climbed I found myself catching a few riders, and not being passed by many!
I crested the top in 162nd place, gave myself a pat on my sweaty back, then pedaled hard to catch the small group ahead so we could draft together on the descent.
(Drafting doesn't matter much at slow climbing speeds, but on the descents it can make you move a lot faster.)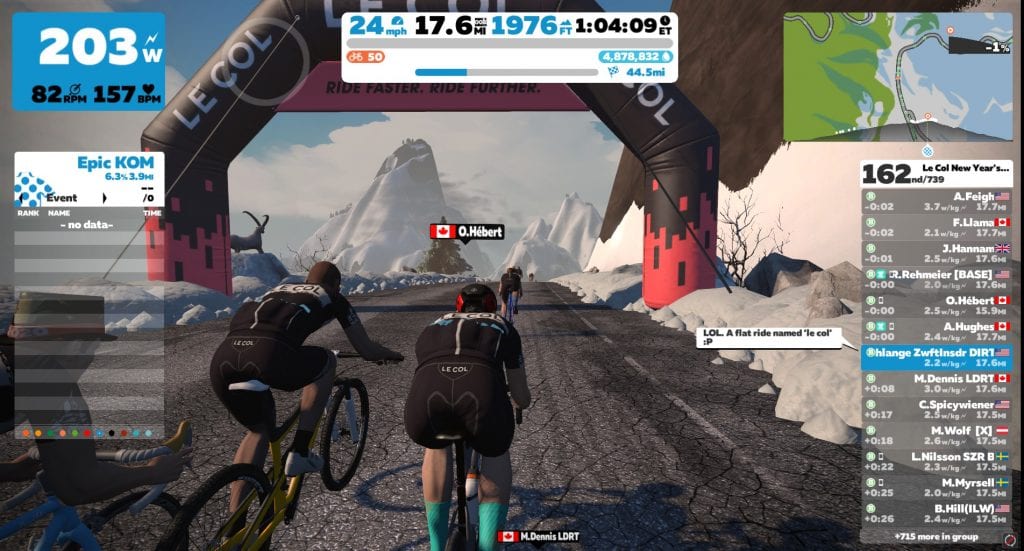 There was a lot of message banter going on, and one recurring theme was thankfulness that we didn't have to tackle the Radio Tower climb. I heartily agreed.
As we descended from the KOM I grabbed my first food of the ride: a Caramel Toffee & Sea Salt Clif Bar that had just arrived a few days before from TheFeed.
Related note: if you've never shopped at TheFeed before, check them out. Some great deals on bars, gels, etc. And if you make your first purchase through this link I'll get a $15 credit!
My basic rule for long rides is this: eat a Clif Bar every hour. I've found this keeps me fueled sufficiently, and as long as I stay hydrated I can go for 5-6 hours this way.
After the big descent it was time to hit the Hilly KOM forward, then make our way over to the Volcano climb. Thankfully, these climbs were short/flat enough that they don't hurt much if the group isn't pushing the pace.
We'd passed quite a few riders on our way up the Volcano, so I set a new goal: to finish better than 90th.
The two-hour mark was just ahead, as was the Epic KOM. Time for my second Clif Bar: Blueberry Crisp!
Epic KOM Forward
The next big event was climbing the Epic KOM forward–a climb I had just done the day before! Instead of expecting to lose places this time around, I decided I would push to at least keep my place, since that seemed doable.
And it was. I actually gained a few spots on the climb, finishing in 88th, but didn't have any riders near me for the descent. I didn't like being in No Man's Land, but with 720 riders on course I figured I would find company soon enough.
The Dreaded ANT+ Drop
We turned left toward the Jungle, which actually surprised me. (For some reason I thought we only hit the Jungle once on this route?) And as I began to climb toward the Jungle my ANT+ data suddenly went away. Nooooo!!!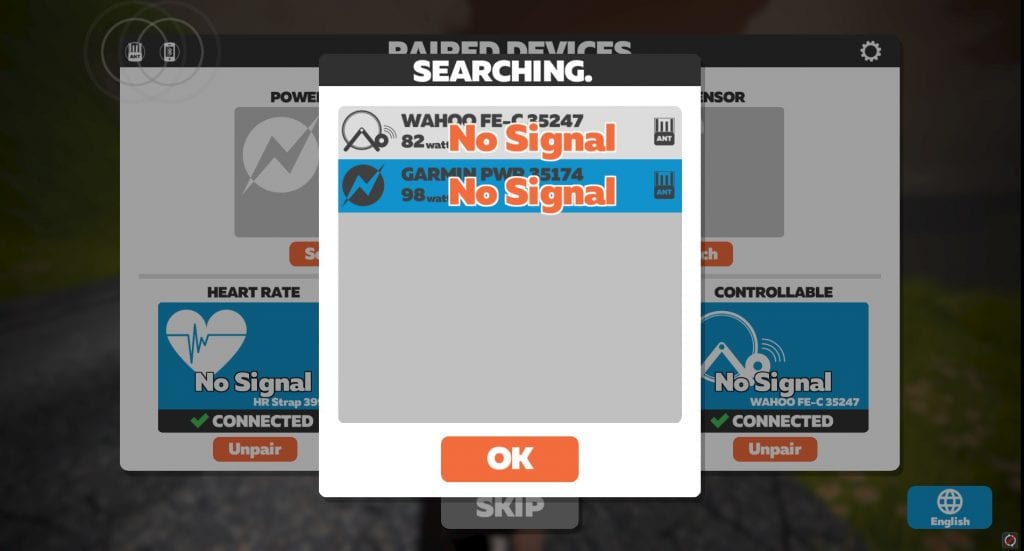 I'd had one very small dropout earlier in the ride, which was unsettling, but this was a big dropout, and my signal didn't appear to be coming back. I realized I could connect to my KICKR and TICKR via Bluetooth on the Companion App, so I did that and was moving forward once again, just in time for a couple riders to catch me.
As we rode I realized why I'd lost ANT+ signal: I had stuck a funky-junky Chinese ANT+ dongle in our Zwift machine while doing some lab testing the day before, and forgot to remove it. Zwift had connected to that dongle instead of the good one on the extension cable. Whoops.
Bike Swap #2
As we hit the Jungle dirt again, I swapped back to the Zwift MTB and noted my place: 107th. Let's see if we can claw back a few more places!
The MTB definitely wasn't faster on the wood bridge portions at the bottom and top of the Jungle, but everywhere else I did nothing but gain time. I came out of the Jungle in 82nd place. 25 places gained!
The Finish… Sort Of
This ride had a custom finish line at the 100km mark, and we didn't really know where that would be on course. What we did have was our distance counters, but my distance on the right wasn't matching my distance at the top, so I wasn't sure how far I had left. I just chased "M. Blot" ahead, got on his wheel, then rode to the finish line at the fishing village.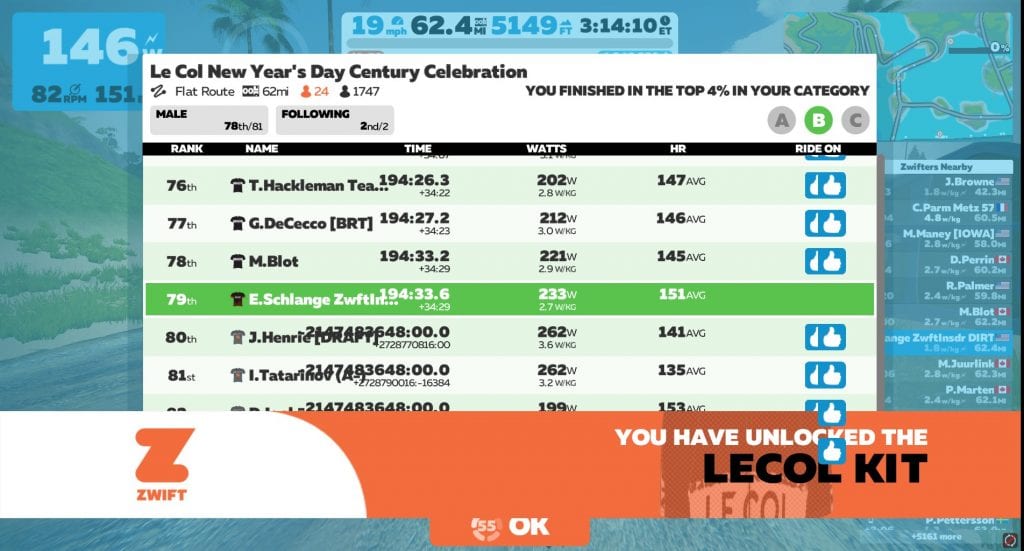 Then the real suffering began.
Earning It
Since I wanted the achievement badge for the Mega Pretzel, I had already planned on riding a few miles past the finish. (The Mega Pretzel's length, after all, is 66.5 miles.)
But here's the problem: that's the length if you start from the spawn point. If you start from the starting pier in an event, like we had, you add another 2-3 miles to the route! And for some reason, at this stage in the game, that felt like a million miles.
Feeling Cramptastic
I was taking it easy, using the final miles as a cooldown spin, when I made one mistake: I reached as far to the side as I could without unclipping in order to grab my last water bottle. And when I did that, my legs said nope.
That ominous pang of a quad cramp kicked in, beginning at the top of my right leg and moving down to the knee, locking up that entire muscle in a harder cramp than I'd had in a while.
Perhaps last night's dinner of Doritos and Li'l Smokies was a bad idea.
No sooner was the right leg under control that my left leg decided it wanted in on the action. Hurray, cramps all around! I'm not gonna lie–I may have snarled a bit, in frustration and pain. I was only a mile or two from the finish, and I could hardly pedal!
I shifted to an easier gear, and just tried to keep spinning. Eventually, the cramping stopped.
As it turns out, I had to ride nearly 7 more miles to get the achievement badge.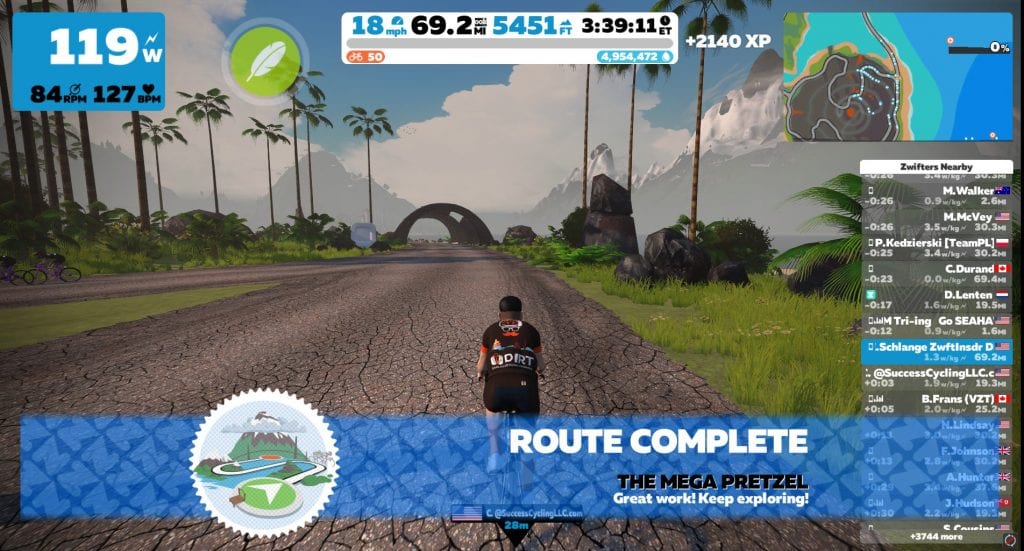 And even though this wasn't a race, I set some 6-month power PB's, averaging just a bit more than I'd done in the Vegan Cyclist 100+1 ride.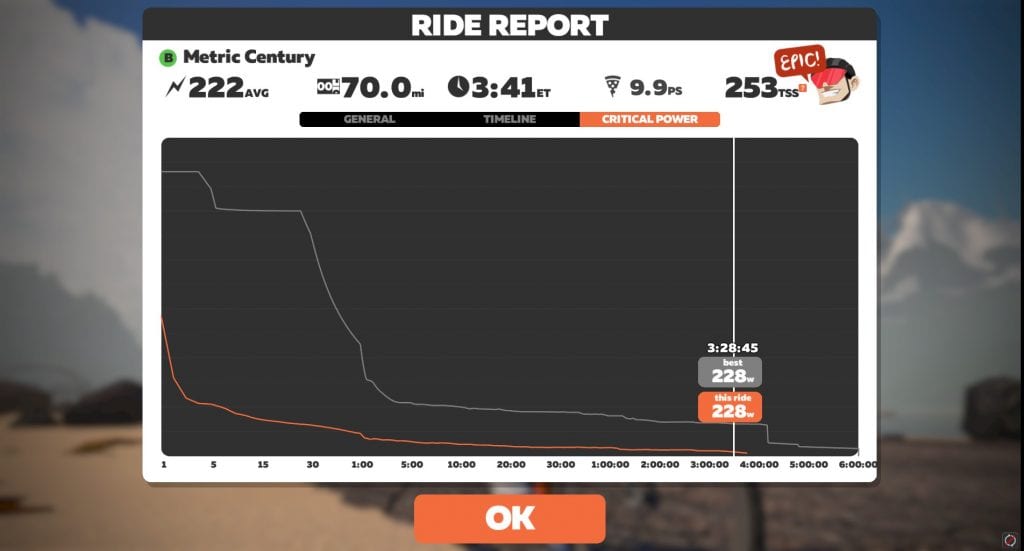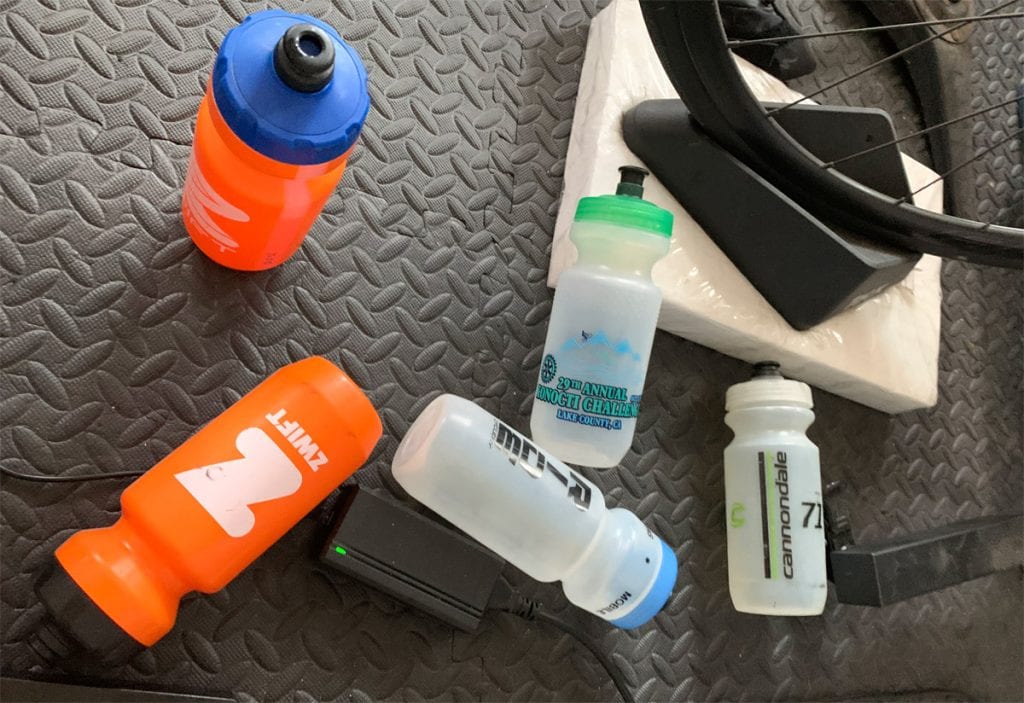 Takeaways
Here are a few things I learned on this ride:
Bike swapping works: swapping on and off the MTB for the Jungle portions let me gain around 20 places each time. Plus, it was fun! Depending on your race situation, it could really be a smart strategy. It definitely makes sense on rides like this, where you're not on the front and there are packs of riders all around.
Be kind to your body, and it will be kind to you: a cleaner diet the night before would have certainly made my body behave better. Clean carbs, lots of water, plenty of sleep. All things I did not do to prepare for this ride.
Solo Dongle: don't double-dongle it–you're just asking for trouble.
What About You?
Did you undertake a Le Col NYD ride? How did your experience compare to mine? Share below!