What are your plans for New Year's day? Depending on your New Year's Eve, Zwift's just-announced Le Col rides may be the best way to kick off 2020, or the worst idea you've had in months!
The "Le Col New Year's Day Century Celebration" rides are the first long ride events of 2020, and they'll be popular for sure, with thousands already signed up.
Riders can choose from three different ride lengths, and go as hard as they want. Is it a race? Not officially, although some riders will treat it as such. For most, though, simply finishing the event will be accomplishment enough.
Schedule
There are 6 different events throughout the day, spaced two hours apart. The first event begins at 12:30AM PST/3:30AM EST/8:30AM GMT. Additional events occur at 2:30AM, 4:30AM, 6:30AM, 8:30AM, and 10:30AM PST.
See event schedule and sign up at Zwift.com >
Route and Group Options
Each event has three categories: A, B, and C. Sign up for the A group if you're ready for a challenging 100-mile ride. The B group is a metric century, and the C group is a flat 25-miler.
The A and B groups will finish at a custom finish line, while it appears the C group is simply 4 laps of Watopia Flat, ending at the downtown start/finish.
C Group:
Quarter Century
For beginners, or those who went too big the night before and just need to ride with a big group on an easy route.
Route: Watopia Flat (4 laps)
Distance: 41.2km (25.6 miles)
B Group:
Metric Century
Expect 3.5-4+ hours in the saddle. This ride will have you climbing over 5,000 feet!
Route: Mega Pretzel (~1 lap)
Distance: 100km (62.5 miles)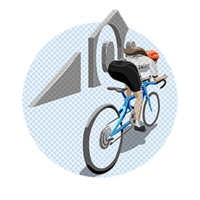 Earn your "100 clicks" badge!
A Group:
Imperial Century
Expect 5+ hours in the saddle with this effort, because it includes ~10,000 feet of climbing!
Route: The Pretzel (~2.25 laps)
Distance: 161km (100 miles)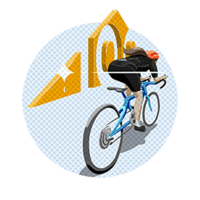 Earn your "No Big Deal" 100 mile badge!
Kit Unlock, Prize Drawing
Complete any of the rides and unlock the in-game Le Col kit plus a discount code for your next online Le Col order.
You'll also get an automatic entry to win a complete IRL Le Col Summer Kit (jersey, bibs, socks, gloves and a cap).