Vegan Century at 7:00 am pacific time Wednesday. Join me. Joe
That was the text message I received on Sunday. DIRT teammate Joe Randall was inviting me to ride "The Vegan Cyclist 100 + 1 Ride" and this month it was taking place in the morning–perfect! I wrote back:
Had to shuffle stuff around but… I'm in! Let's do this!
Prepwork
It had been a while since I'd ridden an imperial on Zwift. Metric centuries aren't a huge deal for me, but imperials are rare! So I made sure to eat a few extra carbs the night before, drink lots of water, and get plenty of rest. (I've never DNF'd a Zwift event, and I wasn't about to start now.)
On the morning of the ride, I got all my food ready. One Clif bar per hour? Check. A bottle or two per hour? I could only find 6 bottles, so I filled them all. I even added some powder to one for a little extra carb/electrolyte hit.
Then I rubbed in some PR Lotion before kitting up, chewed a piece of caffeinated gum, climbed on the bike, and booted up Zwift. Let's ride!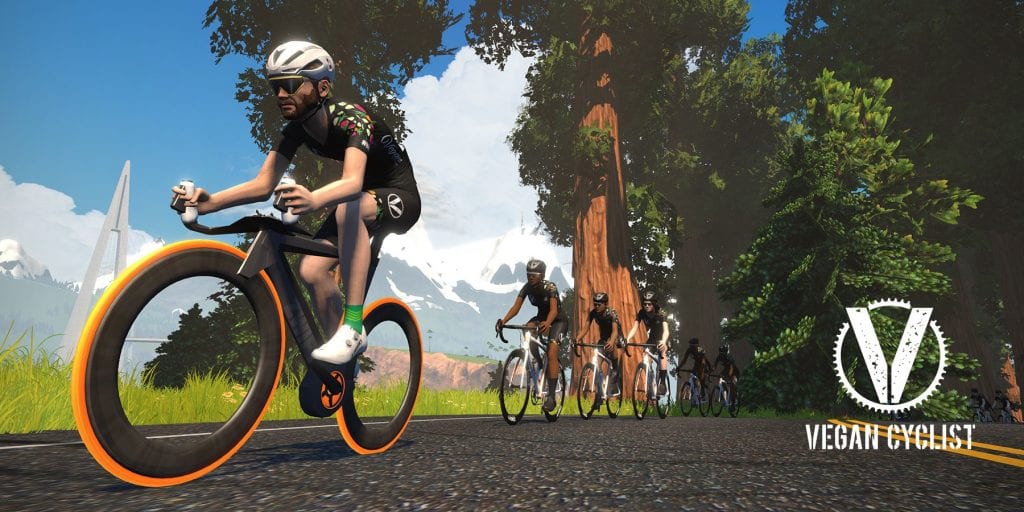 Getting Started
This monthly ride takes place on Watopia's Tick Tock, a fairly flat route with just a few rises to change your effort level and wake you up. At 10.5 miles per lap I knew we'd be riding 9 laps plus a bit extra.
We began in a fairly tame fashion, and I hung with the front group averaging around 250 watts for a while before some strong riders strung it out. I'd heard from Joe that the front of this ride could get pretty spicy, and I also knew there were some very strong IRL riders up there. I wasn't in for a 100-mile suffer-fest, so I eased up and let the beacon (ride leader) catch me.
(The beacon, by the way, is Tyler Pierce, aka "The Vegan Cyclist". He's a cat 2 road racer who lives just a couple hours away from me here in NorCal. I've watched some of his stuff on YouTube, and was looking forward to riding and interacting with him.)
Soon enough we settled into a nice pace, holding 25mph at around 220 watts. Could I do this for 4 hours? Only one way to find out!
About the Pace
The ride broke into three distinct groups fairly quickly: the slow group, the beacon group, and the fast group. There were riders scattered between, of course, but these were the main groups.
Looking at the ZwiftPower results, the slow group averaged roughly 2.1-2.5 w/kg, while the beacon group was at 2.5-2.9 w/kg, and the fast group at 3.0-3.5 w/kg.
Good Company
I was on Discord with Joe, along with Patrick Tan from Singapore who leads a lot of group rides on Zwift. Joe was up ahead with the fast riders–Patrick was back leading the slower group. And I was in the middle with the beacon. We chatted and communicated our positions throughout the ride.
Discord is a great way to help the time pass on long rides. I listen to music or podcasts while running it, which works great.
When You Gotta Go, You Gotta Go
We ticked away the miles pretty quickly, but at the two-hour mark I had a problem.
There were 50 miles to go, and I needed to pee.
According to the event description, there was a bathroom break midway through–but Tyler said we were pressing on. I didn't want to hop off and head to the toilet, because I would lose the beacon group and not be able to chase back.
On an outdoor ride, I might have pulled over and gone, or even stood up and gone off to the side while moving. But you can't exactly do that in your pain cave, can you?
Another buddy on the ride (Canadian Alan Dempsey) suggested peeing into a water bottle. Was he serious? I wasn't sure. But when we hit the downsloping entry tube into Ocean Blvd, I gave the pedals a few hard spins and did the deed.
(I had envisioned being able to pedal while peeing, but that didn't work out. I think I need more practice.)
I got dropped by the beacon group, but to be honest, I was just happy I didn't pee all over myself. In this elated/relieved state I began hammering to catch the beacon. It took 5 minutes at around 320 watts, but I finally caught them and settled back into a sustainable pace.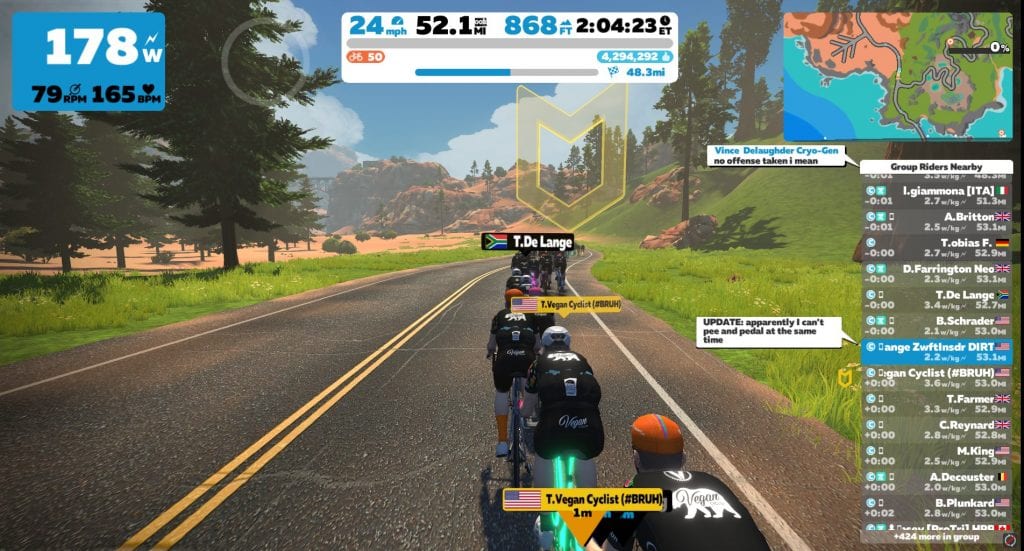 Unfortunately, I was a bit too tired to chase the sprint prime Tyler offered a few minutes later–a cool t-shirt for the fastest rider from the beacon group on the Fuego Flats sprint.
Fatigue Sets In
Around the 60 mile mark I started to feel the fatigue–you've felt it, right? That dull ache in the legs. My heart rate had stayed in high zone 2/low zone 3 for most of the ride, and PR Lotion had kept the burning to a minimum–but still the fatigue was building. The mental fatigue was there, too–I found myself dropping off the back, not being attentive to the pace of the group.
Focus, Eric. Finish strong! 90 more minutes…
God Bless the Rocker Plate
Being able to get out of the saddle and ride naturally thanks to my rocker plate was a nice luxury on this ride.
There are three uphill portions on each lap: on the way out of Saddle Springs, climbing out of the ocean tunnel, and climbing up to the desert.
On each of these sections, and even on the flats in between, I would get out of the saddle and stretch my legs. Felt great!
Funny Bugs
There was some noticeable buginess on this ride, especially if you were Tyler, the beacon. I kept seeing his avatar ride to the front then flip a double u-turn, effectively shuffling him to the back of the pack over and over again. He said he'd never had that problem before, and couldn't figure out how to fix it.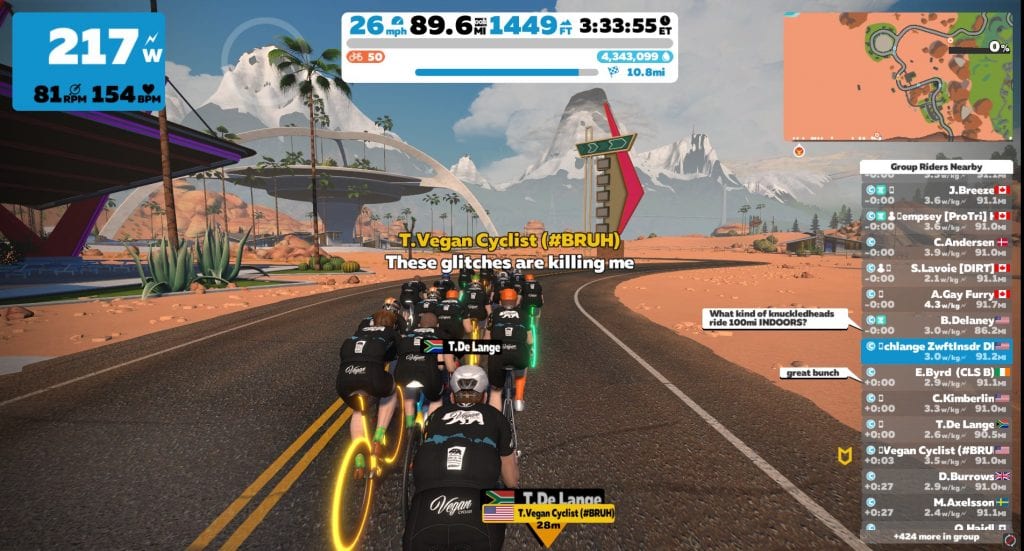 Kudos to him for hanging strong despite the (literal) setbacks!
We also had the same weirdness with the distance counters that I've noticed in the last couple of months in group rides. (On a ride this long, you end up looking at those counters a lot.) The counter on the right bar was different than the counter at the center-top! See below: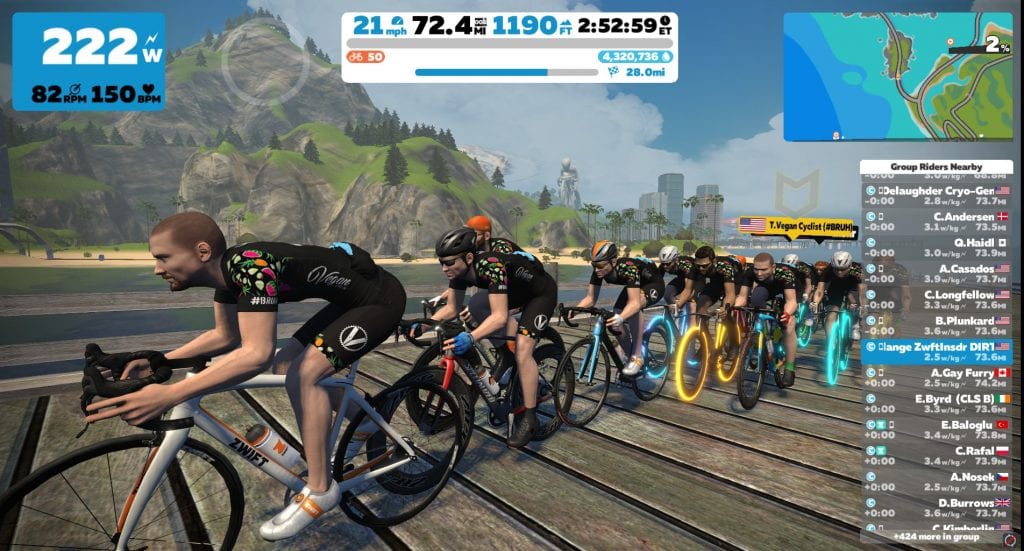 Finishing Strong
We began with 400+ riders, but as we neared 85 miles the number of riders had been whittled down to perhaps 100, with the beacon group being the largest. Joe was up the road about 80 seconds, with the flyer group several minutes ahead of him. Patrick's group was more than half a lap behind.
Tyler announced that the final lap would be a "Fool's Gas" lap, with a $100 prime. I knew I didn't have a chance to win it, but decided to hang with the front as long as I could, just to challenge myself.
Only those in the beacon group were eligible for the prize, and when we crossed the desert start line it was go time! But this wasn't like any hot lap I had ever experienced. Wattage bumped up from ~225 to… ~250? It wasn't bad at all. Apparently everyone else was feeling the fatigue too.
So I hung with the front group until the climb into the desert, where things got split up when we caught another group and I wasn't paying close enough attention. We crossed the line and had just a few easy miles left until the finish line in Saddle Springs.
That's what I thought, at least. But my buddy Alan had different plans, because he saw we were barely on pace to finish in under 4 hours. So he got on the front and hammered away, pulling us along to the finish. Nice work, Alan.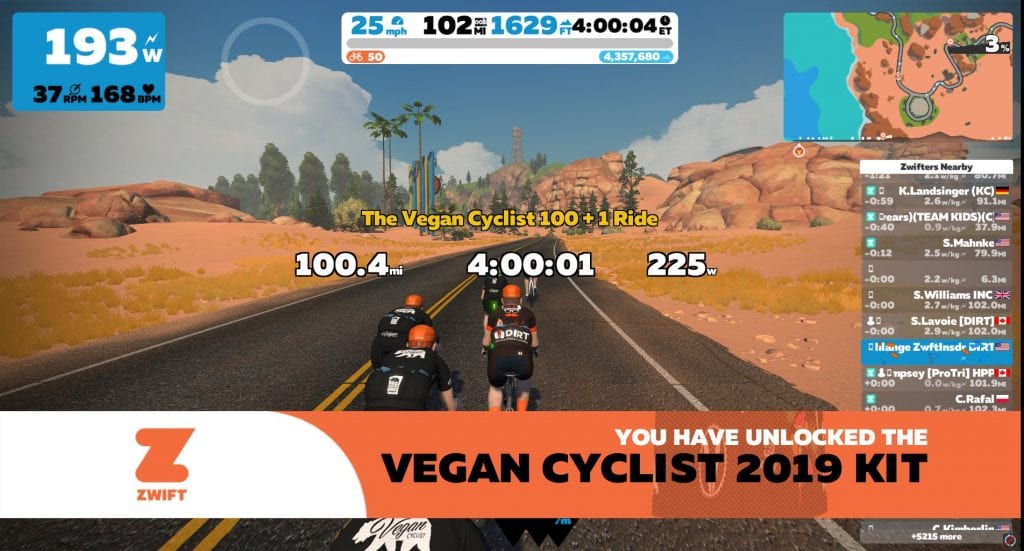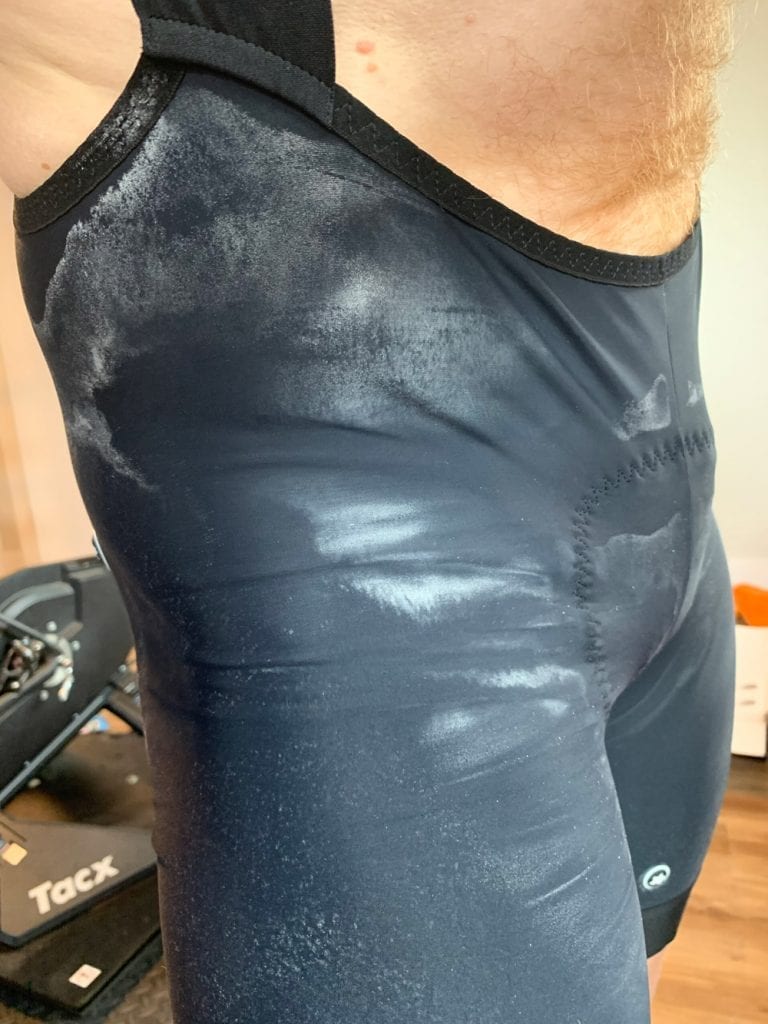 Debriefing
I'd worn a brand-new pair of Assos bibs for the ride, which could have been a very bad idea if the fit wasn't good. But it turned out alright–gotta love Assos.
The bibs probably weren't happy with the result, though. This is why I drink electrolytes on long rides!
My first 100-mile ride on Zwift happened exactly 3 years and 1 day earlier. I did that with a very small group while riding the Buffalo bike on WBR day–needless to say, it wasn't as fast. But it was super fun.
Every century ride is an experience in itself, and the 100+1 did not disappoint. Kudos to Tyler for hanging in there despite unintended donut spinning, and kudos to all the other finishers.
More 100+1 Ride Details
Schedule
The 100+1 takes place on the first Wednesday of the month, and has been running for a few months now. Times vary, but you can see upcoming events here.
Route
The ride takes place on Watopia's Tick Tock route, a fairly flat route with just a few rises to change your effort level and wake you up. At 10.5 miles per lap you'll be riding 9 laps plus a bit extra.
Pace
The goal is to finish the ride in right around 4 hours, so you're looking at a 25mph pace. For me, sitting in with the pack, that worked out to an average power of 224 watts, or 2.75 w/kg.
Kit Unlock
If you join the event and ride more than 30 miles, you'll receive the in-game jersey within a week and be eligible for prizes.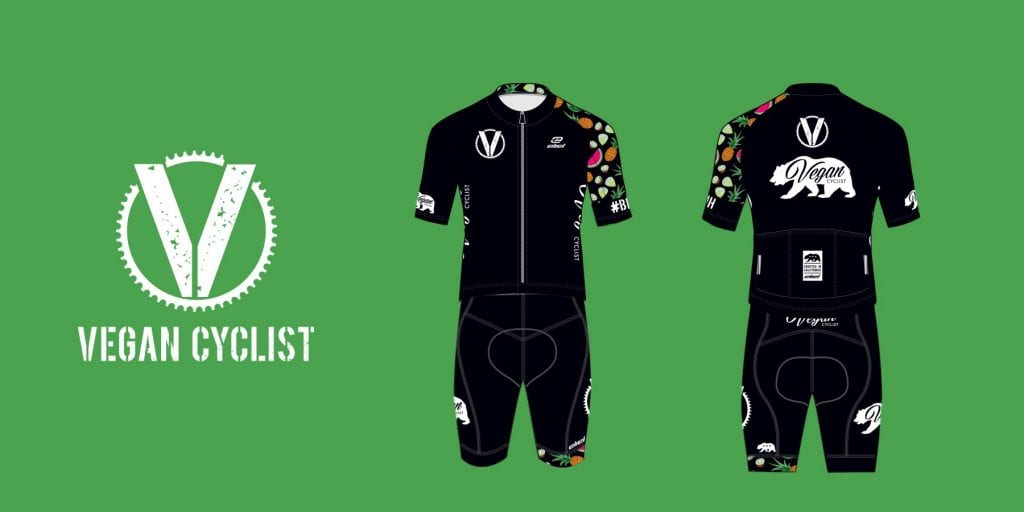 Prizes
I'm not sure how the prizes listed for the event work–Tyler Pierce didn't mention it during the ride as far as I saw. My guess is they are randomly drawn from the pool of riders who complete at least 30 miles.
What I found really fun was Tyler calling out two different "primes" during the ride. It keeps things interesting!
What About You?
Have you tried the 100+1 or other century rides on Zwift? Share your experience in the comments!