We love new roads, even when they're virtual. So today let's celebrate the release of Zwift's virtual Alp d'Huez, dubbed "Alpe du Zwift."
Zwift created this route using GPS data to perfectly match the incline and distance of the storied climb with its 21 hairpin turns. The climb to Alp d'Huez actually has two different finish points: the "tourist version" and the Tour de France version. Alpe du Zwift matches the tourist version, which is ~2km shorter with 40 meters less climbing than the TdF. Here is our verified Strava segment for the timed KOM section of the new route.
Looking Good
Zwift took their time making this climb visually interesting in terms of both natural and man-made features. The landscape and flora change as you ascend, beginning at the bottom of the Jungle Circuit with lush grass and shrubs which change to pine trees which are eventually covered in snow. Soon enough you pass the treeline and are surrounded by only rocks and snow, but the visuals still dazzle with the northern lights visible at night and a cloud layer below so you really get the sense of being at altitude.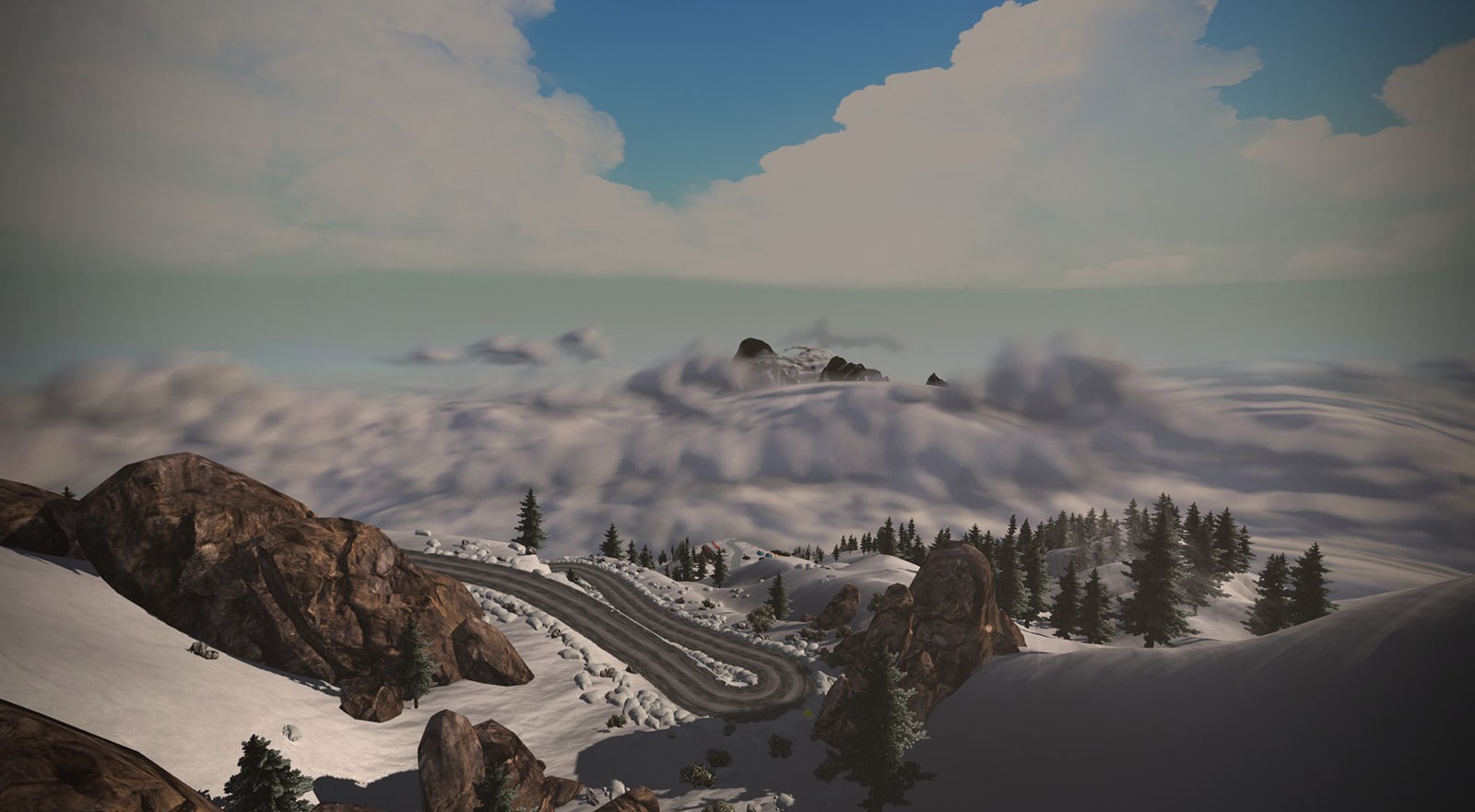 Man-made features include an alpine village, stone tower outposts, snow camping, timber harvesting, a satellite array and some sort of scientific outpost with a sign calling it "Macready Point Watopia". Signs on each bend count down to the top, and most of the bends include encouraging messages just like the outdoor climb ("Thin air don't care", "Earn that downhill", "Don't give up!", "So close", etc). See if you can spot the names of some pro cyclist Zwifters as you make your way around the bends!
When you reach the top you are greeted by a giant statue reminiscent of the statues which still grace the original Watopia Hilly route.
New Routes
The update includes three new routes which take you up Alpe du Zwift:
Four Horsemen: 89.3km, 2112m "This is gonna hurt."
Road to Sky: 19.9km, 1144m "The shortest route to the longest climb."
Tour of Fire and Ice: 25.1km, 1166m "Winter is coming, but only after you ride out of the fiery pits of the Volcano."
Level 12 and Up
You must be level 12 or above to ride Alpe du Zwift, unless you join a group event which is riding on an Alpe route.
New Game Features
In the past, Zwift has been clear that they will only include a long climb in the game if they can gamify it enough to keep it interesting. We can see the beginnings of that with this release, although there are more features still to come.
When you begin the climb, the map section expands vertically so you can better see what's coming up. Each bend is numbered and starred off when completed. Additionally, when you reach the top of the climb a prize wheel pops up and spins, landing on items like gloves, helmets, etc. (This happens every time you complete the climb–if the wheel lands on a prize you've already won, you get 250XP instead.) A welcome added incentive to make it up the biggest climb in Zwift's virtual universe!
Zwift has also added a new badge you can earn (under Menu>Badges): the "Masochist" badge. How do you get it? Climb Alpe du Zwift 25 times! There is also an "Avid Climber" badge given for riding Alpe du Zwift 5 times.
Overall, I consider this a wonderful addition to Watopia because it's something completely different from what we already have. It also helps keep Zwift well ahead of its competition, many of whom are based around replicating iconic climbs.
Well done, Zwift. Ride on!