As a cancer survivor, I can't think of a better way to spend my time than riding for a good cause directly connected to cancer. Thus it gives me great pleasure to tell my fellow Zwifters about the annual Dempsey Challenge happening this weekend on Zwift!
On October 23-24, Hollywood star Patrick Dempsey is bringing the annual Dempsey Challenge to Zwift for the second year. The Dempsey Challenge is an annual run, walk and cycle fundraiser for the Dempsey Center, which makes life better for people dealing with a cancer diagnosis. There will be two days of rides and runs on Zwift aimed at raising awareness and funds to support those managing the impact of cancer.
50,000 Miles = $50,000
The goal is for the Zwift community to collectively ride/run 50,000 miles (80,000km) over the event weekend. If we achieve this, we will unlock a $50,000 donation from Zwift to the Dempsey Center.
Given that Zwift has a rich history of collaborating with good causes and are extremely generous with their donations (highlighted previously in my Zwift's Diversity and Inclusion Evolution article), it's pretty much a given that they will donate the funds. But including the Zwift community turns it into a fun team effort!
Throughout the weekend there will be group rides and runs hosted within Watopia, on different courses, depending on how far you want to go. These include:
However, the main event and the chance to ride with Patrick himself is on Saturday 23rd October at 8pm CEST/7pm BST/2pm EDT/11am PDT. This is a 60-minute ride without a stated pace on Watopia's Volcano Flat route. You can sign up here.
There are already over 600 people signed up, so it's going to be a big event. With this many people, maybe Patrick should think about hosting a second ride!
A full list of upcoming events is available at zwift.com/events/tag/dempseycenter
The previous Dempsey Challenge raised over $1.2 million. The money raised was used to make life better for people managing the impacts of cancer. This year the target is set at $1.5 million. But hey, this is Zwift, where our daily goal is to break targets and set new highs, so let's help Patrick and is his team achieve this!
Kit Unlock

Complete any of this weekend's Dempsey Challenge events to unlock the Dempsey Challenge Kit!
About the Dempsey Center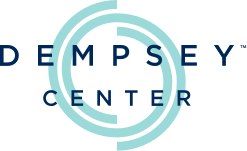 The Dempsey Center is an organization committed to making life better for people dealing with a cancer diagnosis. Founded in 2008 with the intention of giving back to the community, it improves the quality of life of those impacted by providing a personalized, holistic, and integrated approach to cancer prevention, education, and support.
What they do is simple, "The Dempsey Center makes life better for people managing the impact of cancer with locations in Lewiston, South Portland, and now our third virtual location, Dempsey Connects. Services are provided at no cost."
It is important to understand that the Dempsey Center services support healing and symptom management, but it is not a cancer treatment facility. They provide services that can help you manage the emotional, mental, and physical impact of cancer. Learn more about services here, or browse programs here.
For more information visit dempseycenter.org or to donate, click here