When I saw the news that Eric Min, the Co-Founder of Zwift had received recognition as one of the  "Best CEO's for Diversity" as noted by Comparably, I wasn't surprised as I have been following the evolution of Zwift's Diversity and Inclusion ethos and was in the process of writing this article when the news was announced. 
What's more impressive is that Comparably's annual Best CEOs for Diversity represents the top-ranked CEOs, based solely on anonymous sentiment ratings from employees. The awards are derived from 10 million ratings across 60,000 companies.  Every CEO on the list is in the Top 5% of all CEOs.  In summary, it's recognised that Eric and Zwift as a whole are leading the way in terms of Diversity and Inclusion.
Anyone that uses Zwift will instantly realise that the Zwift Community is wholly inclusive.  Zwift has worked hard to foster this, and the recent addition of Lisa Bourne (Zwift's Senior Director of Diversity, Inclusion, and Social Impact) shows their commitment as a company.  I posed 5 questions to Lisa, who responded as follows:
What are Zwift's most important values and how have they shaped the approach to Diversity and Inclusion within the organisation?
 
We have a number of core values at Zwift but the one that I think resonates most with Zwift employees is "One Zwift for All".  We aspire for Zwift to be a safe and welcoming space for all – both in the game and amongst the team.  We value an openness to learning from different points of view and recognize that each individual is starting from their own place along the diversity journey.
 
I joined Zwift last year to lead our new Diversity, Equity, Inclusion and Belonging (DEIB) department.  Our mission is to operationalize and champion DEIB throughout the organization – threading DEIB into every business decision.  Ultimately, we want the Zwift brand to be recognized as highly inclusive and to be admired for the full celebration of the diverse, global community we serve.
 
What are the challenges of establishing and embedding these values into an expanding organisation so that they align to your policies?
 
Perhaps the biggest challenge faced by all rapidly expanding start-up organizations is capacity and organizational readiness. There's a tremendous desire to do and learn more but we have to ensure we build a strong operational foundation that can assist us in delivering our DEIB goals.  
 
To that end, we've set up our very first Inclusion Council and first set of Employee Resource Groups (ERG's) which have been designed to operationalize and champion DEIB throughout the organization.
 
All of this structure is helping ensure that diversity and inclusion become top considerations for all decisions made within the organization – whether it be marketing, game design, performance management, or recruitment.  We've only just begun our DEIB journey and are excited to have tremendous support across the organization.
 
How are you overcoming these challenges, and what lessons have you learned thus far?
 
We've developed comprehensive DEIB (Diversity, Equity, Inclusion and Belonging) learning programs to educate around bias, privilege, becoming a better ally, racial justice, etc.  We've launched our inaugural Inclusion Council, a volunteer internal consultancy, and our first set of Employee Resource Groups (LGBTQIA+, BIPOC, and Women's) which will operationalize DEIB throughout the organization and help us drive true inclusion and belonging. We are constantly learning that we need to meet each person where they are in their DEIB journeys.  The work can be very personal and cannot be rushed.
 
How does your approach to Diversity and Inclusion influence how you engage with staff and partners?
 
At Zwift, we hold regular learning opportunities for staff to promote inclusivity across the organization.  We address important topics like allyship and unconscious bias but also educate around best business practises like hosting inclusive meetings and driving accountability for that inclusion. Ultimately, we know inclusion drives belonging and individuals that feel that they belong are more productive and more innovative.  

Naturally, we carry these same values across to our partnerships. We seek partners that share the same core values as we do at Zwift.
 
What advice can you give to any company at the start of their journey when considering their approach to being a more diverse and inclusive organisation?

When it comes to DEIB, it's important for any organization to assess their current state and think about how a focus on DEIB could impact strategy, culture, and operations. The bottom line is that DEIB is an ever-evolving issue and requires long-term investment to ensure it becomes a part of company culture.  DEIB should never be a static, one-off approach to solve a problem. This is why it's so important to begin with education and resourcing.  Take your time to develop a strong DEIB foundation that supports your company values and mission. 
Inside Zwift
It is evident that Zwift are working hard to ensure that DEIB is engrained within all company values and in every decision taken.  Lisa and her department are acting like the handlebars, helping to navigate the journey the company is on, which has the full backing of the Zwift company. The wheels are certainly moving in the right direction.
I wanted to learn more about their internal strategies which Lisa had mentioned so I caught up with Chris Snook, their PR Director based in London, on the roads of Watopia, to discuss in greater detail. Chris expanded and explained that their Diversity and Inclusion strategies were "always evolving, they are by design always a work in progress. There is no finish line as we strive to do better." This philosophy mirrors their ethos as a company as they look to constantly innovate and improve the platform.
Lisa has designed Zwift's Diversity, Equity, Inclusion and Belonging (DEIB) strategy around three primary focus areas
brand presence and reputation
the Zwift end-to-end experience
internal employee experience
Central to Zwift's Diversity and Inclusion strategy are the concepts of 'Belonging' and 'Equity.'
I queried Chris on what 'Equity' meant and he explained that equity is about providing equal opportunities to traditionally underrepresented or marginalized groups. He referenced the infographic from the "Robert Wood Johnson Foundation."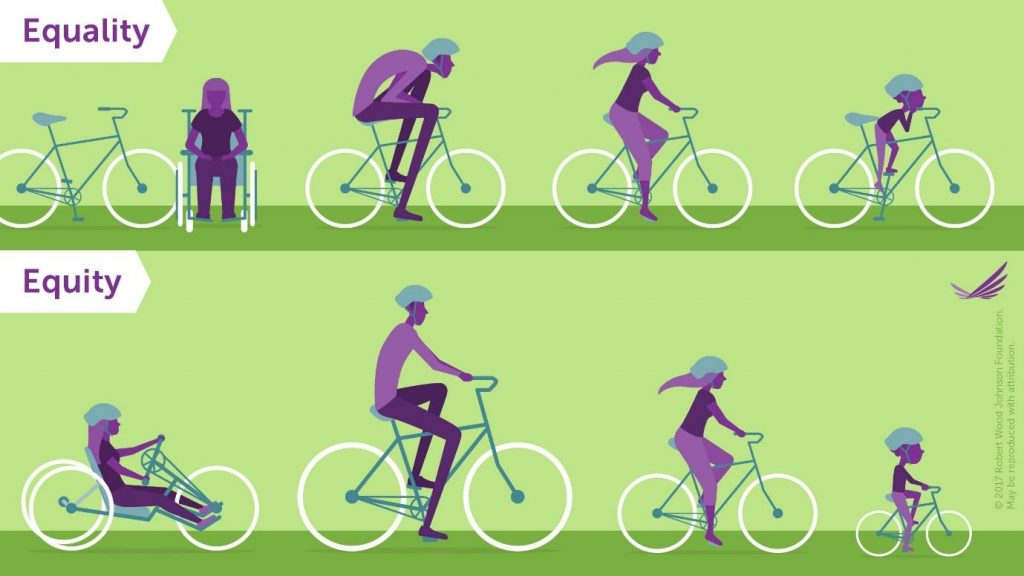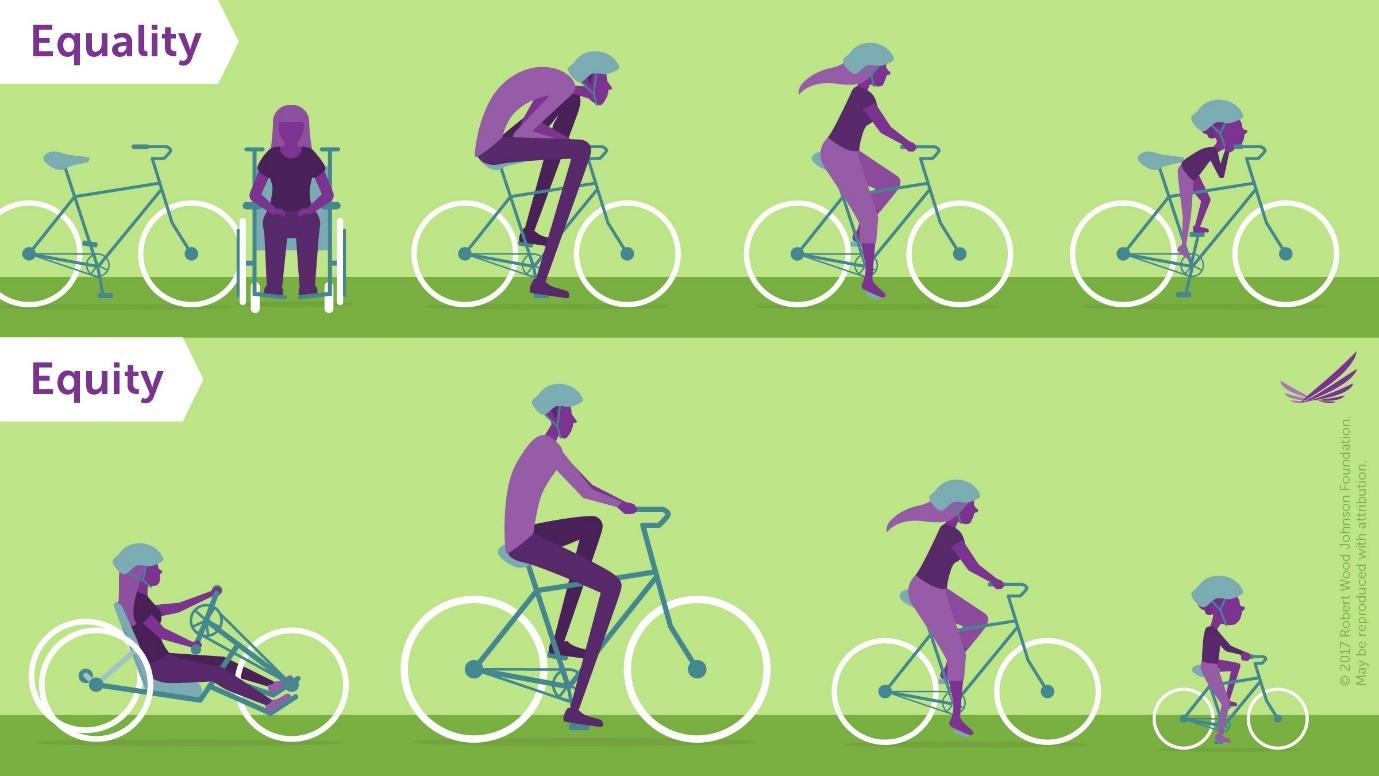 The infographic highlights the difference between equity and equality. "Equality" means dedicating resources evenly across different groups, hence why the bikes are all the same. In contrast, "Equity" splits that resource differently based on their need, hence why the bikes are sized to fit.  The results of "Equity help achieve "Equality".
If we use women as an example, this would mean that in order to make a meaningful change toward a 50/50 gender split using the platform, Zwift has to weight their investment in favour of women.  This model applies to all underrepresented groups. 
Ultimately, to enact change you have to invest strategically.
Within the company, Chris explained that to foster a positive internal employee experience and drive belonging they have regular seminars covering important topics such as race, gender, pride, and transgender in sport with the purpose of informing and educating staff.  As the company is truly global, these topics are tailored to ensure the messages are current and provide the correct cultural insights.
Chris is also a member of Zwift's inaugural DEIB Inclusion Council, which is specifically designed to champion DEIB throughout the organization and cultivate ideas that can be put into practice.  At a recent meeting, an idea was presented outlining how to better support communities and non-profit organizations using the Zwift platform – effectively giving people the tools for fundraising.  Chris noted that this was early in concept but highlights the fact that Zwift are actively encouraging their staff to come forward with new ideas to make a positive social impact. 
The Global Pandemic and Zwift
Chris noted that during the last year, Zwift has gone above and beyond to ensure that staff have felt that sense of belonging.  With offices closed around the world, Zwift adapted their policies to cater for the needs of their employees.  As well as ensuring staff had their office equipment delivered to their homes so they were set up to work remotely, the company provided flexibility around working hours to enable staff to balance the daily challenges that they faced with work.  To offset the difficulties of confinement, Zwift provided access to virtual Yoga classes and other tools such as access to wellness schemes.
Going forward, Zwift have conducted a staff survey to better understand how staff want to operate in a post-pandemic world and the overall results have highlighted a desire to work flexibly, ensuring a better work-life balance and thus a positive internal employee experience.
Zwift and the Wider Community
Following the in-depth insight into Zwift's internal polices, I thought it would be worth examining some of the major events that Zwift have facilitated that have been designed to unite and celebrate different aspects of society with their "One Zwift for All" ethos.
In March, I reported about Women's History Month, where Zwift dedicated itself to celebrating the power and strength of women everywhere through the "Women's Ride and Run Series" (WRRS).  
In May, I joined Eric Min who led a group ride in Watopia to celebrate Asian American and Pacific Islander Heritage Month.
Also in May, VoxTour 2021 was hosted.  This was Zwift's third annual Voxwomen Tour (aka "VoxTour") and ran through until mid-May. VoxTour had the objective of introducing more fans to women's pro cycling while showcasing the training undertaken by women in the pro peloton. And this year, in the true spirit of inclusivity, men were invited to take part in the events as well.
Several weeks later, I reported about Zwift's Pride On campaign. Zwift had announced its third year of partnering with Athlete Ally to hold a series of Pride On events during the month of June and beyond. The goal of the campaign is to celebrate the LGBTQIA+ community on Zwift, educate around key issues impacting the community, and fight for athlete equity in a sport that has recently witnessed increasing attacks against the trans community in particular.
That list is only what I reported on, other notable diversity-focused events the company has launched also included a the yearlong Black Celebration Series.  This initiative is designed to "celebrate the history, athletes, heritage, and joy the black community brings to Zwift from around the world."
So through its partnerships, Zwift is actively working to create a truly inclusive society, as well as pushing for equity between men and women in cycling. They are focussed on racial equity and this is evident with the sponsorship of Legion of Los Angeles, stylised as L39ION.
L39ION
In December 2020, it was announced that Zwift were going to sponsor Legion of Los Angeles, a UCI Continental cycling team based in the United States. It was founded in 2019 by brothers Justin Williams and Cory Williams with the goal of increasing diversity and inclusion in cycling.  In 2021, a women's team was also announced.
Their ethos in their own words is "to advance the sport of cycling, eliminate boundaries, and promote diversity, representation, and inclusion. We want to grow the sport in America and let the American masses know that you don't need to conform to be a part of the cycling community. The team is devoted to using our platform to give back to the younger generations and showcase criterium racing in a way where athletes can make a good living competing at home in the US."
Zwift CEO Eric Min said: "L39ION is just a fantastic force of energy that aligns so well with our brand, I couldn't be happier to partner with the team. This is far more than a sponsorship deal, we have big plans to collaborate and deliver increased diversity and inclusion within cycling. Justin is one of the most influential figures in the sport and we have the platform to help him deliver his message to a global audience."  
Tour for All and the Virtual Tour de France
In May 2020, during the height of the global pandemic, Zwift ran the "Tour For All."  This was to support Doctors Without Borders/Médecins Sans Frontières (MSF) in their response to COVID-19.  This charity provides medical assistance to people affected by conflict, epidemics, disasters, or exclusion from healthcare. 
Zwift created a multi-stage event and kicked off the Tour with a $125,000 donation to MSF's COVID-19 Crisis Fund. This was to support the organization's global emergency response to the pandemic and its consequences.
Zwift pledged that they would match that donation at the end of the Tour if 250,000 Zwifters finished at least one stage. And that's exactly what happened!
The consequence of Zwift hosting this successful event was that the Amaury Sport Organisation, (ASO) owners of the Tour de France, and other notable sporting events, approached Zwift to discuss the concept of hosting a Virtual Tour de France in July.
Zwift agreed on the condition that there would be classifications for both men and women, and gender with men and women riding identical stages and receiving the same broadcast coverage.  The ASO were in total agreement and the rest, as they say, is history.
Building on their now established relationship with ASO, Zwift have recently announced that it will become the title sponsor of the Tour de France "Femmes avec Zwift" that will be held from July 24-31 in 2022, beginning on the Champs-Élysées in Paris after the final stage 21 of the men's Tour de France.
Summing up
Chris explained that Zwift employees (or 'Watopians' as they are called internally) are the biggest champions of Zwift and share the sentiments of the Zwift community at large. Watopians "talk the talk and walk the walk" as they strive to create "One Zwift for All." Unlike the races and events we all enjoy on Zwift, as Chris noted earlier, for this topic "there is no finish line" so expect to see much more from Zwift in this field in the upcoming months and years.
*Special thanks to Chris Snook (PR Director) and Lisa Bourne, (Zwift's Senior Director of Diversity, Inclusion, and Social Impact) for their help with this article.
Your Thoughts
Please share below!