Today, Zwift released an update for the Companion mobile app which expands Meetup capabilities in two key ways.
Available now for iOS and Android, Companion version 3.13 allows us to choose any open Zwift map for our Meetups, and expands the invite limit from 50 to 100. Two bits of happy news for Zwift Meetup organizers!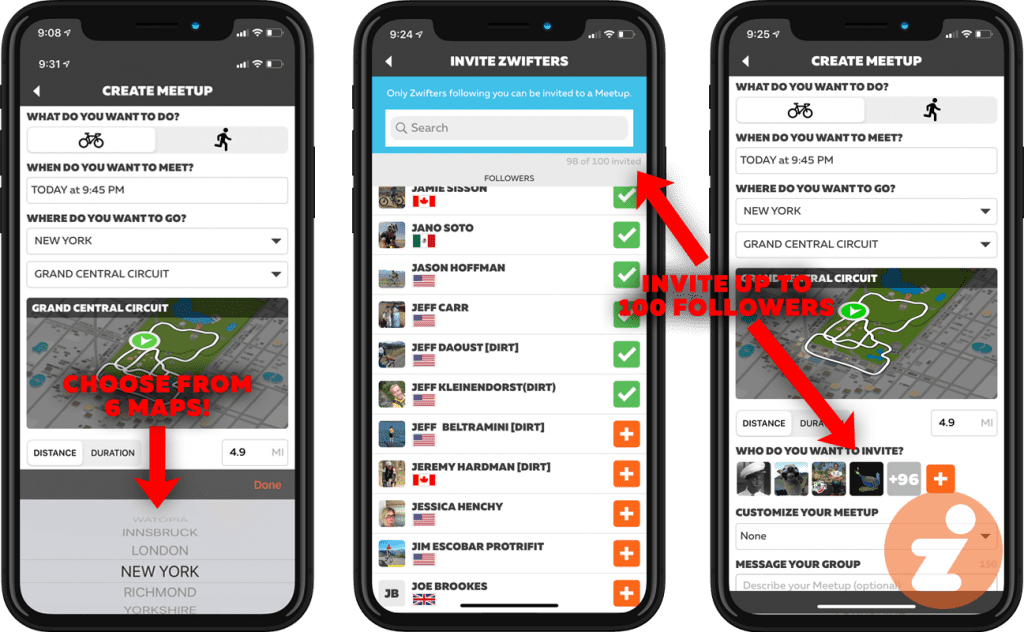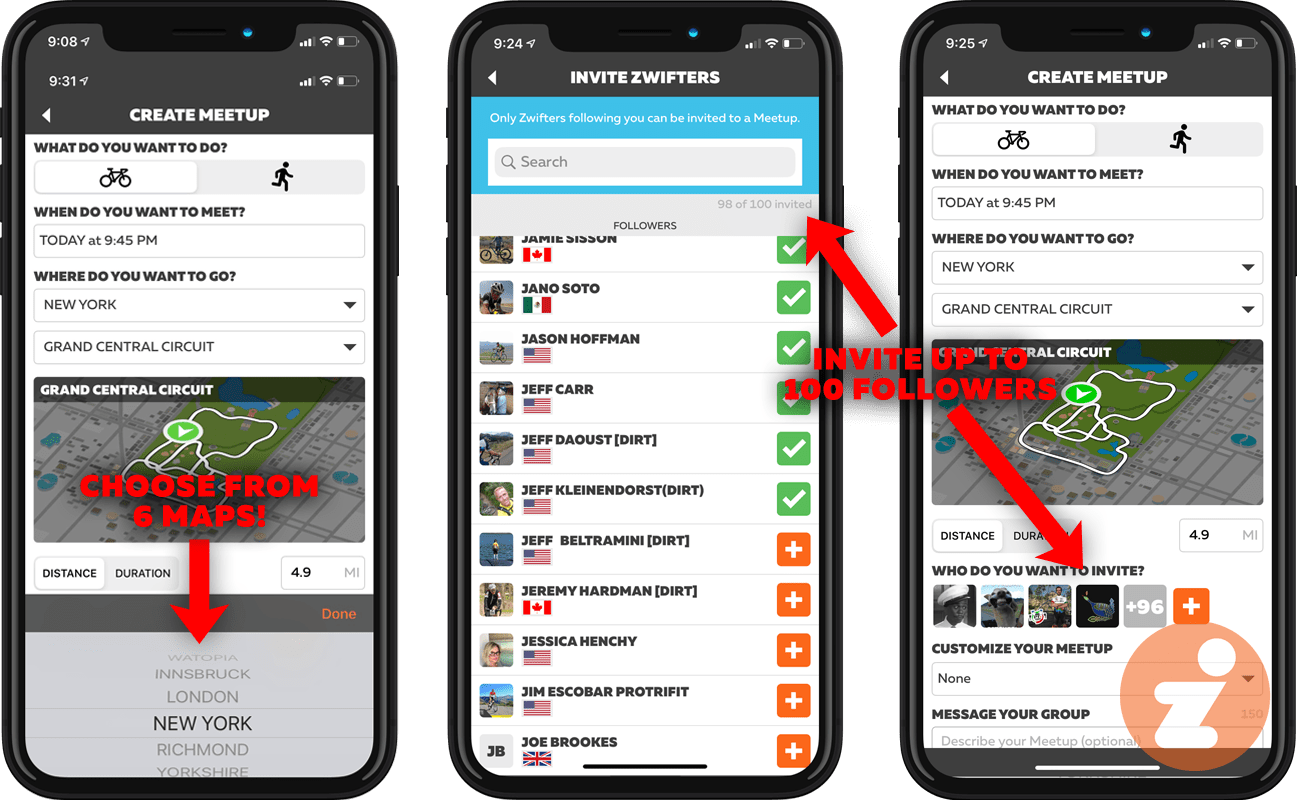 6 Different Worlds
We can now schedule Meetups on any of the 6 "open" maps at any day/time. That means all open routes on Watopia, London, New York, Richmond, Innsbruck, or Yorkshire are available for our Meetups! (Crit City and Bologna are only used for official Zwift events at this time.)
This will be very welcome news to Zwifters for at least two reasons:
Complete control over route choice: With 67 different routes available on the 6 open maps, you'll always be able to find a route that suits your fancy! Meetup map options are no longer restricted by the guest map schedule, and that's a very good thing.
Less crowding: if a guest map isn't on the guest map schedule, there will be very few riders using it. Surely savvy schedulers will look at the guest map schedule and select "off-schedule" maps where there will be fewer riders on course, allowing their Meetup to feel more like a "group-only" event. This is an especially big deal for Meetups which don't enable the "Keep Everyone Together" option because it's easy for riders to get spread out and lost on a busy road.
World Hacking Through Meetups!
Zwifters have been "world hacking" (finding ways to ride in off-schedule maps) for years. One side benefit of this Meetups change is it gives you the ability to "world hack" without needing to edit your prefs.xml file. Just schedule a Meetup… for yourself… on whatever route you want to ride! Then join it and ride it.
If you're looking to grab a particular route badge, or ride on a less-populated world, Meetups may be your ticket – especially if you're on AppleTV, where world hacking is next to impossible!
Note: you have to invite at least one person to create a Meetup. Easy! Invite a friend or spouse who follows you, and put a note in the event so they know it's not a real invite. They don't have to accept the invite for you to ride the Meetup. 😋
Double the Invites, Double the Fun
We used to be restricted to inviting 50 followers to our Meetups, but that has been doubled to 100. This is certainly due to community feedback as more and more clubs are using the Meetup feature to create group events, and some were bumping into that invite limit.
Doubling it to 100 should satisfy the needs of the vast majority of Meetups, but if you're finding you need even more, let your voice be heard by in this thread.
Too Many Invites?
One possible negative side effect of this change is we may all begin receiving more Meetup invites that we aren't interested in, as riders organize Meetups and select more riders from their list of followers. Pro tip: if you don't want to get these Meetup invites, the easiest thing to do is simply unfollow the person who keeps sending you invites!
Other Changes
The Companion update also included unspecified "Meetup invite improvements." We aren't sure what these are, but hopefully part of the improvement is to make the invites pop up more reliably. (A recent game change made Meetup invites pop up earlier in game, which is also a welcome change.)
Also: Zwift is working hard on the Clubs feature! This update included unspecified but "numerous" Zwift Clubs fixes and improvements. We know many clubs out there are looking forward to being able to use these features soon, so it's good to see continued progress being made.
What's Next?
There are several Meetup features which Zwifters ask for regularly, including:
Late Join: this is by far the most requested Meetups feature, because we're cyclists, and there's always that late guy.
Culled Meetups: hiding all non-Meetup riders would allow you to truly track the location of other participants without the distraction of other riders on the road. Especially important in competitive rides!
Easier Invites: being able to simply post a link for people to click and join the Meetup, instead of requiring someone to follow you before the invite. This hasn't been implemented due to concerns about spamming, but it's still a common request because the current invite system is a hassle!
Group Workouts in Meetups: selecting a workout for all Meetup participants to do together. This can be done currently as a hack, but it would be nice if this could be incorporated into the Meetup system.
Ranking in Meetups: show your placing during the Meetup and once it finishes. This would allow you to hold simple races. Combine this with the culling feature explained above and you'll have groups holding simple races all over the place!
Zwift is asking for our feedback on what Meetup features we most want, so be sure to visit this forum thread and chime in with your thoughts!
Your Thoughts
What do you think of these changes? And what would you like to see next? Share below, but more importantly, chime in on Wes' forum thread and let your voice be heard!