After a very successful "Couch to Cat C" project, Boone is now well into the next training block: one we originally dubbed "C to Shining C", but have since renamed simply "C to B", as our new goal is to see him hit 3.2 w/kg in his ramp FTP test.
Here's how week 5 unfolded…
The Plan
As a reminder: the basic plan we've settled on for the 6 weeks contains a mix of four different types of rides. (Many thanks to Alan Dempsey of HPP Coaching for giving us solid advice that sets Boone up for success).
Races: Boone will race the C's every week or two to check his progress, work on race craft, and of course get in a good workout.
VO2 Workouts: this will be the cornerstone workout of each week. Nobody likes VO2 work, but we both agree Boone is getting a lot of benefit from these.
Pace Partner Intervals: we'll use the Pace Partners (Diesel or Cadence) to anchor a fun, interactive interval workout. Warm up with the pace partner, then sprint off the front for 15s. Or drop off the back, and put in a measured 2-minute effort to get back on. Lots of options here.
FTP Ramp Tests: we'll do at least two ramp tests to measure FTP progress.
Recovery Rides: some days, Boone will just need an easier effort in the saddle. Since he's still a beginning cyclist, even easy efforts are far from wasted.
Ride 16: IRL Volcano Climb
For this ride, I proposed something pretty wild to Boone: "What if we road outside?" Just a couple of miles from my house is the base of Mt. Konocti, our local volcano. (Wikipedia says, "Although it is often described as extinct, it is actually classified as High Threat Potential.") There's a dirt road that climbs to the top of Mt. Konocti, which is around 2400′ of elevation. But I generally ride to the halfway mark, where there's a gate and signs that (theoretically) keep out cyclist and equestrian traffic.
I figured Boone would be up for it, since we wouldn't be riding in traffic and it would be a good training climb around 40 minutes long. And he said he'd do it! So we invited a couple of local friends – Zane and Mike – and did a bit of bike swapping so everyone had a useable steed. Boone on my MTB. Me on Zane's gravel bike (he's trying to sell it to me). Zane on Mike's extra (medium) Stumpjumper. And Mike on his other Stumpjumper!
My goals for the ride were just to get Boone a decent training effort and a fun IRL riding experience after not doing it for 20+ years. As we began to climb the dirt ride, I recalled the last time I was on that road with Boone. We were both in high school, sneaking up Konocti to change the gigantic "K" etched on the side of the hill to an "L". A high school prank – I attended school in Lakeport, but Mt. Konocti is in Kelseyville, home of our rivals. So Boone helped me and some Lakeport friends change it – even though Boone attended Kelseyville. (He wasn't a big fan of school, and we were always looking for crazy things to do together.)
That particular outing didn't end well – we were caught by the cops. I hoped today's ride would end better.
I set the pace for our group, not pushing hard, but enough that Boone would get in a good training effort. We made it all the way to the top without stopping – Boone did really well, considering he had to master shifting, a new bike, and actually wearing a helmet for the first time.
Based on my perceived effort, I figured we made it up in 38 minutes. I've ridden my bike (the Stumpjumper which Boone rode today) up this road probably 30 times, so I know how different paces feel. Imagine my surprise when I looked at our time on Strava – 32:54! Wowzers. That gravel bike of Zane's climbs much faster than my Stumpjumper. And this made Boone's ride even more impressive – 32:54 is a solid time up this climb.
Two notable things happened on the way down the mountain:
Boone learned why you don't wear 100% cotton shirts when riding outside. He almost froze as the wind cut through his soaked shirt!
Boone wisely realized that zwifting has taught him nothing about bike handling. So he didn't push it speed-wise.
See this ride on Strava (Boone's phone didn't record it properly, but he rode next to me, so here's my activity) >
Ride 17: VO2 in France
The VO2 workout has become Boone's cornerstone tough effort, and this week I joined him in France for the ride. (I say "joined him," but my goal was to sit on his wheel and do as little work as possible, having raced the previous day.)
We bumped his VO2 intervals up to 325W, and set his times to 3 minutes on, 3:20 recovery. He kicked butt, completing all the intervals and earning all his stars.
Ride 18: Heart Rate with Cadence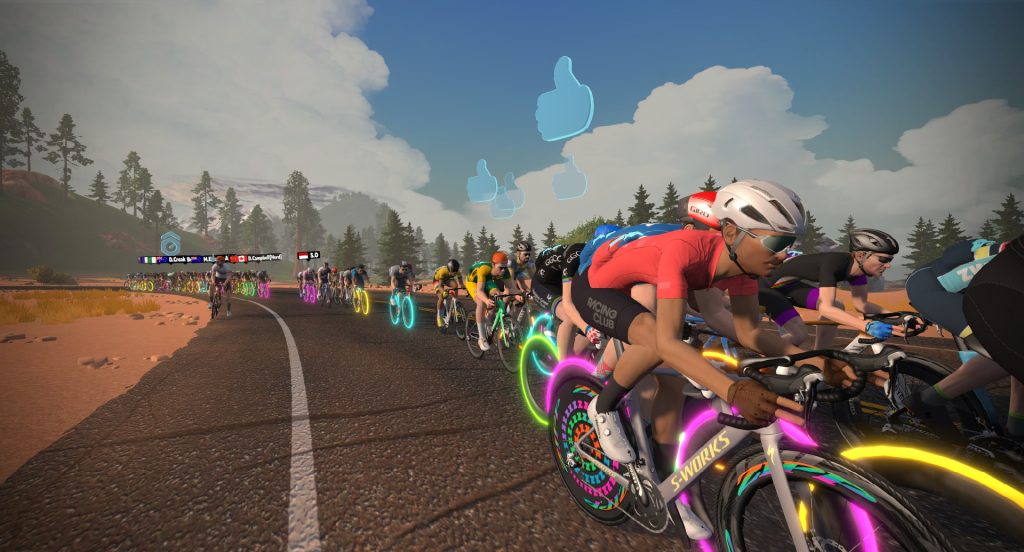 Today's ride was just about getting a steady effort in that wouldn't sap the legs too much, since we had a tougher ride planned for the next day.
So Boone jumped in with the C. Cadence crew, who were on the Tick Tock route now that Pace Partners are rotating between routes. We got to lower his weight again – down to 216#! Then he just sat in, trying to stay in the draft and keep it steady.
What impressed us both on this ride was Boone's heart rate. Where it used to quickly jump into the 160's then low 170's when riding with C. Cadence, it stayed in the low 150's for the first 30+ minutes, and only got into the low 160's. He's building that cardiovascular fitness for sure.
Ride 19: Alpe Dew Pizza Meetup
Several days earlier I'd learned that DIRT teammate Jason Mutchler (read his incredible story) had taken on a challenge – to ride up Alpe du Zwift in under an hour while eating an entire Large Domino's pizza and drinking only Mountain Dew.
The hilarious "Alpe Dew Pizza" challenge was created by DIRT rider Ken "The Badger" Powell, who did it in February 2019 – I remember watching his attempt and laughing, so I decided I would join Jason on his Meetup this time around.
Then Boone said he needed to ride on the same day, due to some scheduling challenges. "Perfect!" I said. "You can make your first Alpe du Zwift attempt!"
We figured it would take him 70-80 minutes, given his current weight and the power numbers he's done for an hour+ up to this point. I told Boone to look at his average power numbers for each segment and to shoot for around 230 watts. He could always bump that up near the end, but you don't want to burn out early on the Alpe!
He kept the power pretty steady, and we watched Jason's livestream as we did our own climbs. Jason was flying – he ended up finishing in 48 minutes, with a large pizza down the hatch. Amazing!
It took me just over an hour on my "time for a rest week" legs, then I descended to where Boone was and rode the rest of the way up with him, just like I would do outdoors. He finished in just under 80 minutes, setting some power PB's in that 65 minutes+ range. And he averaged precisely 230W for the climb – nice pacing!
I think Boone felt like he was pretty slow on this climb – it's hard not to feel slow when you watch a guy who started with you eat a large pizza and finish in 48 minutes. But I told him 80 minutes up the Alpe is pretty impressive for a dude who, less than three months earlier, was totally untrained and weighing 265 pounds.
It's all about perspective, right? Each of us is at a different place in our fitness journey. The big question is – are you getting stronger, and having fun doing it?
Watch Jason's Alpe Dew Pizza stream:
Week 5 Takeaways
Consistent time on the bike is leading to Boone building exceptional endurance and mental toughness. This is clearly seen in his ability to quickly climb our IRL Volcano this week, as well as his first Alpe du Zwift summit.
Boone's training rides have now reached the level where he has to make sure he's adequately fueled for his tougher efforts. (A 250 pound dude may be able to push 200W for 30 minutes without worrying about fueling, but a 216 pound guy has to put a little thought into things when pushing 230W for 90 minutes.) He's also started drinking chocolate milk after some of the hard rides, to get that protein/carb mix in to aid recovery.
He told me if he'd known he could drink chocolate milk after every ride, he would have started riding years earlier! I'm right there with you, Boone. Love me some chocolate milk.
We've only got a couple of weeks left before our target date to get him up to a B racer (3.2 w/kg FTP). Between his steadily-dropping weight and increasing power, will we get there? It's going to be close! This will be a bit of a rest week for Boone, so he should be ready to make a hard push once he's back in the saddle. Stay tuned.
Questions or Comments?
Post below!