In road cycling, there is a line of thought that you are either a "Grand Tour rider" (multi-staged events, usually over 3 weeks), or you are a "Classics rider," meaning you are good at 1-day events. In Andy Schleck's case, he could do it all. He won the biggest prize in cycling, the 2010 Tour de France, as well as winning a prestigious Monument, Liège–Bastogne–Liège, the year before.
When Andy won, he won big. And his ride on Stage 18 at the 2011 Tour de France, up the massive Col du Galibier (2,642m), was simply a climbing Masterclass.
Since retiring from cycling in 2014, Andy has created a unique cycling shop (Andy Schleck Cycles) close to the town of Itzig, in his home country of Luxembourg. His shop offers a unique experience for cyclists. It's not just a place where you can go and buy a bicycle but one where you can browse and view a whole host of cycling memorabilia, including Andy's Tour de France jersey, a signed jersey from Andy's ex-teammate, friend and cycling legend, Fabian Cancellara as well as a signed jersey from 5x Tour de France winner Eddy Merckx. Furthermore, Andy has a café inside the store for you to relax and watch cycling, whilst drinking a cappuccino.
Cappuccino Rides Origin Story
It's from his café that Andy started his 'Cappuccino rides.' Andy wanted to bring cycling to the wider community and launched the event which would be a gentle 2-3 hour outside ride every Saturday morning with the only prerequisite being to drink a cappuccino (or other beverage) with friends, at the start of the ride. As well as the gentler rides, Andy would host as faster-paced ride called 'Expresso' and a women's only ride called 'Latte.'
The event was a success and became a regular part of people's lives… then the world changed with the onset of the global pandemic. Wanting a way to continue these successful events and ensuring that people had an outlet for their cycling needs, Andy approached Zwift about hosting a 'Cappuccino ride' on the Zwift platform.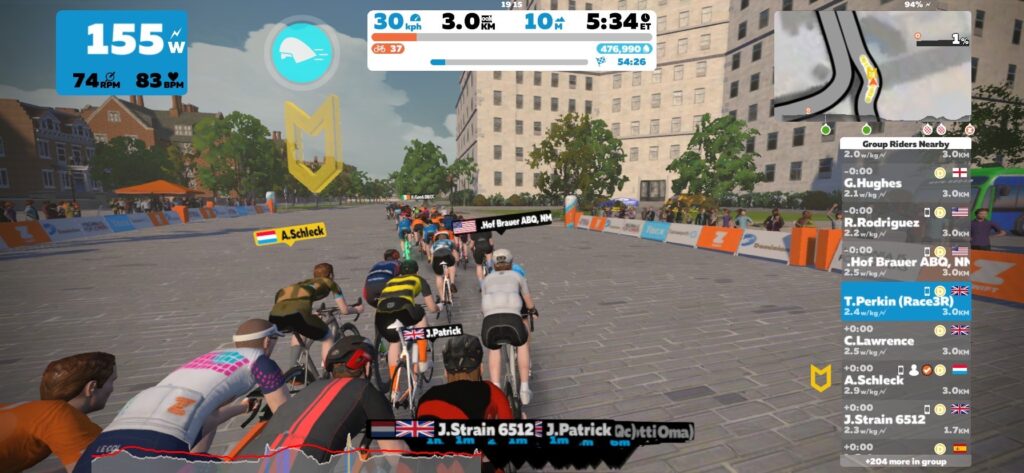 Cappuccino rides comes to Zwift
Next thing Andy knew, his local community ride had gone global and Andy was hosting a weekly ride on Zwift, Wednesday evenings at 7:10pm CET. His first event attracting 600 riders!
Having participated in several "Andy Schleck Cycles Cappuccino Rides," I can testify it is the closest thing you can get to riding with your friends, without being outside. The pace is relaxed, many of the community that were fortunate enough to ride with Andy IRL on his Saturday morning ride are present, and it has the same inclusive feel as being part of a cycling club, with a core of 200 riders regularly attending each week.
What makes this ride even more special is that Andy often invites his friends to participate. Now, if you are an ex-professional cyclist, then naturally your friends are going to be cyclists. Given the fact that Andy was and still is a top cyclist, his friends are also going to be top cyclists. So those who have joined Andy include former World Champion Philippe Gilbert, Fabian Cancellara, Bobby Julich, and 2004 Time Trial Silver medallist and 2005 Paris-Nice winner George Hincapie. And let's not forget that ever-present in all the rides is Andy's older brother, ex-professional cyclist, multiple Luxembourg National Champion, and winner of the 2006 Tour de France Stage up Alpe Du Heuz, Frank Schleck.
Needless to say, with so many unique people in attendance cycling stories are plentiful and before you know it, the time has gone. Paced at a relaxed 1.8-2.4 w/kg it's an enjoyable group ride and ideal recovery ride for those who may have raced the day before. The event takes place on a different course each week.
To make the event more special, Andy is working with Zwift to develop a custom jersey that can be unlocked by undertaking his event and which will be replicated IRL so you can procure and wear one when out on the open roads.
All things Zwift

Having taken part in many of Andy's rides, I caught up with him in Watopia outside the group ride on the Out and Back Again route where we rode and discussed Zwift and all things cycling-related.
Andy explained that he was one of the early adopters of Zwift and has been on the platform since the beginning, but due to having a young family doesn't get chance to ride on the platform as much as he likes. But he still aims for 2-3 times a week, one of which is his Cappuccino ride and the other is usually in a Meetup with friends. One of which is Joel.
Andy explained that Joel has been instrumental in helping facilitate the event and only started cycling 2-3 years ago. He originally visited Andy's shop to discuss bikes and get advice on one which he had just purchased and before long, the cycling bug had bitten and he had lost 25kg in weight and now participates in epic 300km rides.
Andy mentioned that he still likes a cycling challenge and occasionally races on the platform, admitting that he still can be very competitive, however, he enjoys more the simple side of cycling, being outside and participating in outdoor rides and noted that the evolution of electric bikes has made cycling even more accessible for people. Andy confesses that he hasn't ridden all the roads on Zwift as he is "not chasing the badges" and his preferred route is Sand and Sequoias. He thinks the platform is a fantastic way to train during the winter months and it certainly helps improve general fitness.
At this point, I asked Andy to share any training advice. That's when he pointed me to his older brother (and ex-professional cyclist) Frank.
Frank Schleck Training
Andy noted that since retiring from professional cycling, his brother Frank had moved into the field of coaching and training. Frank offers a personalised and tailored coaching service designed to maximise your potential at Schleck X-Perience.
In addition, Frank operates a Guest House at the base of Mount Ventoux in Bedoin, France, an excellent location if you are planning an ascent up the mighty giant of Provence!
I subsequently asked Andy to connect me with Frank as I certainly could benefit from structured training from a former elite rider.
Andy Schleck Cycles
Interested to know more about Andy's shop, he explained that after retiring he was not entirely sure what he wanted to do, and had always felt that the bike shops he had visited in the past, never offered all of the services a cyclist required. There was always "something missing" as Andy stated. With that in mind, Andy went about procuring and refurbishing an old warehouse, creating a bespoke cycling experience that seamlessly integrates a shop, café, and museum.
The bike shop offers a range of different types of bikes and bikes for all levels and budges including the leading brands of bikes such as Trek and Cervelo, both of which Andy raced. The shop offers complete service from the standard bicycle mechanic service to bike fitting and even wind tunnel testing. It offers the whole 360-degree experience, you can even get insurance for your beloved bike and nutrition advice to help you on your journey. Plus there are 3 dedicated Zwift stations for customers to test and experience the product!
Andy has teamed up with Wahoo and Zwift and created a space where people can experience Zwift and the latest Wahoo trainers and accessories, including the KICKR Climb gradient simulator and the KICKR Headwind fan. In fact, Andy expanded the number of stations to 8 and hosted the Zwift Luxembourg Championship, with professional Zwift riders visiting and participating. Andy explained that he does have other trainers but has established a partnership with Wahoo.
Andy noted that his Zwift setup in the shop is more professional than his own at home which he admitted was more casual, comprised of a Wahoo KICKR, the KICKR Headwind fan, and an old bike.
It is evident that Andy has a clear vision for the shop, with a focus on professional service reflected in the positive feedback received. Acutely aware of the need to offer an online service too, Andy is working toward expanding that and is keen that through this avenue, he can cater to more of the needs of his customers.
Cycling memories
Naturally, our conversation moved towards our experiences of cycling and Andy noted that his two best memories were firstly as a 12-year-old winning his first-ever event, which happened to include taking the National jersey. Secondly, he remembers coming second in the 2011 Tour de France where his brother Frank stood beside him, finishing 3rd on the podium in Paris. It was a fantastic achievement for his family and Luxembourg.
The Tour de France was the race Andy enjoyed the most. He told me, "it was 21 stages of emotions. You would love it, hate it, the whole thing was just immense." And this is reflected in one of his proudest achievements on a bike: an attack which led to an outstanding victory on Stage 18 of the 2011 Tour de France, on the Col du Galibier.
Andy noted he has ridden with and against some incredible riders throughout his career, with his own teammates being superstars in their own right. Riders such as Jens Voigt, Bobby Julich, Fabian Cancellara, and his close friend Stuart O'Grady who he described as his right-hand man. Interestingly he said, "I don't count Frank as he is my brother." Classic.
We finished our ride together with Andy sharing one funny story from his times as a professional. "It was in 2007, when I was racing the Giro d'Italia. I was 50km from the end of the stage and the pace had quickened. But I had got a stone in my shoe and it was really hurting. I said to Fabian (Cancellara) I need to stop and take the stone out. He said "You can't stop" so I decided to take my shoe off whilst cycling, with Fabian pushing me. But I dropped the shoe. So I had to cycle 25kms in my sock until I got a replacement shoe from a Director Sportif from one of the Pro-Conti teams."
It's stories like this that get shared on the Andy Schleck Cycles Cappuccino Ride… which is why I am already looking forward to the next one. Hope to see you there too!
*A special thanks to Jil Schleck, for helping arrange this
Join the Ride

See the next upcoming Andy Schleck Cycles Cappuccino Ride on ZwiftHacks >