Today Zwift released details of their new Scotland map, a purpose-built world that Zwift calls "your racing playground". Designed for training and racing, the map is inspired by the city of Glasgow and the striking Scottish countryside riders will race in the 2023 UCI Worlds in August.
But this isn't a GPS-accurate replica of a UCI Worlds course like Zwift's Richmond, Innsbruck, and Yorkshire. Instead, Zwift's teams collaborated to create scenery inspired by Scotland, with roads that make Zwift racing fun. It's a marked shift in approach for Zwift, and it makes sense. Why try to replicate what's outdoors, when we have full control over the virtual world? In Scotland we see Zwift carrying some of what's good IRL into the game, then working to improve on the rest, with the goal of creating a next-level e-racing experience for riders and spectators.
We'll know soon if it's a success as many thousands of riders and runners will take to Scotland's roads in the coming days, culminating with the 2023 UCI Esports World Championships on February 18.
When Can We Ride/Run Scotland?
Scotland is not free-ridable at this time, but will open up in early March. For now, it's only accessible by joining events held on its routes.
The first events in Scotland will be Thursday's Tour de Zwift, Stage 8, where runners and riders will be on the Rolling Highlands route.
See a full list of upcoming events in Scotland >
Route Details
Scotland is launching with 5 routes totaling 58.8 kilometers of riding. Here's the list, along with a description of each route supplied by Zwift. Click "More Route Details" to be taken to the Zwift Insider detail page (we'll add more content to these pages later today, but the basics are already in place).
Rolling Highlands

14.1 kilometers with 105 meters of climbing. This rollercoaster ride around the loch will have Zwifters constantly going up or downhill. In races, the punchy course provides lots of places to attack. In riding and training, the rolling hills are the perfect place to train quick bursts of power as you push yourself up the repeated short climbs. More Route Details >
City and the Sgurr

8.6 kilometers with 161 meters of climbing. Sgurr means "rocky peak" in Scottish Gaelic, and this route tackles Zwift's newest hill from two directions. Roundabouts at the bottom of both sides of the climb mean that Zwifters can easily lap the climb, making it the perfect place for hill repeats, or very challenging racing! More Route Details >
Glasgow Crit Circuit

3 kilometers with 33 meters of climbing. Zwift's newest crit course is set in the heart of Glasgow's city center and shows off the city's distinctive architecture. The short course has short, punchy climbs, tight, twisty roads, and two arches. The course provides options for any length of race on the easily lapable route that's sure to produce intense racing. More Route Details >
Loch Loop

8 kilometers with 71 meters of climbing. This loop is a time trialists' paradise – the long, lapable course, is mostly flat and incorporates some of the Rolling Highlands, but skips the bigger climbs, giving Zwifters only a few gentle hills thrown in to break up their effort. The course measures 5 miles, making it the perfect place for 5-, 10-, 15-, or 20-mile time trials or team time trials. Or, keep riding for harder efforts! For traditional racing, exploring, and training, the Loch Loop also offers a flatter alternative to the Rolling Highlands. More Route Details >
The Muckle Yin
25.1 kilometers with 279 meters of climbing. This is the big one – a single route that incorporates almost all of Scotland's roads in one single loop. The route starts in the heart of Glasgow city center and quickly takes riders out to the sheer cliffs on Scotland's west coast before rolling along north to the loch, and then to the Sgurr and its dramatic views. This challenging route lets you take in all of Scotland's most distinctive and engaging features in one ride or race. More Route Details >
Landmarks and Easter Eggs
Zwift's art team seems to "level up" their game with each new world launch, and Scotland is no exception. The team clearly did their homework, adding many IRL landmarks to the Scotland map. They've also carried their Zwift playfulness into this world, adding easter eggs and beautiful art never before seen on Zwift.
Here are a few highlights, in the order you'd reach them if you took the Loch Loop counterclockwise:
"The Cliffs" is a castle area with the ocean off to the left. A descent in this direction, but an attackable climb going the other way.
The roundabout on the Glasgow side of the Sgurr looks rather ordinary by day, but wait until the sun goes down!
A left at that roundabout takes you up the longer, gravel side of the Sgurr climb. Climb it at night and enjoy the Northern Lights. Then check out what happens to the constellations…
Soon enough the trees close in and you're surrounded by mist in a more closed-in, mysterious forest section.
Breakaway Brae is next, an official KOM taking you up to a tower loosely based on McCaig's Tower. Look left at the Loch and see if you can spot someone familiar!
Descending from the tower there's a bit of a corkscrew road through a castle. In the other direction, this sneaky climb may be an excellent place to launch a long race attack!
Nearing the end of our loop, you're at what Zwift's art team calls "The Postcard" – a big swooping vista that is off to your left and behind when traveling in this direction.
We would be remiss if we didn't mention some Glasgow landmarks. They include the Clyde Arc, Finnieston Crane, Central Station, and a certain equestrian sculpture which may or may not have a traffic cone on its head…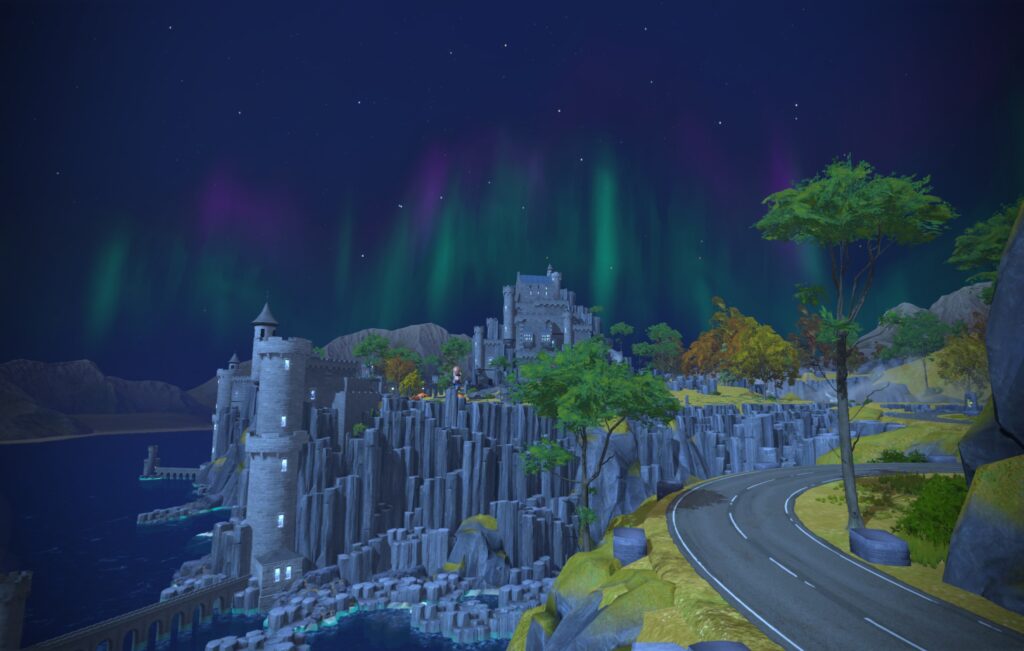 New Gravel Surface
Zwift rolled out a new surface with the Scotland map: gravel!
As far as we've seen, this surface only shows up on the longer Sgurr climb (the one on the Glasgow side). Here's what it looks like: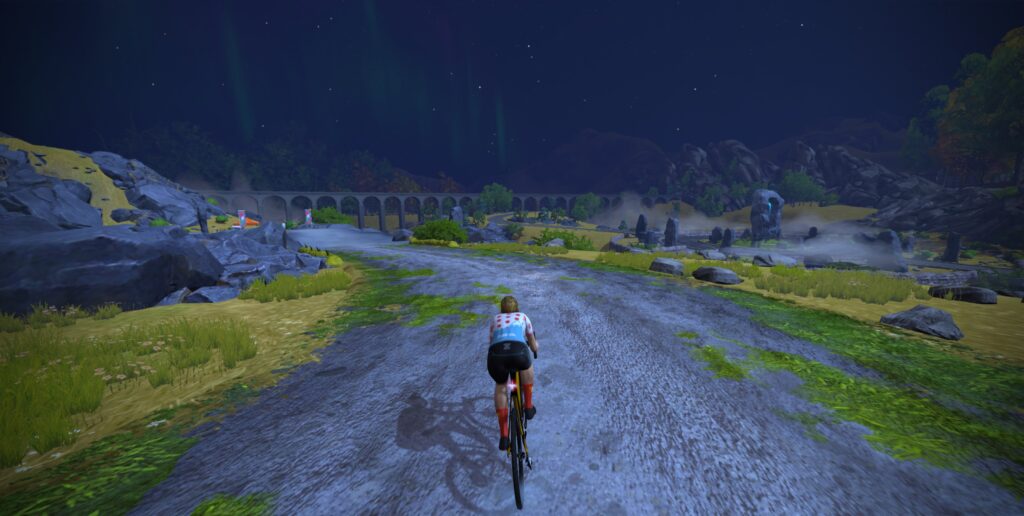 If you're on a gravel bike, this surface rolls faster than the "dirt" surface we're familiar with in the Mayan Jungle and on various Makuri Islands roads. If you're on a mountain bike, this new gravel surface is just slightly slower than dirt. And if you're on a road bike, the surface is faster than dirt, but still much slower than pavement.
The takeaway? Gravel is made for gravel bikes, which means gravel bikes climb the south side of the Sgurr much faster than road or mountain bikes.
See our Crr page for details >
New Zwift Tartan Kit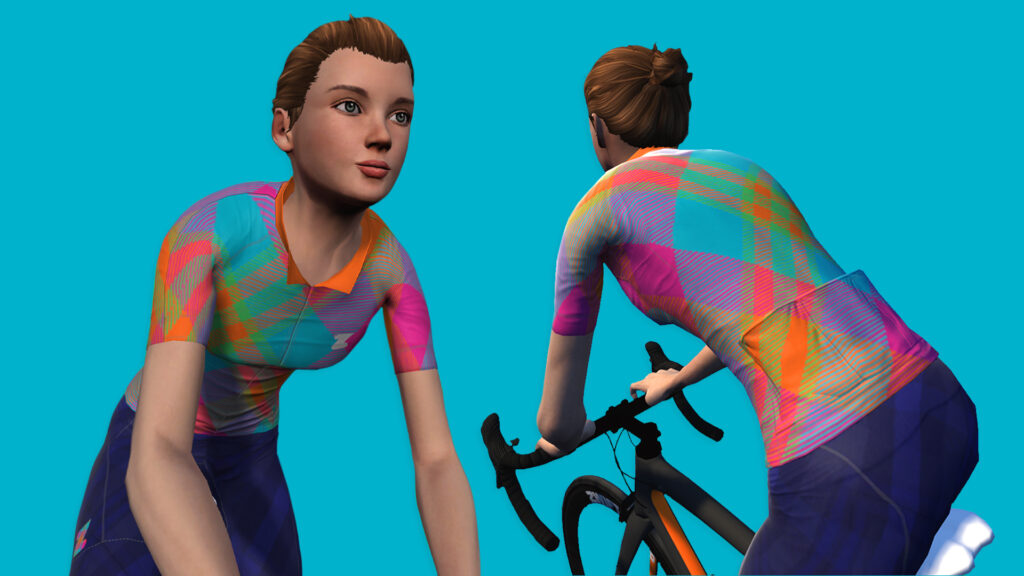 To celebrate Scotland's launch, a new Tartan-themed kit has been added to the game. Zwifters can unlock the kit by completing a ZRacing "Race Scotland" event in February (we'll be posting about this later today), or taking part in any of the "Ride Scotland" events which will be showing up on the calendar soon.
Questions or Comments
Post below!