Today Zwift and the UCI announced plans for a third edition of the UCI Cycling Esports World Championships on Zwift. Taking place on February 18, 2023, the event "will build on the successes of the first two editions in 2020 and 2022" while moving more toward making the race a uniquely esports proposition.
2023 Worlds: Open, Innovative, Zwifty
Zwift has been working with the UCI to plan a Worlds event that is uniquely esports. Or to put it another way, both Zwift and the UCI agree that Esports Worlds shouldn't try to replication an outdoor road race. Instead, it should utilize the strengths of virtual racing to create a race that is both highly competitive for riders and super entertaining for audiences.
To that end, this year's race is characterized by three key features:
Open pathway: anyone around the world has a shot at qualifying to race Worlds
New Race format: a fresh, "entertainment first" 3-race format (see below) will whittle down the field and provide varied race action for viewers
Custom-designed course: the races will take place on a not-yet-released Zwift course, custom-designed for the event

Race Format
While the first two Esports Worlds were simple single scratch races, this year's race format is actually a set of three races. Each race will take place on a separate route, and race fields will shrink as riders are eliminated based on finishing position in races 1 and 2.
Race 1 (100 Starters)
Rolling route scratch race, ~25 minutes long
70 riders eliminated, top 30 through
Race 2 (30 Starters)
Hill climb scratch race, ~25 minutes long
17 riders eliminated, top 13 through
Race 3 (13 Starters)
Elimination race on a punchy circuit, ~15 minutes long
2 riders eliminated per lap, ending in a showdown of the final 3 riders
How to Qualify for UCI ESports Worlds
Up to 100 men and 100 women will be selected to race in the UCI Cycling Esports World Championships in February 2023.
75% of the selections will be made by National Federations. As determined by the UCI, each federation will be allowed to select a certain number of Worlds riders based on whatever selection criteria each federation determines is best.
The remaining 25% of the field will be made up of riders who qualify via the Continental Qualifier events held on Zwift November 12-13, 2022. Riders must jump through some significant hoops in order to race in the Continental Qualifiers, so we've put together a detailed post all about these events.
Learn all about the 2022 Continental Qualifiers including schedule, pre-verification requirements, and more >
Fairness
The UCI and Zwift are structuring their rules to create fair races for all participants. Riders will be furnished with a complete set of rules upon qualification, but here are some key things riders and fans may like to know:
All UCI Esports Worlds riders will use the same trainer for the big race (make/model has not yet been announced).
Zwift's Esports Rules and Regulations will apply to the Esports Worlds events, as well as UCI's Regulations. The UCI will assume overall responsibility for the governance of the events.
Riders will have to hold a racing license valid in the relevant country
Riders will be required to comply with the UCI's anti-doping program.
Prizes
Rainbow Jersey
The winner of the men's and women's events will be awarded the UCI Cycling Esports World Champions Jersey which includes the famous rainbow stripes: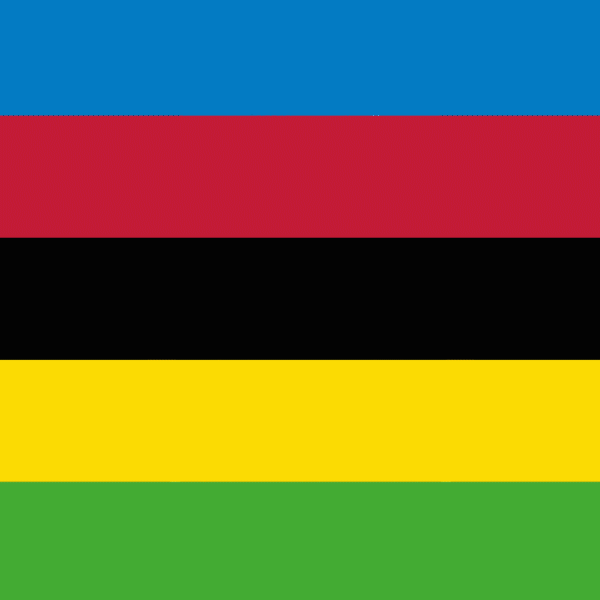 Like other cycling disciplines, winners will earn the right to wear a physical rainbow jersey during the sanctioned esports races and activities they take part in throughout the following year. Winners will also be able to wear a digital version of the UCI Cycling Esports World Champions Jersey while on the Zwift platform.
Prize Money
Prize money will be awarded as follows in both the men's and women's races:
1st place: 8,000 euros
2nd place: 4,000 euros
3rd place: 2,000 euros
Where to Watch
We assume the Worlds races will be broadcast on Zwift's YouTube channel as in past years, along with broadcasts from other traditional sports television networks.
These broadcast deals have yet to be finalized, though, so we'll update this section with more information once it becomes available.
Questions or Comments?
Share below!