Team DIRT has announced a new community race series designed to let Zwifters experience the challenges and teamwork of stage racing, with pro peloton-style scoring and two individual time trial stages.
The 9 stages take place on a wide variety of Zwift routes, utilizing nearly every world Zwift has to offer (Watopia, London, New York, Innsbruck, Richmond, and Yorkshire).
Classifications (Race within the Race)
Taking a cue from pro tours, 9 Stages of DIRT includes 3 competitions which run alongside each individual race for the duration of the series:
Team-Based General Classification: for each stage, the time of the best-placed rider counts as the time of the team. Team with the lowest accumulated time for the 9 races wins. You can compete as a 1-racer-team if you wish, but working together as a real team makes you more competitive on every terrain and every situation.
Individual Points Competition: each intermediate sprint banner (except lead-ins) gives points for the top 10 riders. Each flat stage finish gives points for the top 10 riders.
Individual King of Mountain Competition: Each KOM banner and uphill stage finish gives points for the top riders similar to pro cycling KOM competitions.
Here are detailed charts outlining the Points and KOM classifications: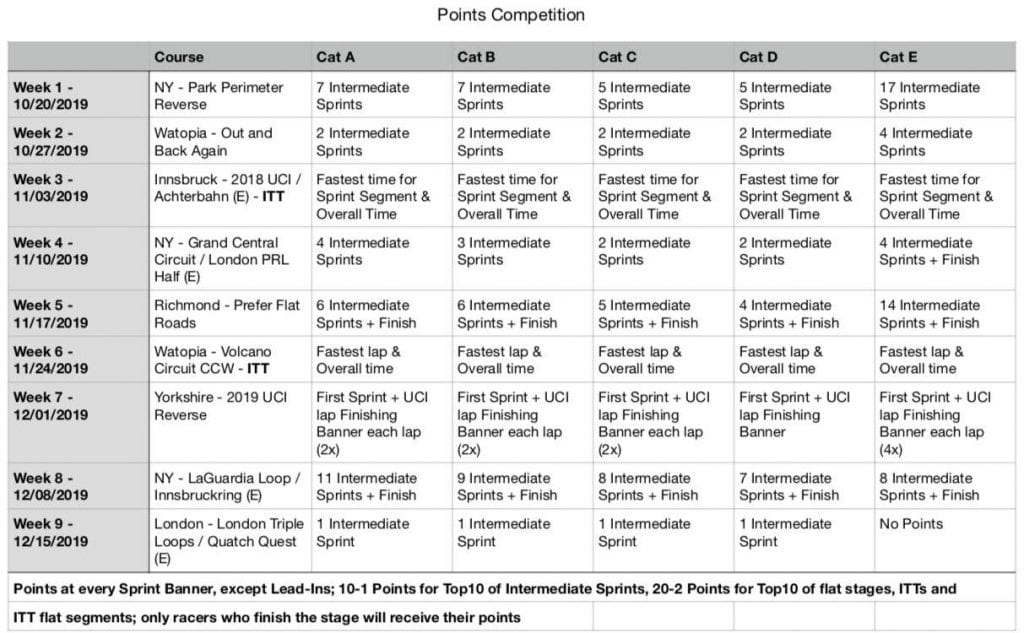 All race results will be tracked and available on the ZwiftPower league page.
Schedule
Race Categories
Racers must select a category, and each category group gets its own start time. Standard Zwift race categories are used, except this stage race includes an "E" category for elite and long-distance racers!
A: 4-4.59 w/kg
B: 3.2-3.9 w/kg
C: 2.5-3.1 w/kg
D: 1-2.4 w/kg
E: any w/kg
While everyone will race the same routes (listed above), race length is based on category. See table below for details: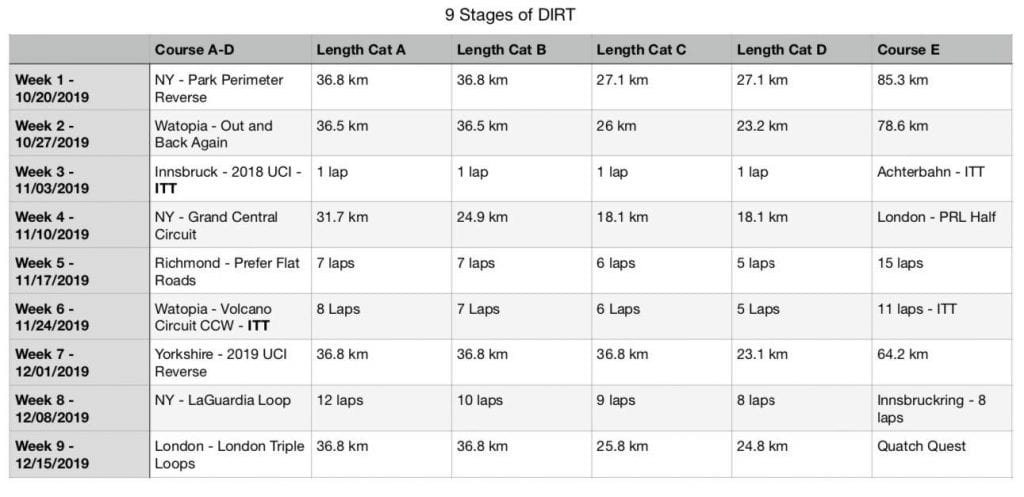 More about DIRT
To learn more about DIRT (Dads Inside Riding Trainers), check the following links: