Zwift Academy Road 2022 officially began yesterday, with Baseline Rides as well as Workout #1 available as group events.
This is the second year Zwift has used Baseline and Finish Line rides to help Zwifters determine their phenotype and measure improvements made during the ZA program. Last year's introduction of Baseline and Finish Line rides was a welcome one, but the experience was fairly basic.
This year Zwift promised a much-improved UI as well as magical bike switches to ensure riders knew when segments were coming, and segment times were measured consistently.
So what is the 2022 Baseline ride experience like? I was going to participate in the first Baseline ride of the year yesterday, then realized that was a terrible idea given I was racing the next day in the first Zwift Race League event of the season. So instead, I observed and recorded the ride via Zwift Insider's test bot.
Turns out, it's a good thing I did…
Intro to Baseline and Finish Line Rides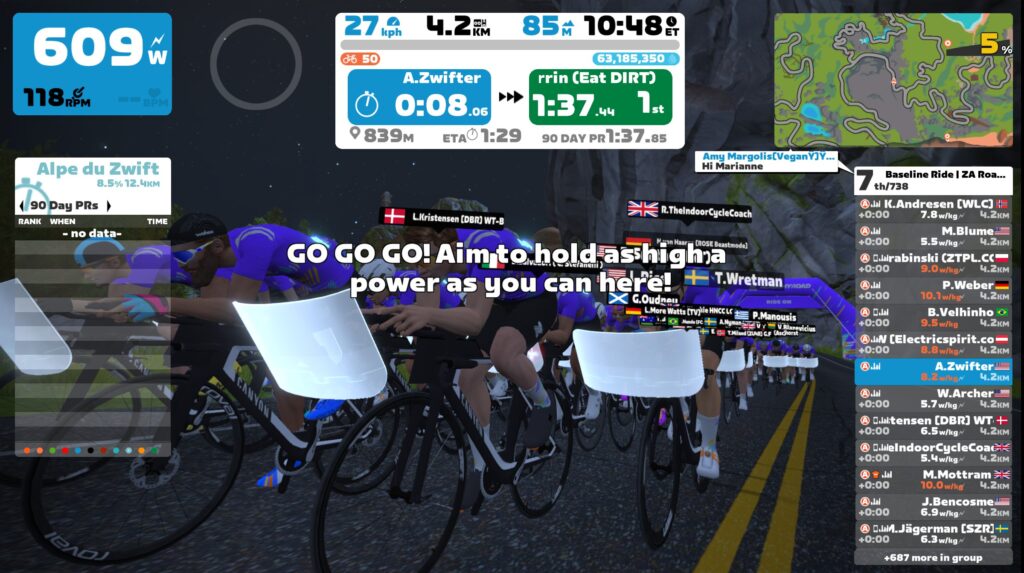 This year's ZA program includes a required Baseline and Finish Line ride. The idea here is to test your fitness over three different intervals:
Riders will do that by hitting particular timed segments during the ride at maximum effort. In between those segments you can ride at whatever pace you'd like, but the idea is to recover and ride fairly easy so you're ready to go full gas on the next segment.
These rides are held on Watopia's Legends and Lava route, which means your efforts come in this order and map to these segments:
Titans Grove KOM Reverse: VO2
JWB Sprint: Sprint
Volcano KOM: Threshold
Baseline Rides are only available as group rides, and they are scheduled hourly through the end of Zwift Academy (October 10).
A Rough Start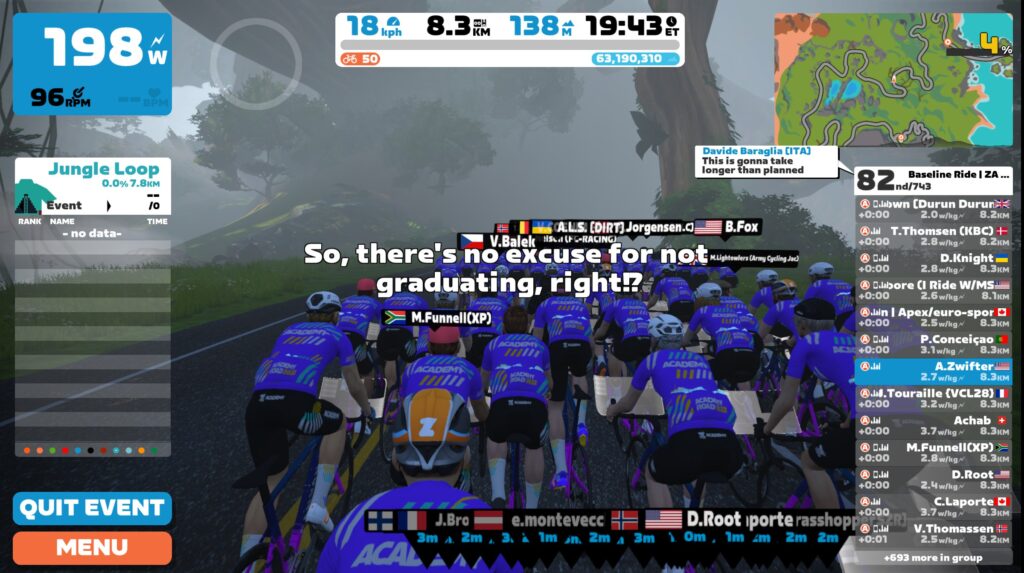 The first Baseline ride of ZA 2022 kicked off at 9am PST (4pm UTC) Monday. I wasn't riding, just watching, so I was able to closely observe the messaging and other changes Zwift had made to the Baseline ride experience.
We had 743 riders in the A group (more on category selection below), and as we left the start pens everyone's bikes switched to a ZA-themed Canyon Aeroad frame. Slick!
All riders had workout screens in front of their handlebars, which was different from last year. And I immediately noticed that the pack was very slow. Clearly "keep together" mode (aka "rubberbanding") was enabled, which seemed a bit strange, but I thought perhaps Zwift wanted it that way between the segments so groups would stay together.
Unfortunately, that wasn't the case. The rubberbanding was an event configuration bug, and it stayed enabled even as riders put in max efforts over the three key segments! This was bad, bad, bad, because rubberbanding artificially slows the group, which meant segment times wouldn't be accurate.
I messaged my contacts at ZwiftHQ as soon as I confirmed what was going on. To their credit they were already on it, working to find the cause of the problem and get it fixed. Here's my full video recording of the event:
The terrible slowness of the rubberbanded groups meant the ride crawled along, which frustrated some riders. But the real frustrations would come later when riders realized that this was a throwaway event because none of their segment times were valid.
Zwift compounded the problem by automatically sending out emails to tell riders their phenotypes once the event finished. But all of those emails had a blank space for phenotype – another bug.
The Fix Is In
Two more messed up Baseline ride events (10am and 11am PST) happened before Zwift applied a temporary fix by removing rubberbanding and the entire workout UI from the 12pm and 1pm PST events. (Unfortunately this meant they effectively operated like last year's Baseline rides, which means times for these events won't compare well with times for the Finish line events, because riders weren't switched to TT bikes during the segments.)
Then Zwift fixed the events for good, starting at 2pm PST (9pm UTC) Monday. I used Boone as my guinea pig and he completed the event to make sure everything was good. And it worked great! Here's the video of his ride (he set personal bests in the 30s – 3:30 range, incidentally):
Let's talk about the fully-functional Baseline experience now that the events are working properly.
Categories
When signing up for your Baseline ride, you have to select a category. Your selected category simply determines the language used throughout the ride:
A: English
B: French
C: German
D: Spanish
E: Japanese
Bike Swap
When you hit the start arch of each of your three segments Zwift will automatically swap you onto a Canyon TT bike (the Speedmax) and keep you on that frame for the duration of your effort. This is done to disable drafting, so your effort can be compared with your finish line ride without draft effects affecting your segment times.
Once you cross the finish arch, you are placed back on your Canyon Aeroad road bike, and you will be drafting other riders until the next segment. It worked flawlessly in our event.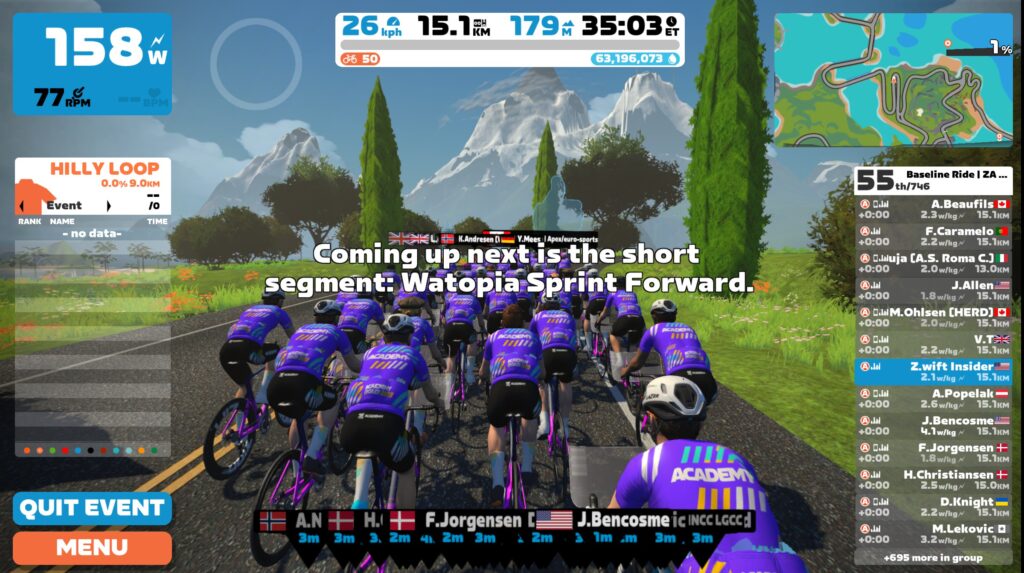 Text Instructions
One big upgrade from last year's Baseline ride experience is the on-screen messaging throughout the event. It explains what the ride is for, tells you when a segment is coming up, cheers you on during the segments, and virtually pats you on the back when you're done.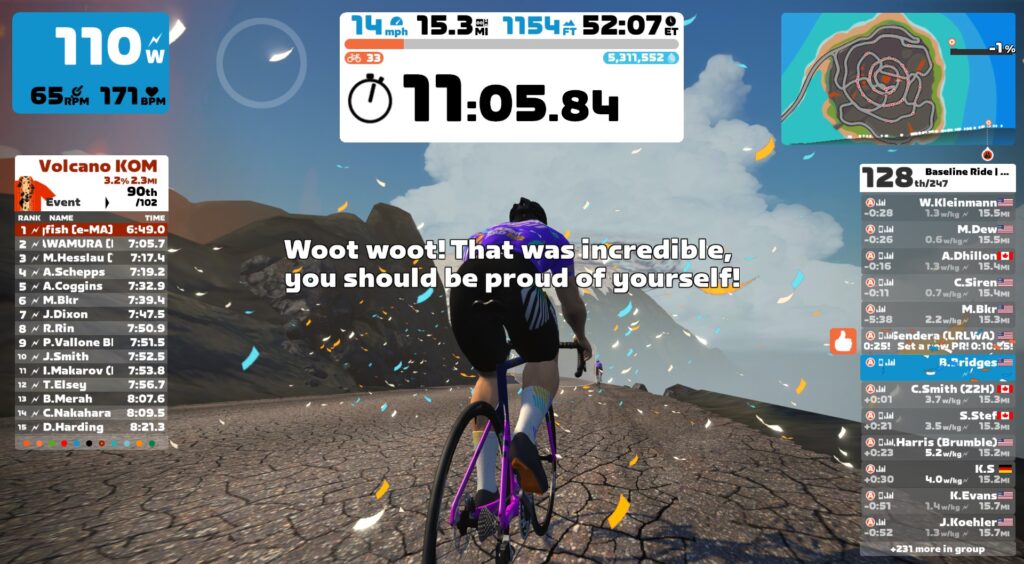 Results
The "results" of your ride are communicated in two different ways:
The Companion app shows your times for the three segments and shows that you completed the Baseline ride requirement
You will receive an email telling you what your phenotype is, with links to more info. Note: these emails were paused yesterday due to the bug mentioned above, but they will go out by noon Wednesday, Sept 14th, according to Zwift.
Suggested Improvements
Now that Zwift has fixed the initial event bugs, the Baseline ride experience is much improved over last year's. Still, there are three improvements I would recommend Zwift make.
1: Wheel Bad Timing
The one hitch in this fancy bike swapping is the wheels. When switching bikes, Zwift keeps whatever wheels began your ride with. This can potentially cause a problem, because remember the entire goal here is to set a max effort segment time which you can compare to your Finish Line ride's max effort time.
If the times aren't accurate, the comparison is useless. And if you begin your Baseline ride with a different set of wheels than your Finish line ride, your segment times could be drastically impacted!
On top of that, Tron riders (who don't have a selected wheelset) are placed on the stock Zwift 32mm carbon wheels, which just looks silly.
The takeaway here is: if you want your segment times to be comparable, make sure you start your Baseline and Finish line rides on the same wheelset.
2: How Much Longer?
There is no indication of the length of the Baseline ride once it begins. I assume this is because the ride is sort of an experimental format – it's a workout that behaves sort of like a group ride. Workouts show your time to go in the left-hand interval bar, while group rides show the distance or time left in the middle window.
These events are 26km long, which means they end just a few hundred meters after the Volcano KOM (which is where Legends and Lava actually ends). Having a distance meter in that top middle bar seems sensible.
3: Am I Winning Yet?
Your current overall placing shows at the top of the right-hand rider list bar, like you would see in a race. This goes against the purpose of the ride, which has nothing to do with finishing higher or lower. This should be turned off, to encourage riders to take it easy between the segments and reduce confusion.
Do I need to redo my Baseline ride?
I'm seeing this question a lot, and around 9am Pacific on Tuesday Zwift sent an email to (presumably) all affected riders which said "We know that you're excited to see the data associated with your baseline ride, so if you would like the most accurate data, we encourage you to complete the baseline ride again."
The banding messed up segment times, so the answer is: if you want your Baseline ride to accomplish its goals (setting proper segment times and determining your phenotype) then yes, you will need to redo your ride if you participated in any of the first 5 Baseline rides yesterday. These would be the rides that began at 4pm, 5pm, 6pm, 7pm, or 8pm UTC.
If you're on the Pro Contender track you are required to complete the Baseline ride a second time, to ensure data is accurate.
If, however, you just wanted to get the Baseline ride crossed off the list so you can graduate from Zwift Academy Road 2022, you don't need to redo the event.
Questions or Comments?
Share below!