Registration opens today for Zwift Academy Road 2022 (sign up here)! Now in its 7th year, ZA Road continues evolving to meet the needs of everyday riders and aspiring pros. This year's program is more streamlined than ever and focused on "identifying your strengths and delivering a crash course in leveling up your training."
Read below for complete details on ZA Road 2022, including everything you need to know if you're chasing the pro contract!
Intro to Zwift Academy Road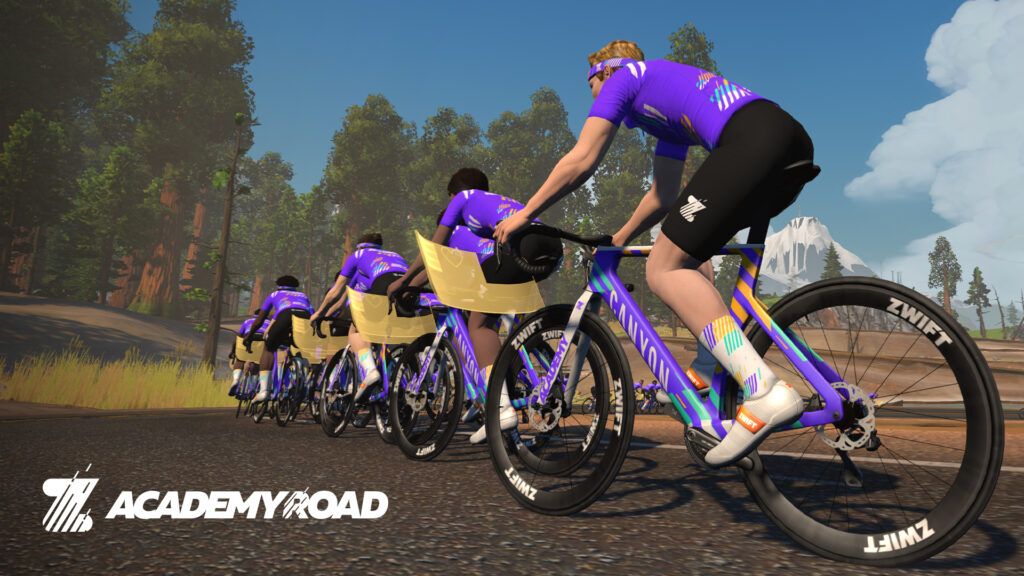 For those unfamiliar, Zwift Academy is an annual event that serves two purposes. First, it's a global training program for cyclists of all levels. Secondly, it's a worldwide talent ID competition that has placed multiple riders onto WorldTour teams.
While the talent ID competition is fun to watch, the vast majority of ZA Road participants are "everyday" riders looking for a fun way to gain fitness. Zwift says, "Getting faster requires two important things: knowing yourself as an athlete and knowing how to improve. Zwift Academy Road identifies your strengths, then helps you build on them."
New for 2022
Each year Zwift Academy evolves as Zwift tweaks the structure to improve everyone's experience. Last year's ZA Road saw a raft of changes to the program. This year's road Academy includes most of 2021's improvements but shortens the overall length of the program while further refining key workouts.
Shorter Program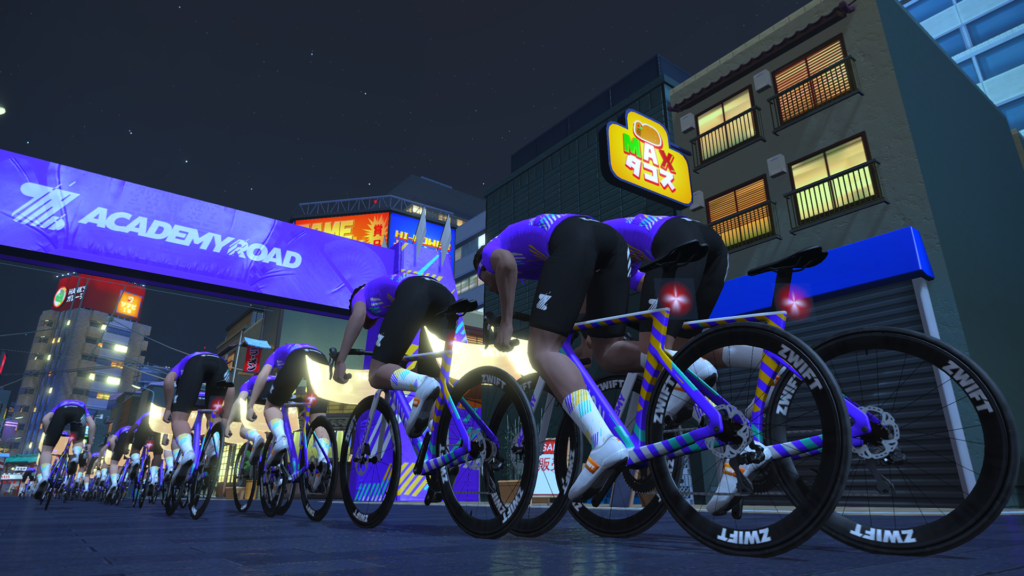 Last year's program was 8 weeks long, but this year's lasts just 4 weeks. This doesn't mean we've got fewer workouts, though! Graduation requirements are the same as last year: 1 Baseline Ride, 6 Structured Workouts, and 1 Finish Line Ride.
Improved Baseline and Finish Line Ride Experience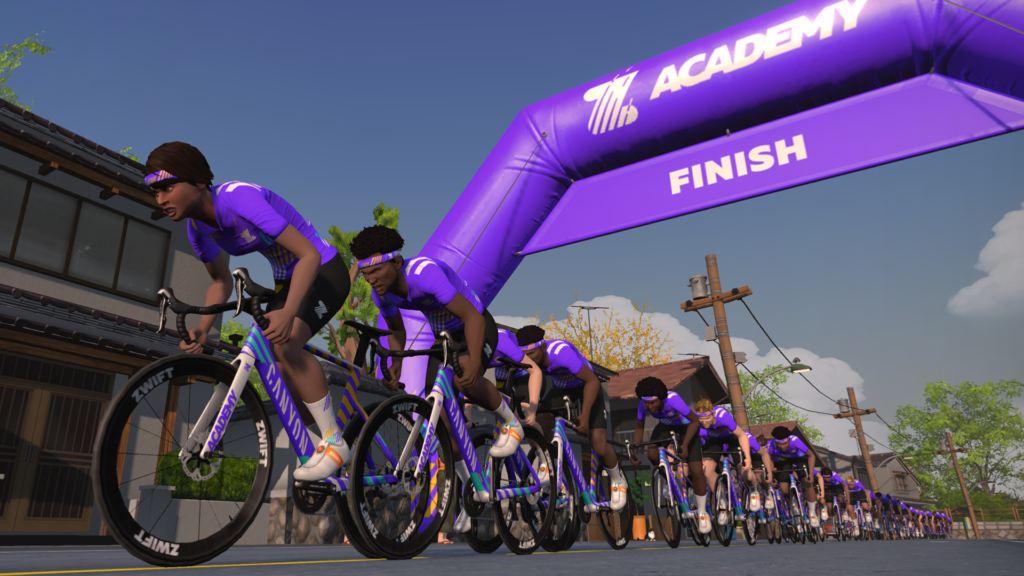 Last year introduced Baseline and Finish Line Rides to the Academy program, and they were a big hit (read about our experience here). These events had riders going full gas on three selected segments of a course to test sprint, VO2, and Threshold power.
Clearly Zwift listened to last year's feedback, as this year's Baseline and Finish Line rides have been improved/simplified in key ways:
On-screen messaging will let riders know when each segment is approaching
Riders will be automagically swapped to TT bikes before beginning each segment, to ensure their segment testing is consistent across both rides and unaffected by drafting
Riders will receive a post-ride email after their Baseline ride talking about their cyclist phenotype
A few days after ZA Road wraps up, graduates will receive a progress email to show their progress throughout ZA, their phenotype, and training recommendations
All Baseline and Finish Line rides will take place on the Legends and Lava route
Workouts that Work Better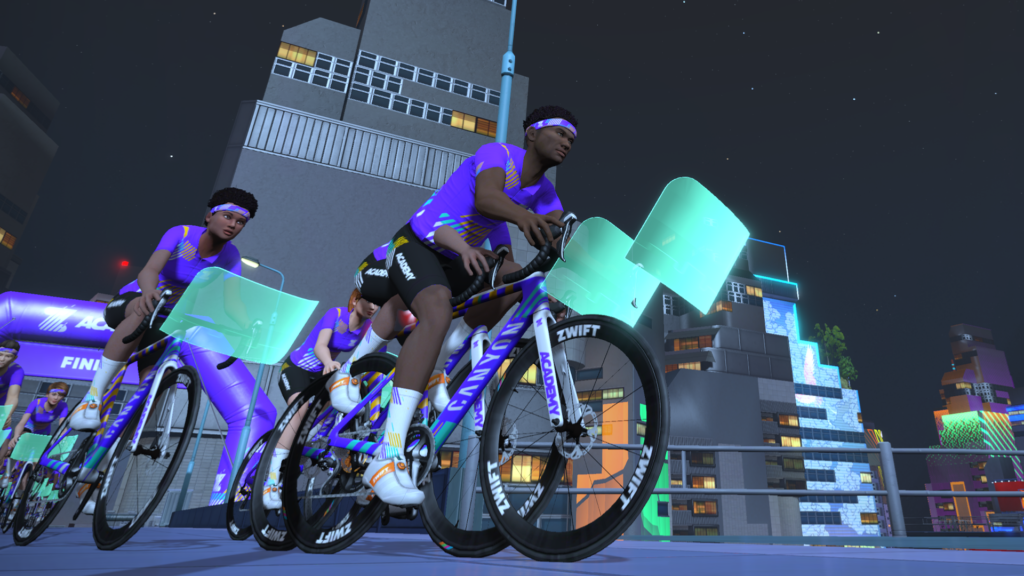 To make workouts more accessible and impactful for all, this year's workouts will come in both short and long options.
Also, following Zwift's recent push to offer workouts in more languages, all workouts will be available in English, German, French, Spanish, and Japanese.
Workout Details
ZA Road 2022's 6 workouts are available in your on-demand workout folder, but will also be available as group workouts on the following days:
Workout 1: September 12-18 
Workout 2: September 18-25
Workout 3: September 18-25
Workout 4: September 25-October 2
Workout 5: September 25-October 2
Workout 6: October 2-10
Here are the details of each workout:
Warm up your aerobic engine for harder training sessions to come. Steady tempo riding is punctuated by 1-minute bursts above your functional threshold power (FTP). It's the perfect session to start your Zwift Academy.
Duration: Long (55 minutes), Short (40 minutes)
---

Spend some quality time at your limit without going over. Short blocks of high-intensity with even shorter rest periods should do the trick. This session will spur your aerobic adaptations, which will boost your FTP development and endurance.
Duration: Long (53 minutes), Short (37 minutes)
---

Push your max aerobic ability with some focused work on your VO2 power. This stage mimics the intensity of the Volcano KOM segment from your Baseline Ride—but with micro-rests to keep you going. This work will help you maintain high aerobic power in the future.
Duration: Long (49 minutes), Short (34 minutes)
---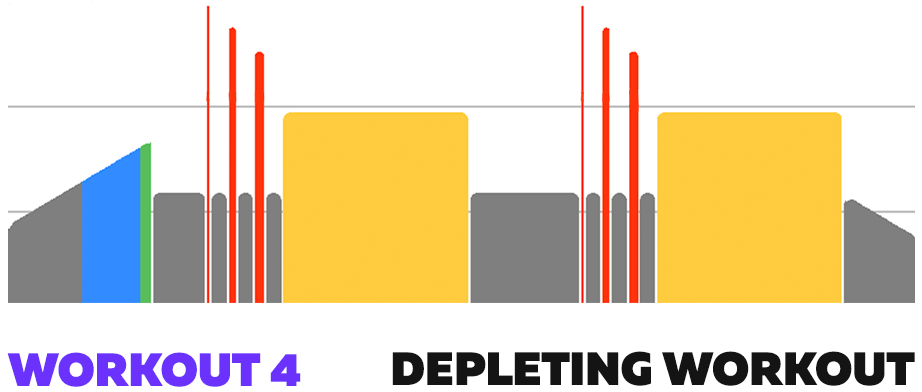 How does your body respond when power is depleted? Time to find out! This workout wears you down quickly with a few intense efforts before running you through 10-minute blocks just below your FTP. These efforts might feel harder than normal, but they'll also make you stronger!
Duration: Long (50 minutes), Short (30 minutes)
---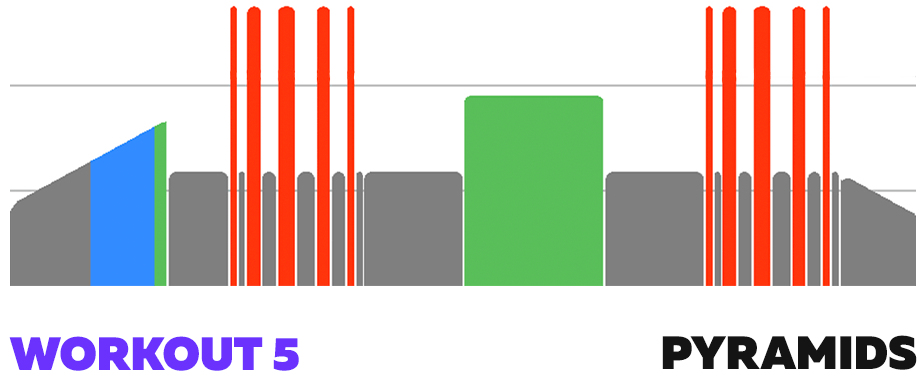 The power profiles of these intervals look like pyramids, and your legs will feel like you just ran up the great Pyramid of Giza. Combine these "pyramids" with 7-minute blocks of sub-threshold intervals and there's nowhere to hide if you run out of power. The good news is this workout will increase your maximum aerobic ceiling.
Duration: Long (46 minutes), Short (34 minutes)
---

This last workout teaches you to get comfortable with being uncomfortable with a series of intervals above your FTP. It's the ultimate way to expand your limits and see your Zwift Academy progress in action!
Duration: Long (49 minutes), Short (35 minutes)
Your Zwift Academy Companion (App)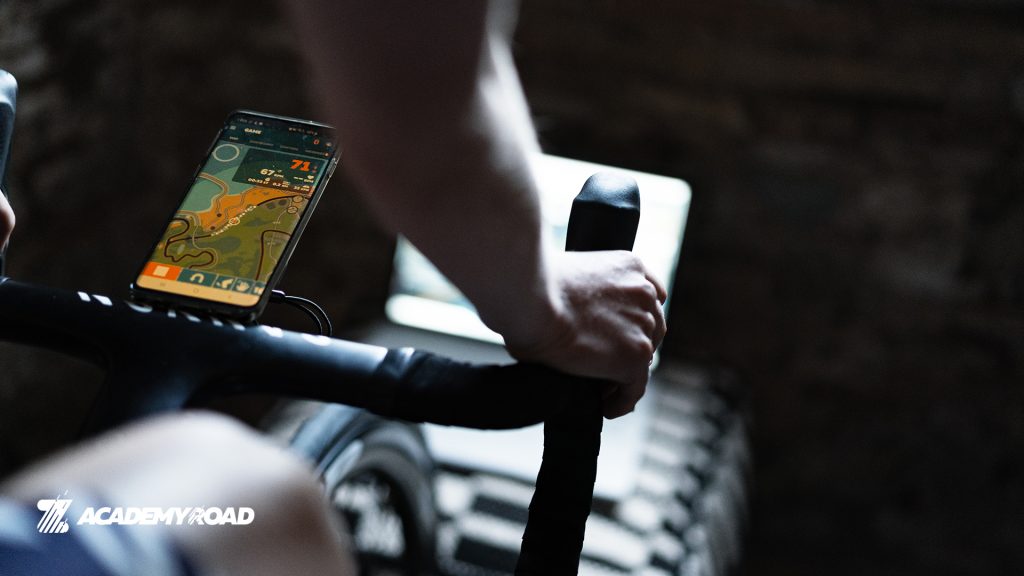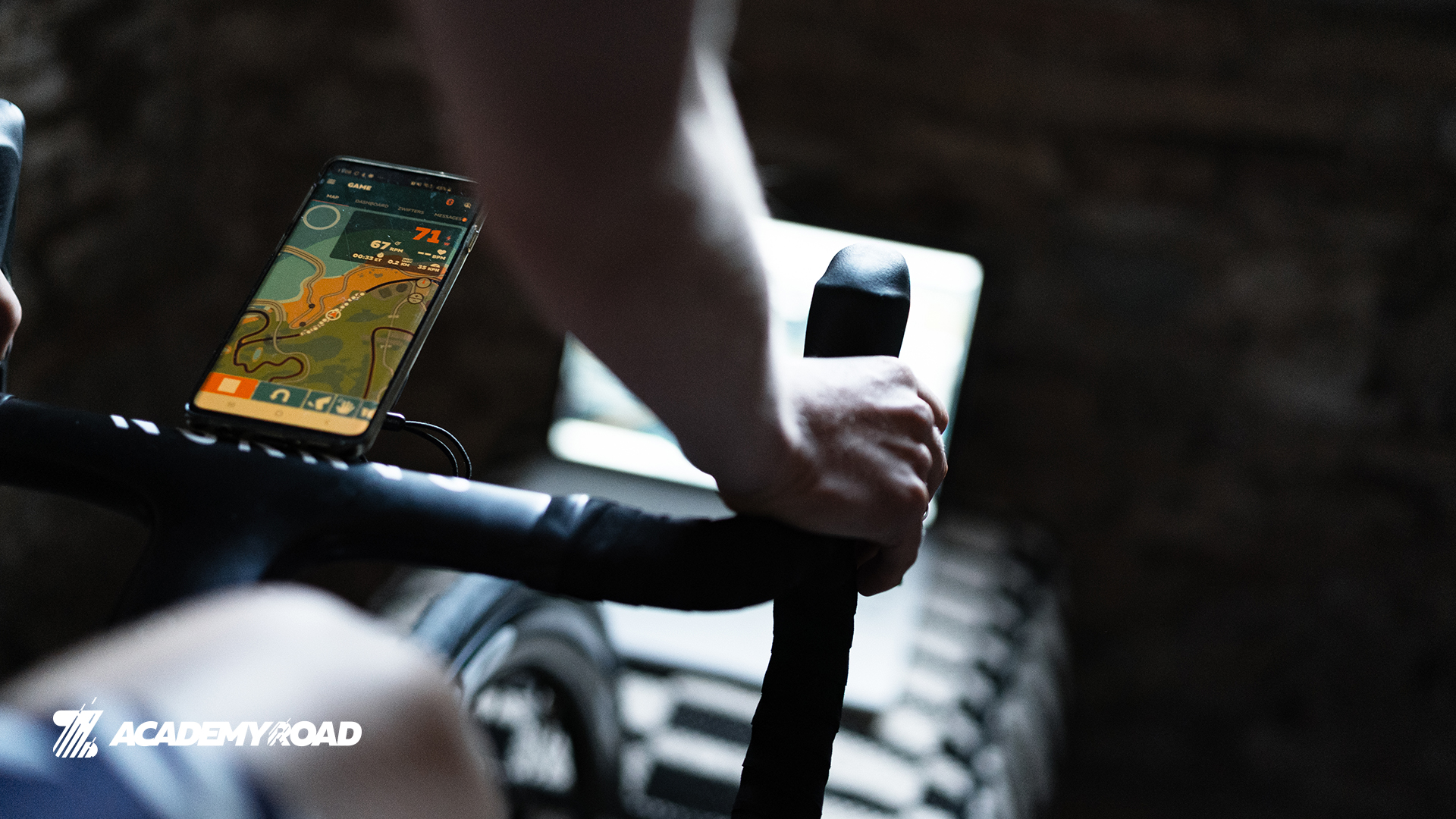 The best place to track your ZA Road progress and gains is via Zwift's Companion app. Here you'll find the results of your Baseline and Finish Line rides, as well as a progress meter showing which workouts you have left to complete!
Additionally, the Companion app is very useful when completing workouts in Zwift. Did you know you can adjust your FTP bias via the app if the workout is too difficult? Get 5 Companion app workout tips from Shane Miller >
Graduation Requirements
To complete Zwift Academy Road 2022, participants must complete a total of 8 rides:
1 Baseline Ride event
All 6 Zwift Academy workouts (group workouts or individual, your choice)
1 Finish Line Ride event
Riders pursuing the pro contract will need to put in some extra work. See below for details.
Key Dates/Schedule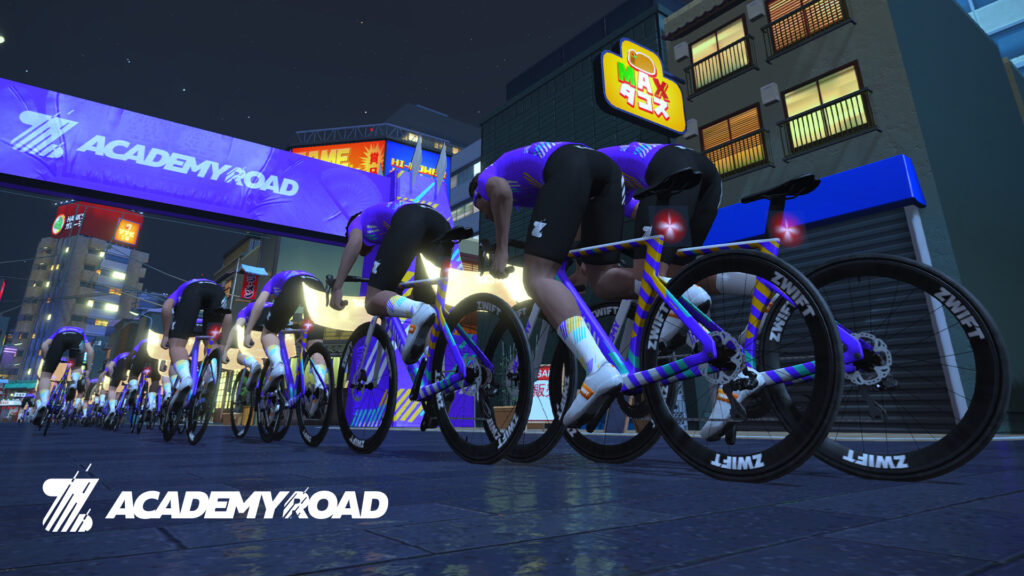 ZA Road online and in-game registration opens August 15 (those interested in ZA Run and ZA Tri can also register to receive updates on this date)
ZA Road orientation group rides (26 minutes long) available August 15-September 11 (see upcoming events)
ZA Road begins September 12
ZA Finish Line rides available for the last 2 weeks of the program (Baseline Rides available throughout the program)
ZA Road graduation deadline: all required workouts (1 Baseline Ride, 6 workouts, 1 Finish Line Ride) must be completed by October 10 @8:59 am UTC (1:59 am PT)
ZA Tri program begins October 24 (in-game registration will open on Oct 10)
ZA Run program begins February 6, 2023 (in-game registration opens Jan 23, 2023)
Unlocks
Riders will unlock new kit as they progress through the program:
2 events: unlock ZA socks
4 events: unlock ZA sweatband
6 events: unlock ZA kit
8 events: unlock ZA Road 2022 paint job for Canyon Aeroad 2021 frame (you'll need to buy the frame, though!)
Pro Contract Competition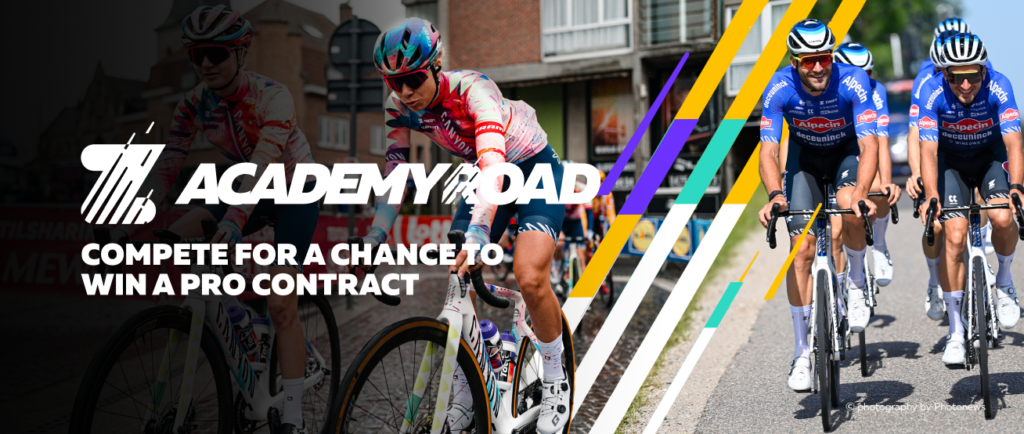 In this year's ZA Road Pro Contender Program women will be vying for a 1-year pro contract with the CANYON//SRAM team and men will be chasing a spot on the Alpecin-Deceuninck team.
If you want a shot at the pro contract you have to jump (ride?) through some additional hoops. Here are the rules for all riders entering the Pro Contender Program of ZA Road 2022:
Rules
You must complete the Baseline Ride and the two Pro contender workouts by September 25, 11:59 PM UTC (4:59 PM PT)
You must complete the requirements to graduate Zwift Academy Road, which include one Baseline Ride, six structured workouts, and one Finish Line Ride, by October 10 @8:59 am UTC (1:59 am PT)
You must complete the long version of all six structured workouts
You must use a direct-drive smart trainer or smart bike for all Zwift Academy events
Participants are not permitted to use a power meter as a primary power source
You must use a heart rate monitor for all Zwift Academy events
You must be 18+ years old, as of January 1, 2023
Ensure your height and weight are accurately entered into Zwift before you begin the program
You cannot be a current WorldTour or UCI ProTeam professional or have competed in a WorldTour race in the past, as defined by these lists of teams:
You cannot have any doping violations from any national federations
You cannot be a previous Zwift Academy Road Champion
See more the details on competing for a pro contract >
Pro Contender Workouts
The two required pro contender workouts are only available as on-demand workouts – that is, no group workout events will host workouts 7 and 8.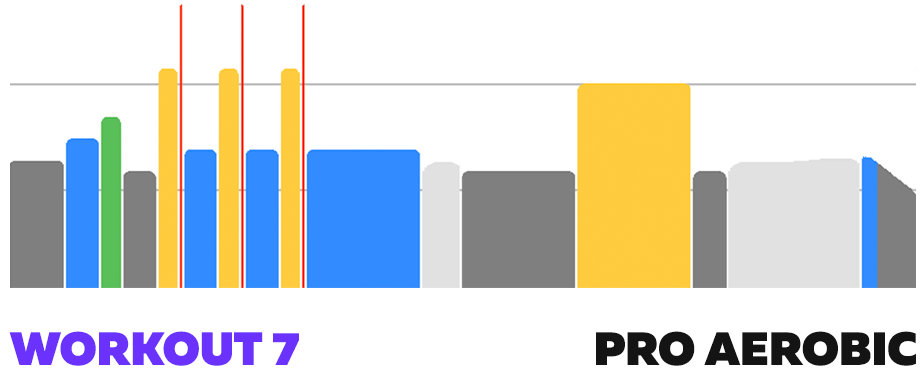 Riders may struggle to recover fully from the 12-minute capacity effort. That's by design: This workout was made to find out which athletes have what it takes to go pro. The next 10-minute sub-threshold attempt will be set at a target power below your current FTP. 
---

This test runs you through sub 2-minute intervals followed by rest periods to allow for complete recovery. After intensive intervals, we'll also profile your recovery capabilities and judge how resilient your aerobic system is. This will be identified in the 2 x 10-minute sub-threshold efforts at the end of the session. Any riders considering the pro contract must also complete the 2 x 10-minute sub-threshold efforts without failure.
Coaches
Returning again this year are ZA Road coaches Stephen Gallagher and Dan Fleeman. Both are experienced and strong bike racers, indoors and out!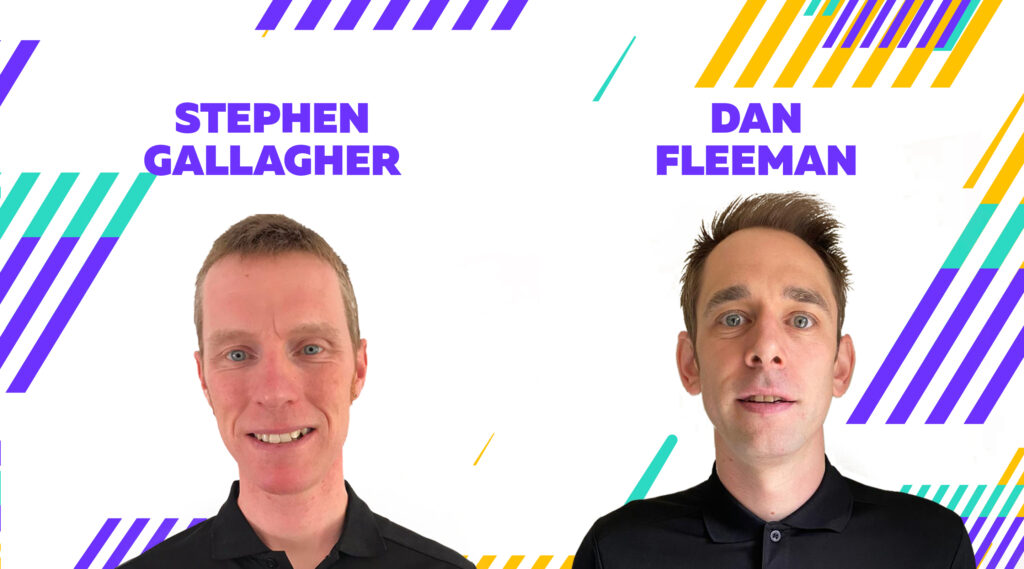 Ready to Get Started?
Sign up in-game, or do it online at zwift.com/academy.
Questions or Comments?
Post below! We'll do our best to answer any questions, and may reach out to Zwift HQ if you have queries we can't answer.