Zwift Racing League's first season was the biggest set of racing events in the history of Zwift. Now, as promised, WTRL is organizing Season 2 which begins next week.
As always, WTRL's Zwift Racing League page has lots of details about all things ZRL. We couldn't be more pleased with their obvious attention to detail. There's so much that goes into planning a multi-division, team-based racing league that really works, but WTRL is really on top of things.
If you're looking for answers to specific questions, the WTRL Zwift Racing League Facebook page is the place to ask.
Here are the details on league changes, event schedules, and routes for the second season of the Zwift Racing League.
Signing Up
There are currently 1475 teams registered for Season 2. Wow!
Season 2 registration closes January 9th, so be sure to get your team signed up if you haven't already!
Looking to join a team? Post your info on the WTRL Zwift Racing League Facebook page.
Season 2 Changes
As promised, WTRL has taken lessons learned in Season 1 and applied them to Season 2. There are several important changes being made – here is a summary.
New rider requirements: things got a bit messy in Season 1 with many inexperienced racers joining a team, then learning they were much stronger than they realized. It led to many teams containing (for example) A riders even though they were racing in the B ZRL division. For Season 2, WTRL states the following in their FAQ: All riders must have a valid ZwiftPower category and must have completed at least 3 races longer than 20km in the month prior to starting any ZRL race. Riders must not exceed the Category threshold for their division for at least their first 4 weeks in the season. A rider upgrading in category in their 3rd week would need to find a new team regardless of previous seasons.

After a bit of digging, we've learned this isn't a hard and fast rule. WTRL said on Facebook that, "If you make sure your riders' normal racing power does not exceed that of the division for at least their first 4 weeks, your riders will be fine." So it looks like the 3-race rule will only be used if riders exceed their division's limits, at which point WTRL will look at the rider's race history to determine if they had in fact completed 3 20km races within the past month which showed them performing within the limits of their team's category.
Expanded finish scoring: riders are now awarded extra finishing points all the way down to 83rd place (increased from 30th place in Season 1). This will give more riders more incentive to keep pushing even if they're dropped from the front group! (See WTRL's "Scoring" tab for details on points breakdowns.)
Expanded intermediate scoring: intermediates now award first-across-the-line points 10 riders deep (increased from 3-5 riders in Season 1). Again, this just means more riders will be pushing for extra points.
New "fastest-through-segment" points: for the first time, riders will be awarded points 10 riders deep based on who has the fastest segment time on particular intermediates. Each points race (except one) will feature a sprint and climb intermediate, sometimes hit more than once due to multiple laps.
Fewer TTTs: instead of alternating points races with TTTs, we have 5 points races and 3 TTTs.
Defined playoff structure: the final two races will be knock-out style playoffs to determine which teams will be promoted and relegated.
Custom powerup mix: each points race has its own custom mix of useful powerups, giving riders some pre-definied strategic choices.
Mixed-gender teams allowed: there were many requests in season 1 for mixed-gender team capabilities. In season 2 this is being allowed, and mixed-gender teams will simply race in the men's divisions.
Smaller divisions: instead of 20-25 teams per division, WTRL is attempting to limit it to 15.
New event signup system: each team will now receive a unique sign-on link for each event. Riders will not need to modify their rider tags on ZwiftPower prior to the events, but every rider must have a WTRL login in order to sign up for an event. WTRL says "When a rider clicks these links, they are taken through the WTRL website where you may be asked to login. The website will identify who you are (by your stored Zwift ID number) and what team you are in and update our race database accordingly. You will then be forwarded on to the Companion App or Zwift.com event sign-on page automatically where all you have to do is select the correct pen."
Random rider verification checks: for the first time, Community Division riders will be subject to random checks by WTRL. This means all riders must have accurate height and weight entered into their Zwift Profiles.
This is only our summary of Season 2 changes. We recommend team managers and riders check out WTRL's rules and FAQ pages for themselves.
Schedule
The Premier Division (invite-only) races on Mondays, a day before the Open (Community) Division's Tuesday races. Premier Division has just one time slot.
Open Divisions have six time slots, as shown below. When a team signs up, they must select which time slot they will race for the duration of the season.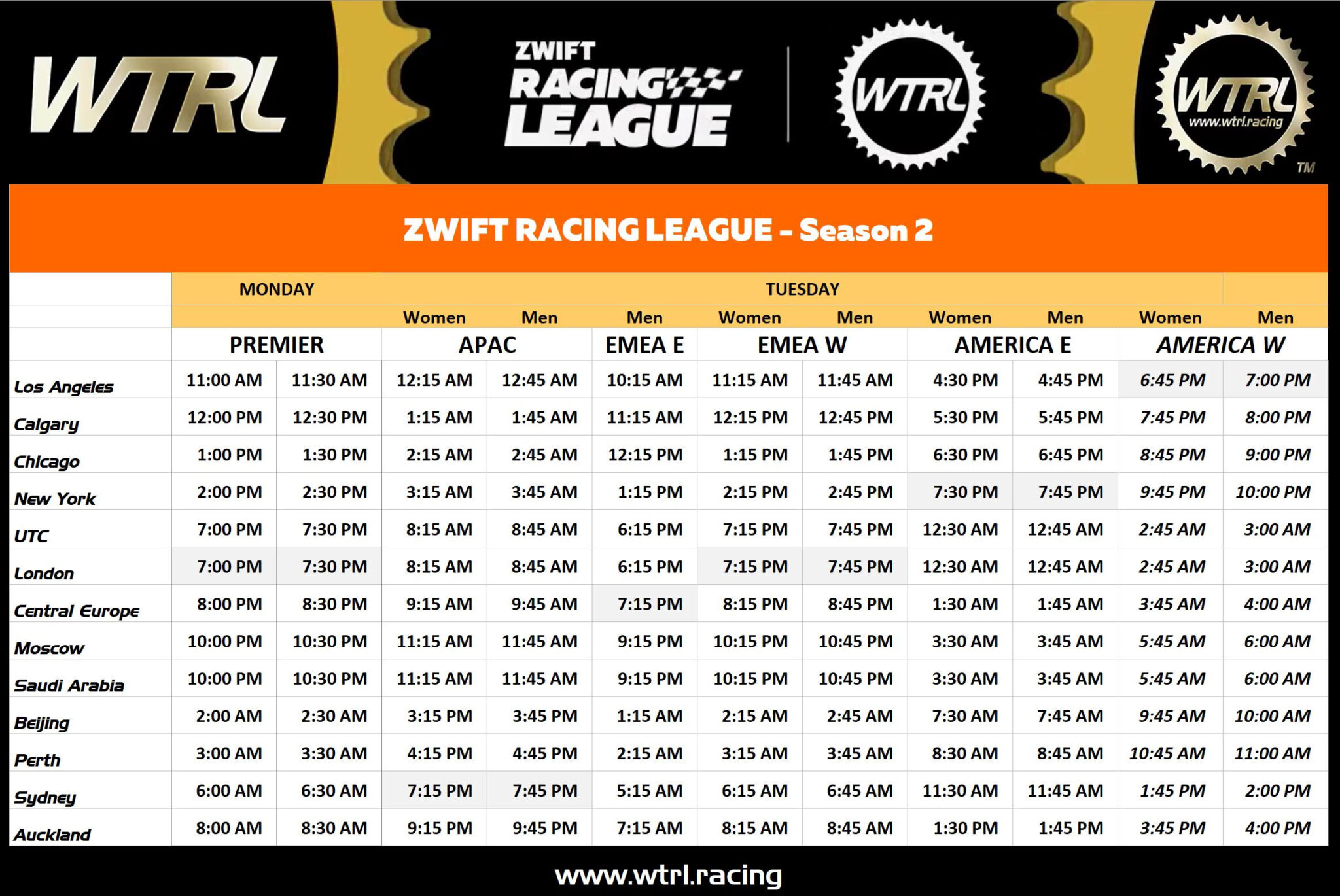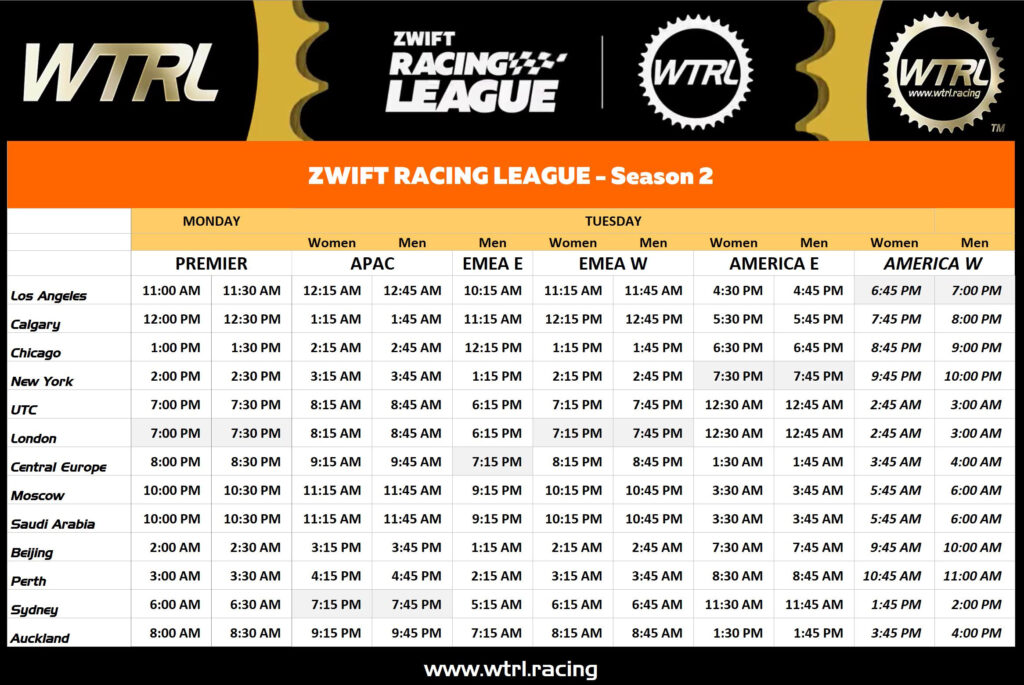 WTRL notes, "Note times shown are for INDICATIVE purposes at this time. ACTUAL race times may vary depending on broadcast requirements around screening both women's and men's divisions."
Note, too, that for TTT races, each TTT team will have its own start time, like a typical TTT. With up to 15 teams per time slot and division, your team's start will probably be delayed from the start time above.
Race Routes and Dates


This is the first time we'll be racing this course in ZRL, which will make it especially interesting. Three climbs within the first 8km will break up the group early.
2 Laps: 34km
First-Across-the-Line Intermediates:

23rd Street KOM 2x
Broad Street Sprint 2x
Monument Ave Sprint 2x

Fastest-Through Intermediates:

23rd Street KOM
Monument Ave Sprint

Powerups: Helmet, Van, Feather
January 18/19: France's R.G.V. Team Time Trial


The R.G.V. route makes a repeat showing from season 1, and there's no mystery why: it's a wonderful flat TTT route, with just enough technical bits to make it a little interesting, especially near the end.


The biggest climb ever to be featured in a ZRL event, Innsbruck's KOM is going to bring out the true climbers. But before the big climb we've got 3 laps of the Innsbruckring, where sprinters and puncheurs may be well-advised to push hard to drop the climbers.
1 Lap: 37.2km
First-Across-the-Line Intermediates:

Innsbruck Sprint 3x
Innsbruck KOM 1x

Fastest-Through Intermediates:

Innsbruck Sprint 1x
Innsbruck KOM 1x

Powerups: Helmet, Van, Feather


This is a repeat from season 1, for good reason: the Harrogate Circuit is a super-challenging course with plenty of places to attack and very few chances to recover.
2 Laps: 27.6km
First-Across-the-Line Intermediates:

Yorkshire KOM 2x
Yorkshire Sprint 2x

Fastest-Through Intermediates:

Yorkshire KOM
Yorkshire Sprint

Powerups: Helmet, Van, Feather


A super-lumpy course that includes the KOM Reverse, this will be a challenge as a TTT! Teams will be well-advised to practice staying together before this event. This is the shortest race of the season.


The longest race of the season, this event features 3 efforts up the Volcano KOM. It's one for the climber, but if a puncheur can hold on they stand a good chance of winning the final sprint.
3 Laps: 41.5km
First-Across-the-Line Intermediates:
Fastest-Through Intermediates:
Powerups: Helmet, Ghost, Feather


As the first of two knock-out playoff races, this event will be fun to watch. The route caters to sprinters initially with five laps of The Fan Flats, then heads off to Libby Hill for one final smashfest. Can the sprinters drop the punchy climbers before the final climb?
1 Lap: 32.9km
First-Across-the-Line Intermediates:

Monument Ave Sprint 5x
Libby Hill KOM 1x

Fastest-Through Intermediates:

Monument Ave Sprint
Libby Hill KOM

Powerups: Helmet, Van


The longest of season 2's TTT's, this is the second and final playoff race to determine which teams get crowned division champions!
Questions or comments?
We recommend checking out WTRL's page for all things Zwift Racing League. Feel free to share questions or comments below!