Important update: WTRL sent the following email on race day, January 24th:
On behalf of WTRL & Zwift, we regret to inform you that the much anticipated Segment Battle Point element of ZRL has been placed on hold and will not feature in Round 3. We know many people, including ourselves, were looking forward to this new element. The project has run into a number of unforeseen issues over recent days and the ZRL organizing team do not feel confident that it can be launched successfully at this time.
We greatly apologize for any disappointment this may cause you. Zwift Racing League will continue with the original formats and once we feel that everything is working optimally and accurately with SBP's, we will look to run some test races later in the spring/summer.
In the meantime, we wish you success for the remainder of the Zwift Racing League Season.
---
The third race of Zwift Racing League 2022/23 Round 3 happens Tuesday, January 24th. Held on Innsbruck's Innsbruckring route, race #3 sees the introduction of Segment Battle Points for the first time ever. It's also the first time we'll hit the Leg Snapper as an official KOM segment!
How will SBP change the race, if at all? And will the Leg Snapper's upgraded status make it even more lethal?
Let's dig into the race, including tips for bike choice, powerups, strategy, and crucial segments.
Introducing Segment Battle Points (Again)
WTRL is introducing a new way of earning points this round, and it's big news for ZRL racers! Segment Battle Points (SBP) are designed to keep everyone pushing hard on the intermediate sprint and KOM segments, no matter where you're at in the race.
(They were supposed to roll out for race 1, but that got delayed. WTRL assures us they'll be rolling out for this race, though.)
SBP works like this: your team members are ranked 1-6 using a secret algorithm from WTRL. This happens for all other teams as well, so all the #1 riders are in an SBP group, all the #2 riders in another, etc. You compete against the riders in your group to be first across the line and earn points on each segment.
To take a deep dive into Segment Battle Points, read All About ZRL's New Segment Battle Points.
Looking at the Route: Innsbruckring
Each lap of Innsbruckring is 8.8 km (5.5 miles), and A/B teams will race 4 laps (35.2km, 308m elevation) while C/D will race 3 (26.6km, 231m elevation).
Innsbruckring is popular for races and thus well-known to most Zwift racers. While the Strava profile may make it look quite lumpy, in reality it's quite flat and uneventful for 6.8km of each 8.8km lap.
It's just that 2km that will get ya.
The key 2km section begins when you cross the short bridge and begin the Leg Snapper KOM (around 5km into your first lap). At 430 meters long with a steady average gradient of 6.9%, this climb will force a selection each and every lap. Be prepared for an all-out 45 to 75-second effort to stay in touch.
Keep hammering over the top of the Leg Snapper to get back up to speed, then you can recover and even supertuck a bit on the descent. Grab all the rest you can, because once the road flattens you've only got ~20 seconds before the sprint begins!
The Innsbruck Sprint is 300m long and slightly uphill. The start line is hidden behind the right-hand curve, so you'll want to know your landmarks if you're trying to time this well. One tip: look for the yellow house on your right, and rev up the watts as you pass it.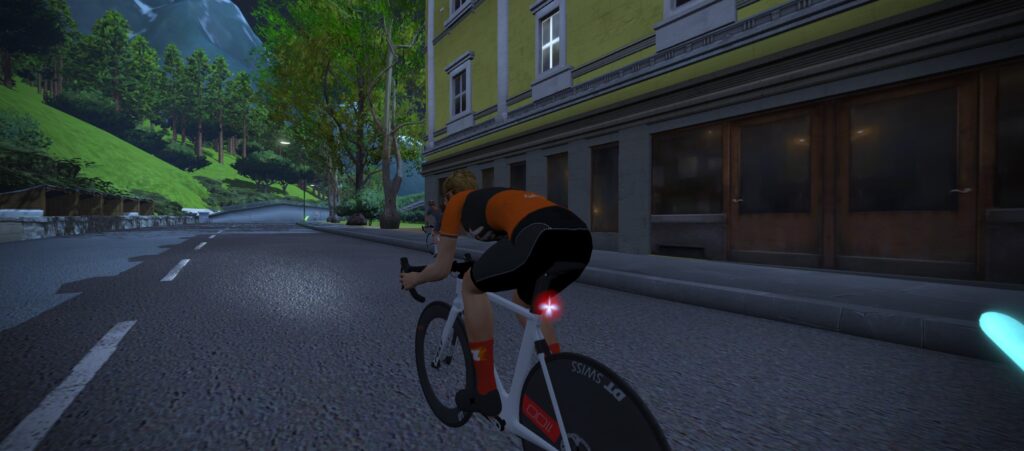 The pack will be strung out and gaps will have formed after the sprint. This is where riders are faced with a decision. If you're in the front group, do you keep pushing to hold the gap? If you're in a chase group, do you try to bridge up?
The finish always feels like a drawn-out sprint. Riders often try to go long, but are unable to hold it. Patience is crucial here, and you'll want to maximize the use of whatever powerup you've got. Got a draft boost? Activate it with at least 30 seconds to go so you can sit in the wheels and receive maximum benefit. Aero boost? Don't use it until you're close to the finish line. Feather? You should have saved a better powerup!
Read more about the Innsbruckring route >
PowerUp Notes
Riders will be awarded powerups through the KQOM, sprint, and lap banners, meaning we'll get 3 powerups per lap, for a total of 12 powerups for A/B and 9 for C/D. Three powerups will be given out at each banner: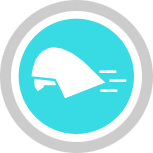 Aero Boost (helmet) (34%): makes you more aerodynamic (reduces your CdA by 25%) for 15 seconds. Use this if you're contesting a sprint or attacking in the wind at high speed. On Innsbruckring this power up handy for the finishing straightaway and the sprint.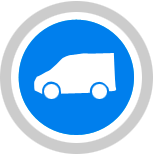 Draft Boost (van) (33%): increases the draft effect you are experiencing by 50% for 30 seconds. Use at higher speeds (flats and descents) when you are already drafting off another rider (since this powerup only helps when you are drafting.) Useful for Innsbruckring sprints, but also useful for recovering in the pack.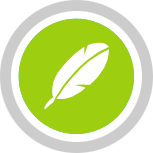 Lightweight (feather) (33%): reduces your weight by 10% for 15 seconds. Use this on the Leg Snapper, as it's not very helpful anywhere else.
Bike Frame + Wheel Choice
This is a mostly-flat route, and the Leg Snapper is short enough that speeds remain high (30 kph + for B and A riders), so a climbing rig won't outperform an aero machine.
Go with the most aero bike you've got. Need help figuring out what that is? Read Fastest Bike Frames and Wheels at Each Zwift Level.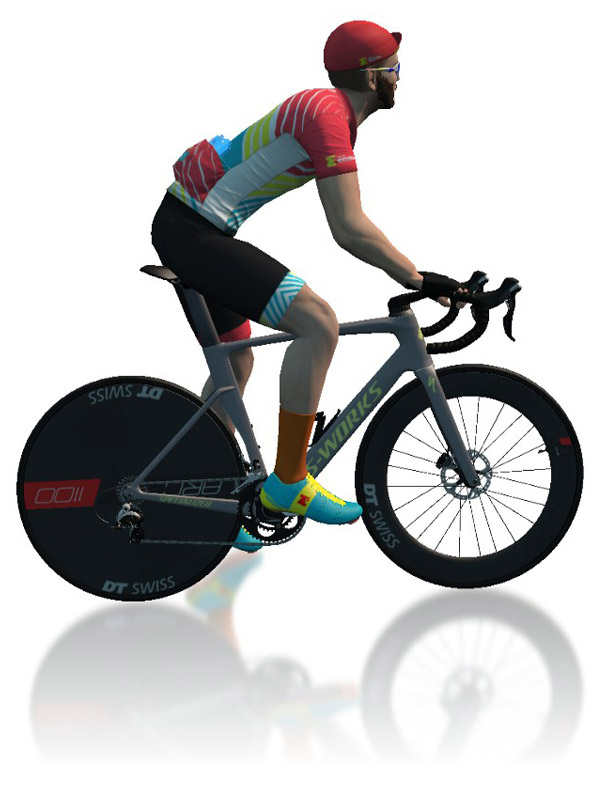 See Speed Tests: Tron Bike vs Top Performers (Scatter Plot) for more nerd-level detail on frame and wheel performance.
More Route Recons
Many events are now being planned each weekend on the upcoming ZRL route. If you're unfamiliar with this course, jump into an event and do some recon! Here's a list of upcoming Innsbruckring events.
Looking for a video recon? Check out our favorites:
Si Bradeley (coming soon)
Oli Chi
Strategic Options
Points Distribution, Innsbruckring
These charts show the maximum points a team of 6 could earn in the race.
How will these races unfold, and what strategies will riders employ in the third race of round 3? Here's what we predict:
First Lap FTS: expect most (if not all) of the FTS points to be grabbed the first times through the Leg Snapper and Sprint, since the pack will be largest and legs freshest.
Close the gap? In typical Zwift races, the pack is broken up over the Leg Snapper + Sprint, but chase groups will often bridge in the "uneventful" 6.8km that follows. Will the prospect of securing Segment Battle Points encourage the front group to keep pushing and stay away from the chasers? We think it will, because SBP make up a huge portion of the overall available points for the race.
No more "sag and sprint": simply put, chasing FTS is a losing proposition, given how heavily weighted points are toward the FAL side with the introduction of SBP. Heavier riders who might have been dropped on the Leg Snapper but still sprinted for FTS in past races will find this to be an ineffective strategy and in fact will have very few points to earn if they aren't with the front group on the sprint.
Attrition: with SBP encouraging the front pack to keep the effort high throughout the race, we expect Innsbruckring to have a much more attritional feel than in the past. Riders will have to push to stay with the front group, and once they get dropped they won't have much left in the tank.
Your Thoughts
Any insights or further thoughts on this race? Share below!