The final race of Zwift Racing League 2022/23 Round 2 happens Tuesday, December 13th. And it's a doozy!
The Cobbled Climbs route in Richmond was first raced in the 3rd round of ZRL's inaugural season, back in May 2021. It was a tough course back then, and it'll be a tough course this time around as well: the longest and most climby race of this round.
Let's dig into the race, including tips for bike choice, powerups, strategy, and crucial segments.
Looking at the Route: Richmond's Cobbled Climbs
Each lap is 9.2 km (5.7 miles), and A/B teams will race over 5 laps (46km), while C/D will race 4 (36.8km). This is going to feel significantly longer than most ZRL races... because it is!
The route is essentially Richmond's 2015 UCI Worlds Course without the flat first half. What you're left with are the pitchy parts: KOM intermediates for curvy, cobbled Libby Hill and short, steep, straight 23rd Street, plus the third climb (Governor Street) which isn't timed, but is perhaps the longest and most painful. Plus it leads into the false-flat finish!
We'll be contesting the two KOM intermediates for points. They are shown in the profile below: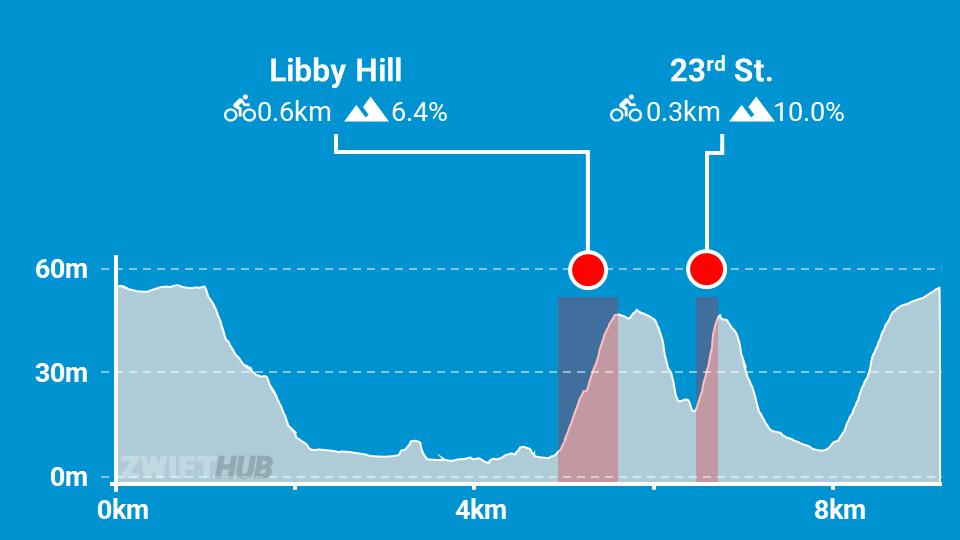 We begin at the standard Richmond start/finish banner, but make a quick left turn, and another left, onto the descent of E Main St. (This is the longest descent on the route, so enjoy it while it lasts.)
After some flats and rollers along the river the road tilts up and you know what's coming: our first KOM of the day. Twisty, bumpy Libby Hill!
Hammer your way up this climb (most riders will finish it in 60-110s), then recover for a few seconds as you descend to the start of our next KOM: the short, straight 23rd Street KOM. This is essentially a "sprint-climb" (25-30s), which is why Peter Sagan was able to drop everyone in his famous attack here in the 2015 UCI Worlds race.
Do everything you can to maintain good pack position up and over the 23rd Street KOM, knowing you've got a few seconds of recovery just up the road on the Broad Street descent. You can even supertuck the descent like Sagan did (but can't anymore – thanks for ruining the fun, UCI!)
You'll need every bit of recovery you can get, because less than a minute after the descent we begin the final climb of the lap: Governor Street! This is not a timed KOM, but it's where the race-winning final moves are often made, and it feels so long in the final minutes of a race. (Expect riders to conserve their efforts on this climb, until the final lap. Better to save your climbing efforts for the KOMs handing out points!)
Finish this climb then it's a false flat straightaway to the finish.
Read more about the Cobbled Climbs route >
PowerUp Notes
Riders will be awarded powerups through the KQOM and lap banners, meaning we'll get 3 powerups per lap, for a total of 15 powerups for A/B and 12 for C/D. Three powerups will be given out at each banner: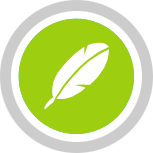 Lightweight (feather) (40%): reduces your weight by 10% for 15 seconds. Use on climbs, when weight matters the most.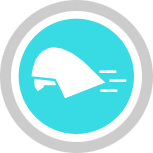 Aero Boost (helmet) (30%): makes you more aerodynamic (reduces your CdA by 25%) for 15 seconds. Use this if you're contesting a sprint or attacking in the wind at high speed. Great for the finishing straightaway, or catching riders on a descent.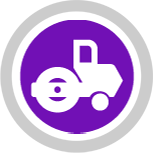 Steamroller (30%): reduces Crr for 30 seconds so you roll as fast as a road tire on pavement regardless of wheels or road surface. Only useful on the cobbled bits of the Libby Hill and 23rd Street KOMs to save a bit of power/gain a bit of speed.
Bike Frame + Wheel Choice
None of the climbs here are long or steep enough for a true climbing bike to be the sensible choice. And yet, going full-on aero with a disc wheel setup probably isn't your best option, either.
The Tron bike is the best of both worlds, climbing a bit faster than the disc wheel but also performing very well on flats and descents. If you don't have the Tron bike, go with an all-arounder frame like the Scott Addict RC (or Canyon Aeroad 2021 for lower-level riders) coupled with lighter-weight aero hoops like the ENVE 7.8, Zipp 858, or DT Swiss ARC 62.
See Speed Tests: Tron Bike vs Top Performers (Scatter Plot) for more nerd-level detail on frame and wheel performance.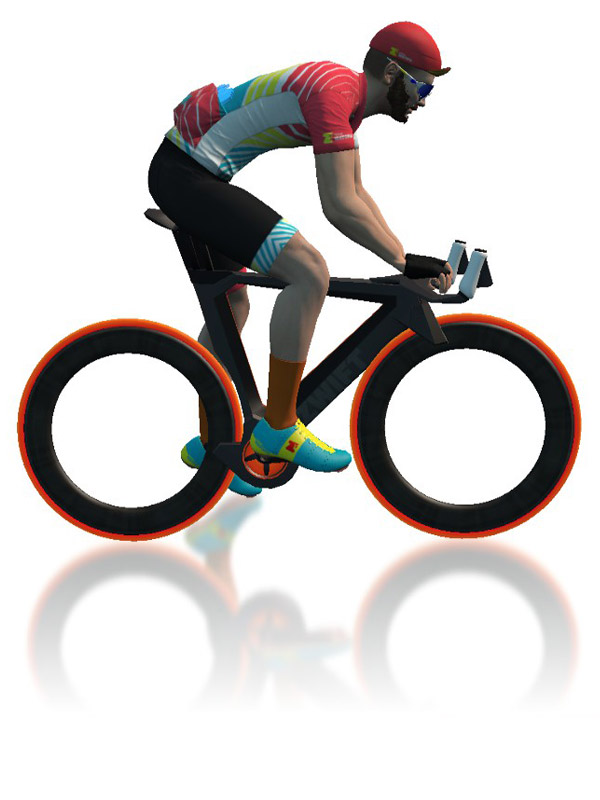 More Route Recons
Many events are now being planned each weekend on the upcoming ZRL route. If you're unfamiliar with this course, jump into an event and do some recon! Here's a list of upcoming Cobbled Climbs events.
Looking for a video recon? Check out our favorites:
Si Bradeley
Oli Chi
Strategic Options
Points Distribution, Cobbled Climbs
A/B (5 Laps)
C/D (4 Laps)
These charts show the maximum points a team of 6 could earn in each race.
How will these races unfold, and what strategies will riders employ in the final race of round 8? Here's what we predict:
The front group will get smaller on each lap, with a small pack of only 5-10 duking it out across the finish line. Some races will even see breakaway wins by just 1-3 riders.
Fastest Through Segment top 10 times will all be set on the first lap. Why? Because the pack draft will be largest then, plus riders will simply be too tired to better their times on subsequent laps.
Chase groups will catch some lone riders up the road at the start of each lap (through the flat/descent portion), but those same riders will attack again on the climbs and get away. Which begs the question: is it even worth chasing? On the other hand…
This is a long race – the longest one of round 8 – and with a lot of climbing! Riders will have a hard time pacing their efforts properly. Some will push hard to make the front selection, but blow up on subsequent laps. Chase groups shouldn't give up hope, because that front group will keep shrinking, and there may be opportunity for intermediate and significant finish points if you're in the first chase group.
Some riders who don't fancy their chances of staying in the front group to the finish will go all-in on the first climb up Libby Hill – then do it again on 23rd Street if they're still in the front group. These riders may take a few FAL and FTS points, but they'll get dropped from the front group and miss out on oodles of points over the course of the race. For these riders, recovering then sitting in with a well-paced group is their best hope of a decent finishing position.
With the first 10 riders across the line receiving bonus points on each KOM, we've got a huge amount of intermediate points going to a small front group of riders. We predict that the final winning team (in terms of points) will come down to the simple math of how many riders each team puts into that front group.
Is there a place here for non front-group riders to earn some intermediate points? You'd like to think so, but we don't see it happening. As we've already said, most or all of the FTS points will go to the top puncheurs on the first lap. And once that front group is away, all the subsequent FAL and big finish points ride away with them. The stragglers will be left to battle over finish points.
Your Thoughts
Any insights or further thoughts on this race? Share below!