For the past few months I have been putting together recce's for the weekly Thursday Team Time Trial from WTRL. I race in a hungry mid-pack Latte (usually) team for Rowe and King (the Hyenas), and now I captain the R&K Ewoks on Tuesdays as well. So Eric asked me to put together a similar recce for the Zwift Racing League TTTs every other Tuesday.
ZRL #6 – A TTT on Greatest London Flat
This week the route is Greatest London Flat – around the city of London itself, then over to Surrey with the flattest of the three paths through. Some of you ride the WTRL Thursday TTT series… if so you are in luck, since you've already done a TTT recce of this course on the 3rd of September, and before that on the 4th of June.
My Thursday team was on coach-enforced hiatus through September so I didn't race it – but I did tackle it back in June with the fantastic lads from Croissy International Cycling Club (CICC), mostly rejects from Britain now on the outskirts of Paris. While I didn't ride the course on the 4th, I did do a course recce… so today's job is a super-easy case of cut and paste in places!
Two little things to remember about the course this week:
This isn't the Greater London Flat… its the GREATEST London Flat – this one is longer, heading south of the river, and into Surrey.
The lap starts and ends at The Mall, not at the Start/Finish banner on Upper Thames Street. Remember to add the extra 7km to your ride as you sail past!
A 7.5km lead in from the Pens, followed by a 23.6km loop through London and Surrey. Find all this and more in the ZwiftInsider route description.
If you want a fast-paced recce of the course with some rockin' tunage to keep you company, jump on over to No Breakaways YouTube channel and take a look.
What to ride?
The clue is in the name… Greatest London FLAT. This is a mostly flat route so aero rules the day. If you have it, the Specialized S-Works Venge with Zipp 858/Super 9 wheels is the pick of the bunch (and the only frame/wheel combo to beat Tron on the flat). If you don't have Zipp 858/Super 9, Tron is almost as good on this course. Side note: if you haven't done it yet – kick off the Everest Challenge and start the long painful climb to get Tron.
If Tron or Venge aren't options for you, here are the recommendations at various levels:
Level 6 Zwift Aero frame and DT Swiss ARC 62 wheels
Level 13 Canyon Aeroad 2021 and Zipp 808s
Level 33 S-Works Venge with ENVE SES 8.9
Level 35 S-Works Venge with Zipp 808/Super9
Level 45 get those sweet 858/Super9 hoops and pair them with the S-Works Venge
As always, the ZwiftInsider reports on frames and wheels are superlative so if you want to find the perfect bike and wheel combo for you, check them out. To reiterate… if you don't have the Tron – start working on it.
Route recon
We begin with a lead-in from the start pens to the banner on The Mall:
Starting at the pens and it mostly downhill to Northumberland Avenue, where you head up the hill to Trafalgar Square. Sharp left at the top and then a right as you head towards Buckingham Palace and then down the Mall to the reverse sprint. You are now 7.5km into the ride, and this is where the Greatest London Flat lap actually starts.
The jaunt around Central London is mostly flat/false-flat, except when you head down Piccadilly through the Hyde Park Corner underpass and up the other side. Soon enough (17.5km) you will head across the river to Surrey – but fear not, you aren't tacking Box, Fox, Keith, or Leith! You are just heading through the beautiful Surrey parkland. Through the Underground Station and across Tower Bridge (23.5km) and you're soon on familiar ground – because you'll pass the Pens and be back on the lead-in with 7.5km to go. Just follow Upper Thames Street, up the Northumberland Avenue hill to Trafalgar, left, right, past Buck House and a quick Reverse Sprint to cross the line.
The challenge with this ride in a TTT is that despite the name, it's not really flat. The entire 32km undulates making it a pretty technical ride at the end of the day. There are a few real trouble spots for a team as well as you can see from the below.
There are a few rides on this route if you want a proper recce. Check out zwifthacks.com to find one that works for your team. Failing that, just set up a group Meetup in Zwift Companion.
What to look out for
This is a single lap race – with a seriously long lead-in. I break the race into four parts
Lead-in
Greater London
Surrey flats
Basically repeating the lead-in
The Lead-in
This lead-in is long… 7.5km. Its starts pretty flat out of the gates so you can get into formation and start riding along Upper Thames Street. It does undulate so keep an eye on your riders, and keep communicating.
The first proper bump is when the route turns sharp right onto Northumberland Avenue (3.7km) and you head up to Trafalgar Square and Nelson's Column. Northumberland is a 150m stretch at 4% – you will have to keep the puncheurs in check and stay in formation. Make sure the team chats about how to handle this bump (as well as the others on this ride) so nobody is confused as to what to do.
After that it's a sharp left at the top and down towards Parliament, then a sharp right towards Buckingham Palace. It's all pretty flat from here to the start/finish gate at approximately 7.5km.

Greater London
The lap-proper starts off flat, then turns into a gentle (2-3% for 1.1km) descent at 11km towards the Hyde Park Corner underpass. You will pick up some speed here, then lose it again as you come up the other side at a similar grade.
After this it's pretty much flat as you take a big circle around Central London. This segment is your opportunity to get into formation and sit at race speed until you cross over the Thames at km 17.2.
Surrey Flats
Slight bump over Lambeth Bridge, then a sharp drop into the Underground Station. The drop peaks at 17% so be aware your team will all go down it and gain different levels of momentum. Heavier riders should rein it in, while lighter riders may have to push a few extra revolutions to maintain position.
At 18km you hit what I think of as the worst part of the course… legs are starting to get worn, and there's a 3km stretch of just annoying ramps. Can't describe it better than that… annoying and just in the right place to create a split. As you push through, make sure you're watching your teammates and getting ahead of any potential splits.
Right before 23km you exit the Tube station – it a short, sharp shock peaking at 15%. This will hurt. This will split the team. Your weaker team members will need to recover at the top. You will need to make a decision whether you slow down and let them recover, or leave them behind and accelerate onwards.
Across Tower Bridge, and then its familiar ground, because there are the pens on your right… and you're back on the lead in.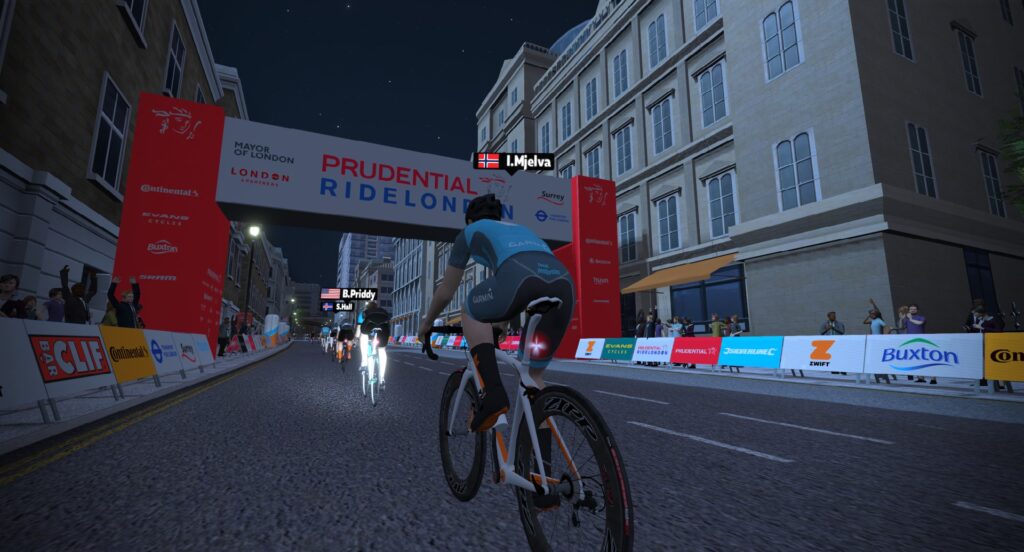 Once more, the lead-in
Same as the first time except this time when you go up Northumberland Avenue your heart will be pounding in your chest, and your legs will be agony. Good fun, right?
In conclusion…
Zwift lied. They called this flat but it isn't. There isn't a significant area of flatness other than the long loop around Central London, but I suppose the Greatest London Undulation wouldn't work as well!
So this ride is technical, with a couple of sticky areas for teams still getting the hang of the TTT format. If you have the opportunity, get out there and practice riding in formation. Either way, make sure you are working on your Discord skills – team communication will be the thing that makes the difference this week.