Zwift's monthly ZRacing series is heading into its seventh round following September's Get Rolling, October's Race Like a Champ, November's Race Makuri, December's Race Like a Pro, January's Flat is Fast, and February's Race Scotland.
Today Zwift published details for March's ZRacing Series, where the theme is "Race London" and all the races are on Zwift's London map. Let's dive into the details!
Race London – March's Route Schedule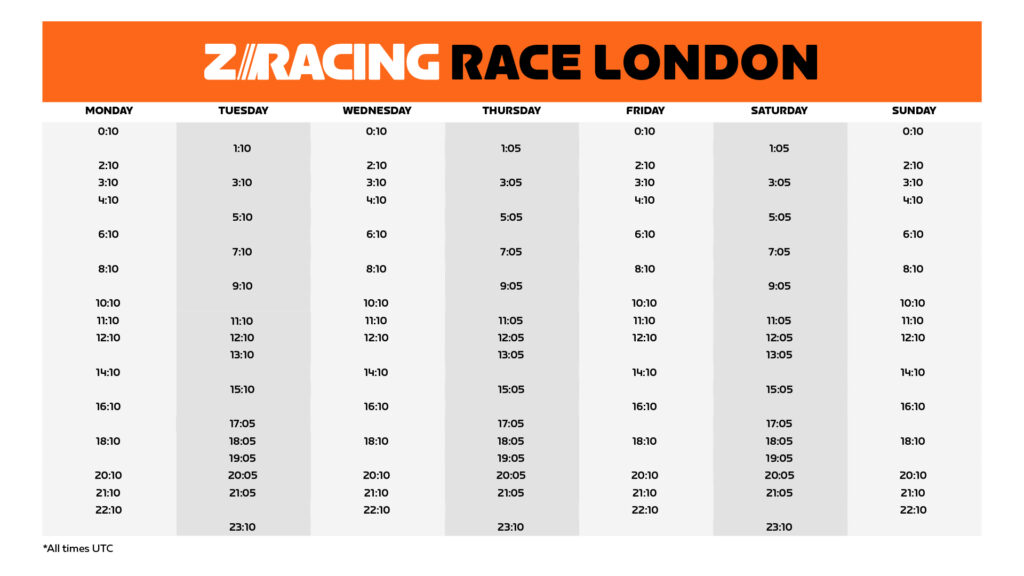 This month's races all take place on Zwift's London map:
See upcoming Race London events >

Series Structure
The ZRacing series consists of monthly sets of weekly races. Each race is scheduled for seven days (beginning 1:10am UTC on Monday and running through to the next Sunday). Timeslots are consistent week to week and month to month.
Races are scheduled ~15 times each day, so there are plenty of available times to find a race.
See upcoming events at zwift.com/events/tag/zracingmar2023
Monthly GC on ZwiftPower
Each monthly set of races has a time-based GC (general classification) which tracks riders' best finishing times for each week's race. The overall winners in each category for the month will be the riders with the lowest overall time for that month's set of races.
See March's GC on ZwiftPower >
With over 100 weekly timeslots available, riders can race each week's event multiple times and try to better their finishing time.
Note: you must use a heart rate monitor and be on a smart trainer, smart bike, or power meter to show up in ZwiftPower results for this series.
If you aren't signed up for ZwiftPower, check out our post How to Sign Up for ZwiftPower (and Why Every Zwifter Should Do It).

Get the Badge
Each month's series has its own achievement badge, which you can unlock by finishing every stage for the month.
One and Done
Zwift has planned these events around the idea of a solid 1-hour workout, so each race should only take around 1 hour to complete, including your warmup and cooldown.
Questions or Comments?
Post below!