Editor's note: Dr. Nick Green is writing a series of posts documenting his winter training progress as he works to drop weight, build power, and be ready to take Strava KOM's when spring rolls around. Browse his past posts here.
---
It's a Saturday that I have to work, so a quick early morning ride is in order. The hour long ride before work averaged a respectable (for me) 178 watts, 33.2 km and 173 metres of elevation. I don't think this is too bad for a little rip just to get the legs moving.
Following a full work day, I had the opportunity to get on the bike again after supper.
Signing into Zwift I happened to see there was a group ride starting in 4 minutes. Billed as a
"Fitness Recruit's Social Ride" with power output of 1.3-1.5 w/kg, I figured it was a good place to dip my toe into the group ride scene.
Harder than Expected
It was nothing short of surprising that I watched a group zip away from the front, leaving me pumping out 3.8 w/kg in order to keep with what became the second group of the break away. The entire ride was an interesting mix of bridging gaps, pounding up hills, hanging on to drafts and generally working a lot harder than expected, especially for the second ride of the day.
Follow the Leader
Here is where I need to apologize to the group leader. Unfortunately I was too busy dripping on my handlebars to think about taking note of her name. She was gracious, even while trying to get the group to come back together–attempts that were ignored by a large number of riders who were pushing way above the ride's planned power output.
Not being familiar with the etiquette of group rides, I spent much of the ride debating about slowing to join the crowd, or continuing to fly through the 30 km. This was compounded by relatively little information from Zwift. It was only after the ride that I figured out the group leader has a marker on the mini-map, and a chevron beside the group leader's name in the 'Riders Close' list. Unfortunately by being dragged along by the power riders I didn't actually see it during the ride.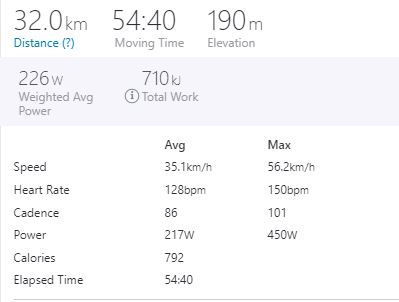 Max heart rate of 150 – not much of a 'social ride when my max is 160.
Notes for Future Reference:
Don't get sucked into the competitive nature of a ride. Honestly I've told myself this 1000 times and fail every time!
Despite the prescribed wattage of a group ride, it is possible to go much harder.
Riding with a group is great fun. Large groups to draft with and the nature of them being spread out on the road can bring some interesting opportunities to push yourself. Of course, this is very similar to a real group road ride.
Apologize to the group leader BEFORE signing out of the ride, regardless of how hard the effort became.
By the time the 30 km ride had finished, the 1.3 – 1.5 w/kg ride had become a 2.43 w/kg effort, with a maximum effort of 5.09 w/kg. The lesson for today: Zwift is close enough to real life to spark the competitive nature, even when it shouldn't!