The latest Zwift update has been announced and is releasing in phases over the next couple of days. Zwift says, "We are continuing to test out a phased rollout approach for select releases in order to offer the best member experience."
This update jumps us up from version 1.34 to 1.39, but Zwift says they're back on their planned release schedule, with updates coming every two weeks.
Let's dig into the details of today's update…
Powerup Rebalancing


In an unexpected but welcome move, Zwift has made changes to 5 of the 7 existing powerups to "improve their effectiveness and usefulness". We'll do a complete post on this soon, but for now, here are the notes from Zwift:
Aero Helmet: no changes.
Draft Truck: increased duration from 30 to 40 seconds and the draft effect will be stronger.
Feather: increased duration from 15 to 30 seconds
Anvil: reduced duration to 15 seconds. Changed the weight addition to be a percentage of rider weight instead of a fixed 50kg in an effort to make it more useful for all riders, with an emphasis on lighter riders. The percentage of weight is not fixed, and is instead derived from a formula that will make it unique to every rider while still providing a useful benefit for riders of all weights.
Burrito: increased duration from 10 to 20 seconds. Changed the behavior to only remove drafting from riders in a cone behind the rider instead of in a radius. The rider using the Burrito will still be able to draft other riders in front of them.
Ghost: increased duration from 10 to 15 seconds. It is no longer possible to use this PowerUp when the rider is less than 400m from the finish line.
Steamroller: no changes.
XP: removed from all competitive events by default. Event Organizers can still have XP PowerUps appear in their event by request.
These all look like smart changes to us. We're especially happy that the Burrito will finally be useful!
Important: these new powerup settings aren't taking effect immediately, but will be taken live by Zwift once the phased rollout of today's update is finished. Zwift estimates this will happen around midday Friday, so this weekend's races should all be using the newly balanced powerups.
See this forum topic for more on Zwift's rebalancing of powerups.
New Pairing Screen Layout
The pairing screen has been revamped, moving "Power Source" and "Controllable" to the top row while your "peripherals" are along the bottom row. The "speed source" box is now removed once you decide to pair a power source.

Overall, these changes make the screen's layout more intuitive and clean.
Notably, "Steering" is now more prominently displayed. We'll talk about that more below…
New Settings Layout
The main settings screen is now organized into two tabs: "Preferences" and "Sound & Display":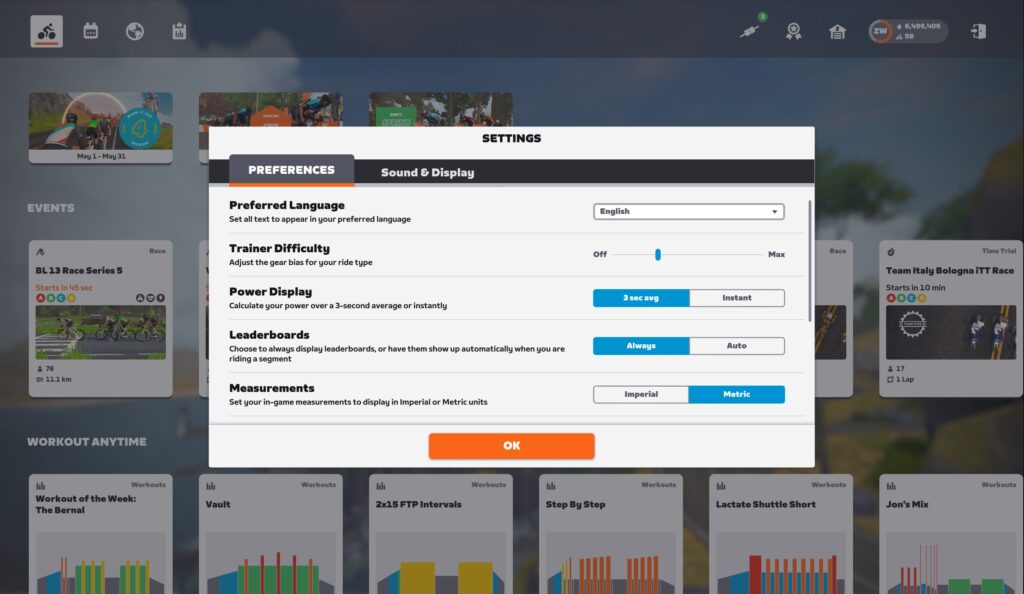 This makes it easier to find the setting you need, and clears room for Zwift to add additional settings in the future.
You'll notice Zwift has added explanatory text below each of the settings, which is a nice touch. (That said, we're not sure Trainer Difficulty's explanation clarifies things: "Adjust the gear bias for your ride type". Huh? We suggest something more like "Adjusts how in-game gradient changes affect your trainer's resistance"… or even the old text, which said "Scale the feel of gradient changes".)
Coffee Stop Coming Soon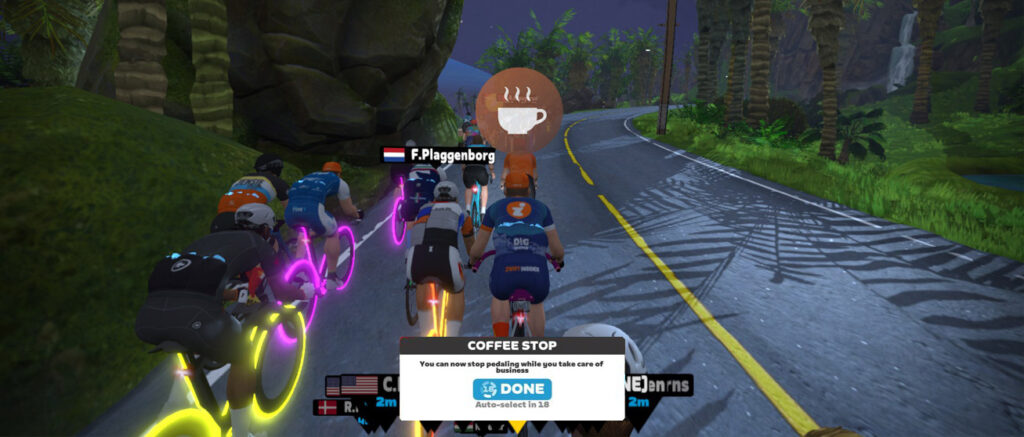 Coffee Stop lets you hop off the bike for a quick break (to grab a towel, hit the loo, refill a bottle, etc) without losing the group you're riding with.
Zwift already announced the Coffee Stop feature as coming soon, and with this update they're putting a date on its release: May 10th!
MacOS Now On Metal
Zwift says, "Starting with version 1.39, we will no longer support OpenGL on macOS. All new versions will only support Metal."
What does this mean for Zwifters? It means all Apple-powered platforms now use Metal as their graphics API on Zwift. Zwift says unifying the graphics API for all Apple-powered platforms will let them improve visual quality for these devices since they don't have to support both the older OpenGL and the newer Metal.
What's Happening with In-Game Steering?
Zwift has supported steering for years, but it's been disabled in most events. With this update, steering is now enabled by default for all events.
Today's release notes also included this: "Repack Ridge is temporarily closed while we work on exciting improvements."
Repack Ridge, if you recall, was singletrack offroad course rolled out to test in-game steering.
Steering taking a prominent position on the pairing screen, being enabled by default for all events, and Repack Ridge being temporarily closed for "exciting improvements" all point to one thing: Zwift is doing something new with steering. What is that exactly? We'll have to wait and see.
More Fixes and Tweaks
A few more fixes were noted in this release:
Changed the location of language settings to the login screen for all devices and added the option to change language in the settings option screen
Fixed a crash that could occur when attempting to spawn a HoloReplay on a segment as the Zwifter approached.
Changed the way HoloReplay names appear on the Riders Nearby List in an effort to make it more clear which HoloReplays are present.
Fixed a bug that would cause HoloReplay settings to not display correctly for routes and segments when the setting to show HoloReplays for routes, segments, or both was changed.
Fixed an issue that would cause the drops multiplier to incorrectly change when disabling the HUD during Pacer Group rides.
Resolved issue with 'Completed Challenge' banner not displaying
Fixed an issue with the entitlement count number displaying behind the garage icon on pause menu
Resolved issue with Wattbike Atom gear display not displaying
Resolved an issue with 'Rode With' lists not displaying
See notes on this update release in the Zwift forum >
Known Bugs/Undocumented Changes In This Update
Apple Watch pairing now works, and 4k resolution is supported on Mac Pro M2 (see video)
Broken routes: Zwift has acknowledged that the following Watopia routes are not working properly: Big Foot Hills, Gran Fondo 2022, Downtown Titans, and Eastern Eight (see this forum topic). Best to avoid these for now if you're trying to get a route badge.
Popup detail text not showing on ride summary power curve chart
Vertical scrollbars not functioning properly in the garage when trying to scroll through items using your mouse in Windows 10.
U-turns now require a long key press of the down arrow to activate via keyboard
Zwifters Nearby sidebar is intermittently jumpy
Wahoo KICKR Bike steering doesn't show up to be paired, but then shows as paired/activated in game
Steering calibration not available for Sterzo Smart
AppleTV users can no longer select/trigger powerups using the touchpad. (Play button still works, though!)
Questions or Comments?
If you spotted any other changes or bugs in the update, please comment below!