Editor's note (May 10, 2023): Coffee Stop is now live on Zwift. Read all about it >
One feature from yesterday's Zwift announcement arriving soon is the "Coffee Stop" – a way to stay with a pack of riders on screen while you take a quick break.
How exactly does it work? Here's what I know!
How Coffee Stops Will Work
We've all been there. I remember riding the Vegan Century one Saturday when I had to pee so bad I used my own bidon on a short descent so I wouldn't get dropped from my fast-moving pack.
The idea behind Zwift's Coffee Stop feature is simple: click a button in the Companion app or action bar and your rider will continue moving at the speed of your group for a specified amount of time. Your avatar keeps pace with the group while you hop off the bike to take care of something quickly.
Here's a video showing how it works:
In some ways it's not a coffee stop at all, since your rider keeps moving and the break isn't long enough to enjoy a coffee anyway. But think of it as a Zwifty version of a quick cafe stop: it lets you hit the loo, grab a snack, shed a few pieces of clothing, etc, without losing your virtual packmates.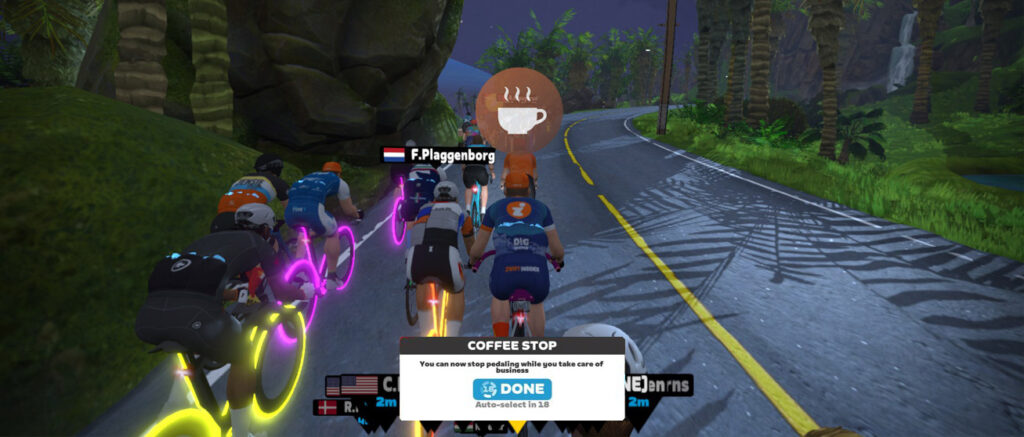 Coffee Stop Rules
In the first 5 minutes of your ride, you can only take one 30-second coffee stop.
You can take one 3-minute Coffee Stop every 30 minutes during the rest of your ride.
Coffee Stop is disabled in the last 5 kilometers of distance-based events and the last 15 minutes of time-based events.
Coffee Stops are not available in any competitive events or workouts.
Finally, to use it, you have to have at least 1 other Zwifter near you going in the same direction.
XP and Distance
Zwift says riders will continue accumulating distance and XP during a Coffee Stop. While this may seem odd at first glance, consider the alternatives:
If you didn't keep accumulating distance, your Strava activity wouldn't match your Zwift activity, and perhaps you wouldn't get credit for finishing the route/segment in Strava or Zwift.
If XP accumulation was paused during your break, you would return to the ride and probably begin accumulating XP at weird increments (portions of km or miles), which would be confusing.
In the end, I don't see a 3-minute break's worth of "free" distance or XP being a big deal, considering the rules Zwift has put in place.
Note: since you're not putting out any watts, you won't accumulate Drops while on break.
About the Visuals
As shown in Zwift's image below, riders taking a Coffee Stop will display the icon over their avatars so other riders know who is on break.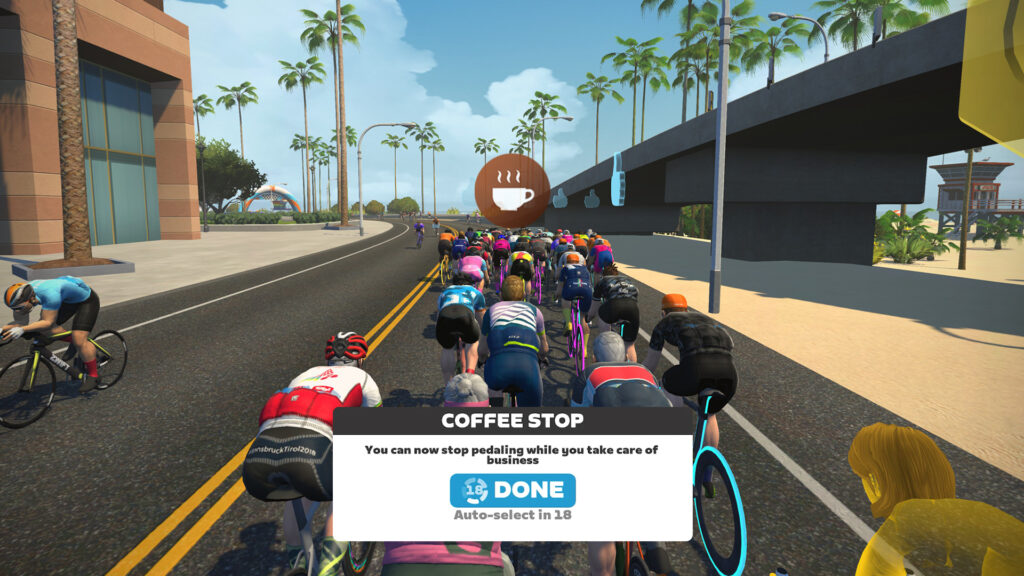 Presumably there's also a timer somewhere on screen which lets you know how much time you've got left before you need to start pedaling again!
Launch Date
Zwift says the Coffee Stop feature is arriving this May.
Wrapping It Up
We've all forgot our sweat towel, or been left with empty bidons 2 hours into a long ride. The Coffee Stop provides a nice quality-of-life upgrade that eliminates those bumps in our virtual road.
Will it be abused? Sure. Some riders will use it just to take a break, even in more competitive group rides like the recent Tour of Watopia. But in the end, those riders are only affecting their own fitness, plus they must weigh the luxury of taking a break with the bitter pill of public humiliation for "Coffee Stop Doping" on Zwift.
Questions or Comments?
Let's be honest: this is really a pee break. Zwift just didn't want to call it as such.
But what do you think? Will it be handy? Got questions or other comments? Share below!