The latest Zwift update is now available on all platforms: Mac, PC, Android, iOS, and AppleTV.
Not sure if your Zwift install is up-to-date? Here's how to check >
This update includes free ridable former Rebel Routes, a couple of new bike frames, homescreen UI updates, and lots of workout localization. Here are the details…
Release the Rebel Routes!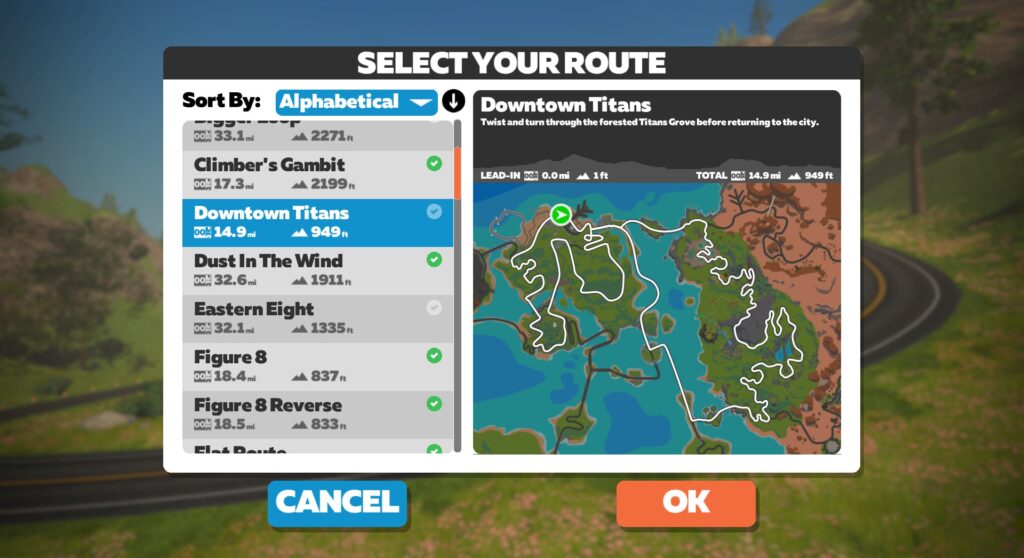 The 5 Rebel Routes which were released for Tour of Watopia are now in-game and available for free riding. We're not gonna lie – it's pretty cool to see routes we designed here at Zwift Insider now available for free rides, for the first time ever!
New Bike Frames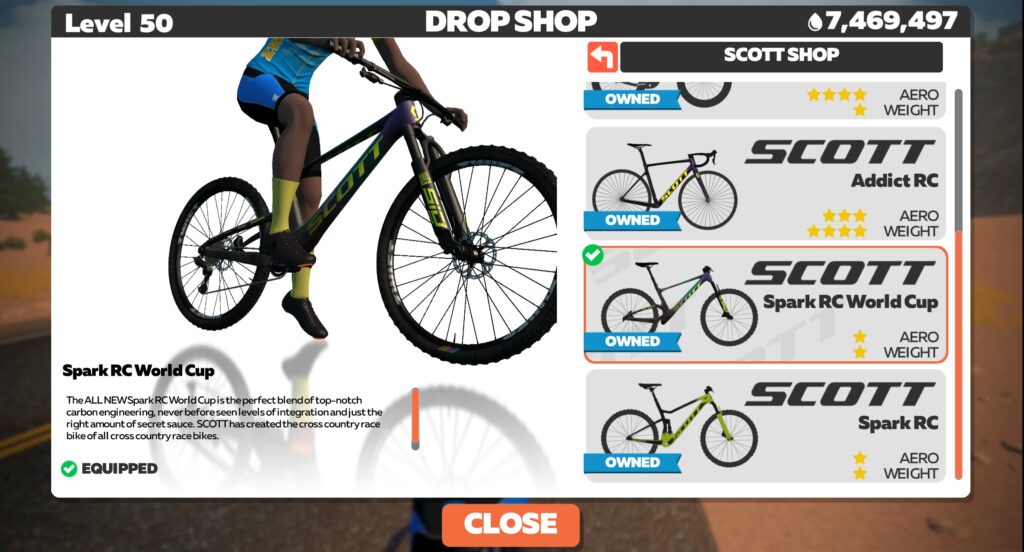 Not included in the update notes, but added to the Drop Shop nonetheless, are two more frames:
Allied Able (gravel): 721,000 Drops, Level 15+ required, rated 2 stars for aero, 3 for weight
Scott Spark RC World Cup (MTB): 745,400 Drops, Level 21+ Required, rated 1 star for aero and weight
Additionally, Zwift tells us they've added the Giant Revolt Advanced and Liv Devote Advanced as event-only frames in this update. We assume these gravel frames are for use in upcoming partner events and will eventually be added to the Drop Shop.
We're testing the Allied and Scott frames now, and will publish results when available.
Chapter2 TOA Frame Nerfed
Zwift included this line in the list of bug fixes for this release: "Fixed an issue causing the Chapter2 TOA frame to show as 4 stars weight instead of 3 stars."
Yup. Zwift has nerfed the Chapter2 TOA, which had become the Tron-beating best all-arounder in game. Its Alpe du Zwift test climb time has gone from 48:54 to 49:03, while its flat time is essentially unchanged.
Related feature request: hopefully Zwift will create a way for Zwifters to sell back items in their garage, or just delete them, or save a handful of "preferred setups", as more and more Zwifters are getting annoyed at the growing list of useless frames in their Zwift garage. Vote up this feature request >
KICKR Direct Connect Enabled for Windows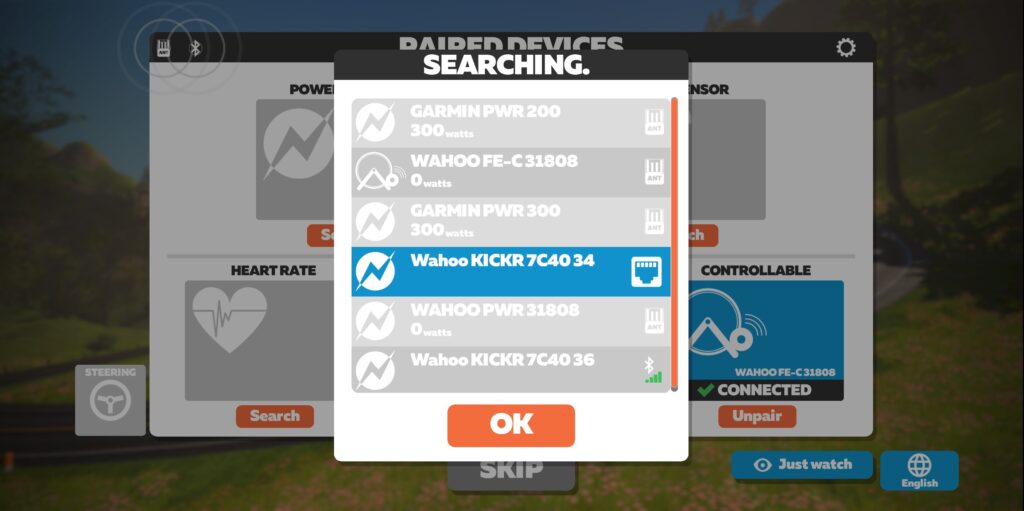 In a separate forum post from Shuji today, Zwift announced that Wahoo KICKR Direct Connect is now enabled for all Zwift platforms. Previously it had been enabled for all platforms except Windows, but as of today we've confirmed it's working for Windows as well.
Read more about Wahoo KICKR Direct Connect and Zwift >
Home Screen UI Update, Rollout Notes
This release includes updates to Zwift's new home screen UI which has been slowly rolling out to PC and Mac users since January.
Today's update includes a "workout anytime" carousel which currently shows the Workout of the Week plus 5 random workouts for the day (Zwift says they plan to make this more intelligent as time goes on). Zwift has also improved the UI so you can select from any course on any world when you do a workout. Another way to ride any world at any time!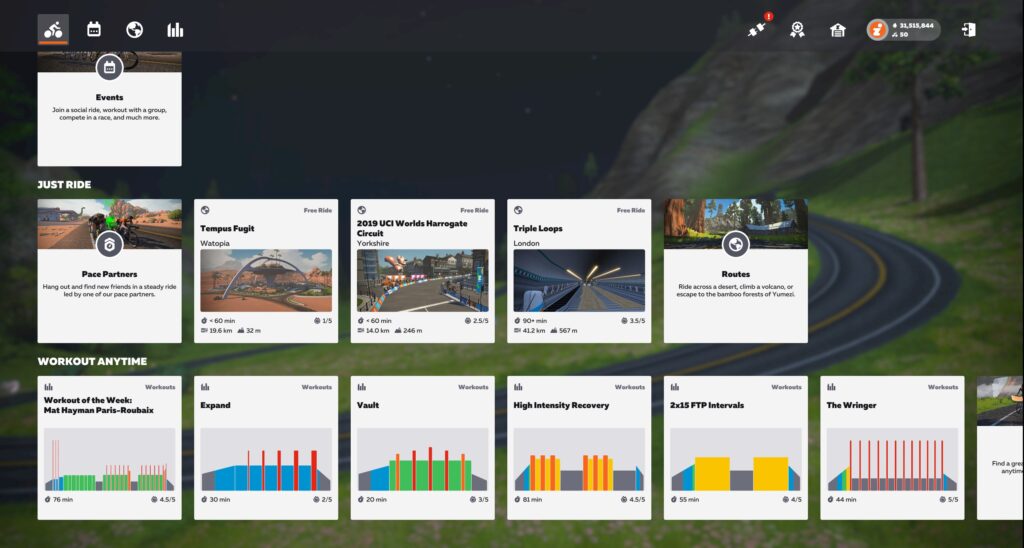 Lastly, you can now filter upcoming events to only show events in your Clubs, using the "Type" dropdown. Unfortunately, this only shows Club events in the next 60 minutes, which isn't terribly useful. Perhaps an event count limit makes more sense than a time limit, eg show the next 20 events (with the ability to click for more) instead of the next 60 minutes of events?
Zwift tells us the new home screen will be quickly rolling out to many more Windows and Mac users in the coming days, with testing now underway for AppleTV, iOS, and Android.
See Zwift forum topic for details and discussion >
Training Plans Available as On-Demand Workouts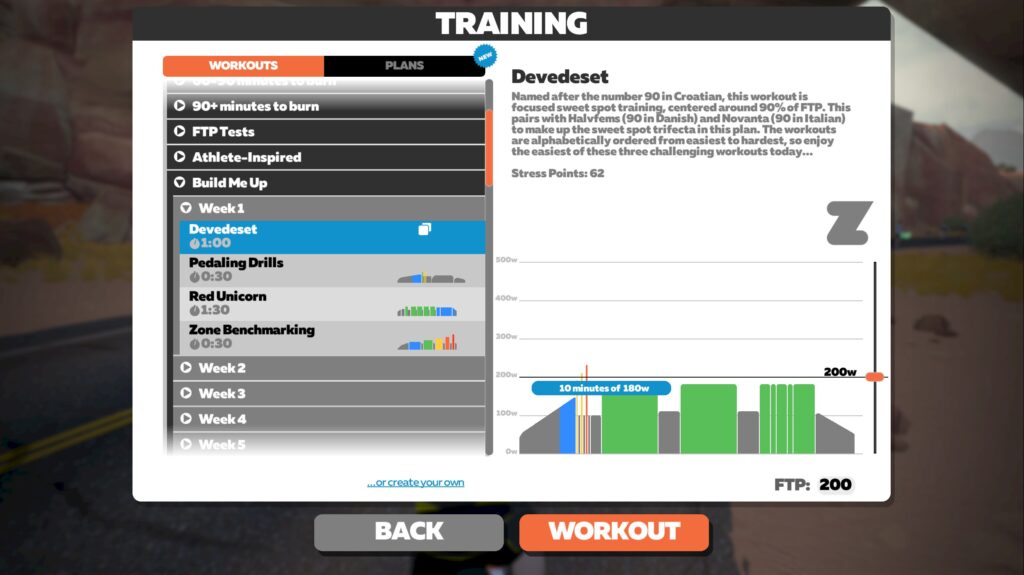 Zwift has been working to put all Training Plan workouts into On-Demand list, so Zwifters can take advantage of these workouts on an ad-hoc basis. These were released in version 1.23.1, but Zwift has updated their folder names so they match the Training Plan titles:
Active Offseason
Back to Fitness
Build Me Up
Crit Crusher
Dirt Destroyer
Fondo
FTP Builder
Gran Fondo
Gravel Grinder
Pebble Pounder
Singletrack Slayer
TT Tune-Up
Zwift Racing
New Workouts of the Week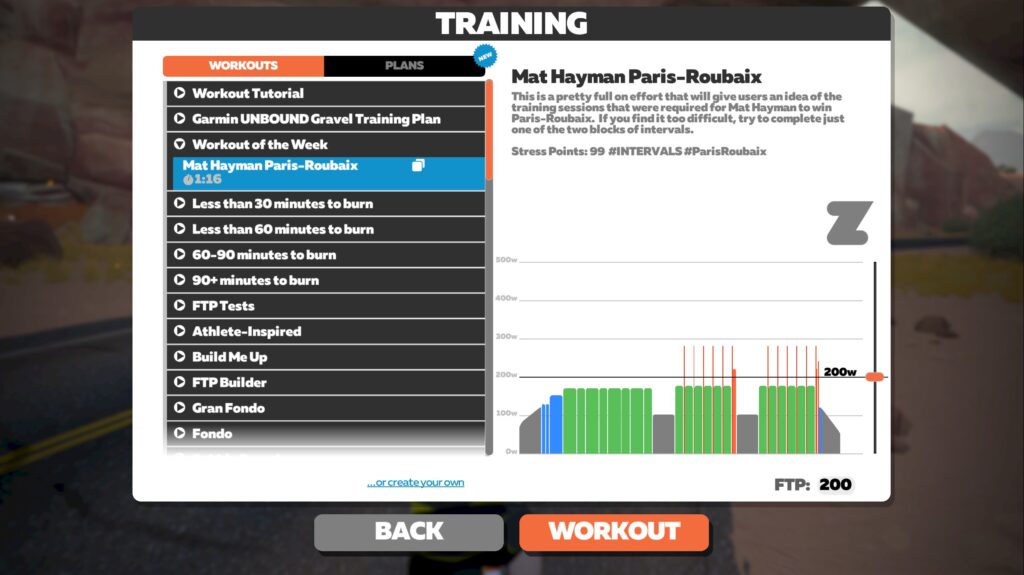 Workouts have been added to the on-demand list for April and May. You can only see the current week's workout, which you can do on your own or in a Wednesday Group Workout. These four workouts are all about gravel:
April 18-24: 'Texaco Hill' Temp
April 25-May 1st: Recipe for Grit
May 2-8: Happy Trails
May 9-15: Dirty Teeth Drills
Workout Localization
Perhaps not a glamorous update, but Zwift continues to localize On-Demand workouts, rolling out 24 workouts in Japanese with this update. Workout of the Week workouts are also now localized into French, German, Spanish, and Japanese.
Lastly, running workouts have begun localization into French, German, Spanish and Japanese. Localized run workouts in this release include 3-2-1, 8x400m Repeats, Broken Tempo, Down and Up the Ladder, Endurance Run, Fartlek 5's, Furtherance, Hill + Tempo #1, Hill + Tempo #2, and Ladder Intervals.
Lazer Helmet Update
The Lazer Bullet helmet was formerly given as one of the prizes atop the Alpe, but it's been upgraded to the new Lazer Vento.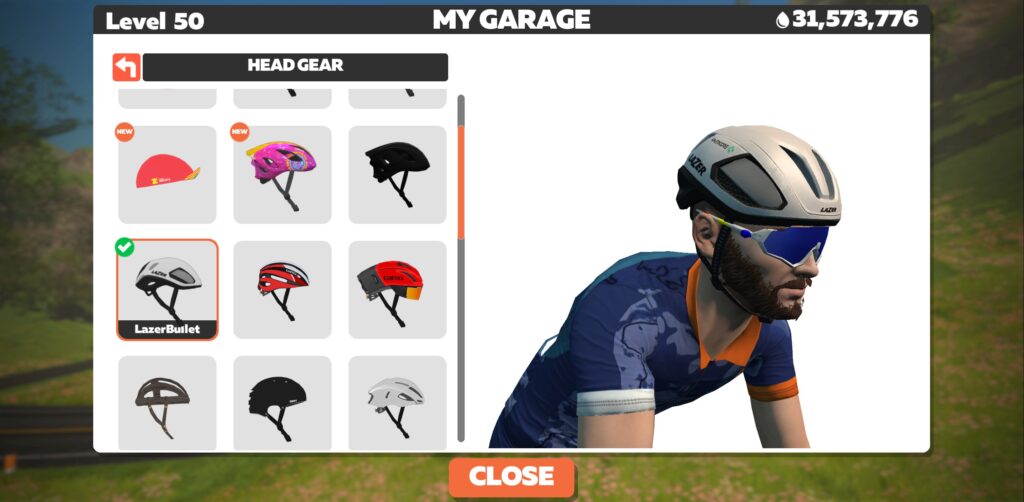 Don't be creeped out, but Zwift managed to sneak into our garages and swap out all of our Bullets for Ventos, too. Thanks, ZHQ!
Bug Fixes and Misc Improvements
Here's Zwift's list of fixes and improvements included in this update, with notes in italic from us:
Running Training Plans now provide access to workouts from past weeks. This added flexibility was rolled out for cycling training plans in a previous update.
Fixed an issue causing some audio elements to be missing when the 3D World Volume slider was set to ON.
Fixed an issue causing the camera to sway in some situations when a Zwifter joins the world.
Fixed an issue on gravel surfaces that caused Tacx road feel to feel a bit more bumpy than it should have.
Fixed an issue that caused the Tour of Watopia cap and shoes to remain equipped after the Tour of Watopia event concluded.
Fixed an issue causing the logo for the ENVE wheelset to appear improperly.
Fixed an issue with the Back to Fitness training plan where the sprints were the wrong duration.
Fixed an issue with the workout text spacing in the Global 2×30 FTP intervals workout.
See Wes Salmon's notes on this update release in the Zwift forum >
Questions or Comments?
If you spotted any other changes or bugs in the update, please comment below!