The latest Zwift update is now available on all platforms! Here are the details…
Not sure if your Zwift install is up-to-date? Here's how to check >
New Bike Frames: Parlee RZ7 and Pinarello Dogma F12
New bike day is always a good day! Zwift has added two new frames to the Drop Shop: Parlee's RZ7 and Pinarello's F12.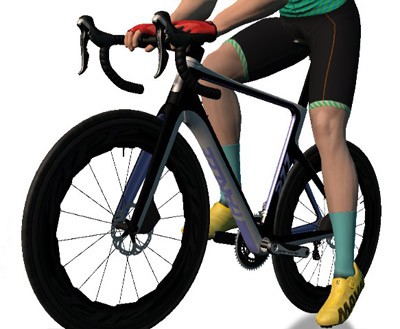 "The Parlee RZ7 is the ultimate blend of stiffness, efficiency, weight and performance all designed to make you faster. Nothing feels better than going faster. And faster feels better on a Parlee RZ7."
"Hanging on your wall, it looks like art. On the road, it feels like a rocket. The F12 carries on the legendary Dogma legacy of performance and artistry. More aero, more powerful, and more beautiful than ever before, the Pinarello Dogma F12 is the ultimate racing bicycle."
We've completed a quick preliminary flat road test with both bikes, and can say they're both pretty zippy, but not quite as fast as any of the frames our "Fastest Frames" list. (The Parlee performs about the same as the Zwift Aero, and the Pinarello is about 4 seconds faster than the Parlee over our ~50 minute test course.
More complete test results on these new frames will be published as soon as we've got them.
Enjoy the Alpe, N00bs!
Zwift has temporarily reduced the level locks on the Jungle and Alpe du Zwift Level 5 and Level 6 respectively. Jon Mayfield's release notes say this has been done, "to allow more people to give it a try."
Apparently Zwift is trying to keep their new users engaged and happy by opening up these restricted portions of Watopia at an earlier point. By my math, most Zwifters could hit level 5 and get access to the Jungle with 6 hours of riding (or less). Alpe access (now level 6) should take 8 hours of riding, possibly closer to 7. So this might be a smart move from Zwift to get newbies to put in more rides quickly – assuming the newbies understand that they'll unlock more routes at these levels.
Birthday and Gender Locks
You can no longer change your birthday (or presumably gender) without direct help from Zwift Support.

Our guess is this change has been put into place prior to further changes involving kids on the platform. These changes may include requested features like a reduced minimum weight for riders below a certain age and more privacy protections for minors.
This also prevents men from changing their gender to join women's only rides, which has been an issue in the past.
The Fence Returns
We wrote about this last week at more length, but Zwift has returned the Ride Leader Fence to the game! Jon's release notes say, "We will be testing this feature in select group rides." Hopefully, the fence will behave in the tests and Zwift will allow it to return to regular use very soon.
Sandbagging Controls?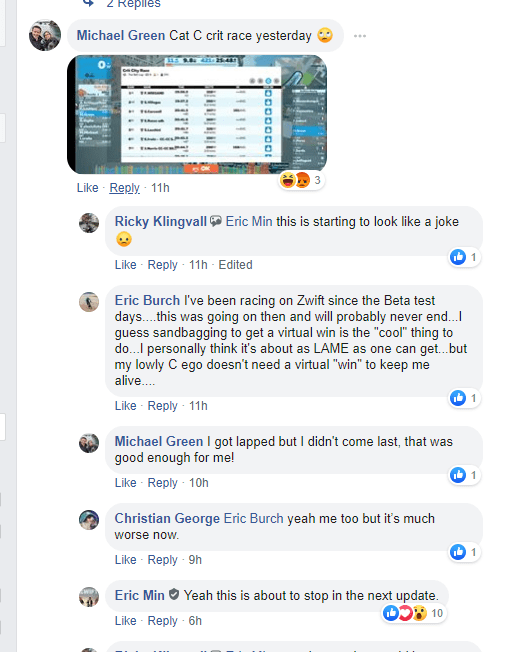 Just a few hours before this update dropped, Eric Min made an interesting comment on a Facebook thread about sandbagging in races, saying "Yeah this is about to stop in the next update". So what does this update include for sandbaggers? That is unclear at this time – Jon's notes don't mention anything, and we're not seeing anything changed in-game.
Our guess is they've included some sandbagger controls which need to be enabled on a per-event basis, and Zwift will be using those in test events soon. They wouldn't want to roll this sort of thing out and have it negatively affect someone's race experience.
Back when I wrote my first post about enforcing race categories, ZwiftHQ told me their plans were to "implement post-event hiding of riders who race without heart rate or use zPower (assuming the event is set up to disallow such riders)." That was 3 months ago, though, and since then Eric Min has talked about "ghosting" sandbaggers in races so they're hidden from other racers but can still complete the event for their own enjoyment.
Perhaps this update includes some mix of those features? Hard to say. Hopefully we'll find out more about this soon, because racers are clamoring for it!
More Changes
Here are the other changes noted in this release:
Added support for upcoming special events
Added support for April Ride and April Run mission
Updated new user tutorials for certain user types
New users are now prompted to customize their avatar during first ride or run
Bluetooth FTMS spin down re-enabled for certain trainers
Read/discuss Jon Mayfield's release notes >
What About the UI and Clubs?
Nothing in Jon's release notes mentions the much-awaited UI update or Clubs functionality. So what's going on with those? Here's what we know:
Rumor has it that the new UI is scheduled to roll out on AppleTV in another couple of weeks. If you recall, the plan is for AppleTV first, since it's the toughest platform in terms of UI design. Rollouts to other platforms will follow afterward, although the timeline for these is unclear.
ZwiftHQ has assured us that Clubs functionality is moving forward as planned, and we will see some concrete news on it early next week!
Questions or Comments?
Post below!