Today Zwift shared "This Season on Zwift": a list of new features and events planned through the end of 2023. There is much to discuss here, so we will begin by publishing Zwift's full press release.
Some of the content in the PR has already been covered in detailed posts here on Zwift Insider, including Pretzelfest and Zwift Racing Score. But most of what's below hasn't yet been covered on Zwift Insider due to Zwift's September 13 media embargo.
We plan to release more in-depth posts focused on these topics in the coming hours and days, digging into the details you won't find in a press release. Watch this space.
Without further ado, here's Zwift's full "This Season on Zwift" press release.
---
EXPLORE
New Roads in Watopia – Coming in October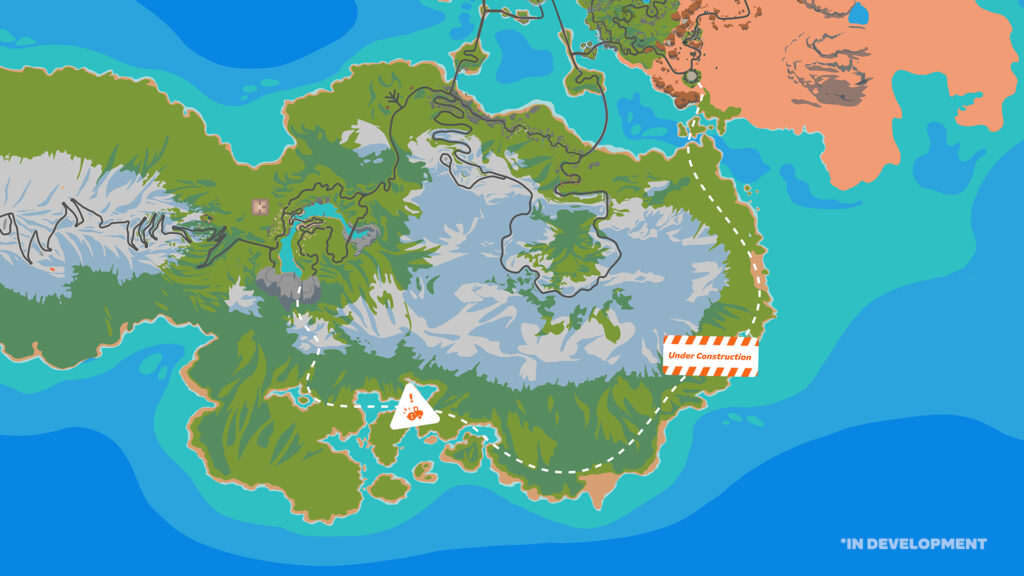 Watopia, Zwift's most popular cycling utopia, is getting 19 kilometers of new roads, the first Watopia expansion since 2019. Over the last few years, Zwifters have enjoyed the launch of new worlds, including France, Yorkshire, Scotland and Makuri Islands. Even with the option of new maps, Watopia's fantastical fitness playground remains Zwift's most popular cycling playground. This expansion adds a new coastal expressway that brings cyclists from Fuego Flats to the Mayan Jungle, bypassing the Epic KOM.
The new roads are flat and fast, and make several key connections, enabling Zwifters to enjoy some of the longest routes available in Watopia. There are eight new routes ranging up to 48 kilometers in length, allowing Zwifters to complete longer rides while enjoying the varied scenery in several distinct environments along Watopia's coast.
Tour of Watopia – Coming October 2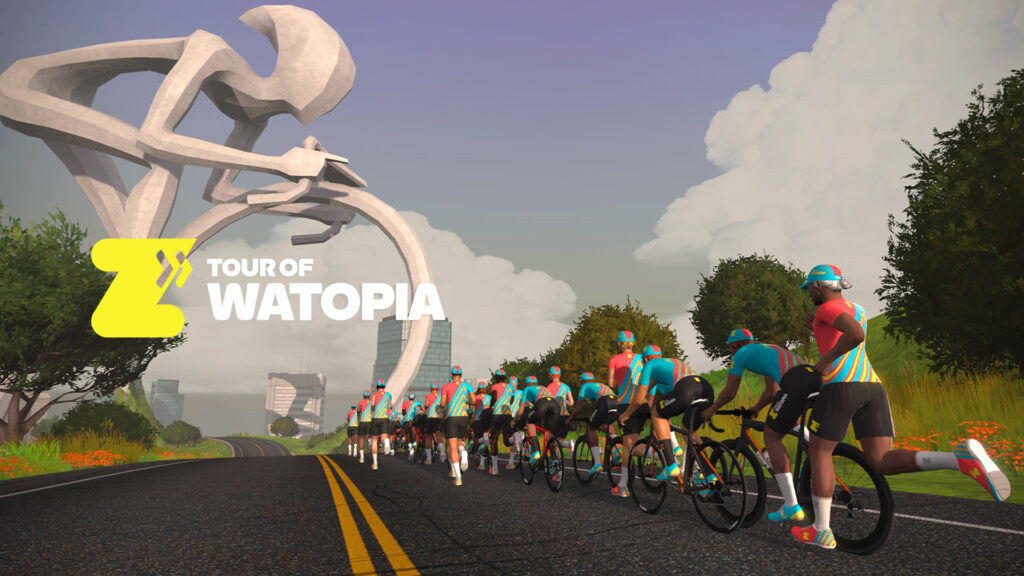 Joining the Tour of Watopia will give Zwifters a powerful reason to ride Zwift: it's the only opportunity of the year to earn double XP, level up faster, and earn exclusive unlocks along the way. Now earlier in the year, the 2023 Tour of Watopia has five stages, and they're all available on-demand. Zwifters can tackle each stage in a variety of ways, to suit each cyclist's preferred way to zwift, whether that's riding solo, joining a Club Ride, a MeetUp with friends, or via a Group Ride or Group Workout, the Tour of Watopia is sure to bring double the reward.
This year, Stage 5 will give Zwifters a chance to experience the latest Watopia expansion!
Registration opens on September 25.
Climb Portal Updates – Coming this fall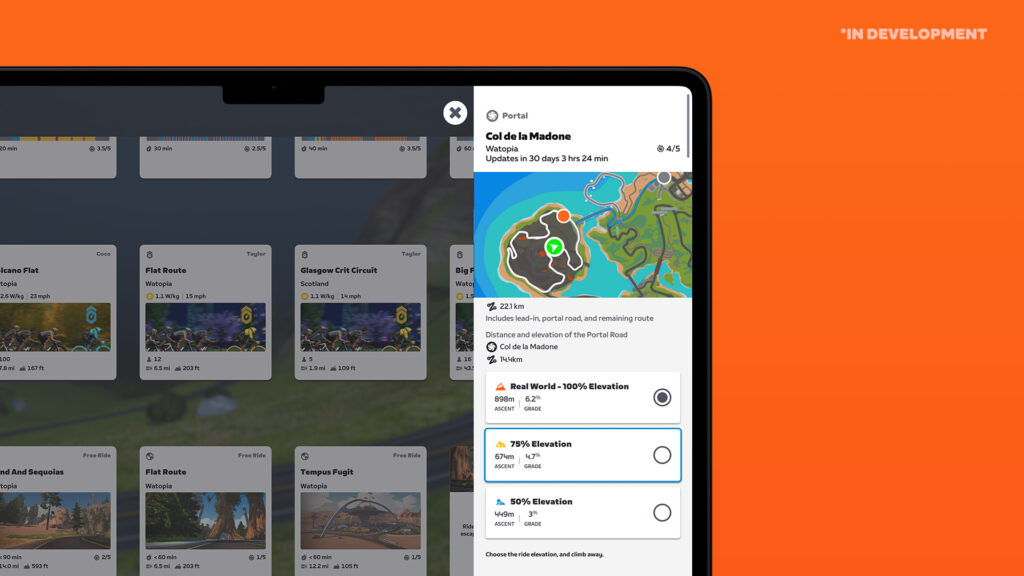 When Zwift first opened the Climb Portal in July, it quickly became one of the Zwift community's favorite places to ride, with one in five Zwifters tackling gamified versions of real-world climbs, and 88% of all Zwifters who started a climb making it to the summit – no mean feat considering climbs have included the legendary climbs such as the Col du Tourmalet and Col d'Aspin. These were just two of the famous climbs included in the Tour de France and Tour de France Femmes Avec Zwift.
Starting this Fall, Zwifters will be able to scale the difficulty of the climbs they're tackling. When entering the Climb Portal, Zwifters will be offered the choice to tackle a realistic replica of the climb, as they do today, or scale the climb to 50% or 75% of the original, allowing cyclists to choose a difficulty that matches their ambition and schedule. Of course, those looking for the greatest challenge can climb all three versions!
Also starting this Fall, the Climb Portal entrance located in Watopia will bring Zwifters to a rotating selection of climbs, offering more variety in the climbs available and lots of reasons to check out the portal every week. The France portal will feature a "climb of the month," giving the Zwift community the chance to ascend famed climbs together.
Zwift Ride Series: Pretzelfest – Begins September 4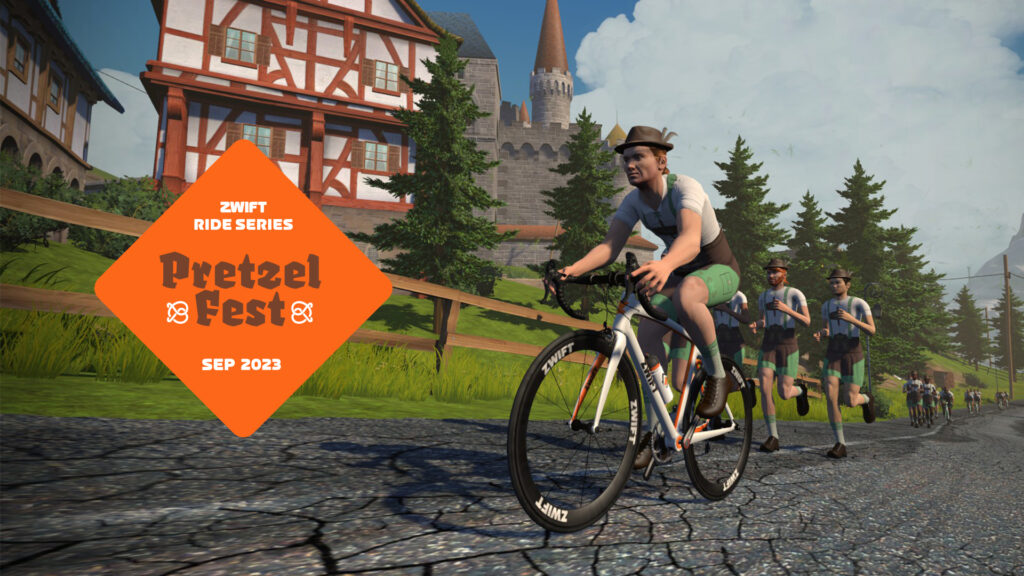 The Zwift Ride Series gives you a new reason to ride each month, with a new theme and a new chance to join the fun!
In September, join Pretzelfest and enjoy the routes that will put you in the Oktoberfest spirit. The series will consist of four stages between September 4 and October 1. Complete all four stages to unlock the Lederhosen kit, just in time for the real-world Oktoberfest, a festival that dates back to 1887.
TRAIN
Zwift Companion App Update: Workout Discovery – Coming in November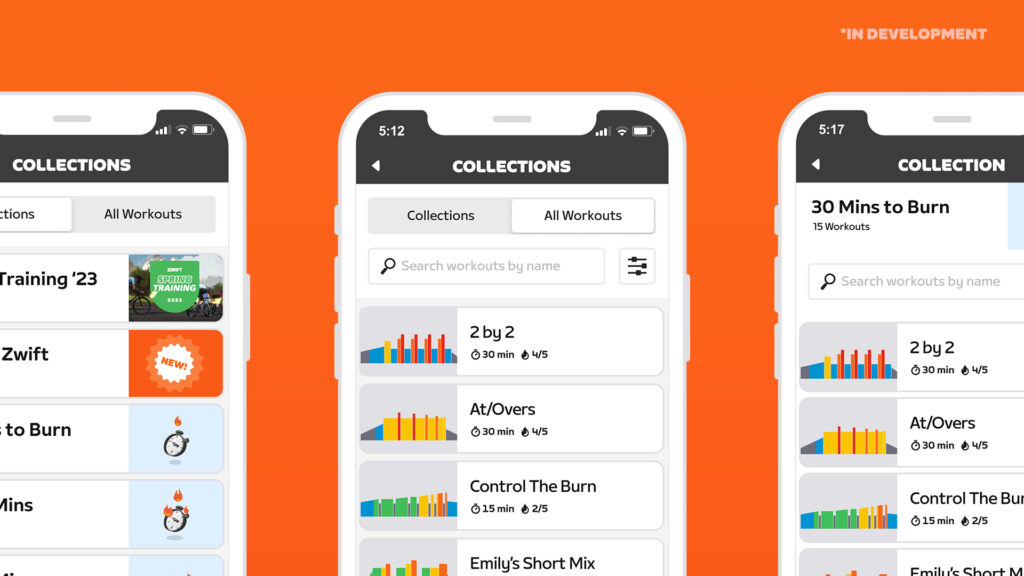 Not sure what workout to do? An update to the Zwift Companion App will make it easier to explore Zwift's entire library of workouts before launching your Zwift app. You can review all the workouts available and pick out the ones that fit your fitness goals and schedule. That way, when you get on the bike, you know exactly what workout you want to tackle and you can get right to training when you're ready to get on Zwfit!
Zwift Academy – November 6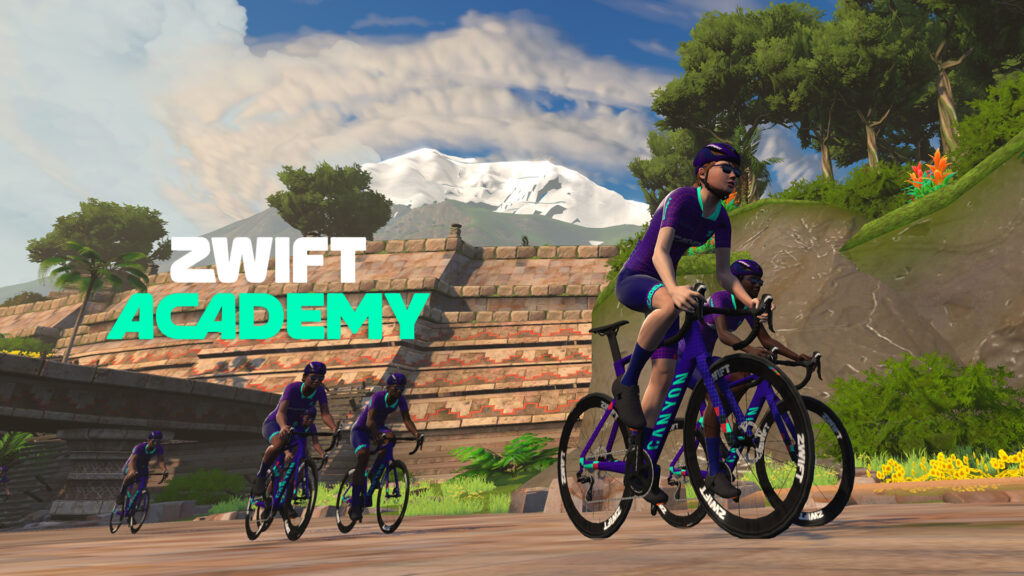 Zwift Academy is back and ready to challenge all cyclists to improve their fitness while competing for a chance to join a professional cycling team! Held in November this year, the annual program comes at the perfect time of year to get on Zwift. This year's academy challenges Zwifters to complete six workouts created by Dig Deep Coaching, as well as two Zwift races.
Complete the program to earn the in-game Zwift Academy kit, an in-game Zwift Academy Canyon Aeroad paint job, and a chance to earn a pro contract with CANYON//SRAM or Alpecin-Deceuninck for the top-performing female and male.
Women's Training Club – Live now!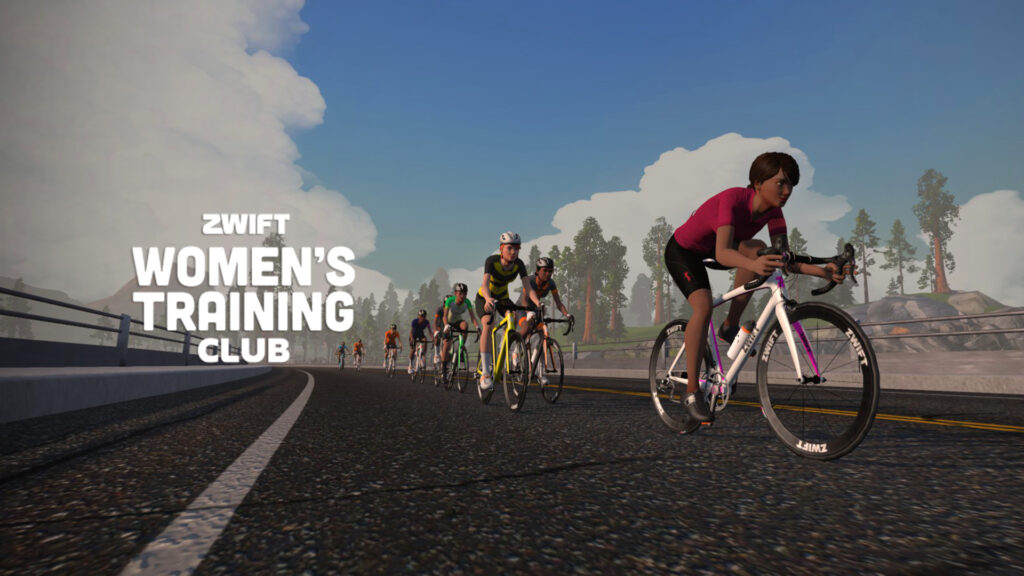 To help women on Zwift stay motivated and get more out of every ride, we've created the Women's Training Club! Women are invited to train as a community, take part in regularly scheduled group workouts and rides for training and recovery, all with guidance from the best female coaches.
The club will host structured training designed by world-class coaches like three-time Olympic gold medalist Kristin Armstrong. A consistent weekly schedule of group workouts and recovery rides will keep you coming back for rides, while the club chat will connect you with a women's cycling community and ensure that you get the most out of every ride with tips and advice from leading cycling experts.
Join the club today to learn about and join all the upcoming events and rides planned for this supportive, fun new women's group.
COMPETE
Zwift Racing – All Fall!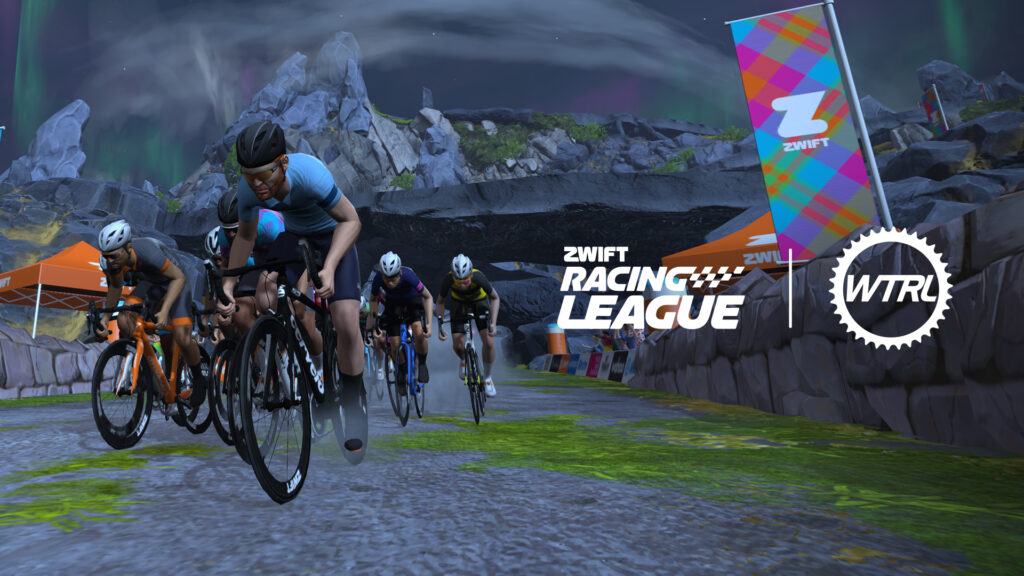 Zwift is the best place for challenging races that help you gain fitness, and fit into your busy fall schedule. This season, we're excited to offer Zwifters two ways to race:
Zwift Racing League will offer team racing on Tuesdays this fall. There are more teams signed up than ever, promising fun, fast, and challenging racing.
ZRacing delivers a new kind of race each month, giving Zwifters new ways to experience racing while using the excitement of a competitive environment to motivate you to ride each week.
Zwift Racing Score – Coming in late November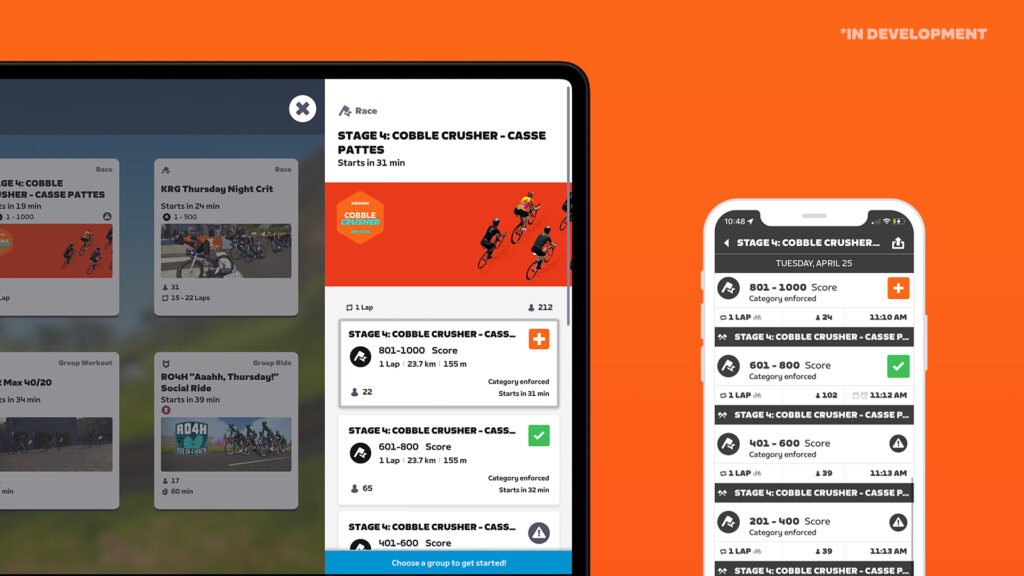 Zwift is the perfect tool for cyclists to improve their fitness, and the new Zwift Racing Score gives Zwifters a new yardstick to measure their progress while also providing an incentive to improve their Zwift racing skills as they get faster.
This new metric for Zwifters' racing results takes several factors into consideration: power, race results, and Zwift skills. Those factors combine to rank Zwifters' overall racing skill and help them find the most evenly-matched competition. Racing Score challenges you to race more and hone your racecraft; the more you race, the more accurate your score will be!
Zwift Racing Score will be updated after each race, and is determined by final finish position and field strength. The score becomes more accurate with more results.
The numerical scale of Zwift Racing Score makes it easier to pick the right event or group to race with. While not an outright replacement for Pace Group categories (A-D), Scored Races will become popular as Zwifters see their Racing Score improve as they race more and hone their fitness and skills!
Play Beta: Crit City Gamification – Coming this fall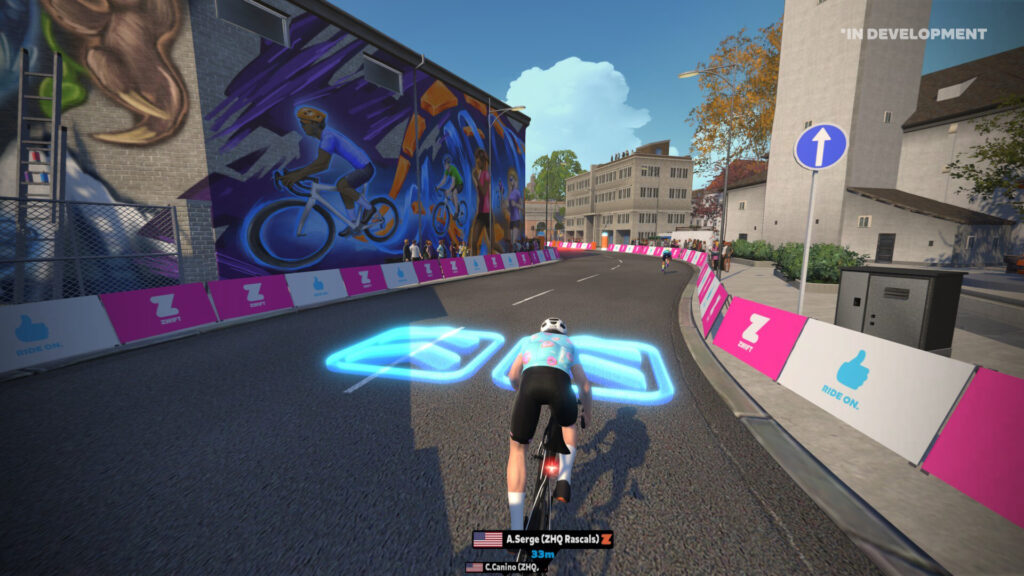 Zwift Play Beta experience continues to evolve this fall with new steering experiments on Zwift. In the coming months, Zwift plans to unveil new ways to enjoy the fun and challenge of racing on Zwift, making use of the Zwift Play's steering and braking controls. This fall, the Play Beta will reach Crit City, where we've added boost pads and hazards to select events. In steering-enabled races, Zwifters will need to master their bike handling skills to not only choose the best racing line as they navigate the full width of the road, but also to navigate their avatar through a maze of hazards and sneak every bit of advantage they can find via the boost pads to win.
Optimized for Zwift Play, Zwifters can enjoy gamified racing in Crit City with Zwift Play or any compatible steering device.
Play Beta: Repack Rush Multiplayer Mode – Coming this fall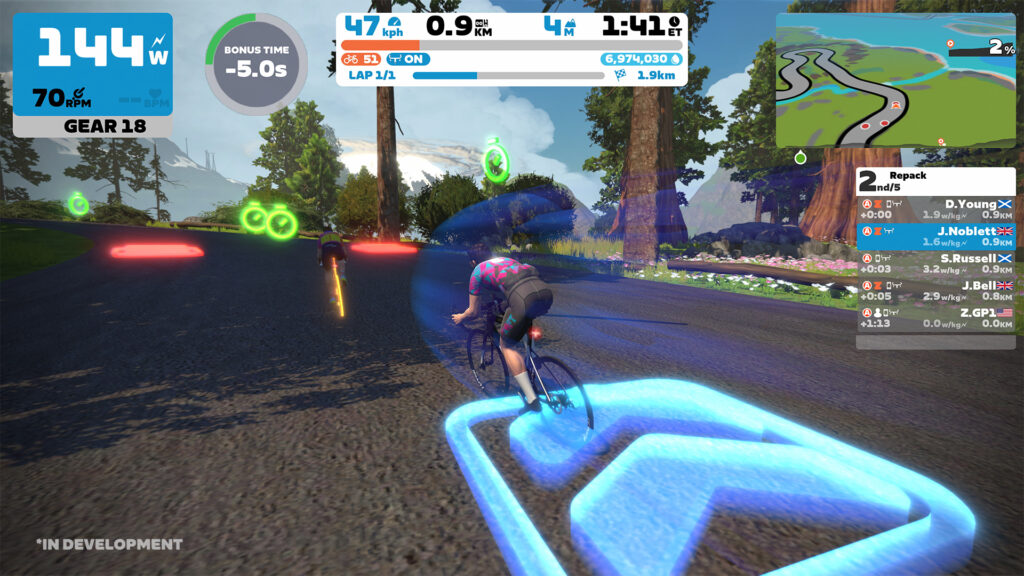 Also part of the Play Beta experience that makes use of the Zwift Play, Repack Rush is a completely new, experimental Zwift racing experience. Debuted this summer as a map for solo time trials, you can now experience Repack Rush Event Mode to test your downhill speed and Zwift steering and braking skills against other riders in a multiplayer environment. In addition to the boost pads and hazards, Zwifters can also collect time deductions. With other riders to avoid, you'll need to think more carefully about the line you take. Zwifters will want to ride Repack regularly to hone their skills!
This new Zwift experience is a game of skill and tactics. In multiplayer mode, it's the Zwifter with the fastest time – after deductions – who wins the race. You'll need a few runs to refine your line and tactics!
Enjoy Repack Rush Multiplayer Mode with Zwift Play or any compatible steering device.
Zwift Hub Now Comes With One Year of Zwift – Available September 13

Last year, Zwift launched the Zwift Hub in order to make it easier and more affordable to get on Zwift. To offer even more value, Zwift Hub now comes with a year of Zwift. This new package will simplify the process of getting onto Zwift, and enable cyclists to enjoy the benefits of Zwifting year-round.
Hub bundles are available in the United States, UK, and EU from Zwift.com for $599/€599/£549, including one year of Zwift and your choice of cassette: 8-, 9-, 10-, 11-, or 12-speed.
Questions or Comments?
What do you think of Zwift's plans? Does anything in particular stand out as exciting? Is there something you feel Zwift missed? Share below!