Update: Zwift announced on September 12 that they're taking Zwift Racing Score offline while they work on improvements. Read the forum post >
Zwift just announced the public launch of their "Racing Score" metric – a single number meant to rank racers based on their finishing position in Zwift race events. How does it work, and why is it important? Read below to find out!
What Is It?
Simply put: Zwift's new Racing Score metric is a single number meant to rank racers based on their best performances in recent race events. A 0-1000 scale is used, with higher scores being better.
In the future, this number will be used to group racers into categories. But for now, it's just a number on your profile.
How Is It Calculated?
If you're familiar with how ZwiftPower calculates rider rankings, Racing Score will be easy to grasp since it's based on the same inputs. The only difference is that Racing Score uses a 0-1000 scale (with a higher score being better) while ZwiftPower uses a 0-600 scale (with a lower score being better).
Without getting too deep in the math weeds (you can do that here), each time you finish a Zwift race where scoring is enabled, you will receive a result/score for that event. This score is computed based on three factors:
Race Quality: determined by the five highest-ranked finishers in the first ten places of the race
Points Per Place: determined by field size
Your Finishing Position: the higher your finish, the higher your result
Your overall Racing Score is the average of your 5 best race results in the past 90 days, but it's important to note that not all races on Zwift will be "scored" events (more on that below).
Finding Your Racing Score
Your Racing Score is displayed in the Companion app, in game, on your Zwift.com profile (click "My Profile" on zwift.com/feed), and under your ZwiftPower profile: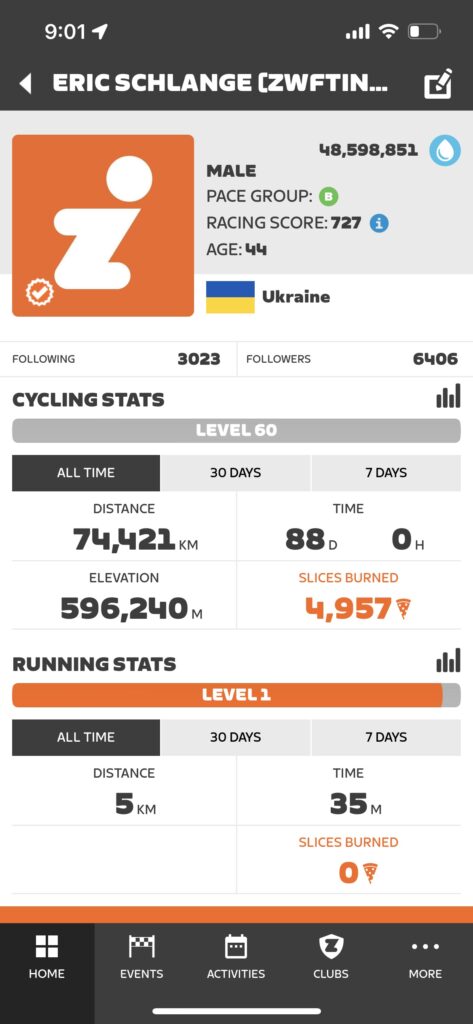 Your score is private (only visible to you) in Companion, in game, and at My Profile at Zwift.com. If you are signed up for ZwiftPower, your score is visible to any ZwiftPower user.
Scored Events
Zwift has been calculating race results in the background for months, so your Racing Score today is based on your best race results in the last 90 days. Through June 29, 2023, all race events will be used to compute your Racing Score. But from June 30 onward, only specific races will have their results scored. Specifically, beginning June 30, only Zwift's ZRacing monthly races will be scored events.
Why is Zwift only scoring certain races for now? Two reasons:
Racing Score is only based on Zwift results and not ZwiftPower results, so any race that uses custom rules like points would have a disparity between Zwift results and final ZwiftPower results, resulting in a Racing Score that isn't accurate.
Zwift doesn't have the UI to indicate which races are being scored, so they wanted to pick a very obvious set of races as scored events.
Zwift says, "…we will gradually make more races scored as time progresses. We will communicate which other races will be included in the score calculation."
Provisional Race Score
Zwift is also calculating a "provisional race score" based on your best 5-minute power in the last 90 days. This provisional score isn't visible, but is used in the background if you haven't finished 5+ races in the last 90 days.
If you haven't done any races in the last 90 days, your Racing Score will show up as — or 0. In this case, if you were to sign up for a race that uses Racing Score for categories (none currently exist), your provisional score would be used to determine your category.
If you've finished 1-4 races in the last 90 days your Racing Score will be visible, but Zwift will "fill in" any missing races with your provisional race score. This prevents your actual race results from being weighted higher than they should be.
Results-Based Categorization
The real reason Zwift is calculating Racing Score is to enable results-based categorization. This is a very big deal, and something Zwifters have been wanting for years!
Race categories on Zwift have generally been based on power numbers. But that's not how bike racing works, as it would remove the element of skill from categorization.
In the future, races on Zwift will have their categories based on Racing Score, not power. So you might see something like this (note that these are example numbers I made up – I'm doubt these would be used for actual implementation):
A: 749-1000
B: 500-749
C: 250-499
D: Below 250
For now, though, race categorization will not change, with most races using categories based on Category Enforcement pace groups.
Coming Next
Our contacts at Zwift have been quick to stress that this is not the final product. In keeping with the fresh "ready-fire-aim" approach we've been seeing from Zwift lately, they shipped Racing Score knowing it would evolve in the next few months before Zwift's big racing season begins.
What will be changed in the coming months? Only time will tell, but here are some ways Racing Score may be built out so it's more useful and effective:
In-game results: show your race result score at the end of each race you finish
Score details: which 5 races are being used to calculate my current Racing Score? A quick link to each event from my Zwift.com profile would be welcome.
Rider rankings: Zwifters will want to see global rider rankings, perhaps similar to what ZwiftPower does. This could be expanded to rank riders by country, age group, gender, etc. Team rankings could also be calculated.
Email congrats: finish a race that boosts your Racing Score? Get a pat on the back from Zwift, with an email that includes your new score.
Formula tweaks: the Racing Score forum topic has already lit up with negative feedback from racers wanting Zwift to use a different formula for computing Racing Score. Would it be better to use a formula like ZwiftRacing.app? We won't get into that here, but we'll say different ranking models have different strengths and weaknesses and accomplish different goals. Zwift may need to tweak the Racing Score formula before it feels like a major improvement to power-based categorization.
Results-Based Race Categories: if Racing Score accurately represents your abilities, then using it to determine your event category should lead to better racing. We're looking forward to this!
Data for Race Organizers: before organizers can decide which Racing Score "windows" to use for their races, they'll need to see stats nicely summarizing the Racing Scores of active Zwift users. A chart or two would suffice…
Questions or Comments?
Check out Zwift's FAQ Support Page on this topic if you have questions. You can also share questions and thoughts below!