Recently the HISP Club announced their "Tour de Hisp" – a 13-stage daily tour running August 15-28. Here are all the details!
Points System
This is a points-based stage race. Each stage offers points for sprint and/or KOM segments, as well as finishing position. In an inventive twist, point values are partially determined by the difficulty of the stage or segment, so for example first place on Ven-Top (stage 10) earns you 100 points, while first place on Triple Flat Loops (stage 11) only earns you 30 points.
See overall information on the points system on the Tour's homepage. Points allocated for each stage can be found on the stages page.
Stage and Schedule Details
Each day's stage is run at two different times:
8:15am UTC/4:15am EDT/1:15am PDT
5:15pm UTC/1:15pm EDT/10:15am PDT
You can race whatever time you'd like, or race both if you're feeling brave! Your best points result on the day will be used for your day's total.
See upcoming Tour de Hisp events at zwift.com/events/tag/tourdehisp
How to Sign Up
Sign up for Tour de Hisp events like you would any other Zwift event – online or via the Companion app.
See upcoming Tour de Hisp events at zwift.com/events/tag/tourdehisp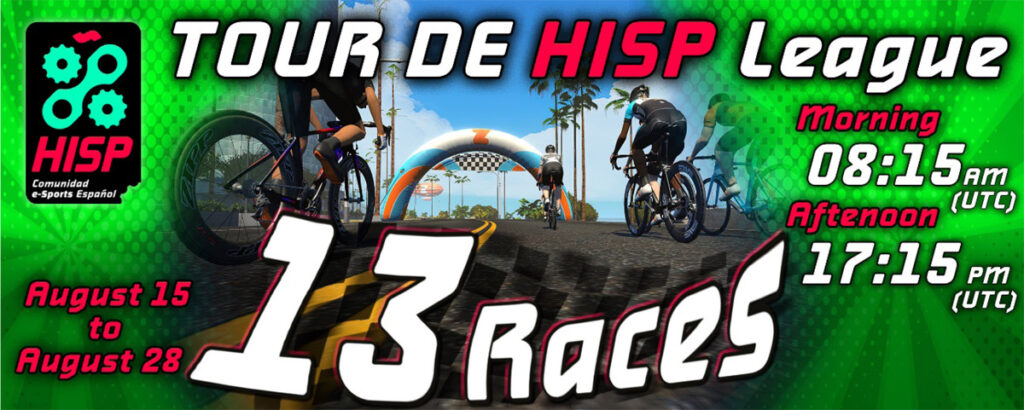 Rules
Heart rate monitors are mandatory
Events use Zwift's Category Enforcement to enforce a minimum category for each rider
ZwiftPower registration is required
You must finish at least 7 races to be eligible for overall podiums and prizes
Results on ZwiftPower
Find the overall Tour's results on their ZwiftPower League page.
Questions or Comments?
Share below!