OK, let's get this out of the way: I collect badges and in game items.
I've got 630+ Strava challenges complete and more Zwift kit in my garage than I care to count. However, there is no such thing as enough.
Here begins my tale…
I'm primarily a cyclist, at the top end of B cat (best 20min power 4.02 w/kg) but run a little as well (I once did a 10k in 42 minutes, but those days are behind me and nowadays a 50-55 min 10k is good).
Normally I ride more outside than indoors, reserving Zwift for when I'm on call with work or when the weather is so bad (read icy) that cycling outdoors isn't a good idea. However, last March, all this changed and I switched to mainly indoor cycling thanks to Covid lockdowns and concerns.
So when this year's Tour de Zwift came around, it was my opportunity to actually complete it (the ride version, anyway) for once. I saw there was a run version too, but discounted it as I was mainly focused on the ride.
Roll forward a little to the 8th Feb. I completed the last TdZ ride (Park Perimeter Loop) in 91st place (on Zwiftpower), unlocked the kit (you unlock the socks after event 3 and the cap after event 6 but the kit only comes after all the events) and looked around to see what else was going on.
I normally run twice a week (we are lucky enough to have a treadmill at home) so when I looked at what was on offer on the 11th Feb, one of the runs in Zwifthacks's excellent Events page was the TdZ Run stage 8.
OK, I thought, I'll do that! It's around 5k (I only chose the shorter run as the longer one wouldn't have fit into the time I had available, never mind my running endurance levels).
Event completed. One tick in the box. A thought arises, seemingly unbidden. Aren't they about to run a makeup week for this? Run kit unlocks are few and far between, and at level 8 (running) all I had to put on my head was the sun visor or the orange sweat band. I quite fancy the cap. OK, that means I have to do at least 6 runs to get it. Check Zwifthacks Events again. Hmm, seems like it might be possible, although the run makeup events were far fewer in number than the ride events.
Complicating this was the neverending quest for Strava challenge completion – a German challenge required 30 mins of exercise every day in Feb, a Japan Strava Club Ride challenge required 4×30 minute rides in a week. All doable but requiring time management.
Stage set – let's do this. Definitely not going to bother completing the whole thing, that would be madness, and I don't really want the shirt or shorts anyway. Right? Right.
Saturday 13th Feb arrives. I'd done the Chasing Cancellara time trial in the morning (08:30), and had got within 25 seconds of Spartacus's time, so a slow roll through Richmond for the Fan Flats stage was run at 17:00, as I didn't have a lot in the legs. I was glad that Zwift doesn't do inclines, as that course finished up the Cobbled Climbs.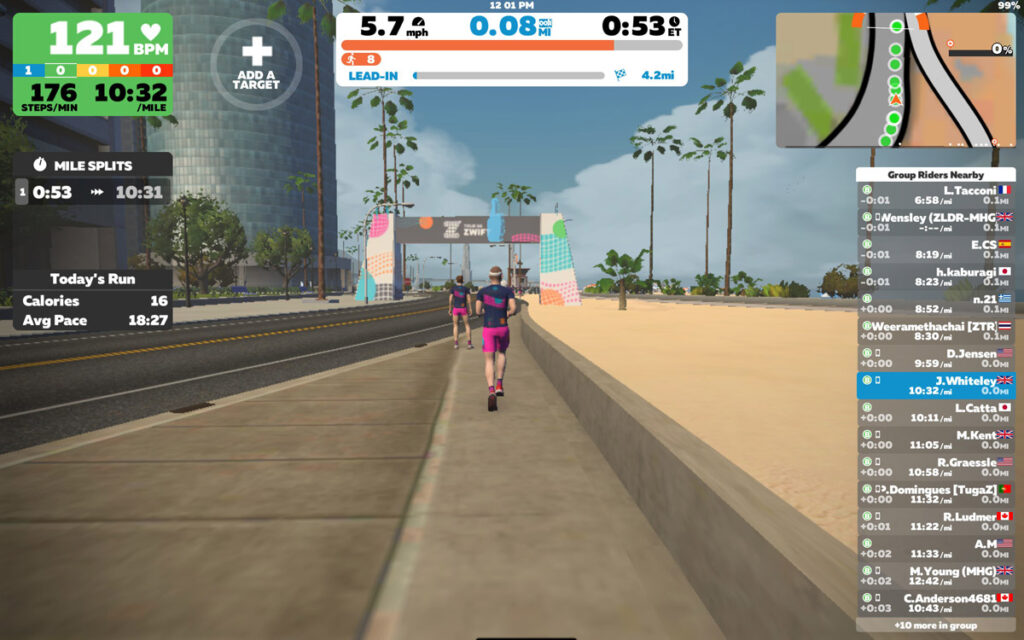 However, a kick in the teeth had arrived earlier that day. I'd been very pleased with my time on Stage 8, averaging 8:56/mile around Central Park, but had found that the Zwift (formerly Milestone) run pod wasn't responding in a linear way to speed increases. I'd heard good things about the Stryd pod so I'd ordered one and it arrived on the 13th. A quick test told me that not only was the treadmill woefully inaccurate (I think they all are tbh) but also that the Zwift run pod was also being very generous to me as regards pace. In short, what I thought was 8 minute miles was more like 10. Oh. Bit of research, no, the Stryd pod is likely to be more accurate than anything else. OK, new normal, I just have to try harder.
Stage 5 (Richmond) complete, 3.71 miles at 8:50/mile.
Fast forward to 15th Feb, a lunchtime slot is available for stage 7, in Watopia's Jungle. This was quite interesting as the As (long run) and Bs (short run) started off at the same start pens, but As turned one way at the Jungle turnoff and Bs turned the other. Much like when you're on a race that includes the Volcano climb, when you're half way up it and the front group is already on its way down, seeing the leading As heading the other way was quite humbling. However, running in the Jungle is quite nice as you get to appreciate the scenery – no dust, no pack, and lower speeds.
Stage 7 complete, 3.94 miles at 10:31/mile. (Thanks Stryd 😉 ) Socks in the bag. But we all know it's all about the hat, right?
3 down, 3 to go.
16th Feb, there's an 11:00 slot for stage 2 (back in Richmond). It's only a 1.5 mile run so maybe got time for another that day, stage 3 at 14:00.
First time doing two in a day. I know from the one duathlon I did that doing a second run after a first is tough mentally, but a bit of pacing and should be no problem.
Stage 2 complete, 1.54 miles at 10:19/mile.
Stage 3 also complete, 3.03 miles at 10:03/mile. Probably would have been slower but I kept catching someone who then kept upping their pace, so the red mist descended and I hammered the last .3 of a mile.
5 done. Just one more for the cap. Bearing in mind the limitations of the Strava challenges I was also doing, I'd had to fit in a couple of bike rides to meet the 4 rides per week at 30 min minimum, so CV generally, and legs in particular, were starting to feel tired.
Just one more.
17th Feb. Stage 4 (France, starting the Casse-Pattes route) at 12 for a lunchtime slot. As an aside, the start of this route is very pretty if you're running it and not racing to get to the front of the pack. Tired legs, but 3.10 miles complete at a pace of 10:16/mile.
So that's it, right? Got the cap. Tired legs. Not a runner anyway, really. Don't need to do the last two. Right?
Wrong. A nasty little voice in my head said, "Look, they've added more makeup slots, you can get the last two, then Zwift Companion will show 100% for both challenges, what else were you doing with your life anyway?"
Unfortunately the last two were slightly longer. Much to and fro about doing this. My wife told me I didn't have to. Right, I totally have to.
18th Feb, Stage 8, Volcano Flat. Short stage, right? No. Because of the lead in. Argh. Starting to get to the point now of "the faster I run this the sooner it will be done", so 4.30 miles completed at 9:25/mile.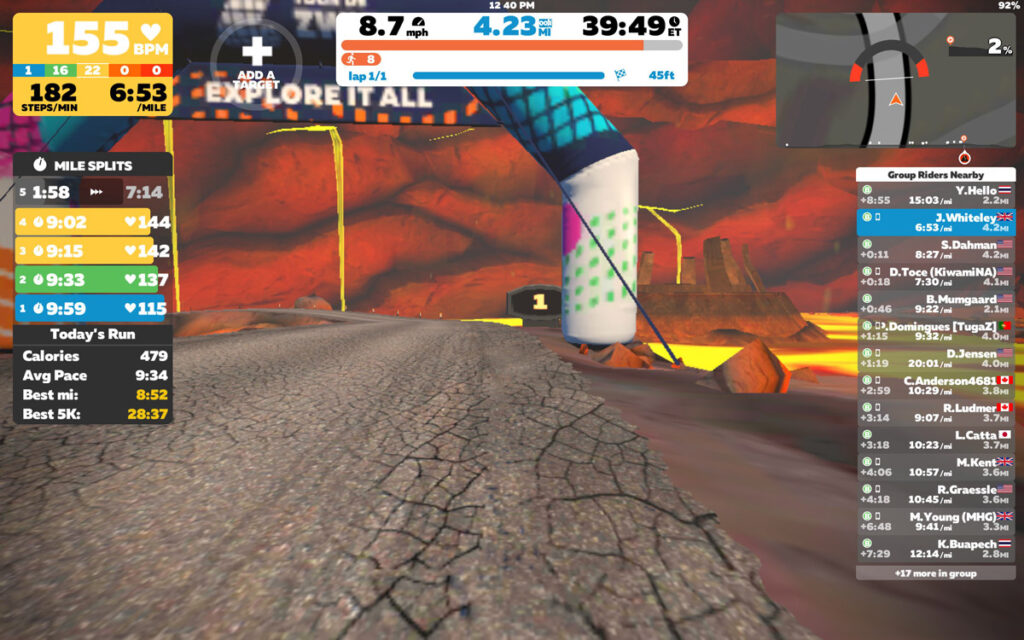 One to go. Committed now. However, because of the pressures of life and work, realistically the only available slots for me (coming to the end of the week now) were either 06:30 on Friday 19th, or 21:30 on Saturday 20th.
I start work at 08:00 and to be honest am normaly ready for bed at 21:00, so I knew, really, that 06:30 was the only way.
Up early, kit already laid out, quick espresso and off. Nice to be in Innsbruck, me and 5 other people who also presumably had nothing better to do and a completionist demon in their ear. Oh great, someone's set off at 4:00/mile pace. See you later, hopefully I don't get lapped.
Completed – stage 6, 3.83 miles, 10:37 mile pace.
I'm never doing that again. But I've got some badges now, some socks, a hat I wanted, and a T shirt I didn't.
Anyone else hit a double TdZ?
See you next year…