Last year (2018) was my fourth year of what I would call "serious cycling." And like many 3-5 year cyclists, I found myself searching for motivation in my training.
In my first few years of riding the gains were steady and noticeable, with Strava PRs popping regularly and a steadily-increasing ability to hang with stronger local riders. But around the middle of my third season and into my fourth I didn't see the same gains.
This is to be expected, of course: I had reached the point in my training where doing what I had always done wasn't going to be good enough. The problem was, I wasn't sure what to do next.
My training wasn't helped by me deciding to set aside outdoor crit racing last year. It just wasn't worth it for me: the 4 hours of driving, the entry fees, and most of all knowing that eventually some idiot was going to crash and take me out with him. I decided the bulk of my racing would be done on Zwift, with perhaps an occasional outdoor road race thrown in.
New Year, Who Dis?
I came into 2019 with that backstory, but I didn't want to coast through another year of riding. I wanted to see real gains, to achieve new things, and to perform better in whatever races I was doing.
On top of this, I discovered some losses I needed target: specifically my body fat. I hadn't measured body fat percentage for a year or more, but when I did so in January 2019 I was surprised to see I was moving toward what I would call "skinny fat." My body fat had been between 12-15% a year earlier, and even though I hadn't gained weight it was now at 18-18.5%. How did that happen?
I'll tell you how: I'm stronger than ever, but through many hours of cycling my body has become remarkably efficient at processing and using energy. I simply don't need the calories I used to need, but my diet hasn't changed to reflect this new truth.
So I decided in early January that I would find a coach who could help me progress in my cycling fitness while also advising me on diet/nutrition concerns.
Meet Shayne Gaffney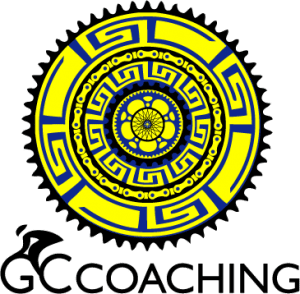 Shayne is the head coach at GC Coaching, LLC. He holds a bachelors degree in Health Science in Professional Development and Advanced Patient Care, is a licensed physical therapy assistant in Massachusetts, a USA Cycling Level 1 (expert level) certified Coach, a USA Cycling Power Based Training certified Coach, and a Precision Nutrition Level 1 certified Coach… among other things.
He's also created workout content for Zwift HQ , including the "Build Me Up" Flexible Training Plan and more training plans/workouts soon to come.
I had been communicating with Shayne Gaffney on various Zwift/coaching related topics for over a year, and I had always been impressed with his ability to articulate concepts. He seemed like a detail-oriented guy, plus I knew he was very familiar with Zwift and had a strong knowledge of nutrition. It seemed like a natural fit, so I reached out to Shayne and before I knew it we were on a "new client" call and getting ready for my first training block.
Setting Goals
In my initial talks with Shayne we discussed goals. I explained what I was shooting for:
Lose some body fat–get back to the 12-15% range
Perform better in competitive rides on Zwift and outdoors (including our local Tuesday Night worlds)
Be in peak shape for a fondo I have planned in Girona in June
Regularly see data that shows me getting stronger (I like numbers)
After agreeing on a coaching plan and start date Shayne took a look at my training history and came back with this (I've added my comments):
Hey Eric – Just looking over your data for the past year and wanted to share some interesting things with you.
Too much Zone 1 / 2 training time for being slightly time-crunched. Like we spoke on the phone, ideally for aerobic capacity increases on a time-crunch, you should be maximizing time in Z4/5.
This wasn't particularly surprising to me–I had been doing a lot of Z2 fasted riding on Zwift in the last few months. I knew it wasn't doing much for my fitness, but I enjoyed riding and figured it was probably burning fat nicely.
Your

CTL

(fitness) has been in a plateau since November…
I hadn't changed much up since November, that's for sure. Riding almost exclusively on Zwift, a couple of races per week, a long ride on Saturday, and fairly easy efforts apart from that.
Anaerobic POWER is your biggest weakness currently. Capacity is the size of the engine, versus power is the amount of energy it can deliver in a set time frame. Your anaerobic capacity is decent, but your ability to hold that power for >30 seconds is not. Something we'll work on indoors for sure.
I definitely struggle with responding to repeated attacks in races and holding high power for 1-2 minutes. My ZwiftPower ratings for 1-minute power confirm this as my weakest area. So I'm excited about working to improve here!
Your sprint is excellent which shows a well developed creatine-phosphate system (0-15 seconds) #sprintapalooza. However, as 1 of the 3 metabolic systems becomes stronger, the other 2 tend to become weaker. So, we may have to sacrifice a bit of that sprint to improve your anaerobic and aerobic capacities.
I've always had a strong sprint, so this didn't surprise me either. My problem is hanging with the front group until the final sprint!
Here are some images Shayne sent over after his initial review of my data:
Given those findings, Shayne summarized our training goals:
In a nutshell, we need to cut out the 'junk' miles at Z1 and increase the time spent at Z4/5 (SST / VO2 Max), as well as increase your ability to sustain your anaerobic metabolic system production. However, you'll still have some fun and 'loose' rides in the DIRT rides + weekends.
So that's the plan. As I write this I've already completed my first 4-week training block, and the gains we're seeing are solid so I'm excited.
Coming Next
Over the coming months, I'll be posting updates on my progress, with another post coming in the next week or two now that I've wrapped up my first training block. Follow those posts to learn about the workouts and nutritional advice coach Shayne has been giving me to help me reach my goals.
Along the way you and I will both learn a whole lot about training and nutrition–it's all such fascinating science, and while I've known the basics for quite a while there is nothing like digging in and doing it yourself.
Recommended Reading
Looking to learn more about the art and science of training as a cyclist in today's time-crunched, power meter driven world? Here are three highly recommended books (support this site by purchasing through these links):
Chime In
Got questions, comments, or inspiration for me? Post below!