Last week we loosely organized the first-ever mountain bike race on Zwift, named "Repack Redux". Watch Nathan Guerra of Zwift Community Live commentate the race below:
Same Time This Week
Repack Redux II happens this week–same day (Thursday) and same time (11am Pacific).
Read more about the race below!
About the Race
This is an informal mountain bike race on Zwift, a virtual remake of the Repack races in Marin County, CA, where mountain biking was birthed in the '70s. It's all about having fun doing something new, since we'll all be testing out Zwift's new FutureWorks:Steering capabilities.
How the Start Works
The race will begin promptly from the Repack Ridge trailhead at 11am PDT.
Getting to the trailhead: you will want to choose the "Dust In the Wind", "Muir and the Mountain" or "Quatch Quest" Watopia routes then ride to the trailhead well before that time, to be safe. You will have to have Zwift Companion running and connected to your ride.
For further instructions on how to get onto the Repack Ridge trail, read this post.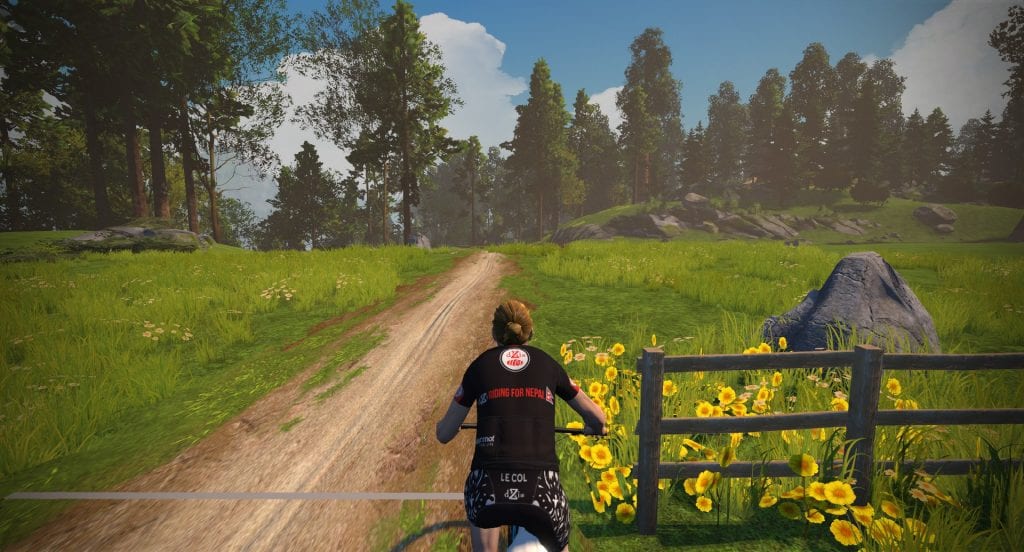 Don't pass the fence until the race begins. Wait for the race leader (Eric Schlange) to message "GO REPACK REDUX, GO!" then go for it! You will be stopped and prompted to center your bars before you cross the line–make it fast, then go go go!
Race Rules
Have fun. Go hard. Extra unicorn points if you give your rider a funny name and/or look.
Everyone wins because we have fun getting a good workout. But the first rider through the finish banner really wins!
We may even do a second lap.
Discord Voice Chat
The race leader will be on the Zwift Insider Discord channel. Join the audio chat for fun banter and a more personal experience.
Link to join Zwift Insider server: https://discord.gg/ceTPdDt
About the Course
Distance: 3.1km (1.9 miles)
Elevation Gain: 94m (308′)
Questions or Comments?
Post below!