Yesterday was the first Zwift Racing League event ever held on Zwift's newest world, the Makuri Islands. With riders having so much less experience on these roads there were a lot of question marks heading into the race. Where should we start our sprints? Could we hang on for the climb section? And how could we best attack that crazy downhill finish?
For me, all those questions combined into a surprising result – a rare race win, and my first ZRL win ever! Here's how it all went down over three laps of Flatland Loop. (Note: I'm a B racer with the DIRT Roosters squad racing in Division 3 of the EMEA W zone.)
The Warmup
My typical pre-race ritual was executed as usual. Beet juice (liquid dirt) a couple of hours before the race, then three pieces of caffeine gum (100mg of go-go juice per piece!) an hour before, and PR lotion on the legs before kitting up.
Related note: I recently saw a nice post from Asker Jeukendrup re: caffeinated chewing gum discussing how quickly it kicks in, dosing, etc. Check it out >
Then it was time to kit up and awaken the legs and heart by spinning with the C. Cadence groupies. 30 minutes or so with a few sprints to get the heart rate up and I was ready to go.
I went with the Cervelo S5 2020 with DT Swiss Disc wheels this time around, because I wanted every aero advantage I could get on this flat course where the sprint intermediates and downhill finish were everything.
After checking that Discord was set up, the racing playlist cued, and OBS was recording all the action, it was time. I even had my Velocity Rocker plate's LED lights turned on… green for go. Let's race!
Lap 1
The race began quite tamely, as our pack of 73 seemed to anticipate the key selections coming on the first sprint and the climb immediately following. I got an aero powerup at the start/finish banner, so I decided I would push the first sprint and try to get some extra points.
I'll confess, though, that I was going back and forth mentally with myself regarding the sprints. Especially this first sprint – I didn't know how hard the first climb effort would be – I've been dropped on it in other races. I didn't want to burn out my legs sprinting then get dropped on the first lap! So I didn't go all-in on this sprint… or any of the intermediate sprints, really. Just couldn't get myself to fully commit.
That said, I was 6th FAL and 4th FTS overall on the first Country Sprint. Thank goodness for aero powerups!
Then the climb began. I moved closer to the front as we hit the incline heading into Village Onsen, wanting to give myself every chance of hanging with the front if big attacks happened. But… nothing happened! Sure, the effort ramped up on the climb, but it was quite sustainable. I only averaged 302W on the main climb section, and that kept me in the front group.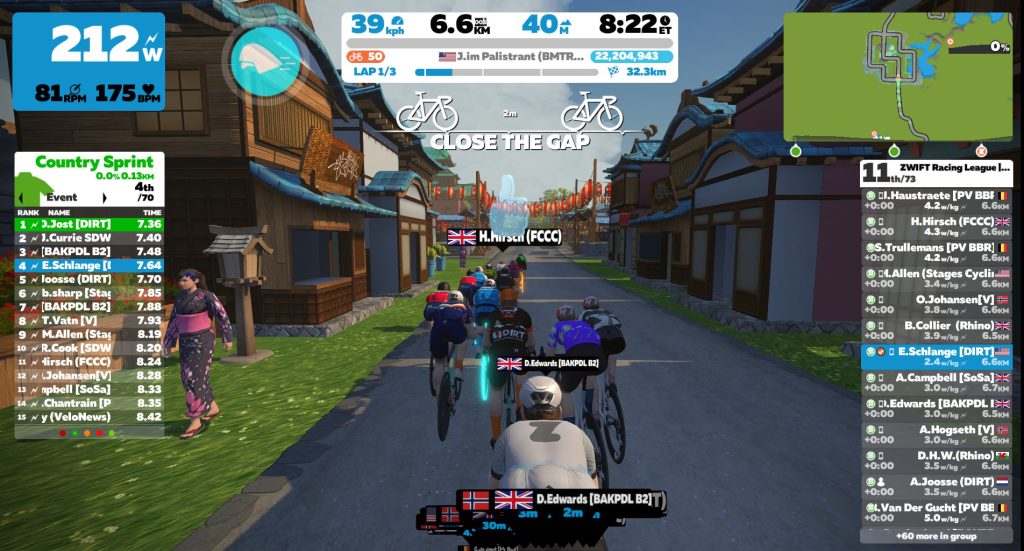 Then it was time to gear up for the Village Sprint. I knew from Sprintapalooza practice that you have to go early if you want a fast time go early, ramping it up as you hang a right into the Village. And I had an aero powerup, too! So I popped the aero as we turned right, then started hammering from ~5 bike lengths back. I found myself on a Vikings' wheel (Johansen) but couldn't come around his strong effort – so I sat up at the end and took 2nd FAL, as well as 5th overall FTS.
I got a feather powerup through the sprint banner – totally useless (even detrimental) on a descent. So I trashed it. On the plus side, finishing near the front on the Village Sprint made the ensuing trip to the finish line an easy one. Just easy spinning, letting the riders behind catch up, and recovering more on the descent and flats.
One lap down, and the legs were feeling pretty good!
Lap 2
The Roosters began chatting on Discord as we hit the flats of Lap 2. Where was everyone at, and how were we feeling? That's when we realized we were in trouble: Thomas (our strongest rider) had been dropped from the front pack on the Village Sprint/descent section. And Ally, also a strong rider, had dropped a chain near the start, putting him out of the front group almost immediately. Couple those issues with our team captain Antoine not being able to race and we were looking pretty weak compared to the Vikings, who had three riders in the front group compared to our two!
It was up to Arjen and myself to score as many points as possible. Could we beat the teams who still had three riders in the front pack of ~20?
I didn't think I'd be able to grab more FTS points on the second (or third) laps due to a smaller, slower pack compared to the first lap. But I thought I could snag some FAL points, since it seemed like most riders weren't contesting the sprints. Plus, I had another aero powerup! So for the Country Sprint I did another 90% effort, trying to surf the wheels but also finish near the front. 4th over the line. A few more points.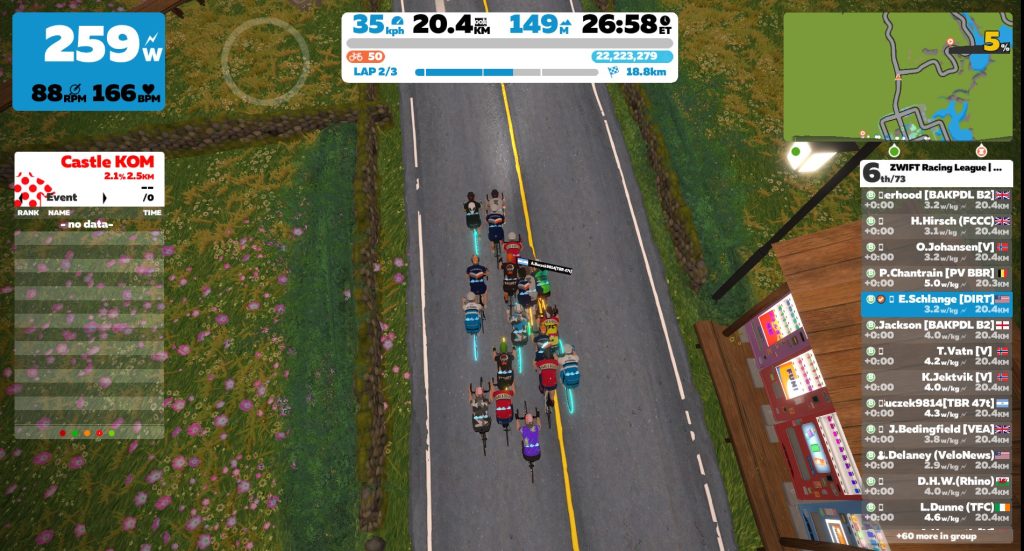 The climb section on the second lap was unremarkable, and I had no powerup for the Village Sprint. But I still put in a dig, looking for those FAL points, figuring I needed to get near the front before the descent anyway. 5th FAL. And another feather to trash on the descent. Time for the final lap!
Lap 3
I was gifted an aero powerup at the start/finish banner heading into lap 3, and now I had a decision to make: use it and chase sprint points? Or keep it for the final sprint?
I opted to use it on the Country Sprint, mostly as a tool to let me stay near the front for FAL points without putting in an all-out effort. I was 5th over the line and trying to strike a difficult balance: grab as many intermediate points as I could, while saving my legs for the finish, where I thought I could do quite well if the stars aligned.
The powerup gods smiled upon me, granting another aero powerup at the sprint banner. I chose to hold onto this one for the finish, because I knew speeds would be crazy high on the descent, so aero would be hugely important.
There were 16 riders left in the front group as we began the climb. The Vikings and Pro-Vision BBR teams both had three riders in the group, and I 100% expected one of those teams to send a man off the front for a long attack on the climb section, or even on the little kicker heading toward the Village Sprint.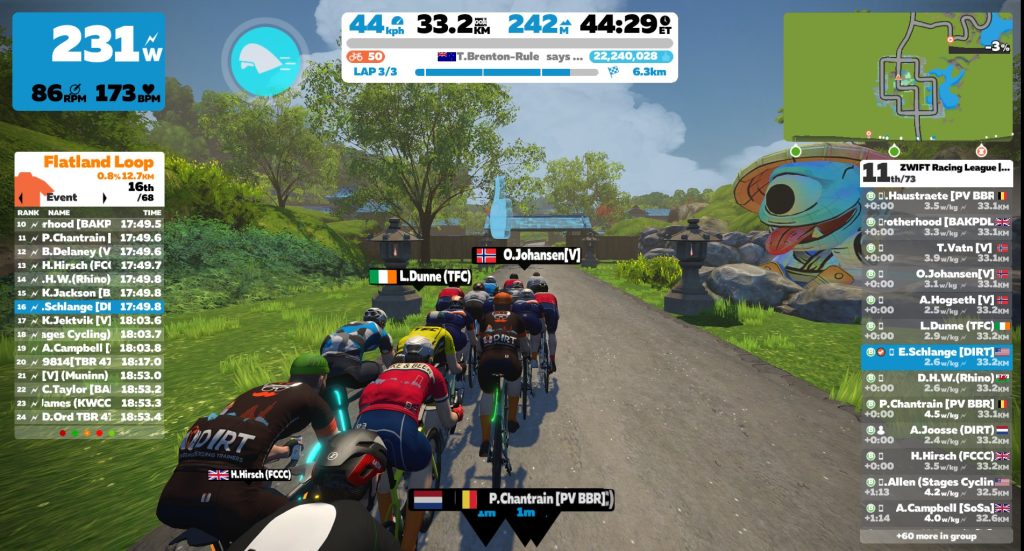 I was already playing it out in my mind: what would I do if someone attacked off the front? I couldn't decide if I would chase it down, or sit in and let the group try to chase it. If I chased it down, the rider could just sit up and make me pull him to stay away from the group while his teammates sat in the pack. But if I didn't chase it down, he might stay away to the finish.
And that is why you send a rider off the front when you've got the numbers.
But neither team sent a rider! I can only assume everyone's legs were too knackered, but whatever the reason, I was happy things stayed steady. Because it meant I could sit in and conserve in the crucial final kilometers.
We hit the Village Sprint, the last intermediate of the day, and a few riders used their aero powerups (a brave move)! I just tried to stay near the front so I wouldn't get gapped heading into the descent. 10th over the line. A small gap opened ahead, but I was able to close it down because I was expecting it and watching closely.
At this point, the Vikings (smartly) sent a man off the front (Johansen). I just hoped he didn't have the legs or the powerup to stay away from our fast-moving pack. I watched him warily, deciding I would use my aero to give chase if he began pulling away.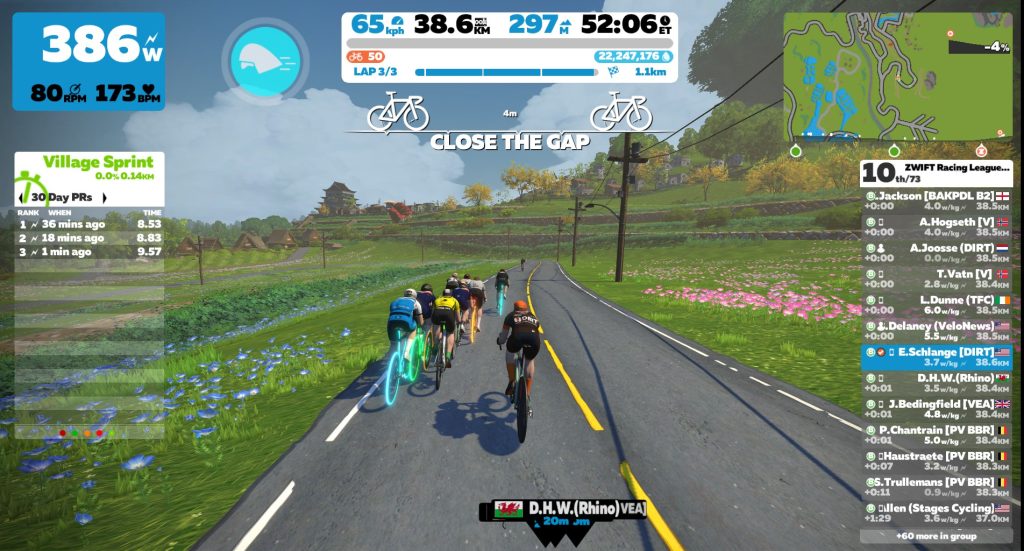 Our group was slowly pulling Johansen in, though, so I opted to rest up and even supertuck a bit. It all came down to this. We caught Johansen with 700m to go, then a few riders popped feather powerups. (Silly Billies! Never use a feather on a descent!)
With 300m I was a few bike lengths from the front. It was go time! A spacebar tap activated my aero powerup, then I just put my head down and gave it everything I had. Glancing up at the screen I saw I was off the front – could I hold it?
Another glance up. Omygosh I'm still off the front. Keep hammering!
Gah! I'm spinning too fast, I should shift!
Keep hammering!
I crossed the line in first place, traveling at 71kph with the Vikings' Hogseth bearing down on me quickly. My first ZRL win! That felt really, really good.
See my ride on Zwift.com >
See my activity on Strava >
See race results on ZwiftPower >
Watch Full Race Recording
Team Result
As the race wrapped up the Roosters began tallying points and speculating on the final team result. Initially there was a feeling in our Discord conversation of "we put up a good fight, but too much went wrong – there's no way we won."
Then Ally, our resident human calculator, began looking at the actual results – specifically the intermediate points. And things began to look better for us. The Vikings had amassed more FAL points than us thanks to their three riders in the front group (and the strong sprints of those riders, of course). But we had scored more FTS points, thanks especially to teammates Arjen and Dean.
Ally calculated that we had scored 253 points to the Vikings' 232. Could it be?
Within a few hours the final results were on WTRL's website. And Ally, once again, earned an A for accuracy: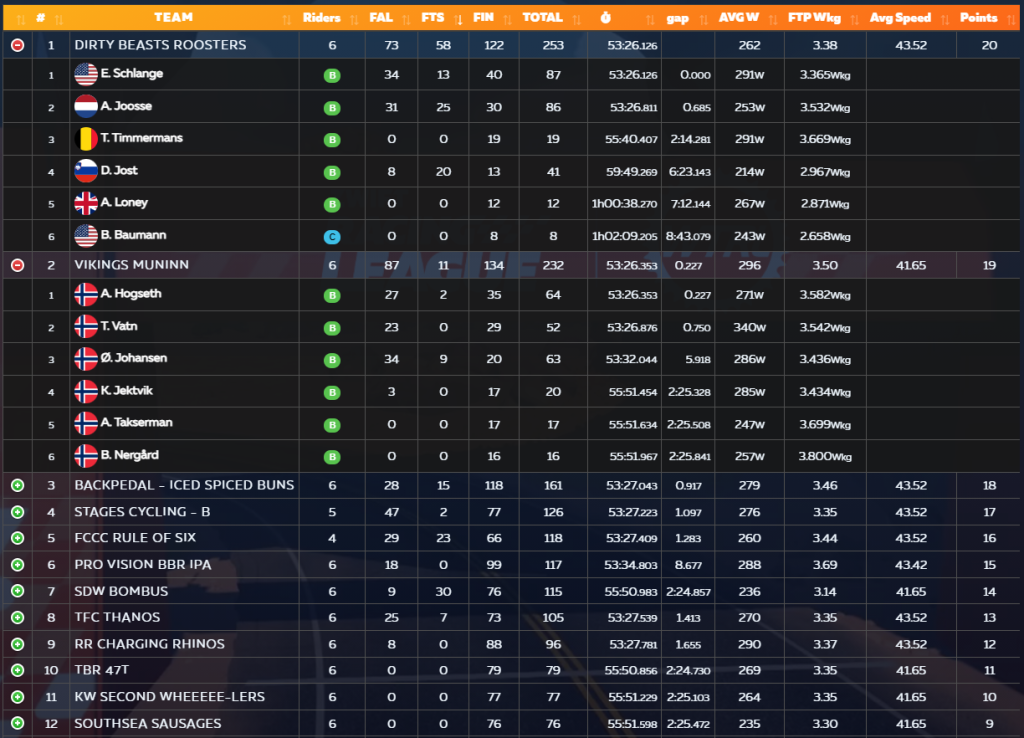 I was super stoked that the Roosters took the team win, because I hated the thought of winning the race individually but not winning as a team (which is all that really matters in ZRL). Nice work, Roosters. And thanks to all the other teams (especially Vikings Muninn) for putting up another good fight!
The Vikings' Hogseth (2nd place finisher) sent me his race recording – watch it here to see how the race unfolded from his perspective.
Takeaways
Intermediate points are so crucial in ZRL races. And this race really played to our strengths, with all the intermediate points being sprint-based.
For my part, I felt like I managed my efforts really well in this race, striking that super-elusive balance between contesting intermediates and staying fresh for the finish. Check out my XERT chart, where the purple line is MPA (maximum power available). For those who aren't familiar with XERT, the idea is that it's basically impossible to ever exceed your MPA in a race. (And if you manage to do that, XERT calls it a "Breakthrough" and updates your metrics to reflect that you've grown stronger.)
See how my MPA dips on every sprint, and my final effort touches that line? That's what it looks like to "burn a match" on every sprint, then empty the tank in the final effort.

Lastly, I'm happy to see that changes to my sprinting form seem to be helping. After years of standing, lower-cadence sprints I'm finding that seated, higher-cadence efforts seem to let me hold higher power for longer durations, especially at the ends of races. It's still a strange feeling, because it's so different from my lower-cadence "torque-based" sprints. Of course, it's not all about torque… it's also about RPM. And I hit a cadence of 123 in the final seconds of today's race!
(In fact, I set a new 2021 power curve PR in the 16-30s range at the end of this race. #fistpump)
Your Thoughts
Did you race ZRL this week? How did it go for you and your team? Share below!