Having lost a significant amount of weight (32kg,) I've spent the last 12 months or so floundering as either a very, very low A or a high B. Racing A I struggled to even hang on to the front group on a flat route, and as a B I would lose the group on short inclines like the last of the Esses in Watopia or basically anywhere in New York.
Because my weight essentially determined the category I was in (obviously watts were also a factor) and I don't have good one-minute power, racing was a struggle.
With my (not so) new (anymore) job, the times that I've been able to race have been limited. I will generally start at about 0830 and finish around 1900. I have meetings with my Californian colleagues once they wake up, with my being in the UK, so 1600-1900 is often a busy time for me. This means that I will generally ride between around 1300-1500 on a weekday.
I love my job and spending time with my US colleagues, but the times that I ride normally aren't conducive to larger racing events. I'm also extremely thankful to be working for a company that gives me the flexibility to be able to ride 1-2 hours each work day, supporting my fitness and mental health by doing so. But through racing less, I've lost a decent amount of muscle and put on a bunch (11kg) of weight.
My team recently launched our new outlook on individual racing – firstly with our Crit Racing series and now with the Zwift Classics. This gives everyone a chance to race, with 16 options daily and a new route each week (with the Crit Racing series, there were 5 courses which changed daily). All of a sudden this meant there were races available, with decent attendances, times that suited me. Hello pain!
Dropping My Cat
For my first attempt at racing in the Classics, I was a very, very low B (I think in Category Enforcement terms I was 3.21w/kg). I managed to hold the group at the start, but then there was a minute long 10% incline.  I've mentioned my one-minute power! Bye-bye group! Came third last 🙂
On Friday my decline had steadily continued to being a Category Enforced C rider, coming in at a princely 3.196w/kg (I have received suitable levels of abuse from my team (thanks Sean, Simon!) and entered the 1310 race. There was a decent attendance with 22 C racers by the time the timer hit zero.
The route was Two Bridges Loop, starting with a gradual incline almost straight out of the pen, into the Esses, and then the start of the Reverse Hilly KOM, before taking the bypass back down the hill towards the start/finish line. Three laps of fun!
The Start
It's probably been about a year since I last entered a C race, so I had genuinely no idea what to expect. I was worried that I'd lose the group on the first incline out of the pen, so I had a good warmup and was ready for battle!
It was the usual fast start to the race, but not too brutal and the first incline was relatively steady at around 3.5w/kg. I kept being a bit of a novice and poking my head out the front before being swarmed by the rest of the pack. I got to the top and tried my best to remain in the middle of the group. Then came the Esses – I've been dropped on the last of these so many times and again wasn't sure what to expect, so kicked hard and hit the top in around 2nd place before coasting down the hill.
Then we came to the reverse KOM and I hit the start line, placed poorly, as usual, in the back half of the pack. Luckily I had a feather, which I used on the corner where the gradient spikes sharply and kicked. HARD. I moved my way to the front of the group and a few others kicked to go with me. By the time we reached the descent, we had a group of 6 with a lead of about 7 seconds.
We held our lead for most of the second lap until we were just about to hit the KOM again.  I jokingly messaged and said we should try and break them again to get our little group back. This climb felt like the hardest of the three and I got shelled out the back of the lead group of about four by a couple of seconds. This meant I had to work really hard on the downhill, but thankfully caught the group by the time we were back on the flats and took a deep breath (or possibly more like erratic panting).
Final Lap Ramp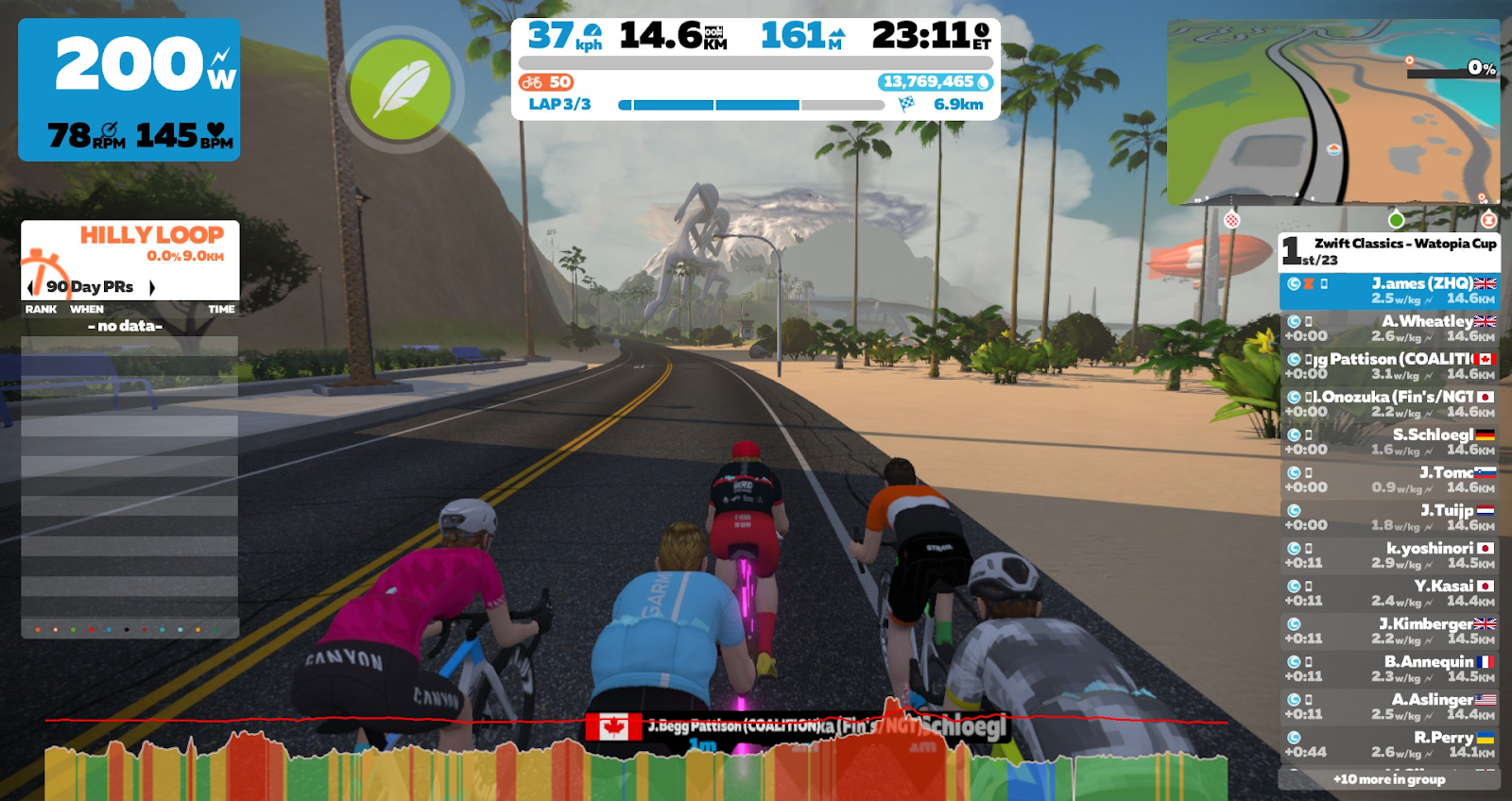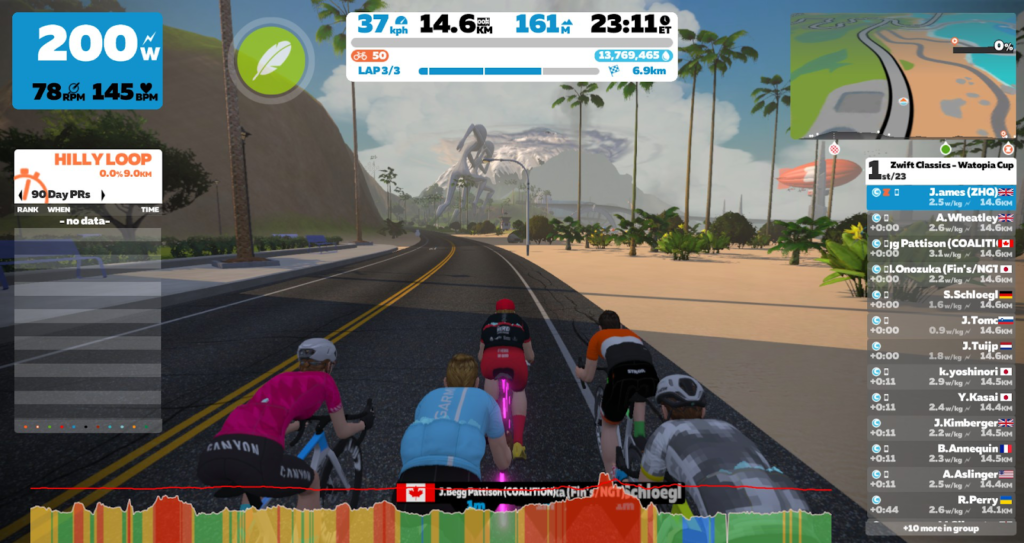 For the final lap I figured no one was going to go absolutely berserk on the last climb, because hanging on to a lead with a group descending behind is probably ill-advised. But we still hit the climb hard and all six of us crested together and coasted down the hill.
At this stage, I'd already picked where I was going to start my sprint. Two bridges (funny, given the name of the route) from the finish line was a good marker and around 300m out and seemed a good place to ramp it up. I'm terrible at picking up on when others start to go and will always pick a point where I want to go from. I'd been ramping through my gears for about the previous 300m and then I gave it everything I had. I was at the back of the group of six and was worried I'd left it too late before I surged through in the last 50m and ROARED as I crossed the finish line! I had won!
But I hadn't. I was in second place, 3s behind the actual winner. He'd played a tactical blinder and used his ghost powerup and had (presumably) gone about 5s earlier than anyone else. Because no one could see him, no one chased!
If It's Not On ZwiftPower…
So whilst feeling a mixture of elation and disappointment, I did what any self-respecting Zwift racer would do and opened ZwiftPower. The racer who had beaten me hadn't connected their account and because results are only real if they're in ZwiftPower, I had won!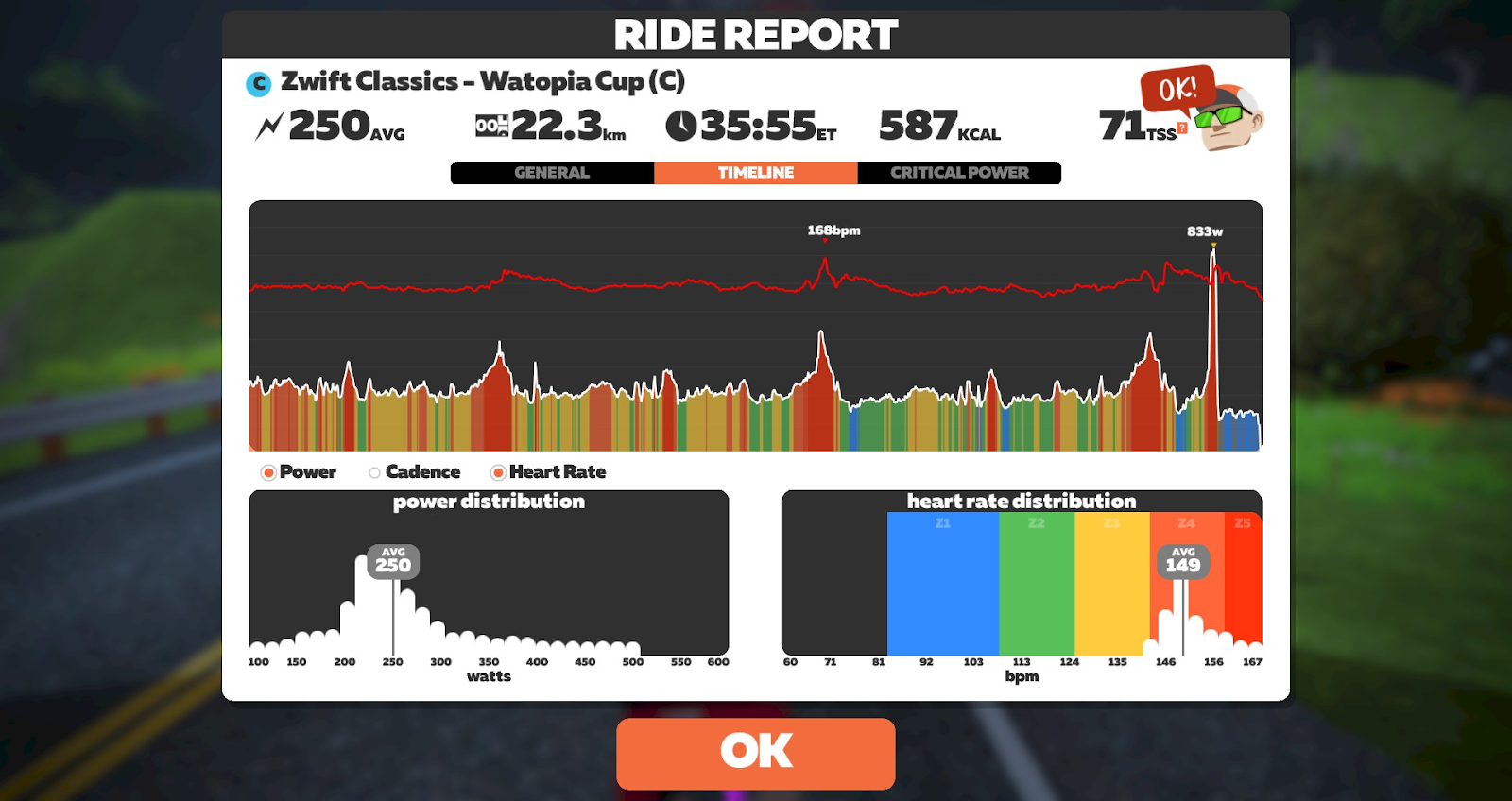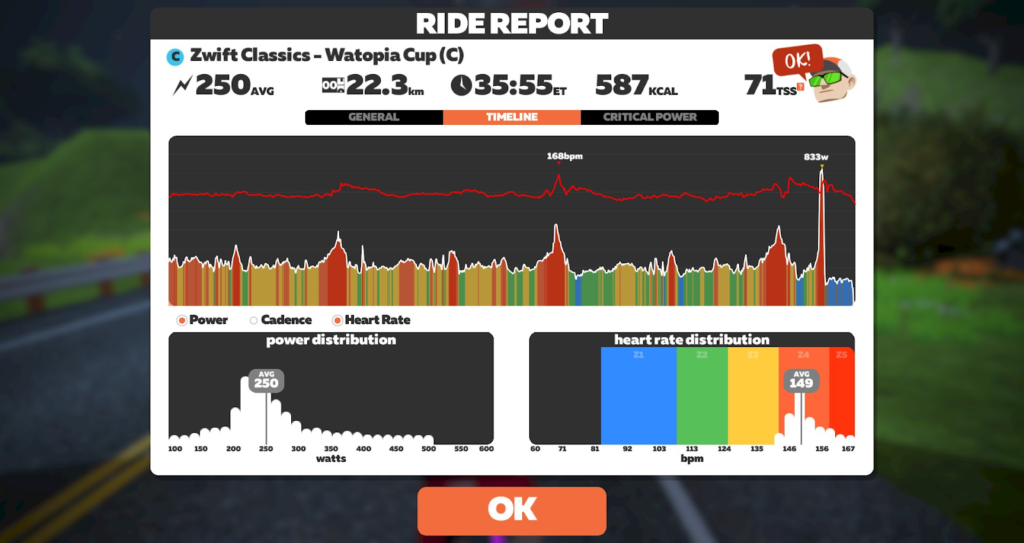 I'd had a thoroughly enjoyable 35 minutes or so and would encourage everyone to give the Classics a go. The fields are good, this one especially, is a really fun racing route and I can't wait to do it all over again on the Casse-Pattes route in France!