Welcome to another post in our series aimed at helping you avoid n00b powerup mistakes in Zwift races.
Powerups add a fun element of randomness and strategy to Zwift racing. While some purists deride their use, most racers welcome their addition to an indoor racing experience which can feel a bit oversimplified since it has fewer variables than outdoor riding.
Experienced Zwift racers understand how powerups work, but we see them used incorrectly over and over again. Hopefully this series can help.
Still learning? Read our "Guide to Powerups in Zwift" >
The Cloaking (Ghost) Invisibility PowerUp: How It Works
The ghost makes you invisible to all other riders for 10 seconds. You are still visible (yet translucent) on your screen, but other riders can't see your avatar or your name in the rider list.
The idea is that you'll use this invisibility to put in an attack, so you reappear too far up the road for other riders to easily grab your wheel.
Here's a video of me doing just this – the one and only time I've used a ghost powerup effectively for a race win.
Successful Ghost Attack for the Win
There are three important caveats to note with the cloaking powerup:
It's short-lived, at only 10s long. You have to time your attack precisely and attack hard for it to work.
It's event-only, so you'll only see this in races where organizers have specifically added it to the powerup mix.
It cannot be activated within 100m of the finish line. No other powerups are restricted in this fashion, but it makes sense. You don't want to cross the line thinking you're in first place, when an invisible rider has already beaten you!
How It's Misused
There are three "misuse cases" commonly seen with the ghost..
1: Too Late
This happened in a race my cousin Boone was doing on Zwift, with me at the keyboard to help with powerups. We didn't know the ghost was disabled near the finish line, and when I went to activate it, the powerup icon was greyed out! #fail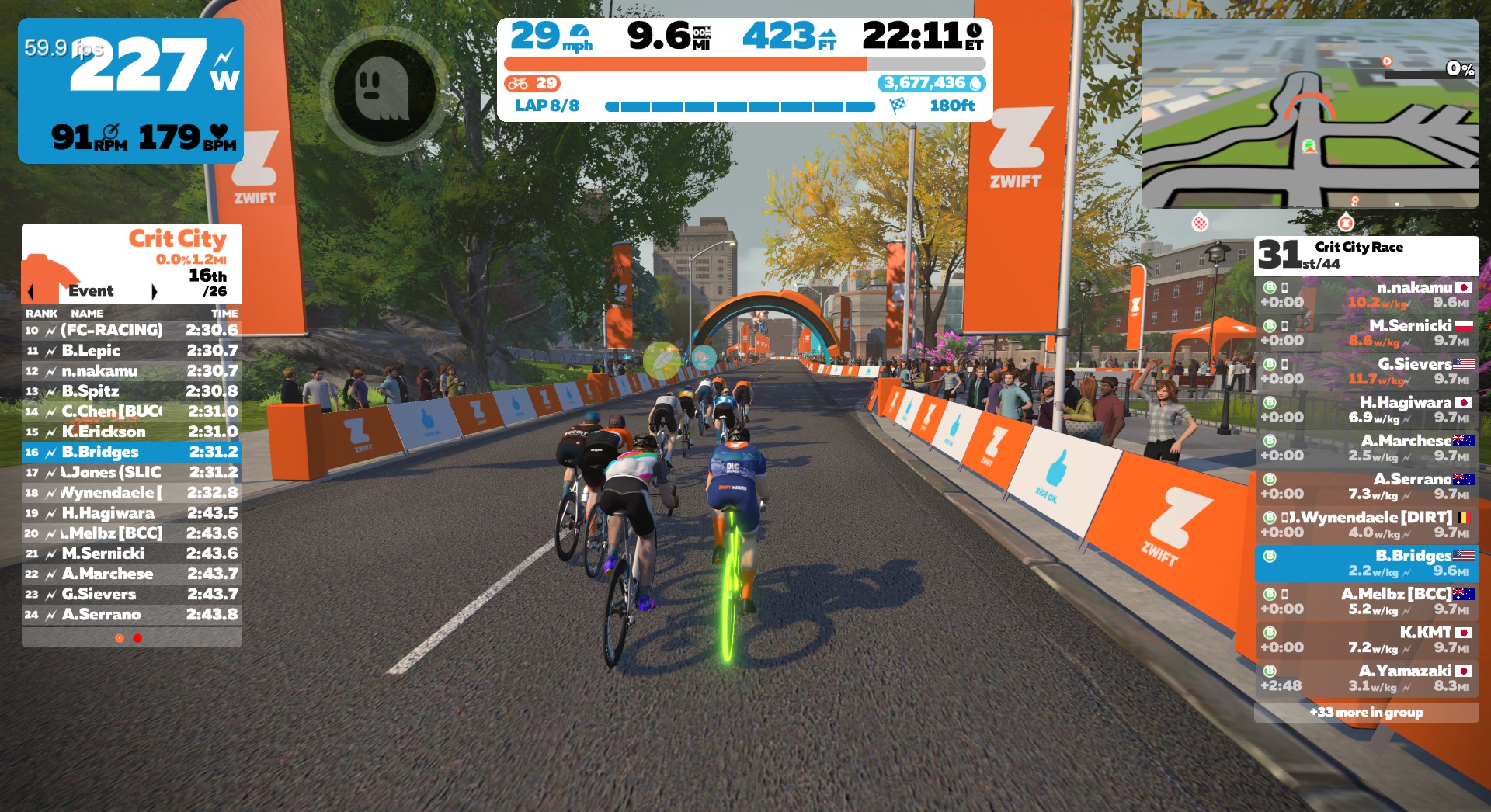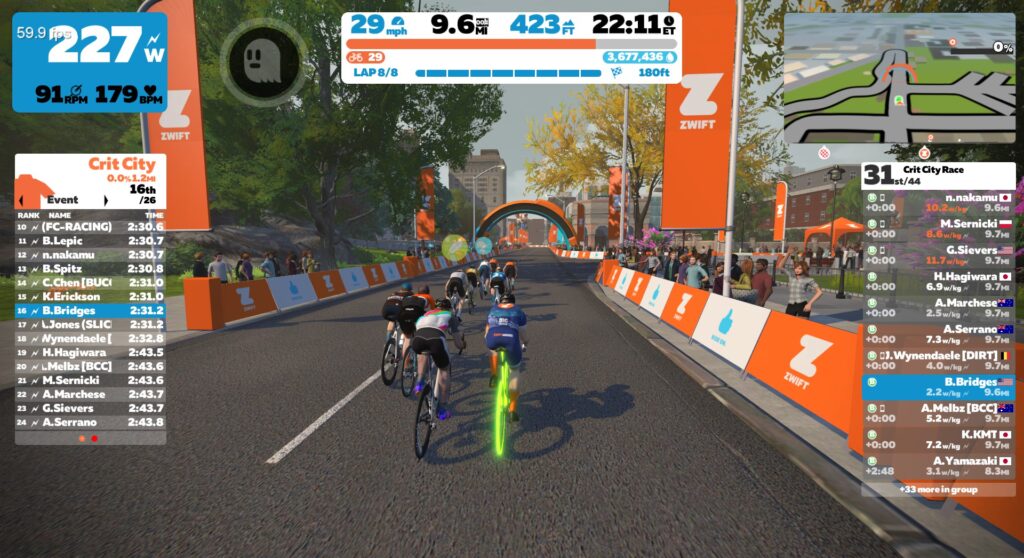 If you're going to use the ghost, use it before the 100m to go mark.
2: Do You Feel a Draft?
Did you know that even though you're invisible to others with the ghost activated, they can still draft off of you? That's right. Just how a "ghost" would work in the real world, if ghosts existed in the real world. (Which they of course do. But that's another article.)
Some riders will activate their ghost in the middle or near the front of the pack, then increase their power to try and get away. But all they end up doing is sitting on the front of the pack, giving a draft benefit to a bunch of riders who can't even see them.
Don't waste your watts. Either attack hard and get away, or don't attack at all. Which brings us to our third misuse…
3: Nobody Notices Me
If you're in a big pack of riders and you activate your ghost powerup, chances are nobody is going to notice when you disappear for 10 seconds. If you're activating the ghost in order to get a response out of other riders, don't do it from the middle of the pack.
Instead, put in a little dig and float off the front, so people are watching you. Then activate it and ease up, dropping back into the draft. Some may think you're attacking off the front, and they'll put in a dig to catch your invisible wheel.
You might also drop back in the group, where gaps are opening between a few strung-out riders and the main pack. Using your ghost here may cause a bit of panic, as riders will see a big gap open up ahead and put in a big dig to avoid being dropped.
Admittedly, many invisibility powerups are simply "burned" by riders who want to get rid of the powerup so they can get one at the next arch. In fact, I would bet that the invisibility powerup is the most-burned powerup of all. (Heck, I've done this numerous times in Crit City, because it's easier than throwing the powerup in the trash.)
To sum up: if you're wanting to use your invisibility strategically to make others burn some watts, make sure other riders are watching when you do it.
Questions or Comments?
Share below!