This week was the 4th race of the Zwift Classics series, and we were scheduled to take on the Richmond UCI Reverse route. I had last raced this route in January 2021 for ZRL season 2, and memories of that event were still clear as I signed up for this race.
In January's event I was dropped from the front pack on the very first climb, never to return again. (My chase group nearly pulled back the diminished front group by the end, but not quite.)
This time around, I knew the race would be different for a few reasons:
Different riders: we were using the autocat system now, which had slotted me into C2. Looking at the signup list, I was ranked around #8 in terms of ZwiftPower ranking, which was a much higher ranking than I had in January when competing against the big hitters in Division 1 of the Bs.
Smaller pack: today's event featured about half as many riders as January's (50 vs 100). That meant overall speeds should be slower, and pack sizes would be smaller.
Different legs: my fitness was a bit higher when I last raced this route.
Autocat Development
It's been interesting to watch as WTRL continues to tweak their autocat system. This week they added a Class 0, which meant my class 2 was probably closer to the Yorkshire week's class 3.
Every Classics race I've raced with autocat (3 of them now) has been a good race, despite the numbers not always making sense to me. (How was I C3 for Yorkshire, and C4 for Crit City?)
Anyway, I've come to not really pay much attention to which number I get. Instead, I look at the signup list on ZwiftPower to see where I sit in the field!
Bike Choice
Knowing from experience that the climbs would be where I get dropped, I decided to do something I've never done on Richmond: go with a pure climbing setup. So I hopped into the Drop Shop and laid down some cold virtual cash for a new Specialized S-Works Aethos and the Roval Alpinist CLX wheels.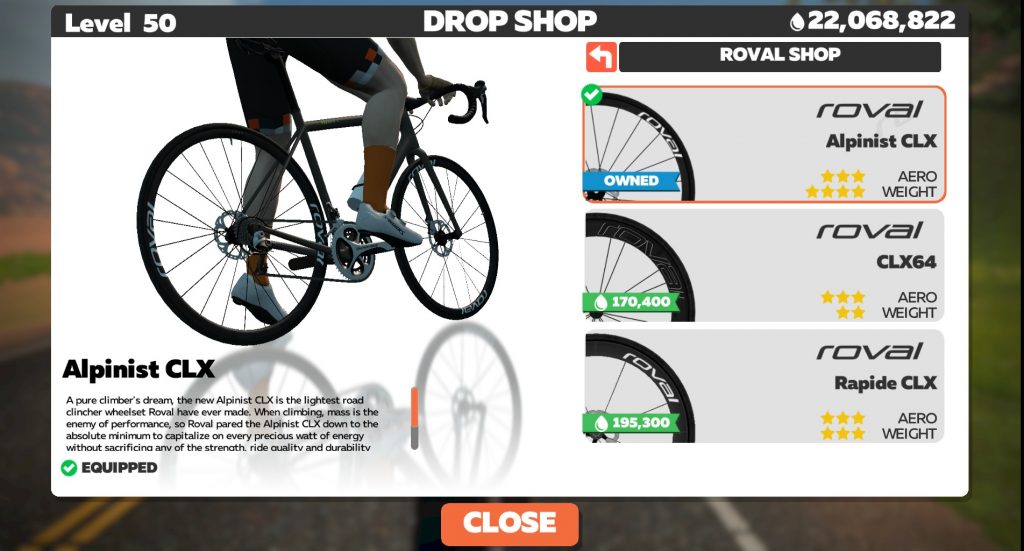 (In case you haven't heard, this combo is the best climber in game right now, by a significant margin.)
My thinking was: I've never been dropped on the flats or downhills of Richmond. Every time I've been dropped from the front group in Richmond (which is almost every race I've done here) has been on one of the climbs. So why not try something new in terms of bike choice, and give myself a bit of an advantage on the climbs?
I would pay for that advantage somewhat in decreased aero performance on the flats, but here's the thing: if I got dropped on the first climb like I did in January, all the aero performance in the world wouldn't help me anyway.
Warmup
I did a pretty standard warmup heading into this race. First it was a couple of pieces of caffeine gum one hour before the race. Then PR lotion on my legs before kitting up, because that bicarb palpably reduces the pain levels.
Then I hopped into the pens as soon as I was allowed, saving my place at the front before popping back out to join the C. Cadence group and spin my legs for a while, putting in a few hard digs to get my heart rate up and break the ice.
After around 30 minutes of warmup I headed to the pens. Let's race!
Lap 1 (The Start)
This is one of the easiest starts in all of Zwift racing, if you're a bigger rider like me (84kg). Get up to speed in the first 20 seconds, then hit the Governor Street descent and just hang with the pack. (This downhill is actually supertuckable, but I find I can never quite supertuck the full descent without getting gapped off the back. It's not quite steep enough.)
The field of 49 was almost entirely together as we hit the decisive first climb up 23rd St. I positioned myself near the front (a classic "overmuscled cyclist" trick) then pushed hard to try and hold a good position. Cresting the climb around 10th place, I tried to continue hammering so I could stay in touch with any front group that might form ahead of me.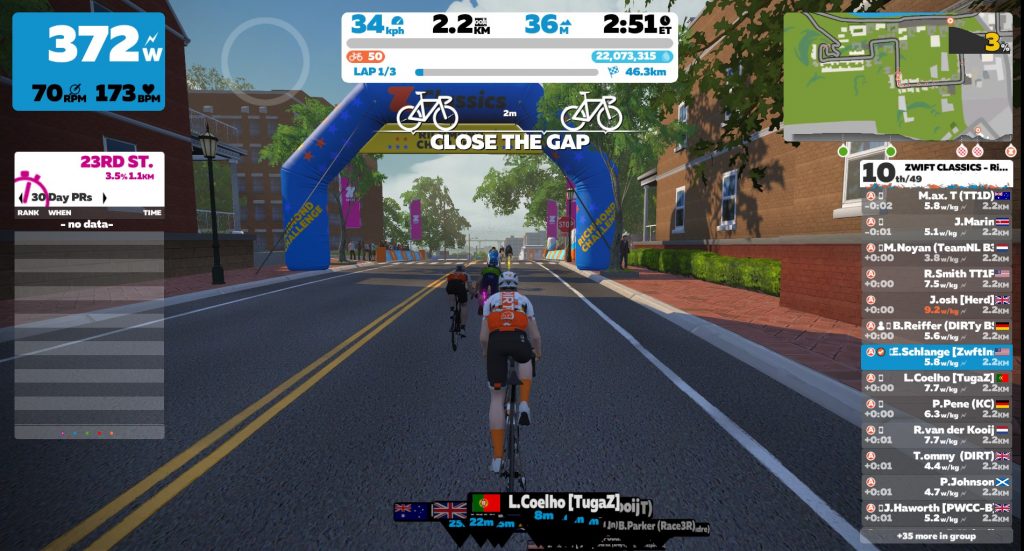 That first 23rd St Reverse KOM was finished in 1:50, at a 416W average. My second fastest time ever, bested only by my PR from January's race of 1:46 at 420W.
At first I thought I may not be able to hold onto the 9 riders ahead as we started up the reverse climb to Libby, but a handy drafting powerup combined with my virtual inertia and a bit of a well-timed dig on the steepest portion (did you know it hits 19%?!) actually moved me up in the field as we crested the climb.
Or so I thought.
As I eased up over the crest, others kept hammering toward the KOM banner (there is a points race after all) and I found myself sliding from 5th to 7th to 10th as we crossed the banner and began descending Libby Hill.
I was gassed, so I waited for the riders just behind and we worked together nicely to close the gap to the front group.
Things stayed mostly together on the E Main St climb, with Max T (TT1D) going up the road in pursuit of Broad Street sprint points (the shortest sprint in all of Zwift!) He went too early, though, and was caught by other riders just before the line.
Then things calmed down again, until the Monument Avenue sprint. That's when the pace picked up once more, and I used my drafting boost to try to stay in touch with the front riders while putting out minimal watts.
As we wrapped up the first of three laps, I took this lesson to heart: I wasn't chasing points in this race, but plenty of riders were. That meant everyone had to stay on their toes. There was no coasting through the KOM or sprint banners – each one was contested, and if you didn't push your watts you'd be dropped off the back of the front group.
Lap 2 (The Middle)
There were around 20 riders in our front group as we headed into the second lap. Once again I crested the first KOM around 10th, got gapped from the front group, then chased back on with my small pack before the E Main St climb.
Everything seemed to have calmed down on the flats between the two sprints, then Danno (R3R Dev) jumped off the front. This is a rider who had been in my chase group after the initial KOMs on both laps, so I figured he wouldn't be able to stay away. But the two strong TT1D riders joined him, and I watched as the gap to these riders began to stretch out to 14s as we hit the Monument Avenue sprint.
Surely those 3 couldn't stay away from our pack of 10… right?
Lap 3 (The Finish)
Heading into the final lap, the breakaway group of 3 was 24 seconds up the road, and I was in the peloton of 10 riders just behind.
I lagged behind on the final climbs, so I knew I wasn't the strongest in this group. But the truth was, nobody really seemed to have the legs or willpower to put in the work to pull back the breakaway. The first two KOMs reduced our group to just 7 riders, and the breakaway kept riding smart, maintaining a safe gap.
It's rare that a breakaway of 3 will stick in Zwift, but I was doubting our ability to pull this back. One breakaway rider (Robert Smith of TT1D) had a 20-minute power rating of 371 watts, and he put that power to good use on the flats, using it to help the breakaway maintain a gap, then eventually jumping off the front for a long solo breakaway attempt as we headed through the final Monument Avenue Sprint with around 4.5km to go.
(This is standard team tactics, of course. If you've got two teammates in a breakaway of three, that third man is doomed because the teammates can just trade attacks, forcing the third man to chase down each attack if he wants to stay in contention.)
Our group was putting in a half-hearted chase, knowing we wouldn't make up the 25s gap before the finish line. But then a rider in our pack alerted us to a group that was pushing from behind, just 10s back. If we didn't keep pushing they'd catch us!
That lit a bit of a fire beneath us, and the group cruised quickly to the finish. My final sprint was weak, and I finished in the back of our group. 10th place on the day. Well done to the breakaway for working together to make it stick!
See activity on Strava >
See ride on Zwift.com >
See results on ZwiftPower >
Watch race video:
Takeaways
I wasn't chasing points in this race, but the riders who were sure animated things. This was a far more action-packed event than the typical Richmond scratch race where you attack each climb and sit in on the flats.
Did my Aethos + Alpinst climbing combo help me? Hard to say – there are a lot of variables in play. But I will say that the flats didn't seem any harder, and I felt I was able to hang just a bit better on the climbs. (Note: it might have been all mental – but that doesn't mean it didn't work.)
Would I go with the pure climber again on this route? Absolutely. In fact, I may try it on some other routes as well. Because I'd rather make it to the end of the race in the front group too tired to sprint than get dropped on a climb and never even be in contention.
Questions or comments?
What do you think of my bike choice? How did your Classics race go this week? Comment below!