Last Tuesday was the first race of Zwift Racing League Season 2, and I knew it would be a doozy. There was a mixture of ZRL hype (over 10,000 riders participating), intimidating "knowns" (the Richmond UCI Reverse route begins with 3 climbs), and confusing unknowns (we had new riders in our league, while some of the top riders had been moved to higher teams).
And there were some new motivating factors:
A new finishing points scheme that awards points to almost every rider in the field, forcing everyone to fight until the end
New "fastest across the line" intermediates where you could earn points for being the fastest through a segment regardless of your position in the overall race
On top of this, the DIRT Hellhounds team I rode with in Season 1 had been reshuffled a bit, so I didn't know all of my teammates well.
This race was sure to be educational, on many levels.
The Warmup
Since ZRL is my priority race each week, I tried to do everything I could to be ready heading into Tuesday. That meant adequate fueling and no hard efforts on Monday, a good night's sleep, a solid warmup routine using my three favorite race-day products:
Caffeine gum – three pieces instead of the usual two, 1 hour before the race. That's 300mg of go-go juice coursing through my veins!
PR lotion on my legs about 45 minutes before the race. More bicarb=less burning.
The Nopinz Subzero kit, because I figured a fresh set of freezer packs heading into that final lap would feel oh so good.
I hopped onto Tempus Fugit with Cara Cadence, spun for several minutes, then joined the pens as soon as I was prompted so I could get a spot near the start of the line. Then I rejoined Cara for another 25 minutes, taking the time to ramp my heart rate up and get a couple quick sprints in. Let's race!
The Start: Climbs
Everyone knew the first few minutes of this race would be decisive, as it begins with a short descent then heads straight into the 23rd Street KOM. This climb was awarding intermediate points, and we would reach the top about 2 1/2 minutes after the race began.
I knew the climb would be hard – I just wasn't sure how hard. We race the B's in EMEA E2 Division 1, which means it's the strongest B teams in EMEA. Last year we ended up with something like 15 A riders in our group by the end of the season, and I didn't stand a chance on climbs of any significance. But I hoped that those riders moving on meant I could hold on, at least up shorter climbs like Richmond.
As we neared the 23rd St climb I moved toward the front of the group, hoping it would let me slide back a bit during the climb while staying in touch. Everyone else had the same idea, though, and I began the climb around 33rd out of 99 riders. I gave it all I had, especially up the final steep ramp, crossing the KOM banner in 35th after hitting a heartrate of 186bpm (my max is 189!).
The pack was strung out. This was the move.
After grabbing a quick supertuck down the 23rd St cobbles, we arrived at the short, steep climb toward Libby. This is a tough effort, peaking at 22% incline. If you don't hit it hard, you'll lose momentum and the others riders will fly past you! So I went all in again, trying desperately to hold the wheels as I crossed the KOM banner in 44th.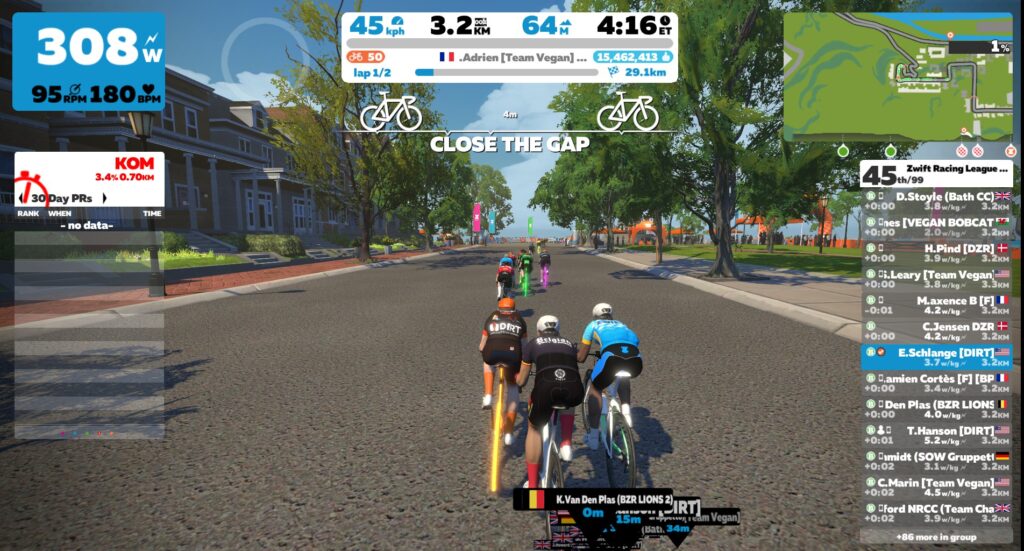 I was in a pack of ~10 riders now, with around 35 riders up the road. I settled in for a quick recovery before the Main St climb, and when we hit that climb I just tried to sit near the front, in the wheels. The effort was solid, but doable – with the big guns already off the front, our group was holding a more sustainable pace.
The Flats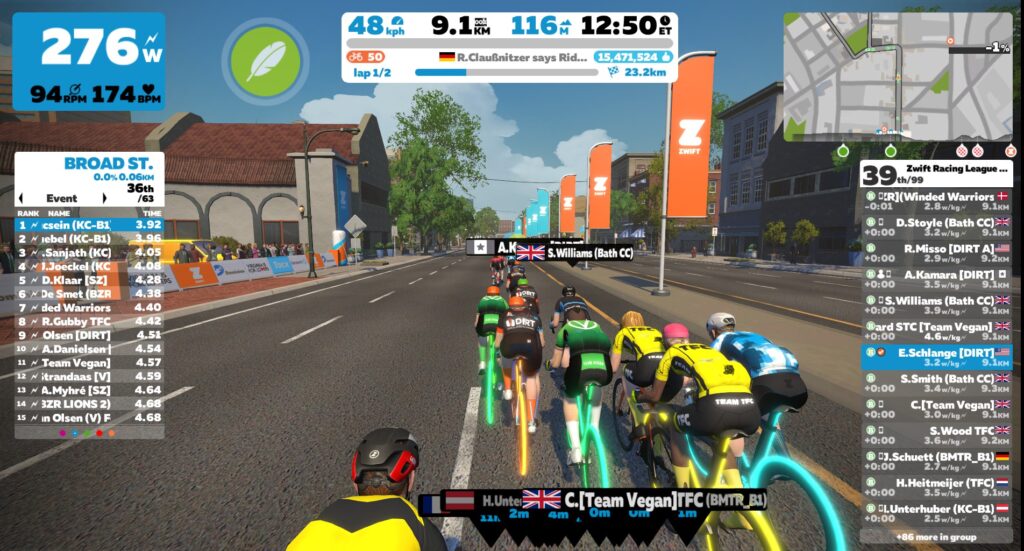 Now we were on the flat back half of the route, and I was curious what would happen. Could we pull back some of the riders ahead? We were only 25 seconds behind the front of the race, and our group was decently-sized, with several DIRT team members. (We actually have two DIRT teams in this division, so there are 12 DIRT riders in every race!)
Up ahead I could see there was even spacing between the front group, a chase group, and my group. Behind us it was just carnage – these were the three groups containing the strongest climbers and sprinters.
I had already decided to contest the "fastest across the line" Monument Avenue intermediate, but I didn't have a helpful powerup this first time around. I gave it a go anyway, but only managed a pathetic 19th place in the overall timings. With extra points only going to the top 10 riders, that meant I had just burned a match to no effect.
We didn't seem to be catching the groups ahead, but that didn't surprise me. In most Zwift races, once things break up into decently-sized packs, it rarely comes back together.
Lap 2
As a bigger rider (82kg), the flat section was the easy portion of this race. I suspect that was the case for most of my group, since we were slowly getting closer to what had become a single front pack about 22s up the road. A few riders even used their aero powerups to move to the front and put in solid pulls to help us draw closer, even though I doubt any of us thought we had a serious chance of catching the front.
Over the hills for the second lap the pace wasn't as frenetic, but it was far from easy. That same wasn't true for the front pack – I could see it blow apart up the 23rd St climb, then it broke into two groups at the bottom of the Libby descent. There was a serious slugfest going on up the road, and this was great news for my group – the more broken up the riders ahead, the better chance of us working together to catch them!
As we turned left to begin the final climb of the day, the large middle group was only 3-4 seconds ahead. I didn't push to catch them, figuring we would reel them in before the finish line. But they pushed hard up that climb, catching the small breakaway group ahead and gaining a few seconds on us.
There was only the front group and my group, heading into the flat section. This was going to be interesting!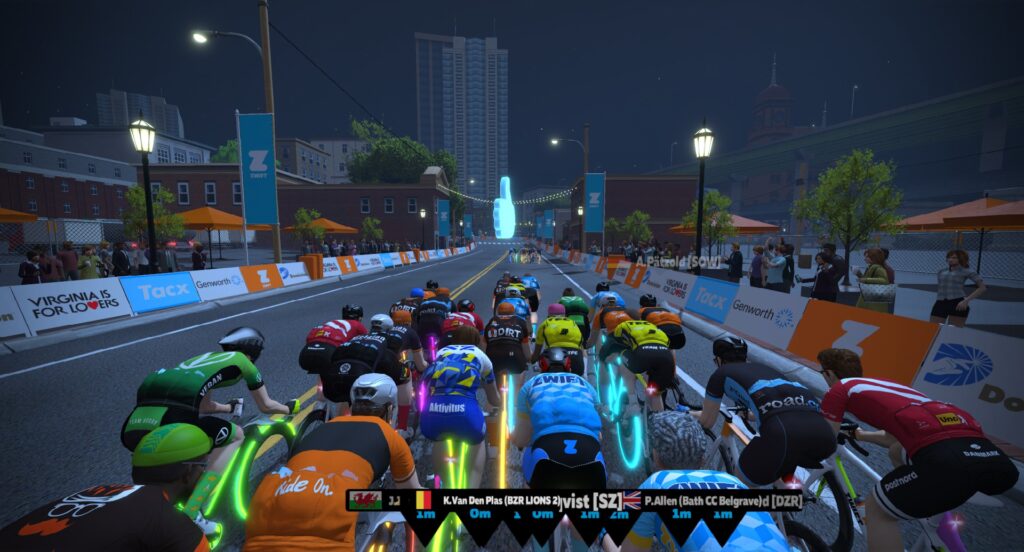 As we hit the flats, the front pack was just 13 seconds ahead. There were ~18 riders in the front group, and ~20 in my chase group. Could we catch the front group, or would they stay away? It would come down to who was willing to push hard and work together.
I had saved an aero powerup for my second sprint attempt, but I made a rookie mistake, starting my effort from near the front of my group. I thought more riders would be sprinting, but what actually happened is I sprinted by myself, in the wind, and achieved an even slower time than my first attempt. The draft matters, especially at high sprint speeds! Another wasted match.
The Finish
The rider list showed 17s between myself and the group ahead. That's a sizeable gap with only 3km to go, so I didn't even consider going to the front to help bring them back. Instead, I tried to recover a bit so I could have a strong final sprint and finish in the front of my chase group.
As we hit the final loooong straightaway, I could see the front group was only 7s ahead. Other riders from my group saw it too. There was blood in the water! We kept pushing, and closed to within ~3 seconds of the front pack. That's when all hell broke loose: "A. Patzold (SOW)" activated his aero powerup and flew away from our pack with a massive sprint. As I was thinking, "How did he jump so hard?" more riders in my group activated powerups and began to sprint, trying to catch that front group before the finish line arrived.
We were 400m from the line, and I knew it was easy to go too early here, so I held on a bit longer, activating my aero powerup at 300m and going all in. I crossed the line in 32nd place, while some riders from my group managed to catch the front riders before crossing the line.
See my activity on Zwift >
See my activity on Strava >
See race results on ZwiftPower >
Watch my race video
Takeaways
After the race I was kicking myself over a few key mistakes:
I shouldn't have attempted the fastest across the line sprint in the first lap without a helpful powerup
I should have positioned myself better for the fastest across the line sprint on the second lap
I should have gone earlier in the final sprint
But I'm not one to dwell on mistakes. "When you lose, don't lose the lesson." My lesson today is that timing and pack positioning are so key for fast sprint times and top finishes.
This race showed that there are still some really strong riders in our division, which means I'm clearly outclassed, especially on the climbs. My ZwiftPower category is based on a power calculation of 3.68w/kg, and the top 4 finishers in this race were 3.92, 3.94, 3.92, and 3.98. So it's not gonna be a cakewalk in season 2. But I'll go all in anyway, because I know there will always be points on the table for me to grab!
A Fun Route
This was only my second race on Richmond's UCI Reverse, and I've gotta say, this is a really fun race course. Based on Facebook posts I'm seeing, many riders agreed! I would even say I prefer it over the forward version, because on the reverse the race breaks up early, then things get exciting on the flats as groups try to catch each other. In contrast, the forward route stays together for the first (flat) half, then breaks up over the climbs, basically handing the race to the strong climbers.
On Richmond UCI Reverse, it's anyone's race. And that makes it fun.
Here's a cool Strava flyby from David Stoyle, who raced in this event for the Bath CC Camden squad. The black line is my group (which David was also in). Purple and Orange lead group and blue one of the groups we caught midway through the flat section of the first lap: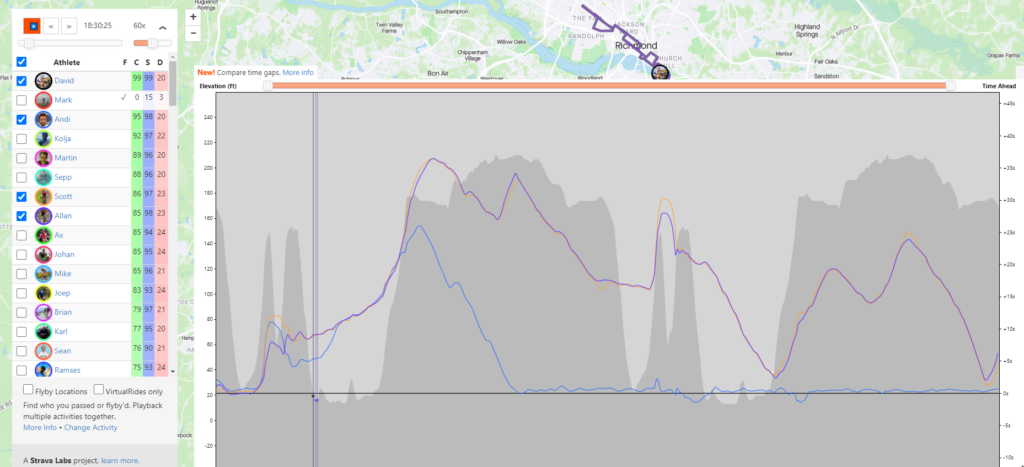 This clearly shows how the first and third climbs of each lap enlarged the gaps between our groups. It also shows how close we got to that front group just before the final climb, and how it came back together steadily in the final stretch.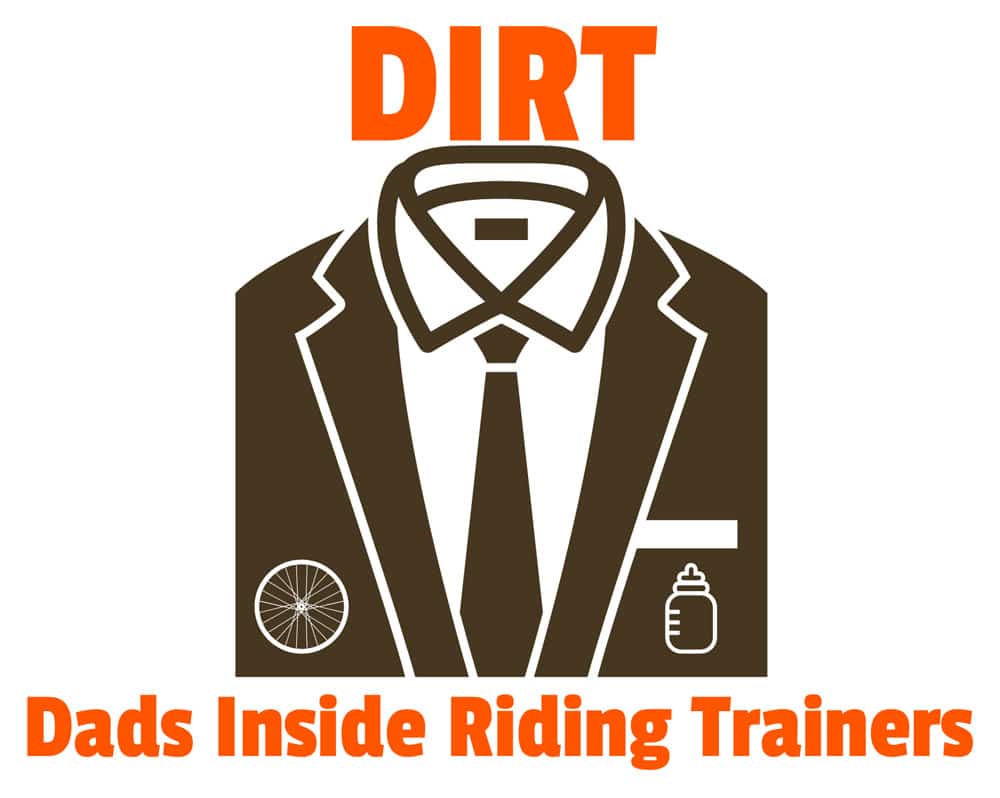 Team Result
It looks like my team came in third in terms of points for this first race, which is a result we're happy with. (Final results still pending from WTRL).
KIRCHMAIR e-Cycling got first place by a landslide, with their two strongest riders taking a pile of intermediate points and finishing 3rd and 4th. This is the team to beat in our division.
What About You?
Did you race on Tuesday? How did your race play out? Share below!