Today's story comes from my first attempt racing Scotland's "The Muckle Yin" (Scottish for "Big One"). At only 23.4km it's not exactly a long route. But it's a pitchy one, so there is rarely a dull moment!
I raced it for stage 3 of Zwift's "Race Scotland" series against a large B field. I knew between the challenging parcours and the strong field this race would push me to the limit. Could I hang onto the front pack and contest the sprint finish? There was only one way to find out…
The Warmup
The night before I devised my ride plan for the next morning: I would wake up at 5:30, join Team Twenty24 for their 6am Road to Paris ride and do a group ride on Loch Loop to earn my last route badge on the new Scotland map.
Then it would be time for a quick banana and Malt-o Meal breakfast before hopping on to spin the legs up for the race.
Throw in my typical race prep (two pieces of caffeine gum about an hour before the race, and PR lotion on the legs) and it would be a solid morning with a long warmup and a hard race.
My plans went off without a hitch. I even got a bit of free coaching during the Road to Paris ride from Wanda Archer, a keen Zwifter who always seems to be riding when I am. I had remarked that I was heading off to The Muckle Yin to get my butt kicked after the ride, and she said something along the lines of, "If that's the way you're thinking then you've already lost the race!"
Ouch. And so true. I promised everyone I'd think more positively… which wasn't easy, with the Sgurr looming large in my mind.
The Plan
I had only ridden The Muckle Yin once before, but I'm pretty familiar with Scotland's roads at this point. The toughest part of the ride, I knew, would be the two climbs up the Sgurr:
Having raced up the Sgurr in past weeks' Zwift Insider Worlds Experience events, I wasn't at all convinced I'd be able to hang onto the front of the pack up and over that rocky crag in both directions. I hadn't managed to do it yet, at least!
My plan was to conserve energy everywhere possible, so my legs were as fresh as possible for the Sgurr climbs. Then I would give all I had to stay with the front on those climbs, blowing up if needed, just to see if it was even possible for me to stay with the pack.
Armed with my trusty Tron bike, I joined the B starting pen with 138 others. Let's race!
Part 1: Start to Base of the Sgurr North
The first 1/3 of the course is fairly uneventful, but that doesn't mean it's flat! Nothing in Scotland is flat. The first 8km of The Muckle Yin is basically rollers and short climbs. You leave Glasgow and take the Loch Loop in the reverse (clockwise) direction, climbing up past the Cliffs, up the Corkscrew Castle climb and Breakaway Brae Reverse, then come back to the Mystical Roundabout to start the gravel climb up to Sgurr Summit North.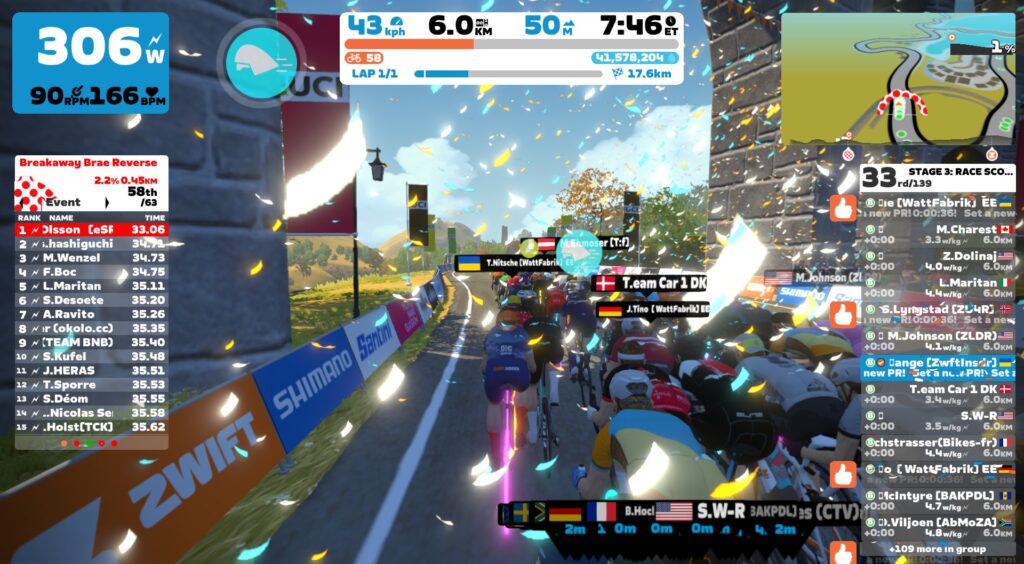 The pack was moving along at a good clip: we averaged 47.1kph for that first 8km, and I averaged 279W. Still, I felt I was riding conservatively and keeping my powder dry. I just hoped I had enough powder…
Part 2: Sgurr Summit North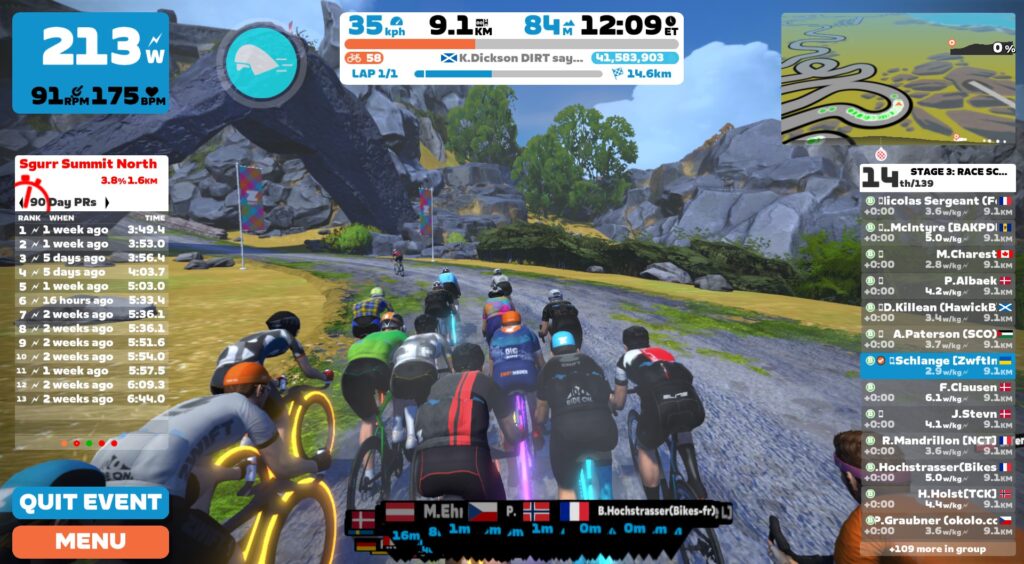 We had 80 riders remaining from our starting group of 139 as we hit the base of the Sgurr, then the work began. I just tried to hold a good position in the front group, not worrying about solo riders attacking off the front.
It wasn't easy but I also didn't blow up trying to hold the wheel. 3:33 at 384W kept me in the front group, and as we crossed the KOM arch I triggered my aero powerup and switched my mind to recovery mode.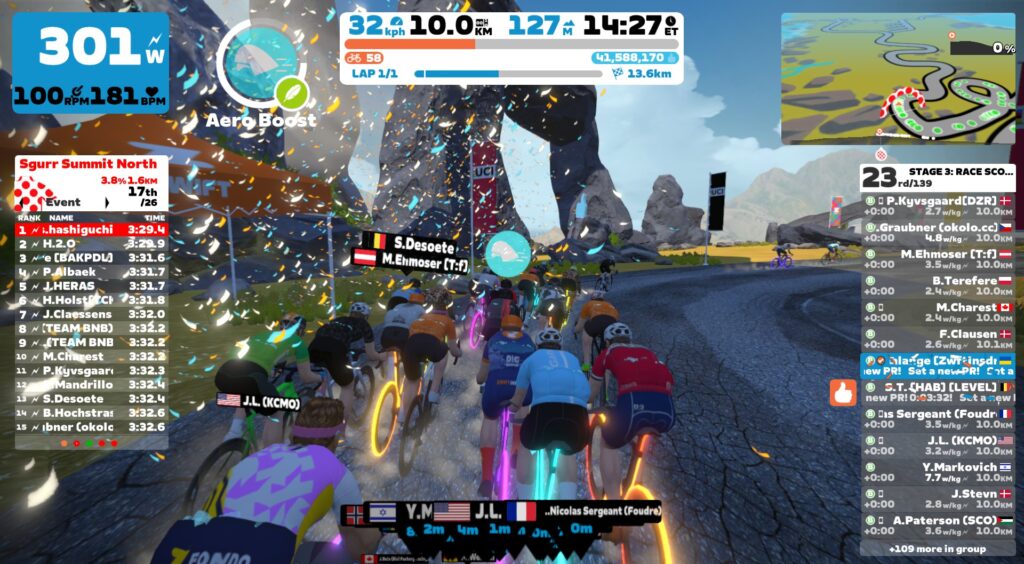 (Interestingly, my previous PR was 3:50, on a gravel bike in the Zwift Insider Worlds Experience race. I only averaged 316W for that effort, though, because the pace was so high heading into it!)
Just as expected, the first Sgurr climb forced a big selection. Our front group of 80 had been whittled down to 34.
Part 3: Sgurr Descent to Base of Sgurr South
Descending the paved side of the Sgurr was a pretty chill experience – I even got a cheeky supertuck in, for a moment. Then it was time to head back to the Corkscrew Castle climb, up Breakaway Brae (forward this time) and back to the lap banner for the start of the shorter, paved Sgurr Summit South climb.
There are a lot of powerups given out on this route, and the race was set to only give out aero boosts and feathers. During this portion, I just tried to use my powerups smartly while staying out of the wind to save my legs as much as possible.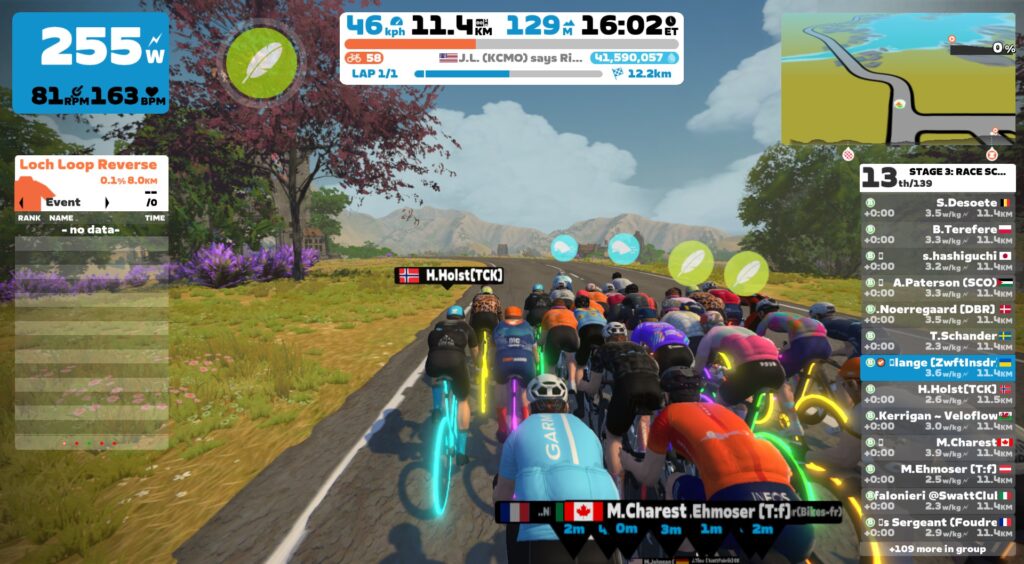 Part 4: Sgurr Summit South
We hit the base of the Sgurr, this time on the shorter paved side. At just 1km in length this is a much shorter climb than the gravel side, plus it's not quite as steep. It felt like we were flying up the climb, but I think that's just because I had only raced it on a gravel bike previously, which feels like a real slog, especially when riders on road bikes are dropping you left and right.
I averaged 383W for an average speed of 33kph up the climb, and once again managed to stay in touch with the front pack. A new PR, too: 1:48 (my previous PR was 2:15, on a gravel bike).
Part 5: Sgurr Descent to Finish
With 29 riders left in the front pack we descended the gravel side of the Sgurr and turned right at the Mystical Roundabout to make our way back to Glasgow. I used my aero powerup before we arrived in Glasgow, knowing there was a hidden grant location just up the road before The Clyde Kicker.
I'd been dropped on The Clyde Kicker in previous races, but I hung in today, thankful the group hadn't been pushing the pace heading into Glasgow. Two riders attacked off the front and the pace in the peloton stayed high as we descended from The Clyde and gave chase.
Everything nearly came back together with a big push up the last little bump with ~500 meters to go, but then attacks started flying and the pack exploded! Before I knew it we turned left onto the finishing straightaway. I was a ways back in the messy string of riders, but I hit my aero boost and gave whatever watts I had left, coming over the line in 10th (8 on ZwiftPower).
See activity on Strava >
See results on ZwiftPower >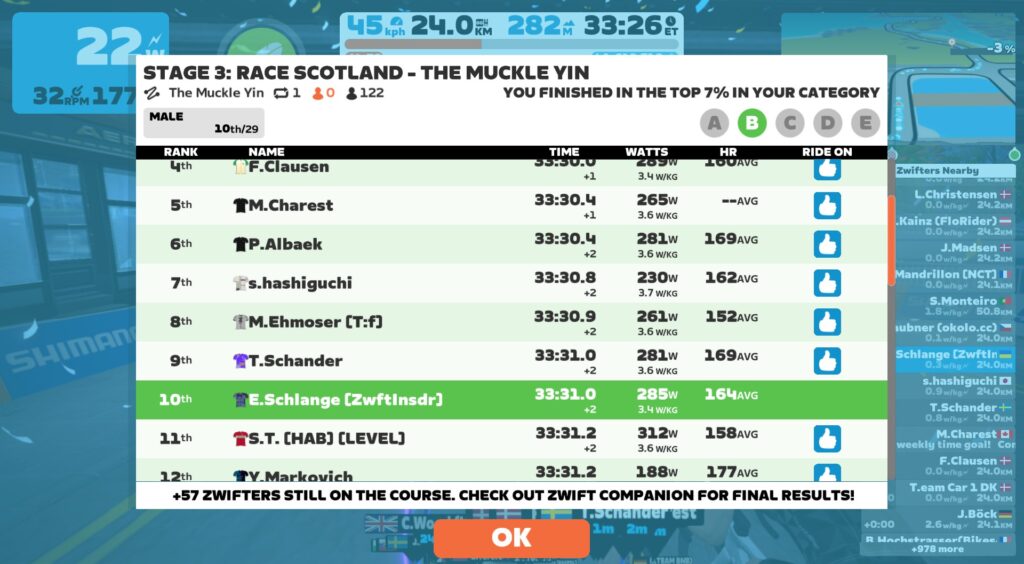 Watch the Race
Takeaways
I didn't win, or even podium – but I was pretty stoked with my result. Was it the power of positive thinking (thanks, Wanda!), or the difference between hitting the Sgurr with fresh vs tired legs? I'm not sure, but I absolutely believe what Henry Ford famously said:
"Whether you think you can, or you think you can't – you're right."
My 8th place wasn't good enough for a ranking upgrade on ZwiftPower, but I was happy I survived in the front group.
One thing definitely worth noting for The Muckle Yin: it's really helpful to know key road features and all the banner locations for this route, because there are a pile of powerups handed out (10!), and you need to decide when to use them best!
Your Thoughts
Have you raced The Muckle Yin yet? How'd it go? Share below!