I've been riding with the DIRT (Dads Inside Riding Trainers) team on Zwift for three years, and it's a great bunch of folks. It's also a huge team, with 10,000 members in its Facebook group and over 4,000 registered riders on ZwiftPower.
It's so big, in fact, that we can hold races with just our team members – and they're always fun and competitive!
Heading into Zwift Racing League 2021/22 Season 1, DIRT leaders organized a couple of Tuesday races on scheduled ZRL routes so we could get to know the new routes and have fun pummeling each other. Last week's race was on 3 laps of the Makuri Islands Flatland Loop, and it was a combined category race, so I got destroyed by the A's and strong B's.
This week was 2 laps of the Makuri Islands Countryside Tour, with categories only racing each other. Whew! I was happy to see that since I didn't want to chase the A's up the Temple KOM. It would be hard enough with the strong B's in our group, including Neil Tucker who is the 10th-ranked B rider in the world.
DIRT is such a huge team that we have a large number of individual ZRL teams set up… 38 B teams this season! Today's race was sort of an informal race between those "teams within the team", with ZRL team members putting their team code in their name so we could tell each other apart.
The Messy Warmup
As usual, I tried to follow my normal pre-race routine. Chewed some tasty caffeine gum (two pieces = 200mg of go-go juice), and applied PR lotion to my legs. Then it was time to kit up and awaken the legs and heart by spinning with the C. Cadence groupies.
This warmup was a bit messy. I popped into the C. Cadence group and noticed Eric Min was riding. Then we all started chatting, including the usual banter with Jason "I'm Always Riding with C. Cadence" Wagner (I'm convinced he's a bot). I popped into the start pens as early as possible to give myself a call-up, then realized I needed to figure out my bike swap plan.
As I explained a few months back in "Which Bike Should I Use on Zwift's Makuri Islands Routes?", the Countryside Tour route is an interesting one since it includes the dirt KOM climb and descent, then a short paved descent to the finish line. On a multi-lap race you wouldn't want to swap bikes in the early laps, because you'll lose too much time coming to a stop to get back on a road bike after the descent.
But on the final lap, it seems like a smart move to swap to a gravel bike at the start of the climb, then stay on it to the finish. You'll have a a disadvantage against road bikes on the paved descending finish, but you'll be able to pass a lot of riders on the KOM before that.
So that was my plan. But which bikes should I use? I wanted two bikes that were close to each other in my garage so I didn't have to scroll too much when swapping. I settled on the Cervelo S5 2020 (fastest aero frame in game) and the Canyon Grail (fastest gravel climber). They are only separated by 1 bike in my garage, so I wouldn't need to scroll at all when swapping. Easy peasy!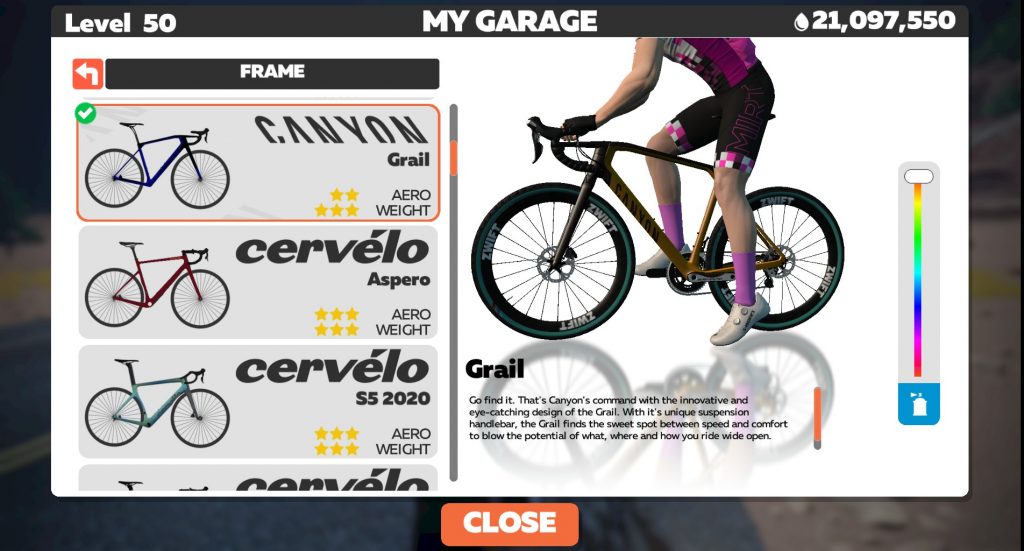 I also went with the DT Swiss ARC 62 wheels, since they're decent all-arounders.
While I was dinking around with bike options, I realized I needed to reboot my entire system since OBS (my video recording software) wasn't showing the Zwift screen. This often happens when Zwift issues an update.
Blegh. Lots going on. I ended up back in the pens with three minutes to go, and I'd never actually done a normal warmup. Oh well. Let's race!
Lap 1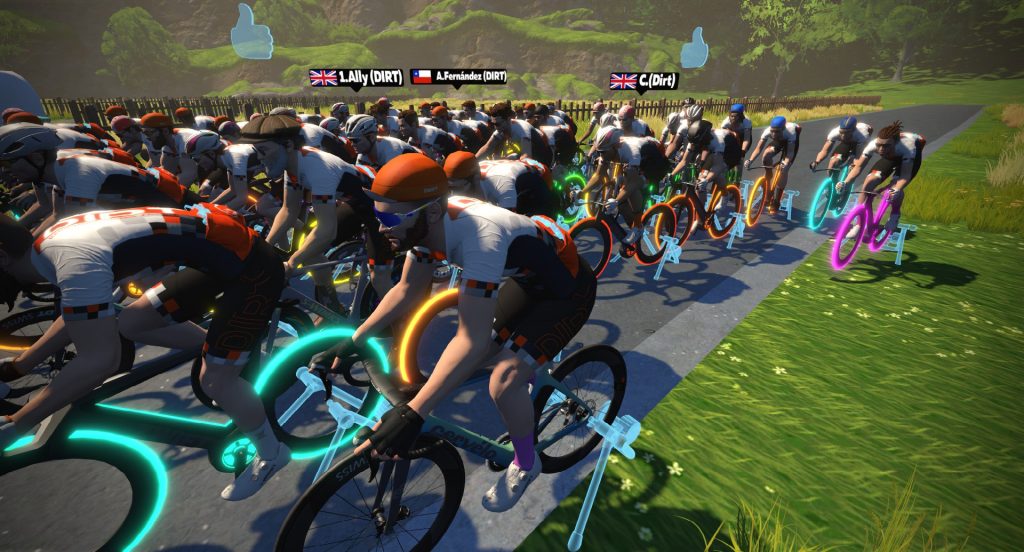 The race started off tame enough – calmer than the previous week's race where all the categories were together. We had 62 B racers involved, and since us B's weren't sitting in with the A's this time around, things were a bit more sedate. Or perhaps it was just because everyone knew that the KOM is where the fireworks would begin.
The action kicked off on the Countryside Sprint, when riders went hard for the FAL and FTS prime times just like we would in ZRL. I gave a half-hearted effort, using my draft boost powerup to keep my work to a minimum without getting dropped. The pack stretched out thanks to the sprint, then the road tilted up as we headed into Village Onsen and the effort ramped up again.
This is where the first selection of the race happened, with a good chunk of riders getting dropped off the back. It's a tough section if you've got strong riders pushing the pace. First the sprint stings the legs, then you climb to Village Onsen, then there's more climbing up to the Fishing Village. None of the climbs are steep, but they're long enough that sustained power is required.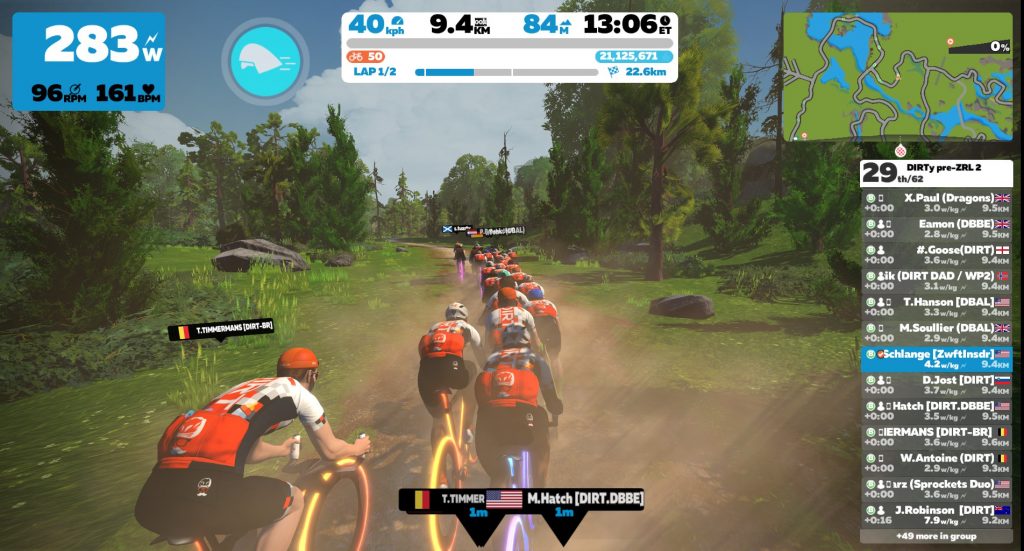 As we turned left on the dirt of the KOM climb I was sitting nicely in the front group of ~35 riders. I knew the pack would splinter on the climb, and I knew it would take me 7-8 minutes of effort to get to the top. So I just tried to pace myself well, keeping my speed up by drafting when possible and pushing extra hard on steeper sections.
Through the big temple (about 1/3 of the way up the climb), a group of riders hit it hard and broke away off the front. Unable to grab their wheels I keep going hard, finishing the climb with 4 other riders, places 14-18.
Then it was time to descend. I used my aero powerup to pull our group a bit closer to the riders just ahead, and other riders from behind joined our group as we settled in for the second lap.
Lap 2
As we hit the flat farmlands there were 4 riders not far up the road, the remaining 8 riders of the leader group way ahead, and several riders well behind us. I messaged, "Let's let the 4 ahead sizzle for a bit" because I could see we would easily reel them back in. They were obviously strong climbers (that's how they ended up ahead of us in the first place) – so why not let them burn their legs out a bit before we catch them and give them a free tow?
We weren't going to catch the front group. And the group chasing us wasn't going to catch us. So it was time to ride smart.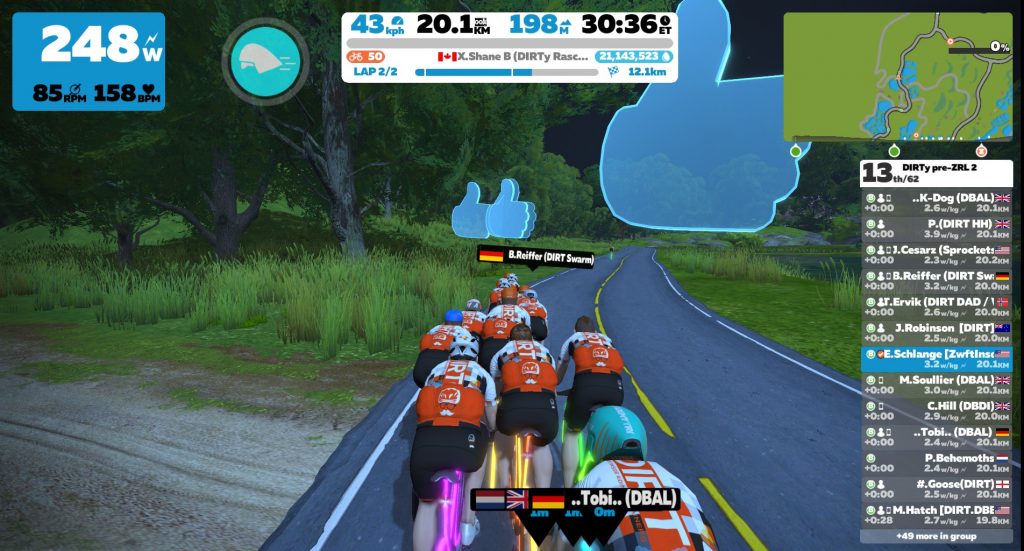 By the time we hit the Country Sprint the four had been caught. Our group now contained places 9 through approximately 25. The sprint strung out our group again, then as we hit the climb to Village Onsen my teammate Timmermans went hard on the front, so I grabbed his wheel, putting in a bit of a team attack to make everyone else chase. Eventually the pack caught us, and before I knew it we were riding through the Fishing Village, about to turn onto the KOM. Bike swap time!
I stayed on my bike for the start of the dirt, because it's quite flat (and even goes downhill for a bit), and I didn't want to hit the brakes and throw away a bunch of speed. So I hung in the draft while we rode the dirt at 30kph, but when the road tilted up as we entered the bamboo forest and speeds dropped to around 20kph I hit "A" to stop quickly, "Esc" to leave the pairing screen, then "T" to bring up my garage (Zwift keyboard shortcuts for the win). A quick click on the Canyon Grail, then I started pedaling as I exited the garage screen.
Total time from hitting the brakes to starting pedaling again? 6 seconds. I think that was my fastest change yet!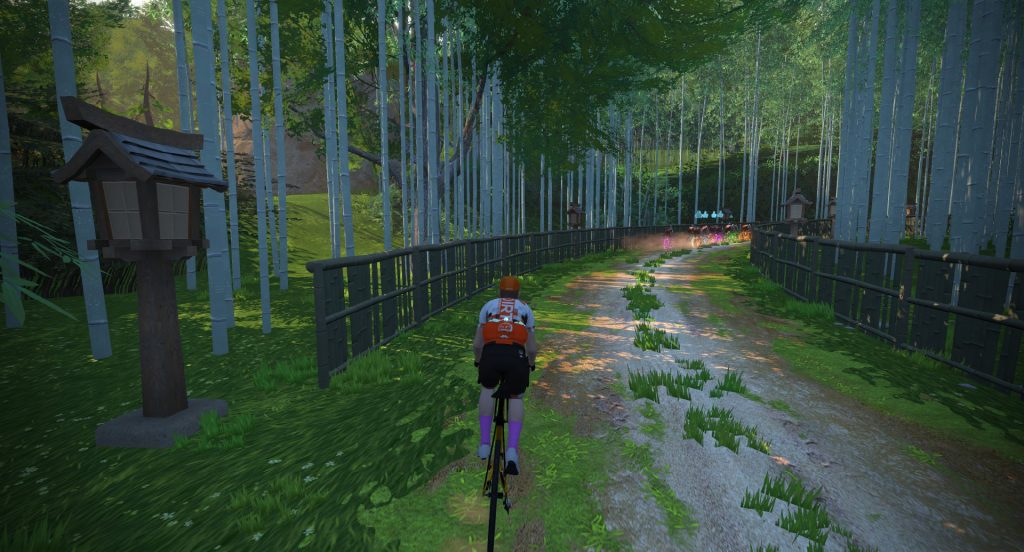 The pack was just up the road, perhaps 75 meters away, so I started chugging up the hill, quickly gaining ground. Within 45 seconds I had caught the first rider in the pack, and a minute later I was near the front of the pack, with 4 attacking riders just up the road. They were going hard, and I would have to put in some real effort to catch.
By the time the road flattened over the wooden bridges near the top there were just two riders up the road from my original group (plus the 8 riders in the front group). I had two riders with me, and was focused on catching those two riders up the road (K-Dog and my teammate Timmermans).
But I didn't want to pull the two guys with me up to Timmermans. So I waited until we finished riding over the wooden bridges after the KOM banner, because road bikes roll faster on wood than my Grail. Once we hit the extended dirt section I hammered, dropping the two riders with me and bridging up to Timmermans, who had dropped K-Dog.
I thought I'd made the perfect move to join my teammate, but one rider (Hill) put in a strong dig to follow my attack, and we ended up swapping pulls on the descent as we made our way onto Timmermans' wheel, which was just a couple seconds ahead.
Then we hit the pavement, which I knew wouldn't be pretty on my gravel bike. I tried to conserve and sit in the draft as much as possible, then Hill jumped hard and I couldn't grab his wheel. Timmermans and I spun our way to the finish line, and I crossed in 11th place.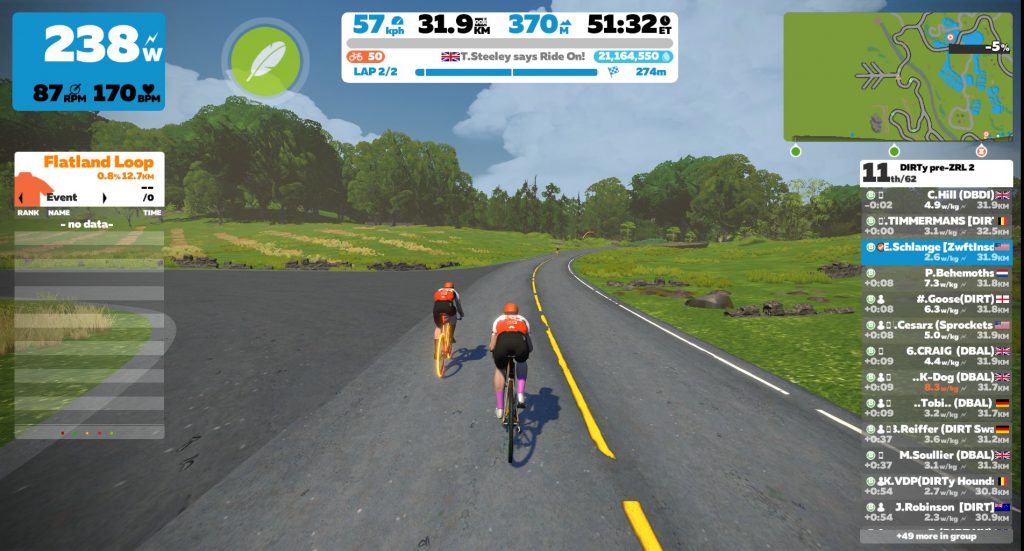 See my ride on Zwift.com >
See my activity on Strava >
See race results on ZwiftPower >
Watch Full Race Recording
Takeaways
The "last lap bike swap" is definitely a good move on this course. I'll be doing it again, and I'd recommend it to pretty much anyone.
What I would not recommend is what I saw some of my DIRT buddies do in this race: start on a mountain bike. Or swap on the first lap. Neither of those approaches will give you an edge!
Could I have attacked this race differently and achieved a better result? I can't see how, but I'm open to your ideas. That first KOM, where I lost the front group, was a 332W effort where I set a new PR on the segment (7:17). I'm not sure I could have gone any harder than I did. In fact, my Strava power curve shows me setting a new 6-week PR between 6-22 minutes thanks to that first KOM effort.
Interestingly, on the gravel bike for the second lap I set a time of 7:19, with an average power of 320W. Not a bad time considering I stopped for a bike swap and had lower power than the first attempt. It just confirms that the gravel bike is significantly faster than the road bike on the Temple KOMs!
Your Thoughts
Have you raced Countryside Tour yet? How did it go for you? Share below!